Ha Long Bay – The Legend of Vietnamese History
Ha Long Bay is one of the most attractive destinations for visitors who would like to discover the sublime beauty of Vietnam nature. In 2011, Ha Long Bay was voted for the inscription of Seven New Wonders in the world by UNESCO. It can be seen that Ha Long Bay is the convergence of nature, history, and culture which become a permanent symbol of Vietnam throughout many generations. Let follow us to discover the wonderful things of Halong Bay!
Ha Long Bay belongs to the Gulf of Tonkin with an area of nearly 1600 km2 and more than 1900 islands and islets. At the first visit beauty of Halong Bay, everyone can feel the magic beauty that nature endowed for this place. All features of its seascapes lure our heart immediately: the blue sky, the crystal water, and majestic limestone mountains emerging on the sea surface.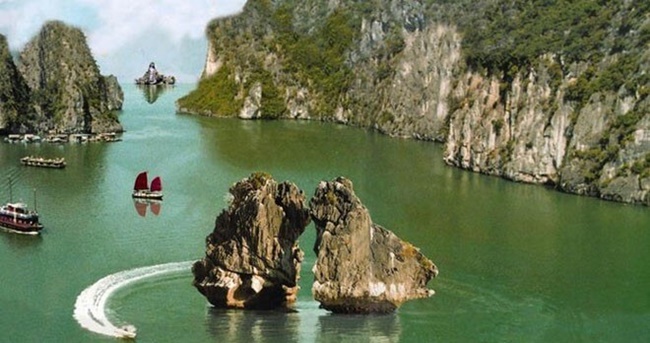 There a magic legend about the appearance of Halong Bay that everyone still whispers to each other. In the beginning time of establishment, there are many abroad enemies, who want to invade Vietnam. So the God sent holy dragons to the world of human beings. When military ships of enemy come closely to the land of Vietnamese people, dragons create formidable flames, which burn enemy's ships. After the victory of Vietnamese people, dragons decide to stay at this land in order to protect the peaceful life for Vietnamese people forever. Following to the legend, Halong Bay is the place where the mother of dragons landed after the battle.
At any views, Halong Bay brings wonderful beauty that you rarely find at anywhere in the world. From the high altitude, it is likely that our soul becomes more generous before the breathtaking beauty of vast sea.
Sung Sot Cave
Sung Sot Cave is listed on one of the most beautiful caves in Vietnam, which is home to the boundaries of unique stone islands with intrigue shapes. On the path to Sung Sot cave, visitors have to go trekking through lush trees' canopy and rugged cliffs. So you can combine climbing mountains and sightseeing the significant landscapes around.
Dau Go Cave
Dau Go cave has an area of 5000 m2 with 27m in height above sea level. Like other caves in Halong Bay, Dau Go cave still retain the unspoiled beauty of nature. From outside position, the gate of caves is similar to a blue jellyfish. Stepping on 90 stages of stone, visitors can witness a majestic panorama with hundreds of drowned stalactites, which like a stunning stream in the cave.
Thien Cung Cavern
Thien Cung Cavern is considered as one of the most impressive caverns in Halong Bay with an area of more than 10.000 m2. There are thousands of towering limestone pillars and stalactites in the cave highlighted by magic color in the cave. During the trip, visitors can find the variety of strange paintings in the cave, which are created by the Nature such as the picture about daily activities of human beings, fish, birds and flowers.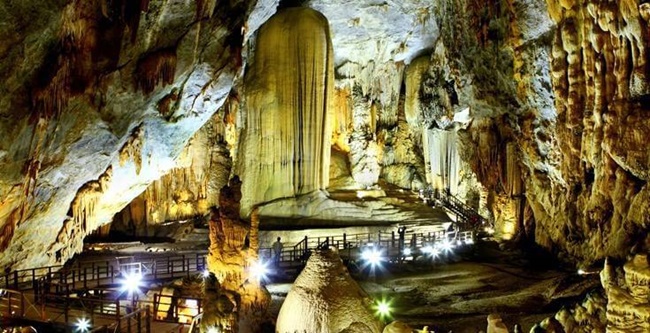 Bai Tho Mountain
For a long time, Bai Tho Mountain has become endless source of inspiration for poets because of its romantic beauty. Form the mountain, visitors can have a beautiful view of Halong city and Halonng Bay. The most suitable time for visiting this destination is sunset. 
Cua Van fishing village
Cua Van fishing village is a must-see destination when you visit Halong Bay. Every tourist can discover the daily life of local people by going fishing with fishers or tasting traditional sea foods in the village. Besides, outstanding customs also evoke the curiosity of visitors. Following to their customs, every wedding party have to take place in the full moon day of lunar calendar. It's special time that every fishing activities of local people is contemporarily paused.