Where to Shop in Hanoi
Fortunately, all this stuff can be found in the central part of Hanoi. Here is the list of places where you would love to go shopping.
1. Aeon Mall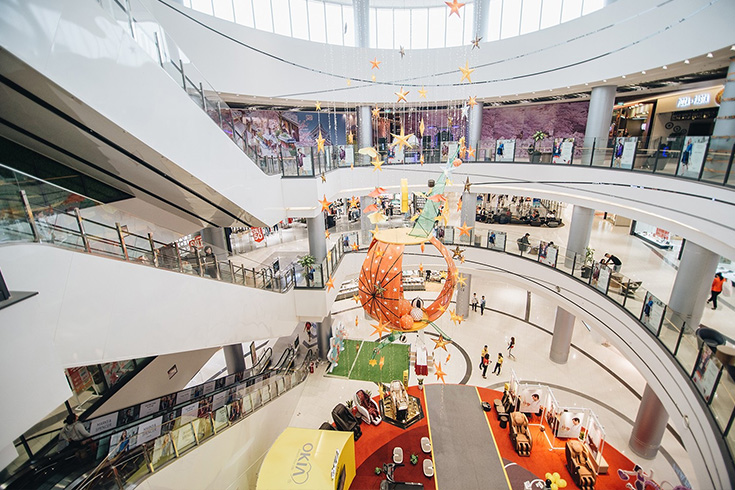 Located in Long Bien District, Aeon Mall – a luxury Japanese-owned shopping mall is worth paying a visit all the way to enjoy the great experience of shopping in Hanoi. It covers a massive area with 4 floors and the atmospheric modern-designed space inside will definitely take you off the harsh sunny climate of summer.
There are about 100 retail outlets offering household appliances, accessories, electronics, cosmetics, jewelry, and clothes from well-known brands such as Adidas, Yves Rocher, Dr. Martens, New Balance, etc.
While shopping in the mall, you can still fill up your empty stomach in the food court located on the 4th floor, with various choices from Vietnamese, Japanese, Korean, and Western food at reasonable prices. Letting your kids play in Tiniworld or enjoying the latest movie at CGV cinema is also a nice option for a day in the same place.
Everything is perfectly organized, and the language barrier is never an obstacle here because of the English-speaking staff.
Location: No.27 Co Linh Street, Long Bien, Hanoi.
Opening Hours: Daily 10:00 – 22:00
Who is it for: Shopaholic passengers who are seeking places for shopping, and enjoying tasty food and other forms of entertainment.
What to buy: Everything, especially accessories and electronics.
How to get there: Aeon Mall is 8 kilometers from the Old Quarter. There are buses, but seemingly not a good idea during peak hours. Alternatively, taking a taxi is a more comfortable option which costs only about VND 150,000.
2. Lotte Shopping Center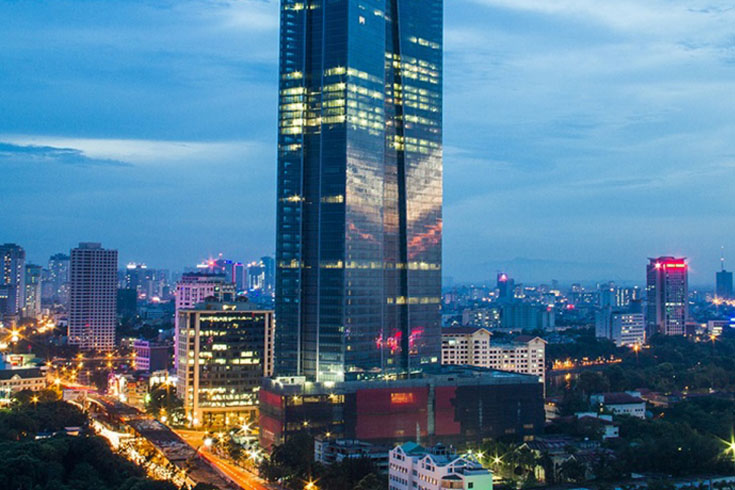 Other than being popular for the Observation Deck, the Lotte high-rise building is also a magnet for fashion-lovers. This one-stop shopping spot is home to approximately 250 fashion and lifestyle brands, which are subject to satisfy any needs or tastes.
It should be noted that hypermarket is on the first floor, while imported jewelry and cosmetics are found in the second floor, women's nicest dresses, and stylish handbags together with unisex clothes on the third floor and men's latest fashion on the fourth floor.
After a round of shopping, the rest of the day might be spent on some relaxing amenities such as spas, restaurants, gym, or especially the Observation Deck on the 65th floor catering to a stunning panoramic view of Hanoi. Exploring the whole shopping center will absolutely go beyond your expectations when visiting this vibrant city.
Location: No. 54 Lieu Giai street, Ba Dinh, Hanoi
Opening Hours: Daily 09:00-22:30
Who is it for: High-end shoppers looking for something special and relaxing.
What to buy: Variety of items from ordinary to luxury, especially cosmetics.
How to get there: Just 4 kilometers from the city center, Lotte shopping center is for you after a 10-minute drive.
3. Vincom Shopping Malls in Hanoi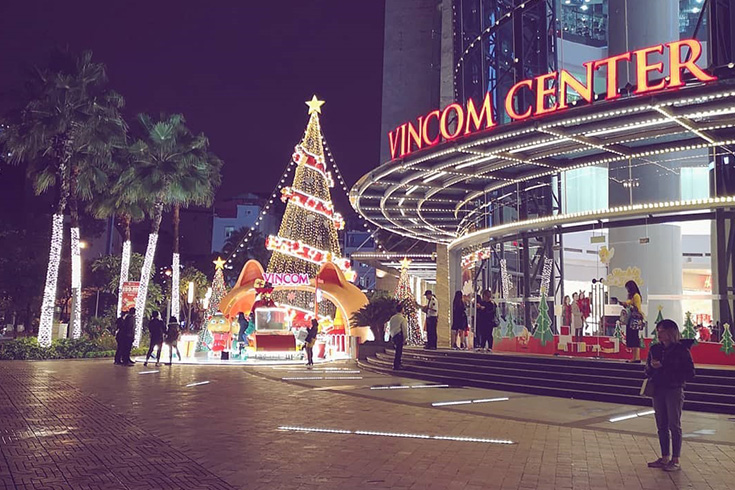 Including 7 shopping spots, it is undoubted that Vincom is easily accessible no matter where you are in Hanoi. The three most noticeable mall branches are Vincom Ba Trieu, Vincom Royal City, and Vincom Time City. It can be said that you can find everything in Vincom shopping centers.
Looked from the outside, Vincom Royal City is a miniature European palace in an ancient Asian capital. With a huge area of 230,000 square meters, Vincom Royal city not only offers customers an extreme diversity of goods from different brands at a reasonable price but also caters for all forms of recreation such as ice rink, aquarium, and cinema. Moreover, what people love about Vincom is also the system of cafes and restaurants, in which nearly all kinds of Vietnamese traditional and internationally popular foods and beverages are available.
Opening Hours: Daily 08:00-22:00
Who is it for: Shoppers of all ages love high-quality and affordable clothes and accessories
What to buy: Everything popping into your head!
Location:
Vincom Mega Mall Royal City (72 Nguyen Trai –Thanh Xuan District)
Vincom Mega Mall Times City (458 Minh Khai street – Hai Ba Trung district)
Vincom Center Ba Trieu (191 Ba Trieu street – Hai Ba Trung district)
Vincom Center Nguyen Chi Thanh (54A NguyenChi Thanh – Dong Da District)
Vincom Center Pham Ngoc Thach (02 Pham Ngoc Thach – Dong Da District)
Vincom Plaza Tu BacLiem (Green Stars building, 234 Pham Van Dong street, Bac Tu Liem district)Vincom Plaza Long Bien (Vinhomes Riverside – Long Bien District)
4. Trang Tien Plaza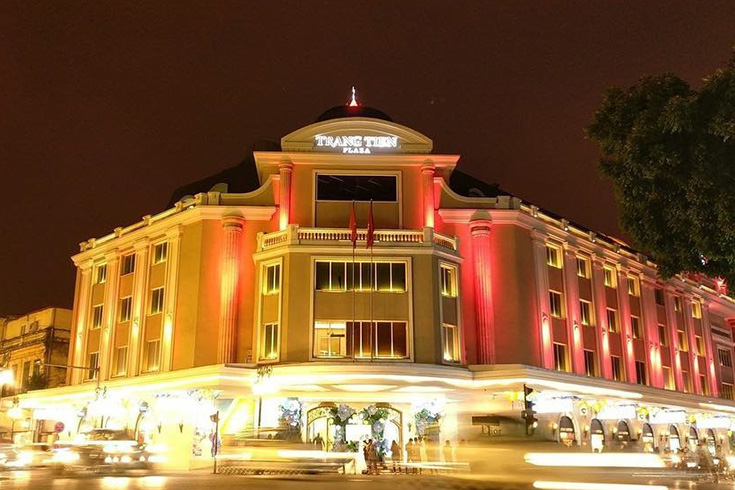 Trang Tien Plaza, situated right next to the famous Sword Lake, is an outstanding building in the French Quarter of Hanoi. Anyone can be easily attracted by luxury and stylish items displayed behind the transparent glass wall, which come from world-class fashion brands such as Cartier, Burberry, Dior, Zegna, BVLGARI, and Louis Vuitton. The interior part is designed in Western architecture, with clothes and handbags on the ground floor and electronics and home decor outlets on the upper levels.
Location: No. 23K Hai Ba Trung Street, Trang Tien, Hanoi
Opening hours: Daily 9:30 – 21:30
Who is it for: Fans of famous fashion brands!
How to get there: It takes you just 5 minutes to walk from Sword Lake.
5. Dong Xuan Market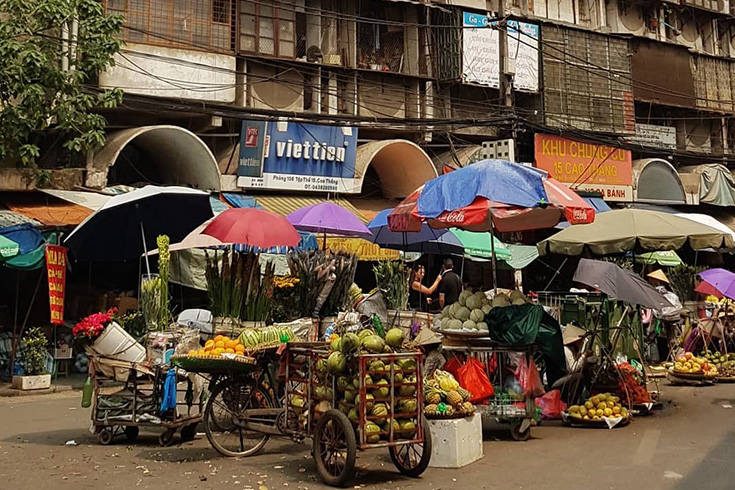 Known as the oldest and biggest wholesale market in Hanoi, Dong Xuan Market keeps all the cultural features of this ancient city and perfectly reflects the daily life of Hanoians. Unlike most streets of the Old Quarter which sell only one specific kind of goods, Dong Xuan Market provides everything, from electronics, household appliances, machinery, agricultural products for the locals, to souvenirs for visitors; most are sold on the second floor.
One thing making Dong Xuan market a must-visit destination for shopping in Hanoi is that it has everything you need at a super cheap price (from $1 to $3 for one item). All you have to do is wriggling through narrow stalls and getting yourself the best things.
Location: Dong Xuan Street, Hoan Kiem District, Hanoi
Opening Hours: Daily 6:00- 19:00
Who is it for: Adventurous and budget-conscious street shoppers
What to buy: Handicrafts, Vietnamese-style items, conical hats, and food!
How to get there: It takes a 10-minute walk from Sword Lake.
6. Hanoi Night Market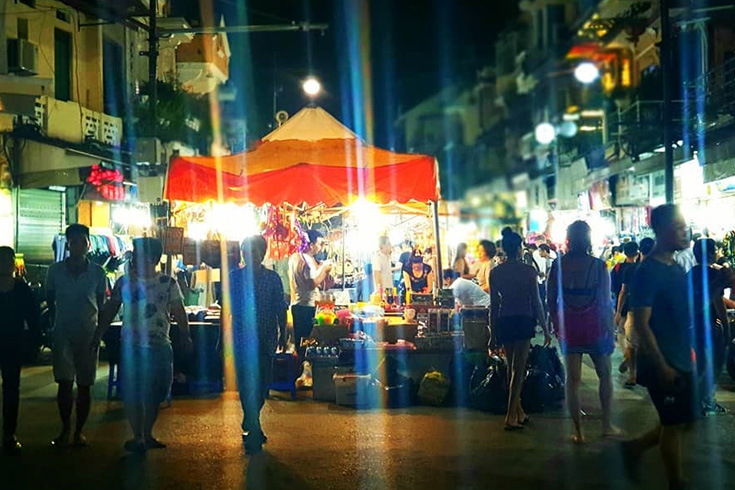 Hanoi night market is 3 kilometers long from Hang Dao street to Dong Xuan street, which opens from 18:00 to midnight on weekend days (Friday to Sunday) only. It is colorful and lively with thousands of stands selling handicrafts, jewelry, food, and fruit juice at a competitive price.
If you want to find something to eat and experience the real life of locals, the outdoor restaurants with low seating chairs, small tables, a pint of beer, and some great snacks, are all ready for a chit-chat overnight. It is nowhere suitable to hang out in this market because of the lively bustling nightlife and paradise of tasty food!
Location: Hang Dao street to Dong Xuan street
Opening hours: 18:00 – 24:00 Friday to Sunday
Who is it for: Curious passengers would love to buy the absolute best bargains and enjoy your supper in Vietnamese style.
What to buy: Accessories, beer, and food.
How to get there: It is inside the Old Quarter, so walking is the best option to soak up the atmosphere.
7. Quang Ba Flower Market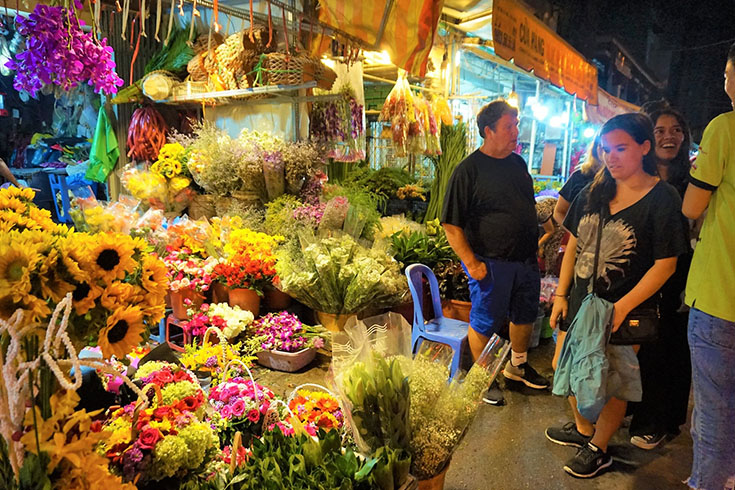 If you want an authentic, local experience of shopping in Hanoi, the Quang Ba Flower market is for you. It is the biggest wholesale market that distributes flowers to all parts of Hanoi.
Like any market in Southeast Asia, the market seems wet and grungy. But it offers you a fantastic view of a flower forest, in which the most eye-catching are roses, lotus, lilies, and daisies of all colors and sold incredibly cheaply. It's easy for you to get a bunch of beautiful roses for around $2.
The market is in its most lively state between 2 a.m and 4 a.m when hundreds of street vendors, stallholders, and truck drivers are working and trading. It makes a complete contrast with Hanoi after sunrise because those strenuous manual laborers are striving to make ends meet. There's often more to this market than meets the eye.
However, don't worry just because you are not an early bird. This marketplace is part of Hanoi's appeal, and it's still worth discovering after dawn. Why not check it out?
Location: No.236 Au Co Street, Tay Ho, Hanoi
Opening hours: 24 hours/day
Who is it for: Flower-lovers or someone who loves experiencing a different aspect of Hanoi.
What to buy: Flowers
How to get there: Quang Ba Flower Market is about 7km (or a 25-minute drive) north of the Old Quarter. It is located near West Lake, so why not go sightseeing these two in a row?