Dam Temple – a mother worshipping temple in Hanoi's outskirt
Travel to Hanoi's outskirt to learn about Princess Ngoc Dung's legend and visit cluster of spiritual landscapes.
Located by the bank of Red River in Hanoi's suburb which is some 20 kilometers away from Hanoi downtown; Xam Duong Village in the Thuong Tin District's Ninh So Commune owns a cluster of famous spiritual relics including Dam Temple, Mau Cuu Temple and Cong Minh Pagoda.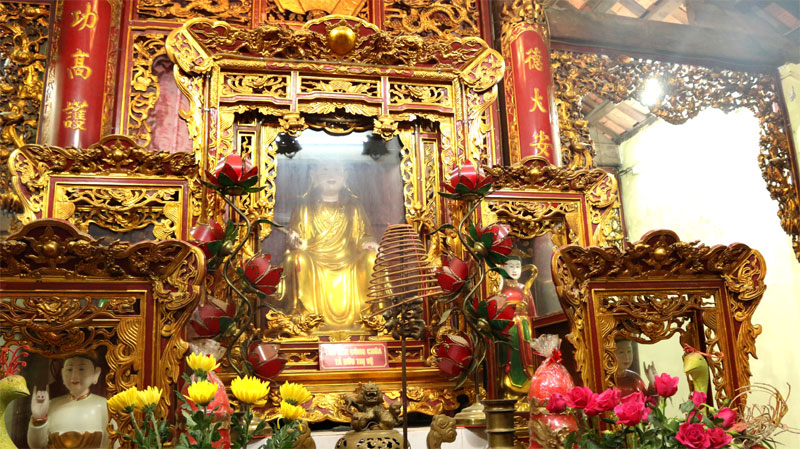 The legend has it that, under the reign of King Tran Thai Tong in 1225, the third princess of Heaven King accidentally broke a jade cup. Heaven King got so angry that he expelled her to earth. Here, the princess became a concubine of a great general. The tale is till written in the genealogical book persevered in Dam Temple.
Another tale of Dam Temple is about Ngoc Dung princess who has merit helping King Tran Nhan Tong fight against the Mongol invader. There are still some royal edicts kept at the temple. The temple worships three Vietnamese mother goddesses of Tam Thoai Cung, Nhat Thien Tien and Thuong Ngan as well as other deities.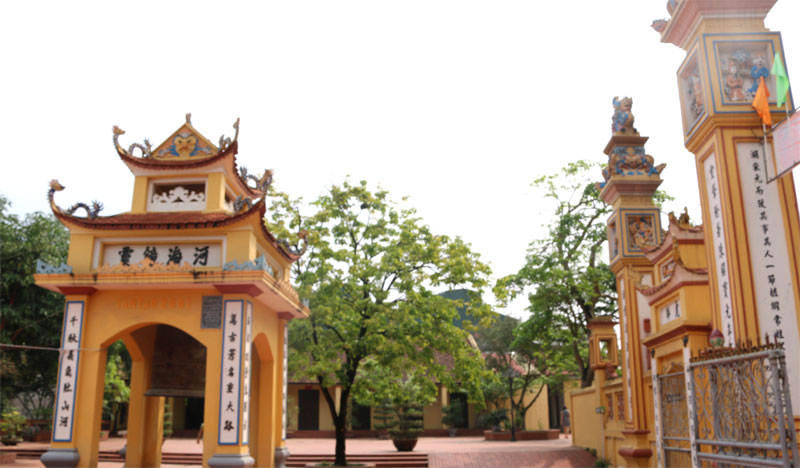 Dam ancient temple dates back a hundred years, with authentic Vietnamese ancient architecture. This spacious temple consists of old wooden columns and brown tiled roofs and a large courtyard. The temple's gate is the archway in the front, overlooking over the Red river. There are three arches, the most spacious arch is in the middle and two smaller ones are on the two sides.
The six pillars of the temple are engraved with elaborate patterns such as a kneeling buffalo, phoenix bird, chrysanthemum and matching sentences in Chinese characters. In addition, a hundred-year-old banyan tree which was planted on the left side of the main worshiping hall, with its dense canopy of leaves and numerous aerial roots growing down towards the ground, is the focal point of the temple landscape.
The main worshiping hall of the temple is a long house, featuring thick and rough yin and yang roof, brown painted wooden columns, and five cement sidesteps. The worshiping items inside this main hall such as incense sticks and were all very elaborately carved and painted with gilded lacquer.
Dam temple is accessible through both inland-road, by National Highway 1A, or waterway along the Red River; the road trip takes a few dozen minutes while traveling by the waterway takes longer. Hanoitimes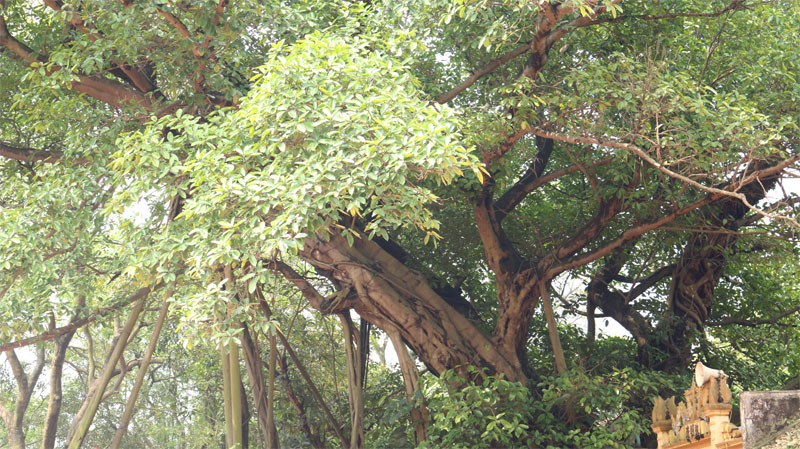 The hundred-year-old ancient banyan tree at Dam temple.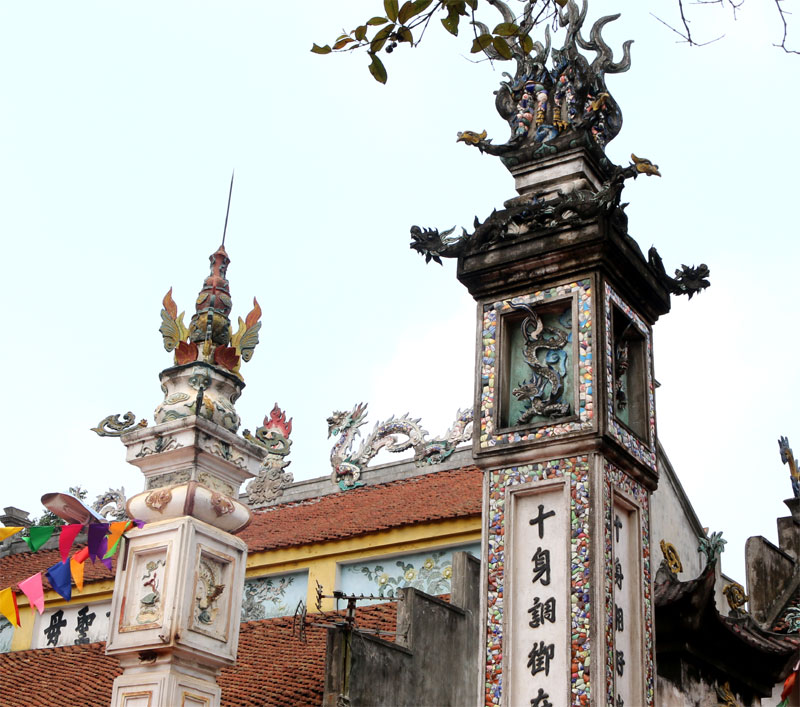 The pillars of Mau Cuu shrine are carefully crafted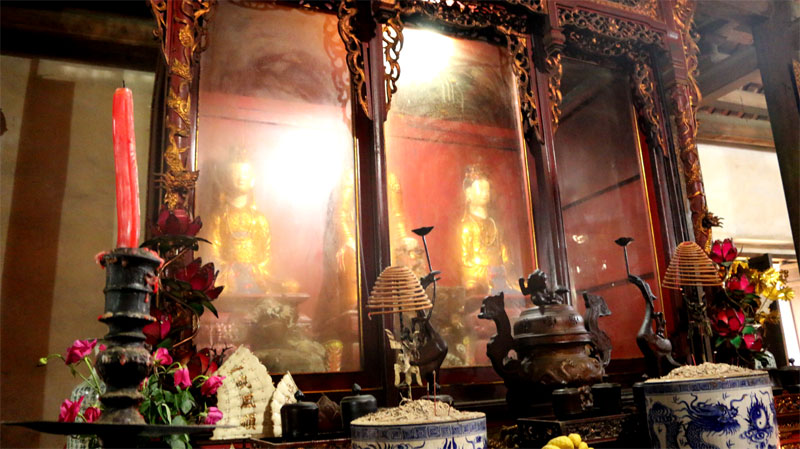 Dam Temple also worships Tien Dung Princess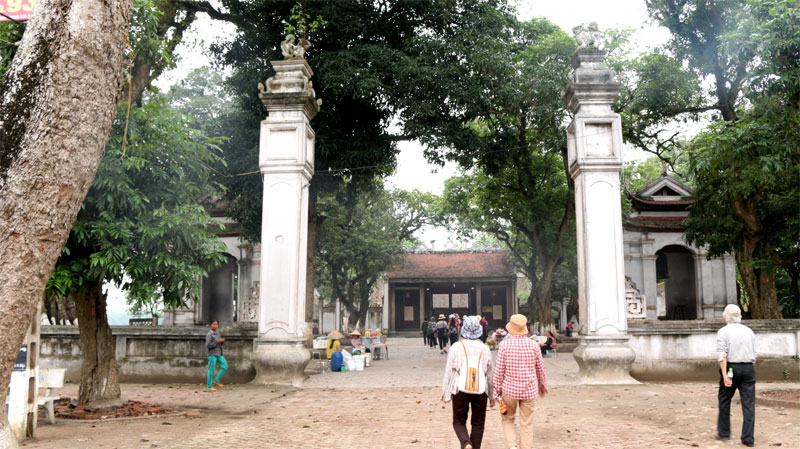 Dam Temple attract quite a few visitors come to visit and pray for luck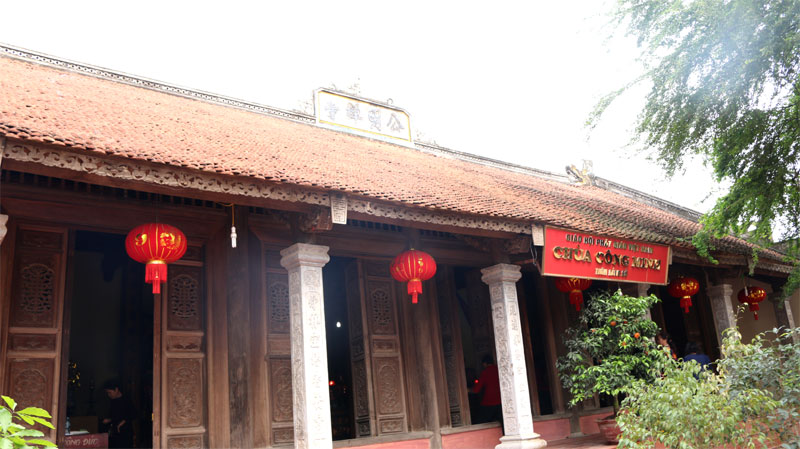 Cong Minh pagoda is located next to Dam temple.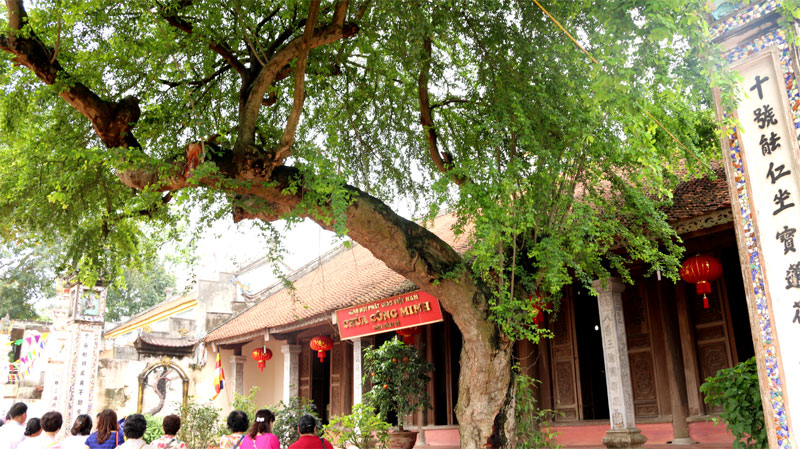 The next door Cong Minh pagoda.