The Hoi An food guide: famous street dishes you must try
Many travelers not only vote Hoi An as their favorite city in the world but also the tastiest city in Vietnam. Hoi An keeps people tuned to its cuisine ranging from mouth-watering street food to 5 star fabulous feast. So if you are looking for an authentic food in Viet Nam, Hoi An is surely an ideal stop it is a heaven for all foodies. Here are top local food that you must try when visiting Hoi An.
1. Cao lau noodles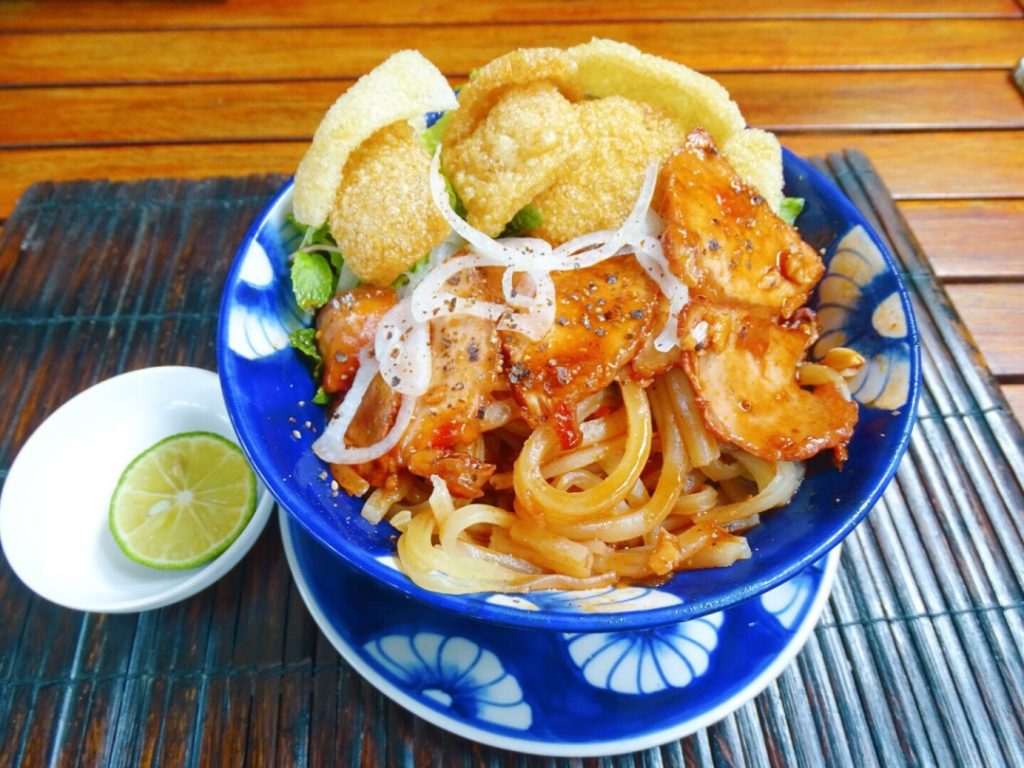 Cao lau is the most famous street food from Hoi An and also the most interesting. Apparently, the noodles contain a tiny serving of ash that comes from one particular tree, as well as water from one specific well. Rumour also has it that only one local lady knows the exact cao lau recipe. Restaurants purchase the noodles daily from the market and make the other parts of the dish (barbeque pork, crispy crackling and salad) themselves. For this reason, this is one of the dishes that won't be found outside of Hoi An.
Where to try cao lau in Hoi An? My personal favourite cao lau spot is Restaurant 339 in Tra Que (pictured). This eaterie on the main road is halfway between town and the beach so you could consider dropping in as a pitstop. If that's too much of a trek, basically every restaurant and food stall in the Ancient Town serve it. You're never far away from cao lau in Hoi An!
2. Wontons
Crispy wontons remind me of giant nachos. They're slightly different wherever you eat them in terms of flavour and ingredients. Some are tomato-based while others taste more like Chinese sweet and sour sauce. Others are topped with chopped up fresh ingredients rather than a chutney. Either way, they're very moreish – I'd recommend them as a light lunch or starter.
Where to try wontons in Hoi An? The best serving I've had was at White Rose Restaurant.These ones pictured were from the Central Market and were also very tasty. Expect to pay around 30,000 VND.
3. Com ga (chicken rice)
By the time you've been in Hoi An five minutes, you will have seen com ga being served somewhere. Like many other Hoi An street foods you'll find it everywhere from restaurants to markets and takeaway stands. I paid 40,000 VND (just over £1) for a giant plate of yellow rice piled with fresh chicken meat, salad, herbs, lime and chilli.
For me, chicken rice isn't as exciting as some of the other street foods in Hoi An. However, it's tasty and filling so I can't complain too much!
Where to eat com ga in Hoi An? Bà Buội's Chicken Rice on Phan Chu Trinh is often hailed as the best place. This whole street is com ga crazy with lots of stalls and restaurants serving it.
4. Banh xeo (rice flour pancakes)
Translating as sizzling pancake, I cannot get enough of these savoury rice flour pancakes. The batter is fried with pork, prawns and bean sprouts. Here's my mini guide to eating them:
Step 1 – tear a chunk of banh xeo and place it on a piece of rice paper along with some salad.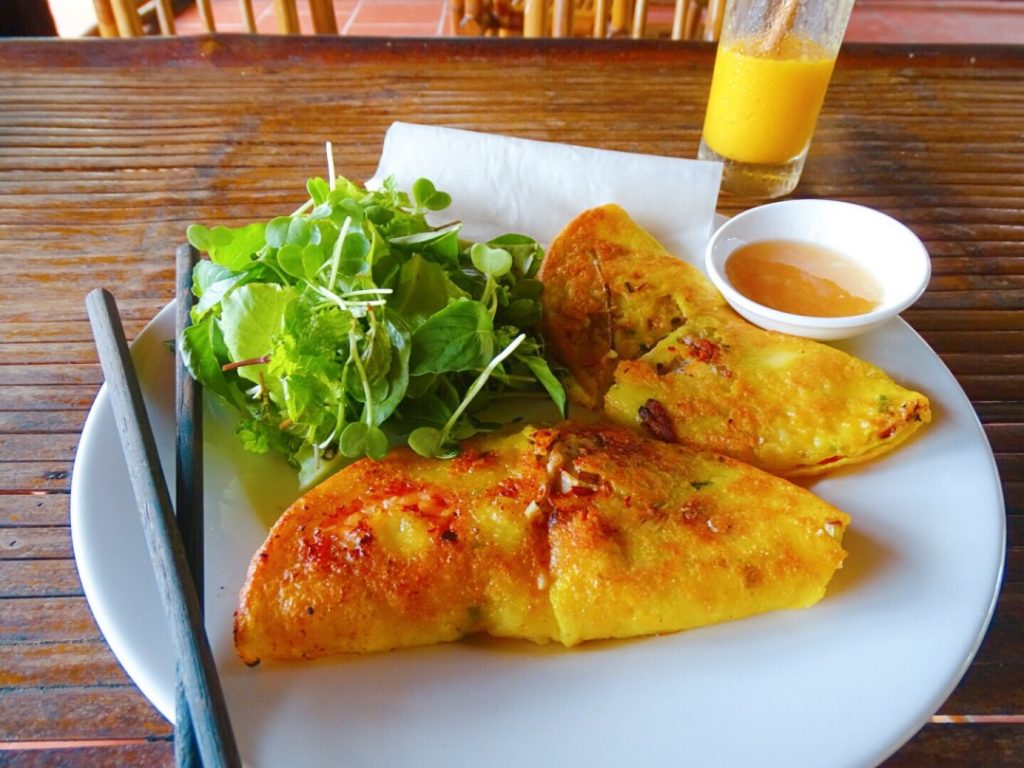 Step 2 – roll up the rice paper to make a spring roll. Dip in the sauce that comes with it (this one pictured is tangy and flavoured with orange – mouthwatering with the smoky pork!).
Where to try banh xeo in Hoi An? I love Baby Mustard, hidden away in Tra Que Vegetable Villagewhere everything is locally sourced from the green surroundings. You'll pay 60,000 VND and it will keep you full for ages.
5. White rose dumplings
One of the most unique street foods in Hoi An, you won't find white rose dumplings made anywhere but here. They're light rice flour parcels filled with pork, prawn or vegetables. They might not make a whole meal but they're a great starter or sharer.
Tasty as they are, good luck taking a photo of white rose on a white plate!
Where to try white rose in Hoi An? The dumplings are only made in one location, White Rose Restaurant, which then distributes them to the others. For that reason I'd recommend trying them there – you can even watch them being made by a group of women who have taken a 3-6 month scholarship in how to do so!
6. A 'Vietnamese pizza'
Otherwise known as banh tráng nuong, this dish is classic Hoi An street food – you won't find it in any of the restaurants. It's made from grilled rice paper held together with egg and layered with other ingredients like pork, chilli sauce and shallots.
Where to try rice paper pizza in Hoi An? The Night Market and stalls along the riverfront are where you'll find bahn tráng nuong. People will likely try to overcharge you – aim not to pay more than 30,000 VND.
7. Banh mi baguettes
Banh mis are by no means exclusive to Hoi An… but when in Vietnam you should eat them wherever you go! They're cheap, filling and flavoursome – definitely one of the best foods to try in Hoi An regardless. There are a couple of highly rated places to sample these fresh baguettes packed with meat and salad.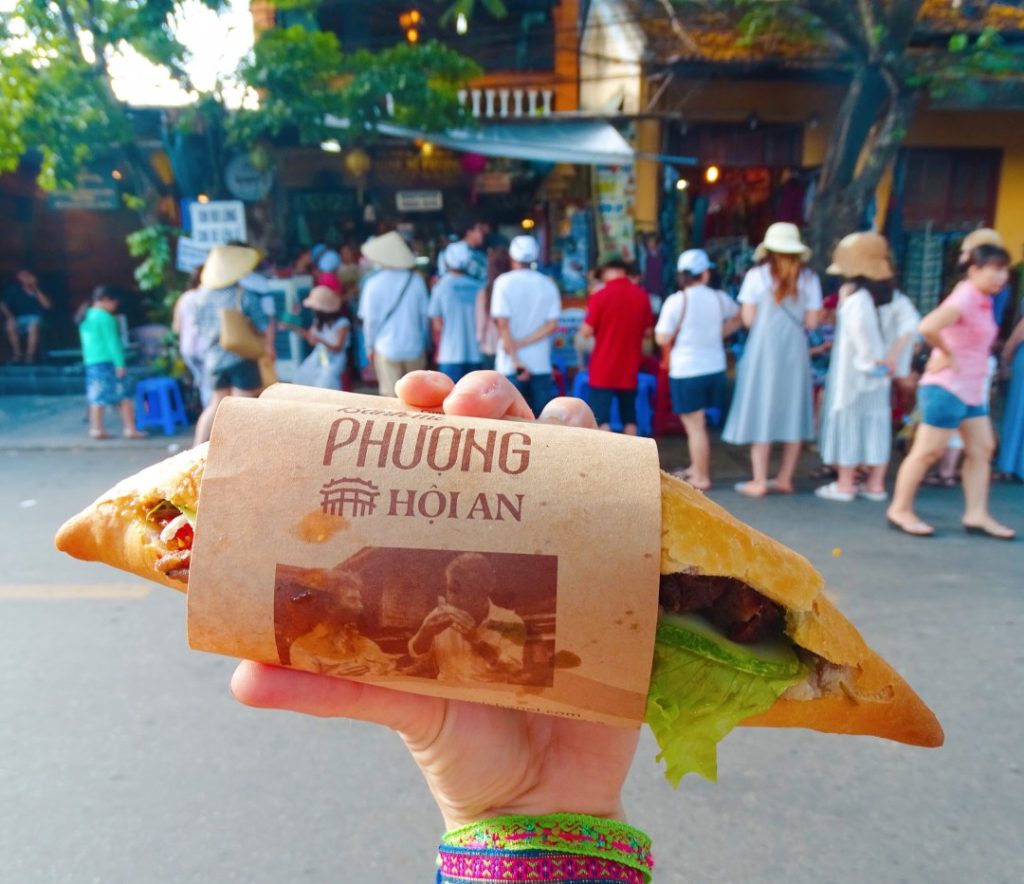 Where to eat banh mi in Hoi An? Anthony Bourdain's favourite, Bánh Mì Phượng, is a delicious yet very busy and hyped-up restaurant. My personal favourite if I want a messy, meaty, local banh mi is Madame Khanh – The Banh Mi Queen, while my go-to for veggie and Western options (avocado, cream cheese etc) is Phi Banh Mi.
7.5. Banh mi op la
Yep, this is point 7.5 because it's not quite a banh mi but also I'm not done with this topic yet!
In the early mornings you'll find food stalls emblazoned with 'banh mi op la' and sometimes the English, 'egg bread'. As you might guess they sell banh mi baguettes filled simply with a fried egg(and some herbs, chilli, soy and fish sauce – you know this is Vietnam, right!?). They never cost more than 15,000 VND and keep me full for ages. Well, until lunch obvs.
8. Bun thit nuong
I absolutely love bun thit nuong which is a dish made from cold rice noodles with pork, peanuts and veg. For me, it's one of the best foods in Hoi An and also the whole of Vietnam. While I've had it as far away as Saigon, my favourite serving was here in Hoi An.
Where to try bun thit nuong in Hoi An? Head to Trần Cao Vân, a street with lots of bun thit nuong stalls. I ate at a particularly good one close to the corner with Ganesh Restaurant. Rather than a few sprinkled peanuts like past servings I've had, this one was drenched in rich satay sauce. So, so good!
9. Banh bot loc (prawn dumplings)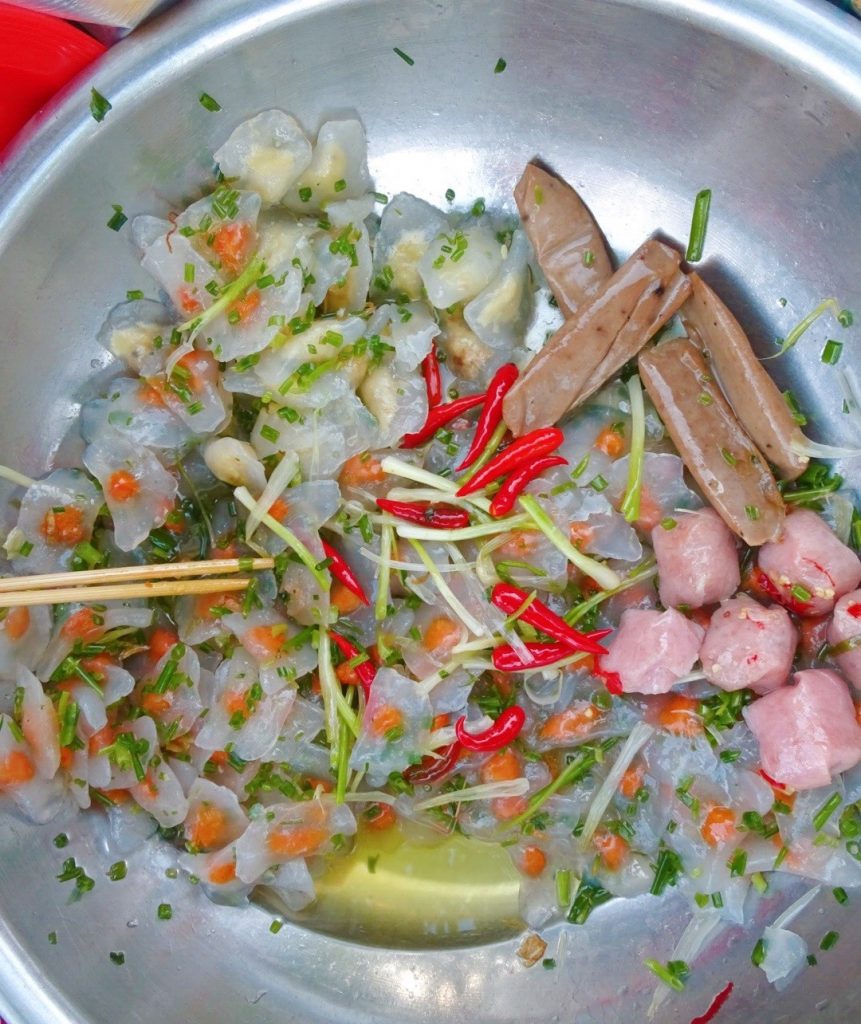 These tasty dumplings weren't on my radar until I stumbled across them on the riverfront. They're made with rice flour, filled with prawn and cooked up in a big metal vat. The local ladies served them up in takeaway boxes topped with crispy onions and even more chilli sauce.
They're similar to white rose but clear and chewy – they taste considerably different somehow.
Where to find banh bot loc in Hoi An? Try the riverfront – there's bound to be someone serving. I paid 40,000 VND but I should definitely have haggled lower.
10. Mi Quang noodles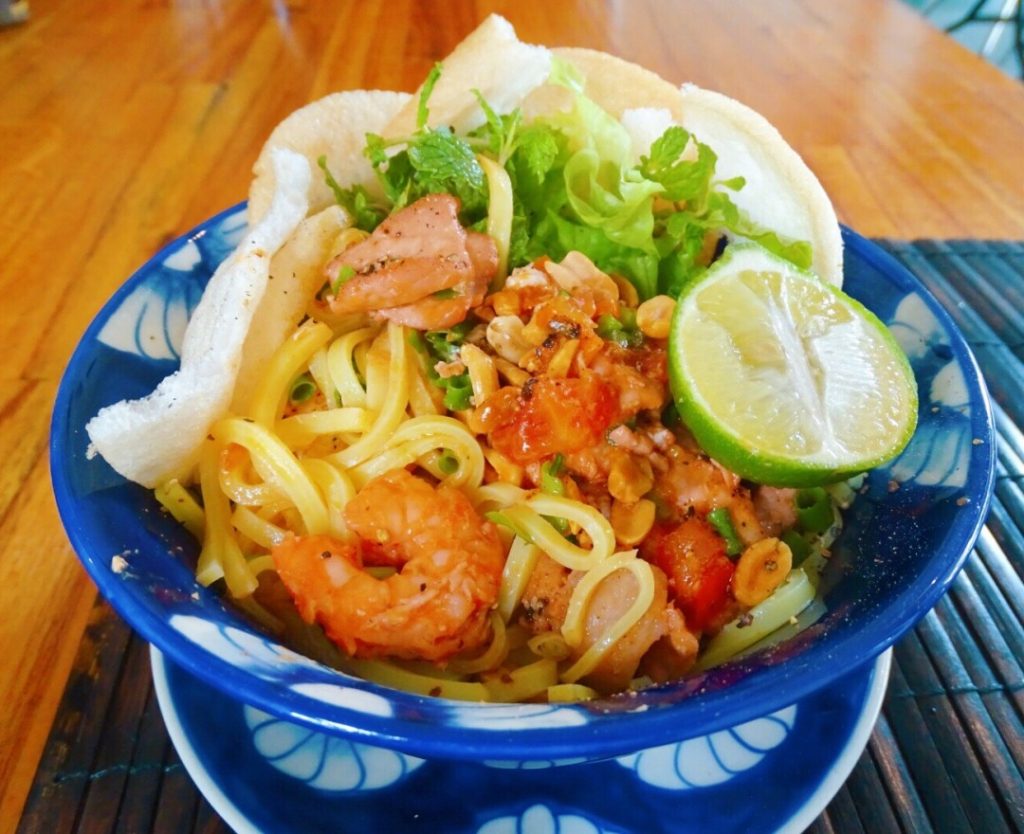 Pork, juicy prawns and quail eggs are at the heart of this affordable local dish. You'll find it everywhere for 30-40,000 VND yet it contains so many tasty ingredients I'd pay way more. It also comes with noodles, salad and bean sprouts which you can mix together for a filling meal.