Hoi An Shopping- Cocobox Café Farm Shop
In the center of Hoi An An Antique City, Cocobox Café Farm Shop is a beautiful juice bar, teahouse, and farm shop. Like a traditional hipster café, it is furnished with warm illumination, rustic bar stools, low tables, and benches, overflowing with fresh fruit and baked goods, an open bar, and wooden registers.
A variety of coffee, teas, homemade jams, sweet honey, chocolate bars, and sauces, as well as body lotion and massage oils, are expected to be only produced from organic and fair-trade goods made in Vietnam. Even in an enticing packaging, Cocobox Café Farm Shop sells its own skincare product line.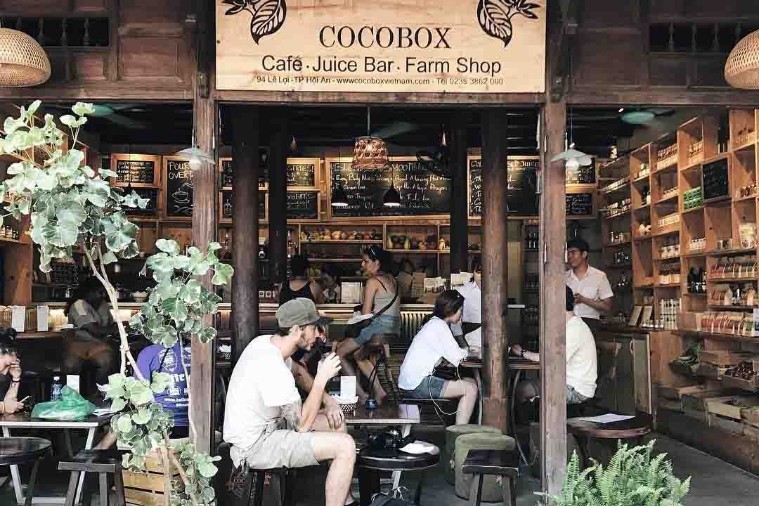 The Scent of Hoi is ideal for people with delicate skin. Just natural ingredients and essential oils like lemon and ginger can be used in the body wash. Souvenirs like homemade truffles, with special variations such as dark chocolates, Phu Quoc pepper, milky cashew, and whitened chocolate are also available at VND prices of 20,000. Their products are also available.
In addition to Vietnamese coffee, Cocobox Café Farm Shop sells homemade coconut milk, frozen juices, ice-creams, sweets, and tartarizes. A selection of freshly prepared sandwiches is available for less than VND 95,000, served along with a carrot and turkey salad on a homemade bun.
Cocobox Café Farm Shop
Opening Hours: Monday – Saturday 09:00 – 21:00
Address: 94 Le Loi Street, Hoi An
Tel: +84 510 3862 000