Complete guide to trekking in Sapa, Vietnam
Sapa is located in Vietnam's Lào Cai Province and is a popular tourist destination for people from all over the world. The town is built on the edge of one of the many mountains that make up the huge Hoàng Liên Son mountain range, with a view of the valley below. The valley floor is covered with rice terraces that vary in color from bright green to yellow depending on the season.
Since the roads aren't perfect and there are well-maintained footpaths, most visitors come to Sapa to immerse themselves in the breathtaking scenery by trekking expeditions. Trekking is unquestionably the easiest way to visit the Sapa region of Vietnam.
Getting to Sapa
Sapa is located some 200 miles north of Hanoi. You have three options: hire a driver (expensive), take a bus (which we recommend), or take a sleeper train. Sapa Express is by far the best bus operator, with clean, comfortable buses, healthy drivers, and buses that depart on time. Book away makes it incredibly simple to reserve your bus or train tickets in advance!
You can take the 7:00 a.m. bus, which has comfortable seating (dubbed the "Limousine Bus"), or the later hours, which have beds. We found that sitting was much more comfortable than sleeping, particularly for people who are tall or have mobility problems.
As soon as you get off the bus in town, you will be approached by Hmong women who will want to sell you their wares or give you a trekking tour to their village. So, unless you really want to, you don't have to book a trekking tour ahead of time.
Weather in Sapa
The weather in Sapa varies greatly depending on the season. Over the season, it is classified as subtropical and receives a lot of moisture. Winter weather is mild, sometimes chilly, and snow will fall high in the mountains. July and August are the warmest and rainiest months. December and January are the coldest months.
The wet season lasts from May to September, and while it can be rainy and gloomy at times, this is when the rice paddies are at their most vibrant orange.
What to Pack for Sapa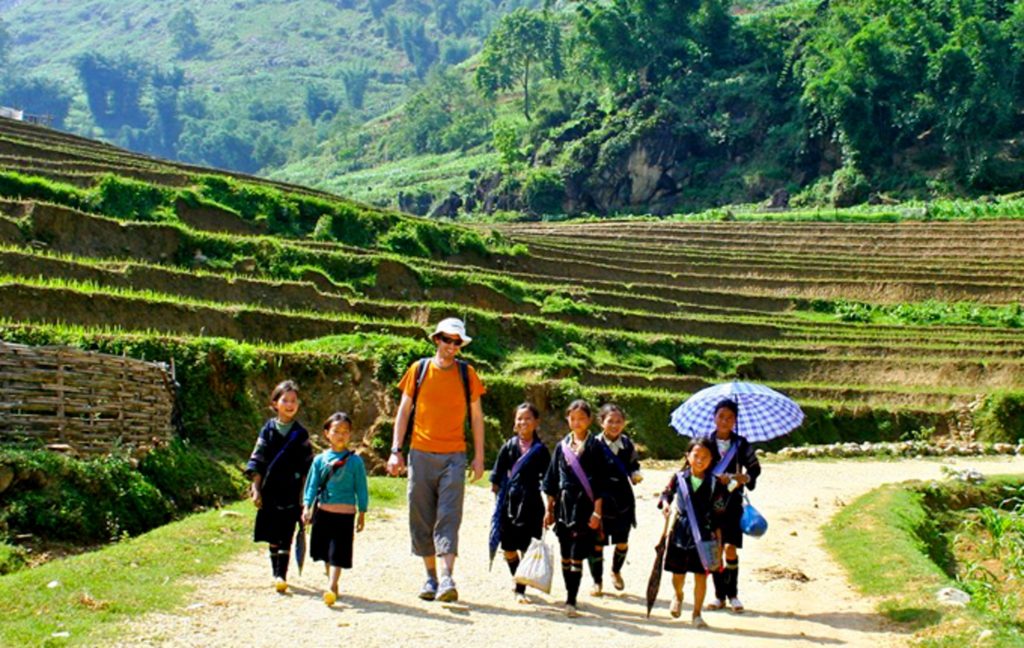 There are numerous shops in Sapa town (and in Vietnam) selling counterfeit trekking equipment. Everything you'll need for a trekking trip can be found here. The only problem with relying on this equipment is that it isn't really of high quality. You don't want to end up with a hiking boot with no toe in the middle of a walk!
If you do plan to buy a jacket or backpack in Sapa, the Sapa Market has far lower prices than the shops in the town center. You would, though, need to bargain.
Pack a pair of lightweight hiking shoes with plenty of stability and the ability to keep your feet dry if you get caught hiking in a downpour. Put a lightweight, compact, and water-resistant jacket like this one by RAB in your pocket. If you're visiting during the winter, bring a couple of pairs of water-resistant, fleece-lined leggings to keep you warm. If you're planning a multi-day hike, don't forget to bring a little daypack. Your bigger luggage can be left in your room.