Bo Bat Pottery Village Beauty
Since it has been restored for more than ten years, Bo Bat pottery with its unique enamel line has confirmed its quality, and it has gradually become a popular ceramic brand in the region, as well as preferred by some countries' markets around the world.
More than 1,000 years ago, Bach Bat village, Bo Xuyen Chan Thanh Hoa of Ai Chau Son, was the Bach Bat village, which is now Bach Lien village, Yen Thanh commune, Yen Mo District, Ninh Binh province.
Archaeologists excavated the Man Bac site in Bach Lien village in 1999 and discovered 15 graves, 17 people, and numerous pottery pieces including beads, pottery circles, pottery cups, pottery coarse, and white enamel ceramics.
According to historical records, the artisans of Bach Lien village accompanied the Ly court (in 1010) to Thang Long, where they settled on the banks of the Red River and founded a village, which is now known as Bat Trang pottery.
The products of Bo Bat pottery village were very common during the Ly – Tran dynasty. Many relics were discovered during archaeological excavations at the Dinh Kinh and Le King temple areas, including terracotta tiles "Dai Viet Quoc Quan Thanh Chuyen" – advanced bricks used to construct the site, sophisticated ceramic items such as dragon's heads, summoned beasts, pots, household appliances, and so on (Ninh Binh).
Bo Bat pottery, in particular, uses a special white clay called Bo Di clay that is only found in this area. When opposed to other varieties of soil, this kind of soil has the characteristics of making the new No. 1 white enamel and only needs to calcine 50-70 percent of the time while also ensuring the consistency of smoothness and hardness. The stock is less likely to crack or break after calcining than most clays.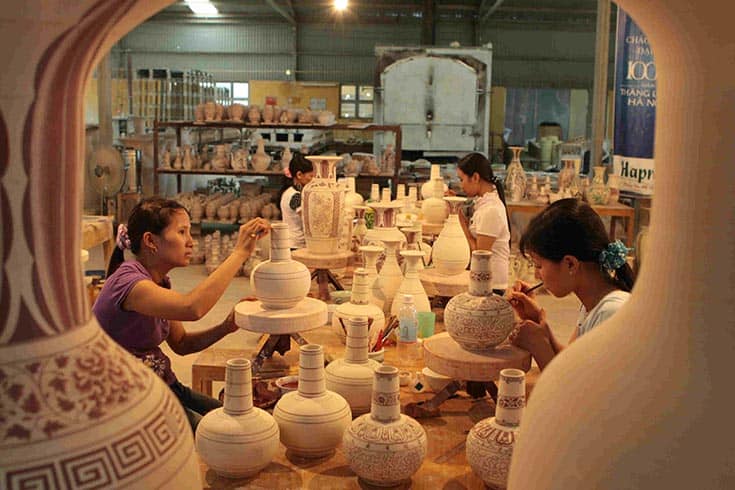 Furthermore, since ceramic materials are calcined at high temperatures, they are made without lead concentration, guaranteeing the health and protection of consumers, as well as preserving characteristics, the consistency of enamel, restricting Chipped, and being very suitable for civil appliances of restaurants and hotels – places that often use dishwashers.
Mr. Pham Van Vang, who revived his hometown's ancient pottery industry, concentrated on making ceramic pieces based on some popular painting lines such as Dong Ho, with traditional regional and national cultures throughout the world, in order to create a unique feature for Bo Bat pottery. There are many well-known tourist areas and attractions in Ninh Binh, including the Phat Diem stone church, the Trang An eco-tourism spot, and the Tam Coc-Bich Dong tourist area.
As a result, after a while, Bo Bat ceramic products have gained a foothold in the industry, not just in the domestic market but also in certain international markets, such as Russia, Germany, France, the United States, Japan, and so on.
These attempts to preserve this Bo Bat ancient pottery are significant in reviving the cultural and historical traditions of the ancient capital, as well as contributing to the preservation and storage of ancient cultural values from previous generations.