Dong Thai Lake- Ideal destination for weekends
Dong Thai Lake eco-tourism area – a location of wild beauty and fresh and cool climate – is about 25 kilometers from Ninh Binh city and will provide tourists with a soothing, comfortable, and quiet holiday.
The Dong Thai Lake eco-tourism site is situated in the communes of Yen Dong and Dong Son, next to the magnificent Tam Diep mountain range. This is an ancient land formed by the paint phenomena. The landscape is not smooth, varied, or dynamic here. Hills, small valleys, and caves interspersed with limestone mountains have produced a charm that is both poetic and majestic.
Dong Thai Lake is over 350ha in size and is surrounded by several narrow and valleys. The mist hovered on the top of the lake in the early morning, the sun peeked out from the mountains, softly shone on the surface of the water weaving phosphorus, and sometimes the sound of the wild birds singing calmly shattered the quiet that created the room. This place is alive with life and dreams.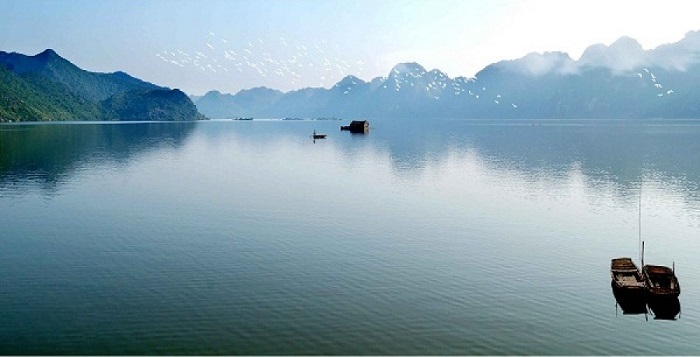 A sightseeing cruise is one of the interesting things that should not be missed while visiting here. Visitors can feel oddly calm when gliding on a tiny boat on the lake, watching the green and blue landscape, falling soul into nature, the soft wind flowing softly making the soul more soaring.
Visitors may engage in outdoor events such as hiking, camping, sailing, resort… in addition to the categories of facilities such as climbing, camping, sailing, resort… at the Royal Golf Course with a scale with 54 holes of international quality, scenery. Beautifully planned in accordance with nature and surrounded by limestone mountains.
If you have the opportunity to return to Ninh Binh, do not miss the wild beauty, poetic and peaceful natural scenery and interesting experiences at Dong Thai Lake eco-tourism area. This is really an ideal choice for the weekend of travelers.