The spectacular appearance of Thien Ha Cave in Ninh Binh
Ninh Binh draws a considerable number of domestic and international visitors with appealing forms of tourism such as spiritual tourism, cultural history research, and cave exploration.
The cave is hidden in the Tuong mountain range, which is part of the Trang An mountain range. Mount General was a garrison of the outpost defending Hoa Lu citadel during the reigns of Dinh Tien Hoang and Le Dai Hanh.
To visit Thien Ha cave, visitors can travel from Muong Tho Ha village in Son Ha commune to follow a small canal of the Ben Dang river system for around 1km, then walk 500m along the foot of Tuong mountain to reach the cave entrance.
The cave is 700 meters deep, with a 200-meter dry cave and a 500-meter water cave. Tourists who visit will be taken aback by the fanciful and surreal world of a stalactite world. Each outline of a rock formed by a mountain is known by a variety of names.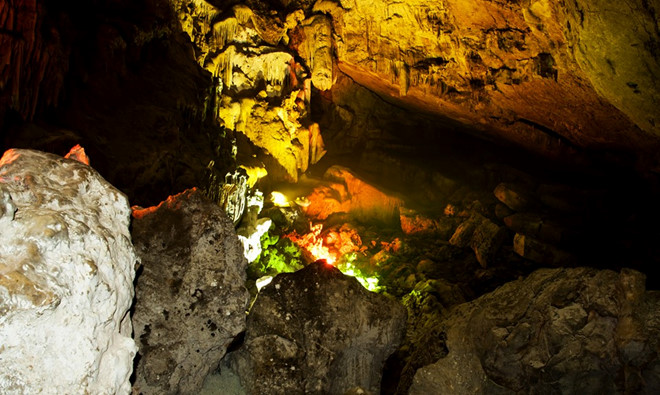 The image of the hole fox consuming prey, the elephant ambushing, the tiger waiting for prey, the monkey scaling trees, and the image of Buddha, Duong Tang teacher singing prayers for the disciples… Tourists proceed down the ferry, admiring Hoa Tien Island, Bau Sua, Ca Hoa Long… and getting lost in the twisting and undulating Galaxy Milky Way of layers of shimmering stalactite layers. realms, enthralled by the fairy landscape That is why the Milky Way is affectionately referred to by the locals. The Milky Way is brightly colored, thanks to its numerous stalactites.
Sung Sot cave has a dynamic area of up to 12,000 m2 (Ha Long). The stalactite structure is complex and constantly forming and developing.
Thien Ha cave, like But cave nearby, is a popular tourist attraction for visitors to Ninh Binh. Visitors can distinctly sense the clarity of space in the silent space. There was nothing but the soft sound of the oars, the breeze rushing through the rocking bow, and the sound of water dripping. The stalactite structure in Thien Ha cave, according to American experts, is still alive and well. The cave is almost completely intact and is home to thousands of bats. Archaeologists discovered evidence of Vietnamese ancients here as well, including mollusk fossils, coarse pottery fragments, animal bones, shells, and overalls.
Thien Ha Cave is the highlight of cave tourism in Ninh Binh for visitors to explore and be captivated.