Discover Sapa by bicycle to get fantastic experience in your Sapa tours
Sapa is the so-called "cloudy town" in Vietnam's northwest. Sapa, with its beautiful scenery and mild climate, draws a good number of visitors all year. To get around Sapa Town and its surroundings, you can rent a variety of vehicles such as motorbikes, buses, or taxis. Cycling, on the other hand, would be much more appropriate and comfortable in such rugged terrain in Sapa, providing you with an enjoyable experience during your Sapa tours.
1/ What's interesting?
Riding a bike allows you to simply contemplate the natural surroundings while still enjoying the fresh air on your Sapa tours. Simultaneously, since Sapa's tourist attractions are usually 5 to 10 kilometers apart, it can be very convenient to travel from your current location to nearby villages. By bicycle, there are two main roads. The first is from Muong Hoa Valley to Cat Cat Village through Ham Rong Mountain, Silver Waterfall, and Love Waterfall. The second route takes you from Sapa Town to Cat Cat Village through Ham Rong Mountain, Muong Hoa Valley, Ta Van Village, and the Area of Ancient Carved Stone.
Besides, local people usually offer plenty of Sapa specialties along roads in order to serve tourists thus you can stop on the roadside to enjoy these delicious dishes.
2/ What should you concern?
The roads in Sapa are very easy to ride a bike on, so you won't have to think about that. Instead, you must plan for your healthcare needs. If you wish to explore Sapa by bicycle, you can engage in daily activities such as biking, jogging, or exercising to maintain good health before embarking on Sapa tours. To ensure protection, it is also important to carry some necessary things such as bike repair equipment, fast snacks, drinks, raincoats, gloves, clothing, shoes, and helmets. You must, in fact, obey the group and not deviate from it when cycling.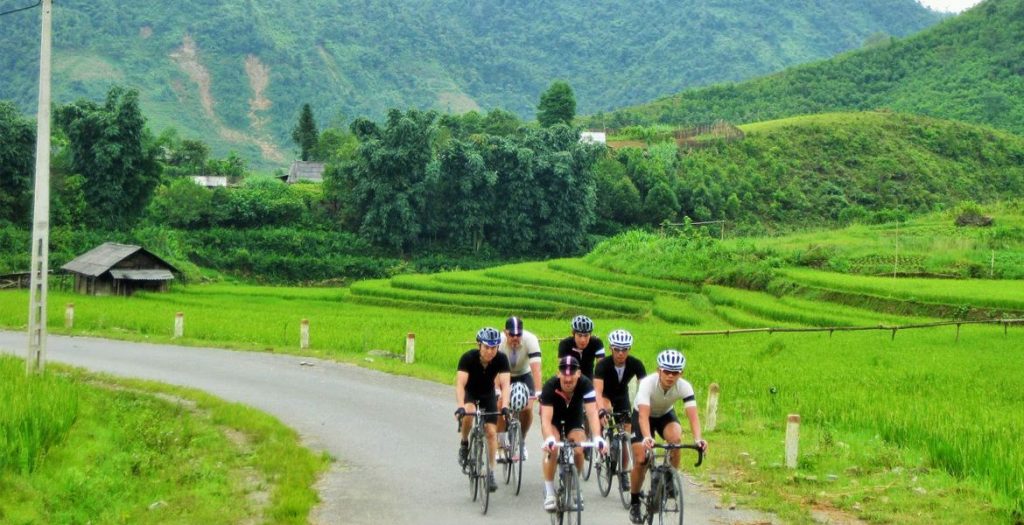 Taking Sapa tours is a great chance to discover the imposing beauty of northwestern Vietnam by bike. With various tours like Sapa tours Vietnam, Sapa tours 2 days 1 night, Sapa tours from Hanoi, Sapa tours homestay, and so on, Focus Asia Travel will ensure you a wonderful experience in cycling in Sapa.