Best Cafes in Dalat: A Gourmet Guide to Vietnam's Food & Coffee Capital
Love coffee? Love food? Then you'll adore Dalat, Vietnam's coffee capital and rising culinary star. Here is my selection of the very best cafes in Dalat for coffee and food—plus a few recommendations for gastronomy-themed activities.
Beloved by local tourists but often overlooked by international visitors, Dalat deserves a place among Vietnam's top destinations.
Located in Lam Dong Province in Central Vietnam—about 300km from Saigon—the City of Eternal Spring has a mild climate and lush landscape. The conditions are perfect for growing fruit (especially berries), wine grapes, cocoa beans—and, of course, coffee.
Vietnam is the world's second-largest exporter of coffee beans (after Brazil), with most coffee grown in the Central Highlands region. Visitors to Dalat can see the entire bean-to-cup process on display in the city at a range of cafes, shops, coffee plantations and farms.
In recent years Dalat has gained a reputation for its retro vibe, making it a favourite destination for local photographers and yes, Instagrammers a-plenty. A lot of Dalat cafes and restaurants have taken cue from their snap-happy customers and developed ultra-chic, thoroughly Instagrammable interiors. Honestly, Dalat has the highest concentration of beautiful cafes I've seen in Southeast Asia outside of Chiang Mai.
Coffee, stylish interiors, local wine and gorgeous food crafted from local produce—it all adds up to one thing: Dalat is a foodie's paradise.
Coffee culture in Dalat
Whether it's potent drip-coffee or world-class lattes, Vietnam loves its coffee. Judging by the sheer volume of cafes in Hanoi, Saigon and just about every other city in the country, it's easy to assume that Vietnam has always been a coffee-drinking country. Like most other countries in the region, tea is the traditional beverage of choice.What's new – October 2018 Play Video
Just how did a tea-drinking country grow to love coffee so much?
When Vietnam was colonised by the French in 1887, they brought with them coffee plants and set up a vast plantation-style operation in the temperate Central Highlands. A reunified and independent Vietnam has made a name for itself as one of the world's most successful coffee producers. The quality of beans might are not as high as other countries, thousands of Vietnamese supporting the industry, including those in rural areas, to lift themselves out of poverty.
Many plantations are family-owned (some are co-ops) and planted out with coffee bushes that can be dated back to colonial times. A rising number of boutique coffee brands are based in Dalat—many with their own cafes in town.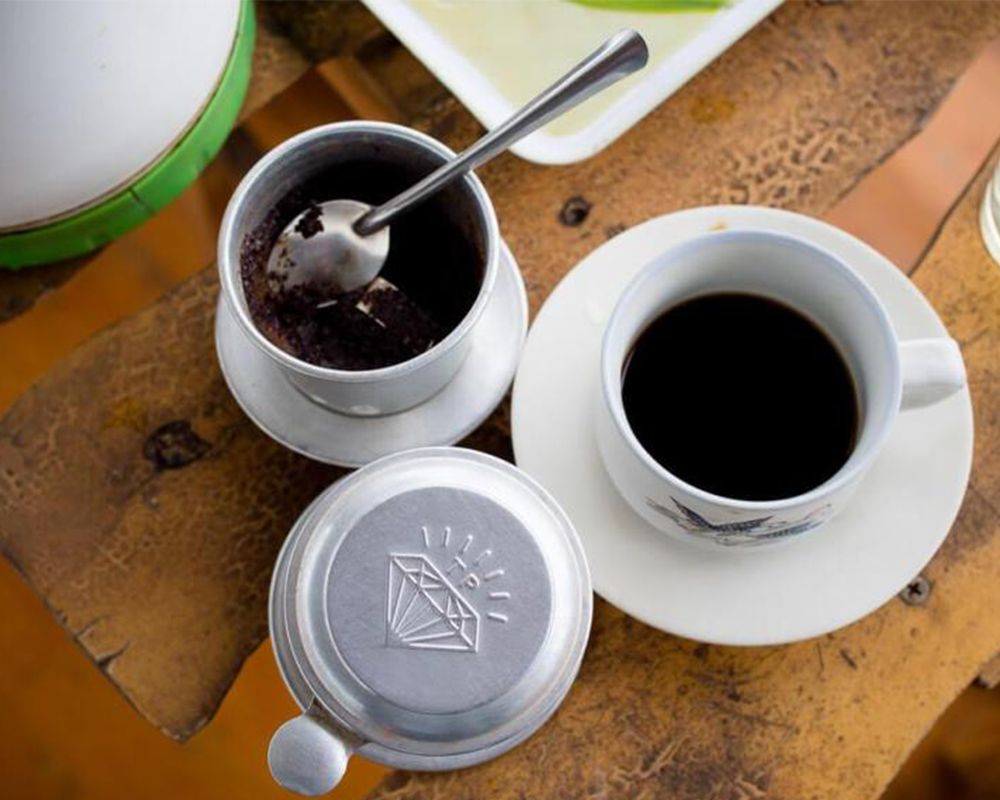 As soon as I get out of a city in Vietnam, I expect to see landscapes characteristed by massive rice fields—but not in Dalat. Here, it's all about the dome-covered strawberry fields, vineyards, and vast coffee plantations that stretch to the horizon over Dalat's gently rolling green hills. As the coffee berries turn from green to maroon, for three months of the year (starting from around September), Dalat turns into a coffee boom town, with people pouring into town and out onto the fields to help with the harvest. This is a great time to visit Dalat, when the city is full of energy and atmosphere.
A quick note on 'Weasel coffee'
Cà phê chồn—more commonly known as weasel coffee, civet coffee or in Malaysia, kopi luwak— is wildly popular in Dalat. If you don't know the story behind this utterly bizarre delicacy, production basically involves weasels ingesting ripe coffee berries. Once the berries come out the other end whole and undamaged, they are collected (by hand), cleaned, and finally roasted. The digestion process apparently makes the end product smoother and more aromatic. Because of the time and effort involved, weasel coffee is the most expensive coffee in the world and fetches insanely high prices—up to 800 USD per kilo.
I won't pretend to be an expert on this issue, but any mass-production process that involves using animals immediately raises a red flag for me. I've been told that the weasels are kept in coffee plantations where they are free to roam around and eat the berries—but I have no idea if that's true, or if there's more to the story. I don't endorse or recommend trying weasel coffee. In fact, I strongly urge you to give it a miss.
A visit to a weasel coffee farm is a part of Dalat easy rider tours. If you have concerns, you should request to skip it.
Best cafes in Dalat: Where to find excellent coffee (and food!)
After three days eating and drinking my way around Dalat, here is my roundup of the best cafes in Dalat.
Le Chalet
Located opposite the popular 'Crazy House', Le Chalet is an intriguing melange of French colonial and war-era Vietnam. Indoor and outdoor dining spaces are perfect for bistro-style dining, making it a great place for a long, lazy lunch. The menu highlights fresh, healthy meals prepared with local produce (this is a running theme in Dalat). Vietnamese dishes and light Western meals (e.g. quiche with salad) are on offer, alongside fabulous smoothies and coffee.
Location: 6 Huynh Thuc Khang (opposite the Crazy House)
Opening hours: 7am–9pm daily
An Cafe
One of many 'rooftop' cafes perched above Dalat's main street, An Cafe is for its rich, smooth coffee. The latte here was indeed one of the best I tried in Dalat. We also ate breakfast here—a basic toast with eggs, and a selection of Central and Southern Vietnamese specialty dishes are available. Everything is made from organic ingredients.
Location: 63 Ba Thang Hai
Opening hours: 7am–10pm daily
La Viet Coffee
Dalat's one and only warehouse cafe, La Viet is the place to sample La Viet coffee, which is grown, processed and roasted locally. The warehouse is located a little bit out of the centre of town, but it's well worth the effort to get up there. The design and decor is spot-on; a little slice of Melbourne in Central Vietnam. The coffee is obviously the highlight, accompanied by simple Western brunch dishes prepared in the kitchen next door.
The best thing about La Viet is that visitors can take a tour of the on-site production facilities and see the coffee sorting and roasting processes first-hand. A staff member will happily take you around without any notice (just inquire at the counter when you arrive). There's also a demonstration kitchen for coffee tastings, and a wonderful gift shop that sells La Viet coffee and other local products (more on that later). In-depth field tours of the La Viet plantation can also be organised through local tour operators (ask at your hotel/hostel if you're interested).
The Dreamer
We stumbled on this sweet little cafe while exploring Dalat's French Quarter. Maybe it was because of the rain, which started hurling down just as we found a table, but The Dreamer felt like the perfect place to curl and get stuck into a good book. There are plenty of tastefully decorated, private indoor and outdoor spaces. Terrace tables have views of the Dalat Train Station, visible across the gorge. The cafe serves smoothies, coffee and tea, including Dalat's famous artichoke tea.
Location: 27b Tran Hung Dao
Opening hours: 8am–11pm daily
Biang Bistro
Biang Bistro is by far our favourite cafe in Dalat. Recently renovated and relaunched in early 2018, the interior is exquisite; indoor-outdoor spaces are reminiscent of a luxe Balinese villa. We also spotted some touches of Thai design (and a few menu items) that make me think the cafe is perhaps partly Thai-owned. Most importantly, the coffee is very good—the sprinkle of cinnamon on top of my latte was a very nice touch.
I wish I was a food writer so I could properly convey just how good the dining at Biang Bistro is. Our lunchtime meal was one of the best eating experiences we've had in Vietnam. It might go down as our best meal of the entire year. The chef is British, and the menu features both Vietnamese and Western dishes. The emphasis is on fresh produce and big flavours, with plenty of vegetarian/vegan options available, all with a health bent.
Prices are a little higher than elsewhere in Dalat, so the set lunch at a very affordable 150K VND (including dessert) is a great option if you're on a budget. My lunch (above left, in the foreground) featured black bean hummus, black bean falafel, roasted cherry tomatoes, homemade pickles and slaw served with crispy grain flatbreads. Not pictured: A huge platter of mango sticky rice (see, that hint of Thai again). We went all-out glutton and ordered a chocolate tart topped with edible flowers, too.
The food at Biang Bistro was so good, we went back for breakfast the next day. The pho we ordered was aromatic and delicate—perfect with a side of Vegemite toast and boiled eggs!
Location: 94A Ly Tu Trong
Opening hours: 7am–10.30pm daily
BicycleUp
From an outstanding all-rounder to a dedicated coffee house. BicycleUp is a 'pure' coffee joint; a tiny hole-in-the-wall serving La Viet coffee and a small selection of teas and juices. The interior is styled with an eclectic collection of antiques and curios. Menus are bound in old Russian schoolbooks; walls are lined with stacks of tomes, old bicycle parts, gramophones and Soviet cameras. The style is similar to Cong, but more crowded and less curated (in a good way).
Location: 82 Truong Cong Dinh
Opening hours: 7am–10.30pm daily (open until 11pm on weekends)
Tiem Ca-phe Co Bong & Tiem banh Totto-chan
And the award for Dalat's most Instagrammable cafe goes to… Yes, a major reason people visit Co Bong and Totto-chan is to take selfies—and who could blame them. This pair of adorable retro-themed cafes is located in downtown Dalat, behind the train station. Co Bong is styled as a war-era cafe, with plenty of vintage accoutrements. Additionally, we unfortunately ran out of time to visit, so I can't speak to their coffee or food offerings—but social media tells me that both specialise in Vietnamese-style drip coffee. Totta-chan is also known for its cakes and baked goods. Located within walking distance of each other, you can easily pair them together.
Location: 238 Yersin & 59 Nguyen Trai
Opening hours: 8am–9.30pm daily