The best restaurants – Where and What to eat in Da Lat
Da Lat charms you not only due to the romantic walk from the church to the market, but also due to the fresh, cool air unlike any other places in Vietnam. Da Lat also impresses tourists deeply with the city's eating out scenery. While the aroma of street foods at the Da Lat night market might entice you to spend your evening there, not every tourist wants to do that. Some of them might want to save their appetite for some best Da Lat restaurants. The choice of decent eateries in Da Lat might be limited compared to other popular Vietnam tourist destinations. However, don't worry because this article will help you find out some of the best Da Lat restaurants. Therefore, when visiting Da Lat, you will know where to eat and drink in this city for the best experience.
1. Trong Dong Restaurant (Nhà Hàng Trống Đồng)
This intimate restaurant is a little out of the city' centre, and among one of the most well-known Da Lat restaurants, which is run by a very hospitable team. In this restaurant, the menu has been creatively designed. Really, this restaurant offers delicious and fresh foods that make sure tourists will come back whenever coming here. Trong Dong restaurant also has a wonderful view with nice decoration. The décor seems austere; nevertheless, the restaurant is so clean. You can order and try authentic and great tasting foods.
Opening hours: 11:30 – 21:30
Location: 220 Phan Dinh Phung (Phan Đình Phùng) Street, Dalat
Tel: +84 63 382 1889
2. Nam Phan Restaurant (Nhà Hàng Nam Phan)
Nam Phan restaurant is situated amid a beautiful garden within a tastefully restored French villa. The outside of this restaurant is so impressive at the first sight while the inside is well-decorated. Moreover, it has a balcony with such an amazing view of lake. The staff members of the restaurant are famous for polite, attentive, and professional manner. However, the food price is a little bit high for Vietnamese standard, yet the atmosphere is really worth enjoying for lunch or dinner.
Location: 07 Tran Hung Dao (Trần Hưng Đạo) Street, Dalat
Tel: +8463.3813816
3. Long Hoa Restaurant (Nhà Hàng Long Hoa)
When it comes to best Da Lat restaurants that are worth visiting, Long Hoa restaurant is a famous place. Situated at Da Lat's center, Long Hoa restaurant is the best place for tourist to have both lunch and dinner here. With an extensive menu of both Vietnamese and Western dishes, this restaurant will offer you tasty food. The manager and staffs are friendly and they could speak English well. Da Lat's weather is rather cold, so tasting great food in a peaceful and cozy place sounds really marvelous. Though this is not a totally fancy restaurant, it is very clean and welcoming, particularly for families.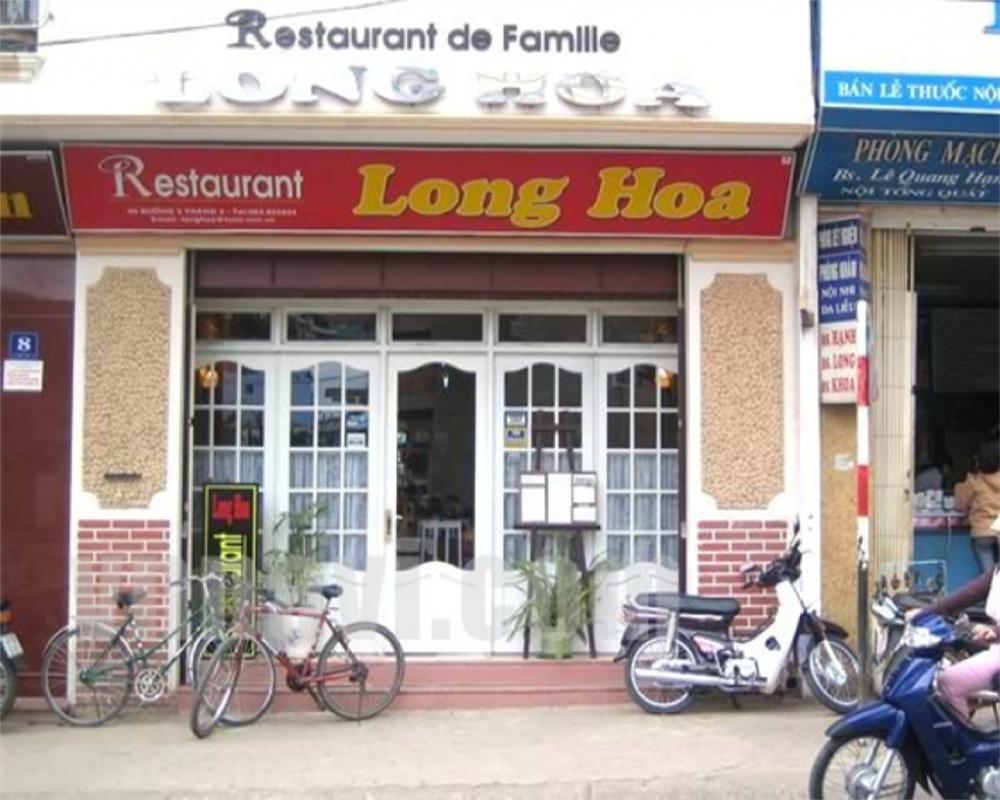 Location: 6 – 3/2 Street, Dalat
Tel: +84 63.3822934
4. La Rabelais Restaurant
Situated inside the Da Lat Palace Luxury Hotel and Gold Club, Le Rabelais is located in a lovely building with wonderful views. Most customers are pleasured with the restaurant, from its ambiance to live piano performance. With this restaurant, the staffs are very good at speaking English, so tourists can enjoy excellent service from staffs here. In terms of food quality, it is good, well-presented and delicious. In fact, this restaurant is recommended as a truly-old world charm.
Opening hours: 06:00-10:00 and 18:00-22:00
Location: Dalat Palace Hotel, No 12, Tran Phu (Trần Phú) Street, Dalat
Tel: +84 63.825444
5. Café De La Poste
Also being a part of the Da Lat Palace Luxury Hotel and Gold Club complex, the Café de la Poste is set in beautifully restored colonial mansion with great surrounding gardens and views. Inside, there is plenty of colonial charm: from wooden booths with padded seats to the stained glass art-nouveau windows, chandelier, a grand bar, and black and white pictures. The food served in this restaurant is French or Asian, tastily cooked and served beautifully with great style. Besides, the staff is very friendly and attentive. This brings tourists the enjoyable and peaceful feeling. This is really a perfect and ideal place in regard to Da Lat restaurants that you should not miss when visiting Da Lat.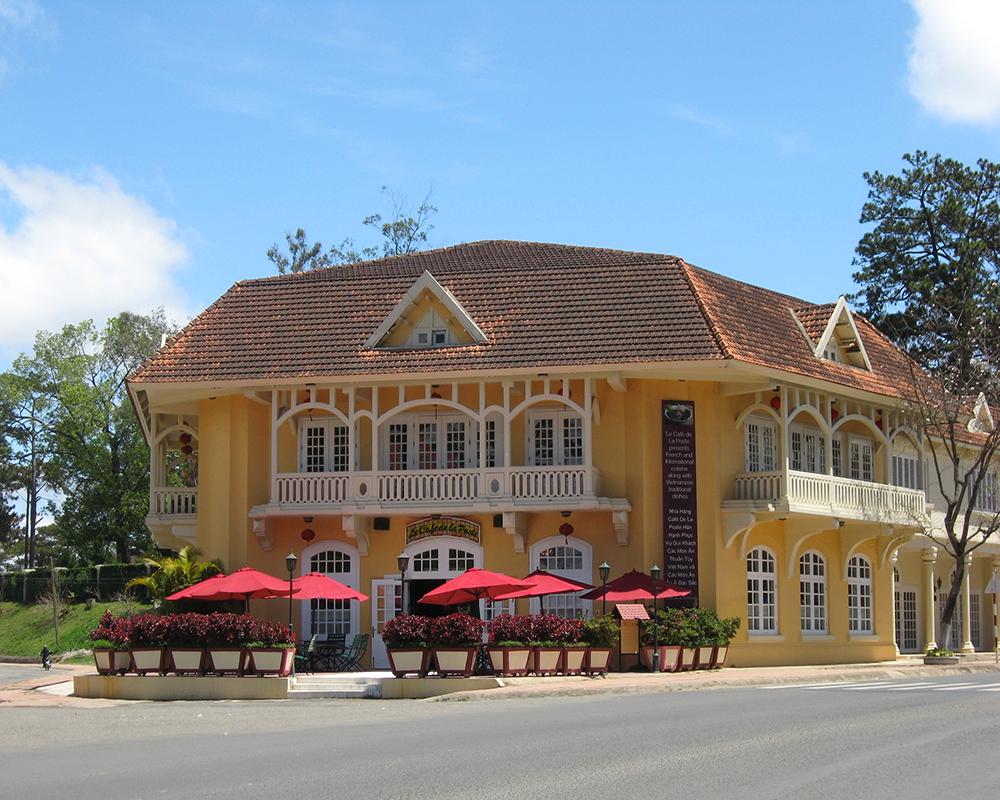 Location: No 12 Tran Phu (Trần Phú) Street, Dalat
Tel: +84063.825777
Keep reading this list to discover more great Da Lat restaurants to enjoy!
6. Goc Ha Thanh Restaurant (Nhà Hàng Góc Hà Thành)
This local restaurant has been built for more than 3 years so far, and does a great job of serving clean and good local fare. This casual new place with attractive bamboo furnishing is owned by a welcoming Hanoi couple. These owners are very friendly and sweet and are really good with service. Here, you have many dining options, such as lunch, dinner, breakfast, late night, and reservations. Some of the most delicious dishes here are coconut curry, hotpots, clay pots, stir friends and noodles.
Location: No 53 Truong Cong Dinh (Trương Công Định) Street, Dalat
Tel: +84 633553369
7. Pho Hieu (Phở Hiếu)
This is a quite small street-side restaurant, which is always busy in the morning. This restaurant is well-known for its beef Pho (Phở) with donut served for breakfast. In addition, in Pho Hieu, you will be able to enjoy Da Lat yoghurt for desserts. The staffs here speak English rather well. If you come to this restaurant on weekends, it is quite busy as there are a lot of families coming for a family meal.
Location: No. 23 Tang Bat Ho (Tăng Bạt Hổ) Street, Dalat
8. Da Quy Restaurant (Nhà Hàng Dã Quỳ)
Da Quy is a French-style restaurant in among impressive Da Lat restaurants that has been received a lot of good feedbacks. This is a small gem featuring Vietnamese cuisine in a cool setup. It is popular to many tourists for the excellent services and beautiful spot.
This restaurant is near Bao Dai (Bảo Đại) Summer Palace, Xuan Huong Lake (Hồ Xuân Hương), and Da Lat Flower Gardens. Here you can order foods variously, from breakfast, lunch to dessert and dinner. Some of the most popular items are, for instance, shrimp cooked with chili and tamarind sauce, Vietnamese hotpot (with your choice of meat) and delicious spring rolls. Also, Da Quy serves local wine, which will go well with the food.
Opening hours: Lunch and dinner
Location: 49 Truong Cong Dinh (Trương Công Định) Street, Dalat
Tel: +84-(63)-3-510-883
9. Hoa Sen Restaurant (Nhà Hàng Hoa Sen)
In regard to best Da Lat restaurants, Hoa Sen is such a nice Vietnamese vegetarian restaurant which is really ideal for vegetarian tourists. It provides customers with cozy atmosphere with beautiful view. The food served here is delicious and the price is rather cheap. Besides, the servers are all quite endearing and charming, and do a good job of keeping to customers' needs. Though there are a lot of vegetarian restaurants in Da Lat, Hoa Sen tends to offer the best dishes and the widest selection.
Unlike many other veggie restaurants in Da Lat, Hoa Sen does not focus on "fake meat" dishes. Rather than, they make use of the fresh vegetables that Da Lat is well-known for and cook them beautifully and simply. Also, in this restaurant, you can find the vegetarian versions of Vietnamese classics, like Phở. This restaurant is bright, big and airy with wooden furniture. The prices are also very reasonable. So, it is highly recommended for those who want to have amazing vegetarian meals here. Location: 62 Phan Dinh Phung (Phan Đình Phùng) Street, Dalat
10. News And New Art Café
The name of the restaurant itself – News And New Art Café – speaks all. All of things in this restaurant is too artful, even the toilet. The food takes a little time to well prepare but it is really worth the wait. The waiters and waitresses here are so kind and smile a lot. Going to this restaurant for dinner, you will be surprised to see how quite it is. According to many customers, they enjoyed one of the nicest meals at here.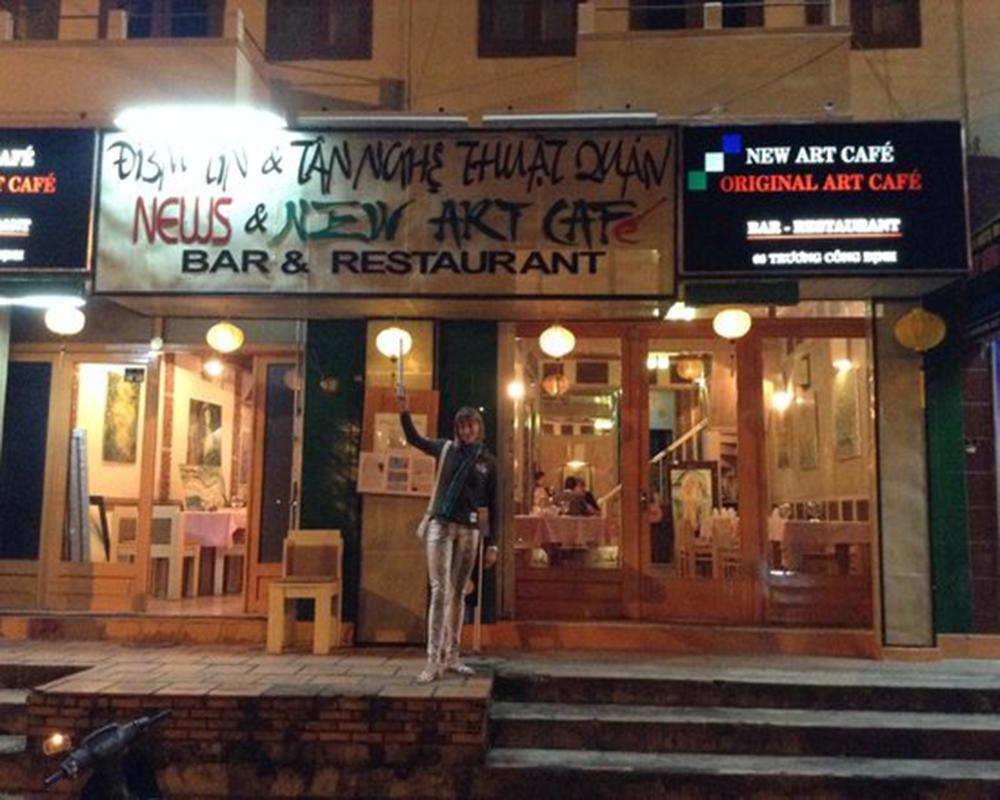 Location: 70 Truong Cong Dinh (Trương Công Định) Street, Dalat
Tel: +84 633510089
Food in Da Lat is very surprising, particularly for international tourists. The town is in the highlands is home to a lot of ethnic minority Vietnamese. If street foods are one of the most enjoyable items for tourists when visiting Da Lat, foods in Da Lat restaurants are also various and delicious, from traditional Vietnamese cuisine, vegetarian foods to Westerns dishes. If you find yourself in Da Lat in the near future, these are 10 best Da Lat restaurants that you should not miss grabbing a bite at.