5 best shopping in Hue
Shopping in Hue allows you to immerse yourself in the local culture and learn about the city's fascinating history and culture. Hue, with its small markets, art galleries, and tailor shops, is arguably one of the best cities in Vietnam to buy genuine handicrafts. Silk paintings, antiques, and lacquerware are all common pieces.
Several non-profit organizations and fair-trade outlets can be found along Vo Thi Sau Street, which is around a 10-minute drive from Hue Imperial City. Not only can they sell high-quality items made by improvised locals, but tourists can also learn how to make basic handicrafts in workshops as souvenirs of their trip to Hue. It's worth noting that some vendors, especially in Dong Ba and Tay Loc Market, don't speak English, but don't let that stop you from haggling for the best deal. Check out our list of places to shop in Hue.
Dong Ba Market
Dong Ba Market is Hue's oldest of its kind, with hundreds of stalls selling low-cost household goods, handicrafts, clothes, and fresh produce. The store, housed in a vast structure on the northern side of the Perfume River, opens as early as 03:00 to appeal to local marketgoers looking to buy new fish, fruit, and vegetables. Breakfast at Dong Ba Market is best between 08:00 and 11:00 a.m. when you can enjoy authentic Vietnamese dishes such as pho, banh khoai (stuffed omelet), and new spring rolls.
Opening Hours: Daily 03:00 – 20:00
Address: Tran Hung Dao Street, Hue
Healing the Wounded Heart Hue
Healing the Wounded Heart Hue sells a variety of recycled handicrafts, shoes, and clothing. This profit-free store, established in 2009 by the NGO Spiral Foundation, provides a variety of disabled artisans in Hue with equal incomes, medical care, lodging, a regular subsidized dinner, and a leisure allowance. Totes made of cardboard, traditional baskets handwoven with bamboo and food wrappers, and picture frames made from recycled beer cans are among the unusual products available here. Healing the Wounded Heart Hue is located on Vo Thi Sau Street, a 10-minute walk from Truong Tien Bridge.
Opening Hours: Daily 10:00 – 22:00
Address: 23 Vo Thi Sau Street, Hue
Tel: +84 54 381 7643
Gia Huy Silk Hue
Gia Huy Silk Hue is a tailor shop on Pham Ngu Lao Street known for its efficient tailoring facilities and a
large selection of fine silk, cotton, cashmere, and wool. Its expert employees will quickly replicate your favorite designer suits, skirts, and jackets within 24 hours of taking your measurements. You have the choice of picking up the final goods from the store or having them shipped to your hotel for free. Best of all, Gia Huy Silk Hue remembers your size so you can quickly order another outfit online even after your Hue vacation is over.
Opening Hours: Daily 10:00 – 22:00
Address: 48 – 50 Pham Ngu Lao Street, Hue
Tel: +84 54 383 1705
New Space Art Foundation Hue
New Space Art Foundation Hue is a non-profit art gallery run by brothers Le Duc Hai and Le Ngoc Thanh that showcases their collection of one-of-a-kind folk paintings. The gallery, located on Pham Ngu Lao Street, is a two-story space with a garden courtyard, lacquer, and photography studios. New Space Art Foundation Hue also regularly holds dinner parties, collective dining, and art shows for upcoming artists in order to broaden the local art scene. Bowls and Chopsticks, one of their previous installations, shows 1,945 gilded bowls crossed with red chopsticks in lines on the ground to honor the two million Vietnamese who died from starvation between 1944 and 1945.
Opening Hours: Daily 10:00 – 22:00
Address: 28 Pham Ngu Lao Street, Hue
Tel: +84 54 384 9353
Tay Loc Market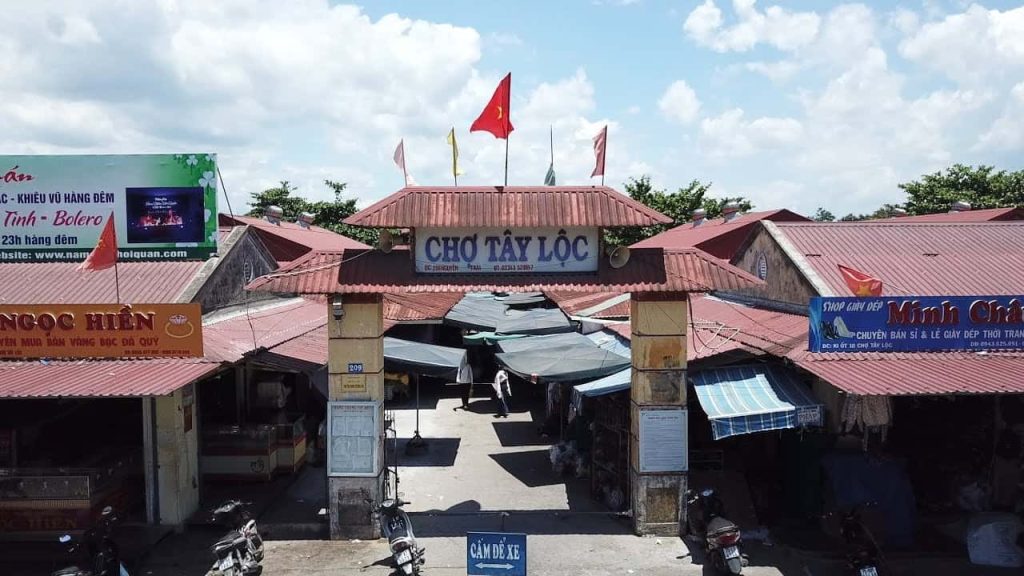 Tay Loc Market mostly serves Hue residents, but visitors can find plenty of shopping and snacking options during their stay. Expect the regular products available at any store, such as fresh fruit, household pieces, and clothes, a five-minute drive from Hue Imperial City. There are also several stalls selling high-quality souvenirs like conical hats and wooden carvings, but be prepared to haggle hard to get the best deal. Tay Loc Market is better visited early in the morning (with an empty stomach) to sample inexpensive local delicacies like Banh beo (steamed rice cakes), fresh spring rolls, and Hue beef noodle soup.
Opening Hours: Daily 06:00 – 22:00
Address: 209 Nguyen Trai Street, Hue