Where you should to go on your honeymoon?
Honeymoon tourism is definitely one of the concerns of couples because there are so many attractive places. Let Focus Asia Travel suggest you some domestic and international honeymoon locations for you to have the right choice.
International honeymoon tourism
There are many suggestions for honeymooners when choosing international travel such as Thailand, Singapore, Japan or Korea, which will be interesting destinations for couples to explore and experience. For international travel, you can choose self- sufficient, depending on your budget. Please consider to have a suitable option.
Thailand
As one of the top destinations for tourists, especially for couples, the land of the Golden Temple will definitely be an ideal choice because its close distance from Vietnam. Documents and procedures to go to Thailand are just like a domestic flight. Currently, there are a lot of  Thailand tours with reasonable prices that both of you do not have to worry about travel procedures, hotels or entertainment venues in Thailand – giving you a new experience.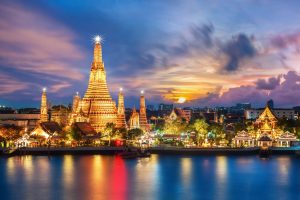 Thailand – the ideal honeymoon destination
What's good in Thailand? You can visit Bangkok – the capital of the Buddha country – if you love the bustle and modernity, or if you love the ancient, peaceful, go to Chiangmai – an ancient city of Thailand. If you are nature lovers, come to Phuket Island – known as Thailand 's resort paradise to enjoy the fresh cool water and the most beautiful natural scenery in Southeast Asia. In the land of Golden Temple, you can also experience typical traditional dishes such as the famous Thai Tomyum Hotpot, pad Thai, sticky mango, fried banana which are all the dishes seen in every Thai restaurants or on streets .
Singapore
As being the most livable country in the world, Singapore is also a reasonable choice when the two of you are planning a honeymoon trip. Singapore is a modern country and is too familiar to tourists. With the close distance, if you move from Ho Chi Minh City, it will take about 2 hours and 4 hours if you move from Hanoi. Coming to Singapore, you will be overwhelmed by the modern scenery here. Furthermore, you definitely cannot miss out Sentosa Island, Melion Park which is the symbol of this country, or walking together on East Coast Park, participate in cycling or boating, etc. Seeing the city at night on Singapore River Cruise is also sweet thing that you can experience together during your honeymoon in Singapore.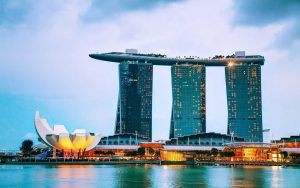 Singapore – The most livable country in the world
Singapore is a special city with a variety of ethnic groups in the world living together. Most of the people in the city are Chinese, but you can also find it somewhere in the city of Indians, Malaysians and even Westerners, so the culture and cuisine in Singapore is very diverse. Coming to Singapore , you should visit Little India to enjoy Indian dishes such as spicy curry, Me Rebus egg noodles, etc. If you like Chinese food, come to Chinatown to enjoy Hainan chicken rice, Beijing roast duck. There are hundreds of other local dishes that you can enjoy in Singapore. In addition, a Singapore tour for couples will be an ideal option in honeymoon plan. The two of you can make a set of commemorative photos for your sweet honeymoon in this modern city.
South Korea
Coming to Korea, you can travel to the land of Kim. Korea is a country that especially owns sweet romantic places. If you are too familiar with Korea through love movies, you will have the opportunity to explore famous places such as Nami Island, Jeju Island or even in the capital Seoul which are also one of the great experiences when the two of you come to this country.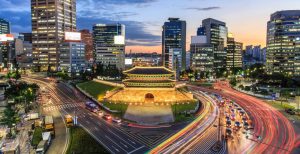 Modern Korea but also very romantic
Korea is famous for street foods such as tokbokki, cold noodles, bibimbab mixed rice or bulgogi beef, etc. In addition, you and your loved one can walk around the city at night to visit the markets or go to shopping malls to experience the bustling Korean life and record memorable moments during your trip.
Honeymoon tourism in the country
Domestic honeymoon is also a good option for couples who want to save money or don't want to think about immigrate procedures. Vietnam itself has no shortage of romantic places compared to other countries and it is also an ideal tourist destination for foreign couples when planning a honeymoon trip .
Sapa
A short Sapa trip for couples is not a bad idea. Sapa is beautiful, sweet and romantic. You can explore Cat Cat village, O Quy Ho Pass – Windy Sky Gate or conquer Mount Fansipan – the famous Indochinese roof. In addition, the two of you can immerse yourself in the lives of the people here by dressing in beautiful and simple national costumes; enjoy specialties such as wild boar, triumphal hot pot, cat cider and visiting, shopping at fair markets, etc. Surely the two of you will have memorable memories in your honeymoon trip.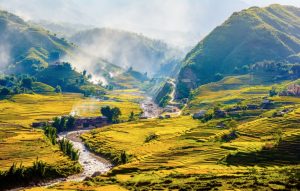 Sapa is wild like a picture
Da Nang – Hoi An
Tour Da Nang – Hoi An would be an interesting suggestion for your honeymoon plan. As the most liveable city in Vietnam with beautiful scenery, friendly people and inexpensive living expenses, Da Nang has become an ideal tourist destination on the list of newlyweds. Come to Da Nang, you can choose to travel by tour or book your own airline and hotel tickets. You will not be able to ignore Ba Na Hill- a famous tourist resort nationwide with majestic natural scenery, a diverse entertainment area for all ages. In addition, couples should visit the love bridge, visit the Dragon Bridge or have fun at Asia Park.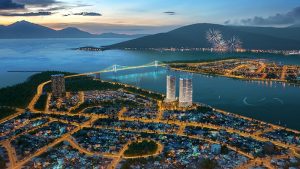 Panoramic view of Danang – the most livable city in Vietnam
Not far from Da Nang is the ancient town of Hoi An. If you have already arrived in Da Nang without going to Hoi An, that is a major shortcoming in your honeymoon. Hoi An city ​​is only about 30km south of Da Nang. Following National Highway 1, you can take a bus, taxi or more sweetly, rent a motorbike and go together. Hoi An Ancient Town is a UNESCO World Heritage Site. Coming to Hoi An , you will have the opportunity to immerse yourself in the romantic scenery bold ancient here, see the ancient architecture. Especially at night, the whole neighborhood will stand out among the lights. The brightly lit cage will leave a beautiful image on the honeymoon tourism of couples.
Hoi An is beautiful and romantic at night
Da Lat
As a paradise city for newlyweds, Dalat is famous for vibrant flowers blooming all year round and green pine forest. Dalat is in the top of the honeymoon destinations. For couples, this city possesses a peaceful, natural beauty and ancient houses from the French colonial period which will make you feel like being lost in the Western sky in Vietnam. Coming to Dalat, you will not be able to miss out Xuan Huong Lake, the city center or Lam Vien Square or go to the strawberry garden to pick and enjoy fresh strawberries right at the garden.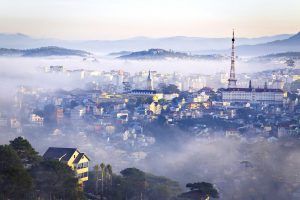 Dreamy Dalat has the beauty of ancient Europe
Dalat is a city where many people from other provinces live together, so you can enjoy any regional specialties in this city with competitive prices. If you intend to spend your honeymoon in Da Lat, you can try the Dalat tour so you do not have to miss the interesting things of this special city. Please take note to bring your jacket because a day here brings together all 4 seasons. Especially in the evening, the chilly atmosphere will make the couple's honeymoon more romantic than ever.
Phu Quoc
Phu Quoc is an attractive tourist destination that the two of you cannot ignore when you are planning a honeymoon trip. Phu Quoc is the largest island which has a beautiful coastline in Vietnam and the majestic natural scenery as the name "The Pearl Island". You should not miss out Vinpearl Phu Quoc resort which  always has special offers for couples and 5-star service. When coming to Phu Quoc, you can visit Ham Ninh fishing village to watch the sunrise in the morning, visit Phu Quoc prison or participate in diving activities to watch the corals in An Thoi archipelago or simply enjoy the fresh air together with a gentle breeze blowing on the coast.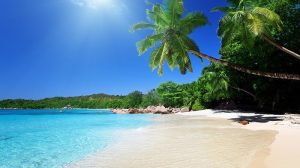 Phu Quoc – Vietnam's resort paradise
Hopefully, with these suggestions of Focus Asia Travel, the two of you can choose for yourself a suitable honeymoon destination to enjoy and preserve the sweetest moments in your life.
———————————————-
Contact now to get the best price!!
Focus Asia Travel
Office of Hanoi:  No. 1, Hoang Ngoc Phach, Dong Da, Hanoi
Hotline:  078.2323.879 – 079.3113.879