Travelling Hue in one day – The peaceful city in Vietnam
Hue is one of the few cities in Vietnam that has a romantic, slow living pace. When people talk about Hue, they usually think of a peaceful town, where there is not much to see but the old citadels and many tombs of Vietnamese emperors. However, Hue has more than just tombs to offer! From the white sand beaches of Lang Co to the romantic Tam Giang Lagoon, there will always be something to explore. This article is designed to provide you an itinerary for travelling Hue in one day.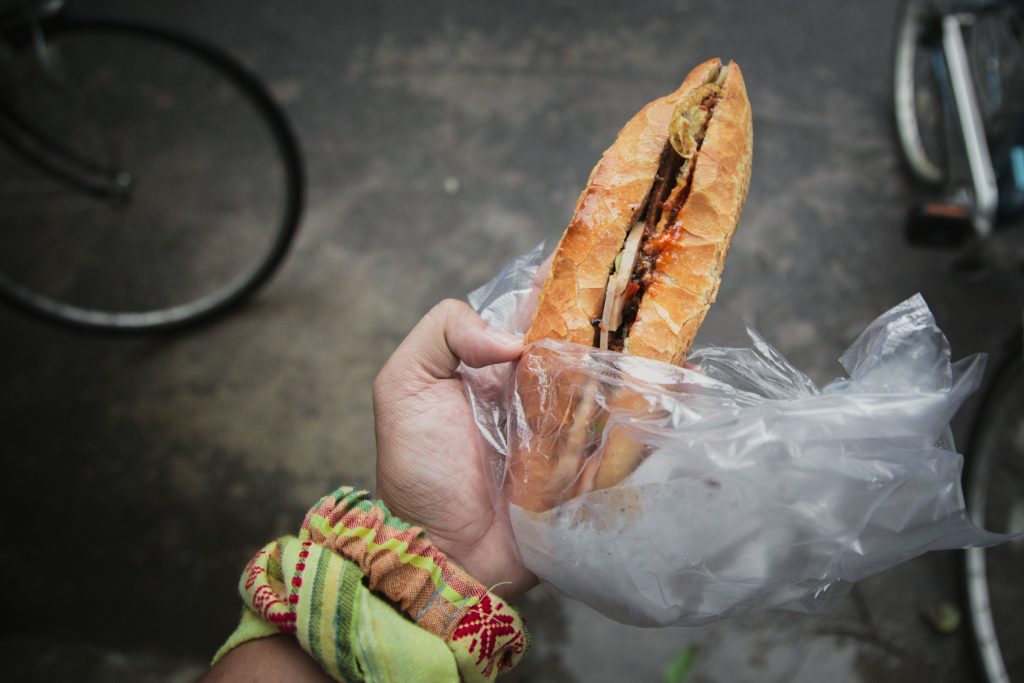 Many people who travel around Vietnam by bike or car usually choose Hue as one of their destinations because it's located in the middle of Vietnam. Besides, who wouldn't want to miss the peaceful atmosphere of a historical city? Once you enter Hue, you will see the calm of this city reflected in the way the locals communicate with you. They always smile and talk with a soft voice, which makes them sound like they're singing. This can be explained by the history and culture of the city. As Hue used to be a Citadel of Vietnam, the royal way of behaving still influences the people.
Not to mention that this city is famous for having good food. You should not miss the significant bun bo Hue (spicy beef noodle soup), the colorful sweet soup, and banh beo! Check out this article here for a comprehensive look at the food you should not miss. Well, it's easy to say that you can always find food in every corner of Hue, which makes the food-loving traveler. Here is how you make the most of your 24 hours in Hue.
Morning
7:00 AM – Grab a Banh Mi and Café for Breakfast
You can't start your day without drinking a cup of Vietnamese coffee and a banh mi, especially when you have to wake up early! Root Coffee is the creative decor of their shop immediately drawn you in: they took advantage of the broken motorbikes to decorate the room.  If you love motorbikes, you will want to move to this place forever! There is an open-air zone on Ground floor and 2nd floor upstairs.
Next to Root Coffee is banh mi Dong Ba. This small shop is always packed with many people. The owner said that her customers are mainly officers and students. They need something they can eat quickly to get enough energy for the morning. Anyway, the taste of banh mi at Dong Ba is an explosion! The harmony of savory pate, smooth butter, fatty meat, and a little chilly spice is exactly how I want to begin every morning. I had 2 banh mi that morning! I can confidentially say that Banh Mi Dong Ba is the best banh mi in Hue.
Root Coffee
Address: 43 Ngo Quyen, Vinh Ninh, Hue 
Business hours: 7 am – 10 pm
Phone number: 090 351 86 86
Price: 8.000 – 30.000 VND ($0.4 – $1.37)
Banh Mi Dong Ba
Address: 45 Ngo Quyen, Vinh Ninh, Hue 
Business hours: 6 am – 11 am and 3 pm – 8 pm 
Phone number: 0934938586 
Price: 10.000 – 15.000 VND ($0.4 – $0.9)
8 AM – 8:30 AM – Visit Thien Mu Pagoda
(Pagoda of the Celestial Lady)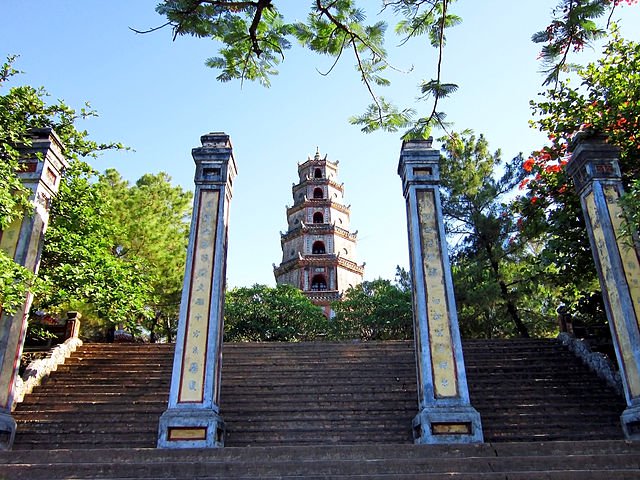 After having breakfast, it's time to drive to Thien Mu Pagoda. It takes around 15 minutes to drive from Root Coffee to Thien Mu pagoda (the distance is 5.5 kilometers).
Vietnamese people usually say that: "If you come to Hue without visiting Thien Mu Pagoda, it means you have never been to Hue." On the northern bank of the Perfume River, Linh Mu Pagoda is the soul and symbol of Hue. The pagoda was built on top of Ha Khe Hill in 1601 in honor of the sacred Celestial Lady,  to pray for the prosperity of the country. any people come here to pray for their love life because rumor has that their wish will come true, which is special thing for you when discovering Hue in a day. Besides the historical significance, the Pagoda of the Celestial Lady has stunning architecture and beautiful views of the Perfume River.
Pro Tips:
Dress appropriately when visiting the pagoda: skirts or pants that cover the knees for woman and pants for men. Sleeveless tops are not allowed! So if you still want to wear your tank top, I recommend bringing a jacket.
Bring small change in order to pay for the parking lot.
There is a boat tour that takes you to this pagoda from the other bank of the river. If you stay longer than 1 day, maybe you should consider asking your hostel to help you reserve a tour.
Thien Mu Pagoda
Address: Kim Long, Huong Hoa, Hue
Opening hours: Early morning till 5 pm
Parking fee: 3000 VND ($0.14)
9 AM – 9:30 AM – Visit the Tomb of Khai Dinh Emperor
Visiting the royal tombs is another thing you shouldn't miss when traveling to Hue. Since I didn't have much time in the city myself, I randomly chose to stop by a tomb on my way to Lang Co beach. Turns out it was my best decision ever! Khai Dinh tomb is the one I chose because it's on the way from Thien Mu Pagoda to Lang Co beach.
If architecture is something you are passionate about, you will be amazed by the beauty of Khai Dinh tomb. This tomb is the final resting place of King Khai Dinh. Compared to other tombs in Hue, Khai Dinh tomb is much smaller (177 x 48.5 meters). But it has the most unique design and it took a long time to build.
My first impression of the tomb was "This place is rich and luxurious." The interior of the tomb is unique because its architecture is a fusion of East and West. It harmonizes class and modernity. The most amazing thing about this tomb is the main temple, where you will be overwhelmed by the detailed and colorful mosaics and engravings of dragons on the wall and the ceiling.
Khai Dinh Tomb
Address: Khai Dinh, Thuy Bang, Huong Thuy
Opening hours: 7am – 5pm
Entrance ticket: 100.000 VND ($4.6) 
11:30 AM – 1:30 PM – Swim at Lang Co beach
Finally, it's beach time! Don't forget to pack your swimsuits as we will head to one of the most attractive beaches in Vietnam. 67 kilometers away from the city center is an empty white sand beach. It's a great idea to spend a few hours relaxing on the beach, swimming in the jade blue ocean, reading a good book, or sunbathing as you also think about Hue's ancient tombs. Doesn't that sound appealing? There are some restaurants that sell good seafood at a reasonable price. You can have lunch with some good dishes while listening to the ocean's songs.
Pro Tip:
It is a bit tricky to find the way that leads to the beach since Google map tells you to go through somebody's house. You should ask the locals to show you the way. If you drive from Hue, the beach is on your left side.
In case no one understands English, you can ask: "Bien Lang Co o dau?". They will guide you.
Afternoon
3:30 PM – 4:30 PM – Visit the Imperial City of Hue
After the lunch break, it's time to go back to the city to visit the Old Citadel. The complex has around 140 buildings, which will take you around 3 hours to explore every corner of its maze. The Citadel was where the royal family of the Nguyen dynasty lived and conducted administrative work. In 1804, Gia Long King decided to build the new palace and citadel. It was in use until the abdication of King Bao Dai in 1945, which ended the monarchy in Vietnam.
Hue Old CitadelBusiness hours:
– Summer: 6:30 AM – 5:30 PM
– Winter: 7 AM – 5 PM
Entrance fee:
– Adult: 150.000 VND ($7)
– Children: 30.000 VND ($1.36)
5:00 PM – 6:00 PM – Watching the Sunset in Tam Giang Lagoon (optional)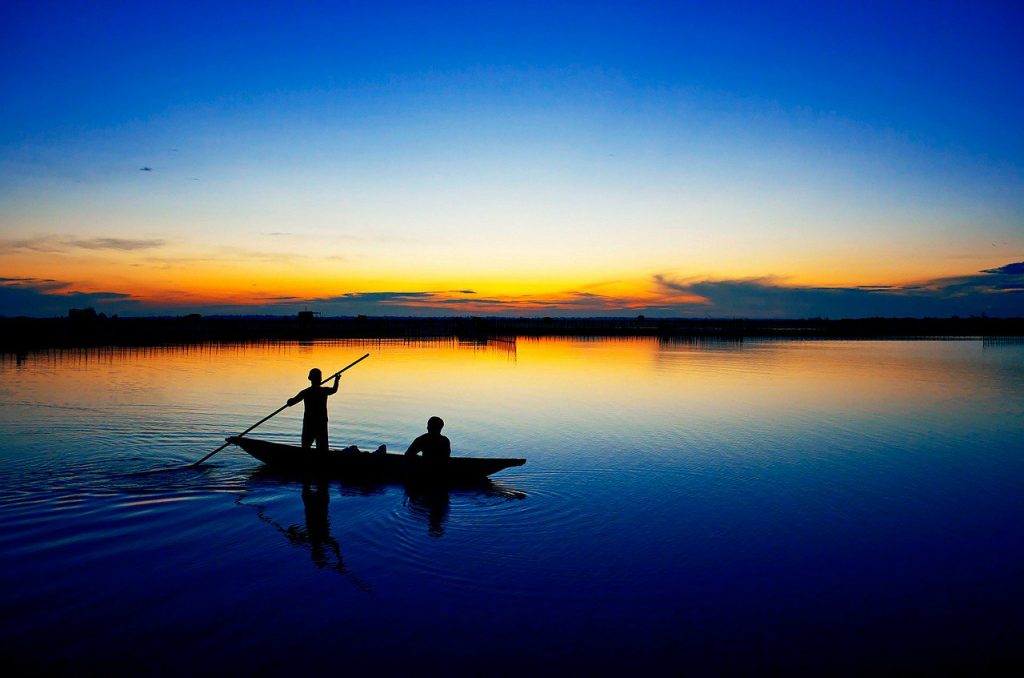 Sunset on Tam Giang Lagoon provides one of the most romantic moments, to the point that it has become immortalized in many poems and songs. Many friends have told me to go there to "Standing in a nice dress, staring at the sunset" like a lyric of Taylor Swift's song. Therefore, you can bring some snacks and drinks and drove 30 kilometers to the lagoon.
But the amazing scenery was worth my effort. It was the first time ever in my life that I saw a purple sunset with a good view from Tam Giang Bridge. The magnificent spectacle got me feeling like the scene was a masterpiece by a talented artist who spent his whole day to playing with watercolors and perfecting his brushstrokes. If you have time, try to take a slow boat tour with a local and go net-fishing with them. Have some dinner with freshly caught fish there before you head back to Hue city.
6:30 PM – Relaxing with a Massage
There is nothing better than treating yourself with body massage after a tiring day. It's time to take advantage of the good massage services in Hue. However, you should be careful when choosing a reliable spa because the dark truth is there are many places that offer "extra services". Here are some places you can concern about :
Hue Shining Spa (Serene Shining Hotel)
Address: 57/5 Nguyen Cong Tru street, Hue City
Phone: 0234 3935 887
Business hours: 10:00 AM – 22:00 PM
Price range: From 345,000 VND ($16)
Website: sereneshininghotel.com/spa
Cherish Spa (Cherish Hotel)
Address: 59 Ben Nghe, Phu Hoi Ward, Hue City
Phone: 0234 3943 943
Business hours: 10:00 AM – 22:00 PM
Price range: From 331,000 VND ($15)
Website: cherishhotel.com/spa  
Pansee Sense Spa (Gold Hotel Hue)
Address: 28 Ba Trieu, Phu Hoi, Hue City
Phone: 0943 321 077
Business hours: 10 AM – 11 PM
Price range: Start from 440,000 VND ($20)
Website: panseespa.com/location/pansee-gold-spa-hue
7:30 PM – Late Dinner (Bun Bo Hue) and Explore the City by Night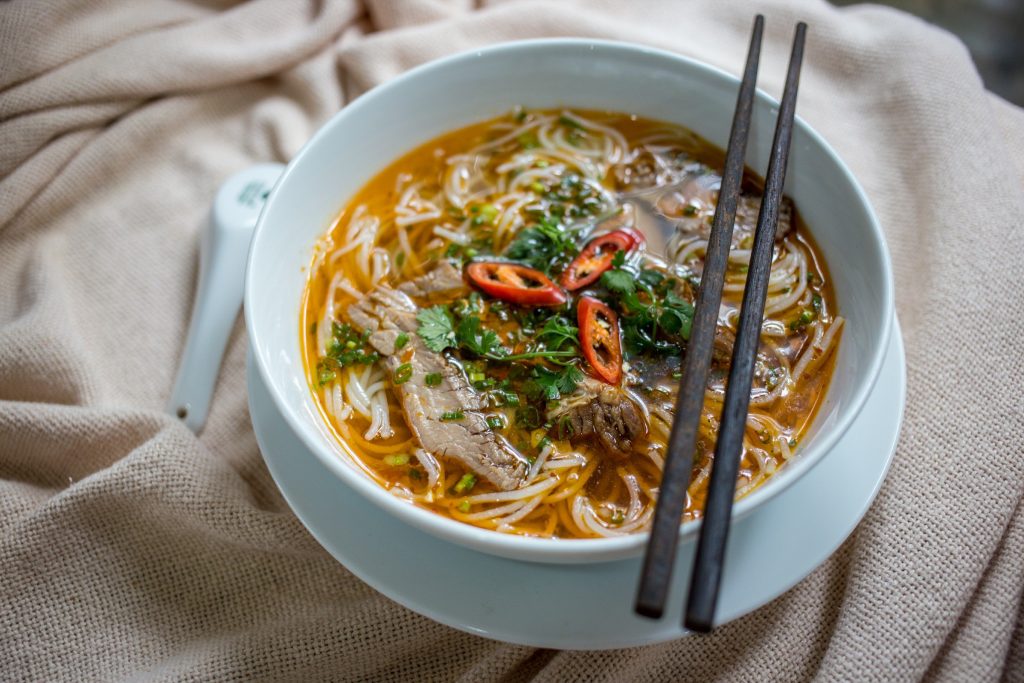 Hue spicy soup is one of the world-famous Vietnamese foods. It will be one of your biggest regrets if you miss tasting it here. The hot and a little spicy bowl of noodles contain a lot of protein and some greens to please your taste buds and boost your energy. After your meal, you can wander around to experience mysterious Hue by night.
Hope that this article will helps you have some tips for visiting Hue. One day in Hue we think is not enough to discover scenery of the old king so we highly recommend you to choose couple of day tour or more than. You can see more interesting tour in Hue of FocusAsia Travel. Don't forget to share your Hue experience in the comments below!