Hoi An Infor- Hoi An weather
In contrast to North Vietnam, Hoi An is a two-season town that dominates most of the year with average warm weather in 29°C. The rainy mountain season extends between September for January and the remainder of the year, with a dry season.
The hottest months in June and July mean temperatures between 25 °C and 30 °C on most days.
Best Time to Come to Hoi An
December provides a cool brise for Hoi An to explore the city but between February and April the most enjoyable temperatures. Rainfall is poor too, which is the perfect time to visit these months. If you're a beach lover, then go a little later in early June, when you're guaranteed long warm, sunshine days.
The weather conditions of the monsoon in Hoi An are influenced also by heavy rain from September to January. Hoi An is best avoided during rainy seasons, especially when flooding is typically problematic in October and November. During this time, the neighboring areas will suffer extreme conditions.
Seasons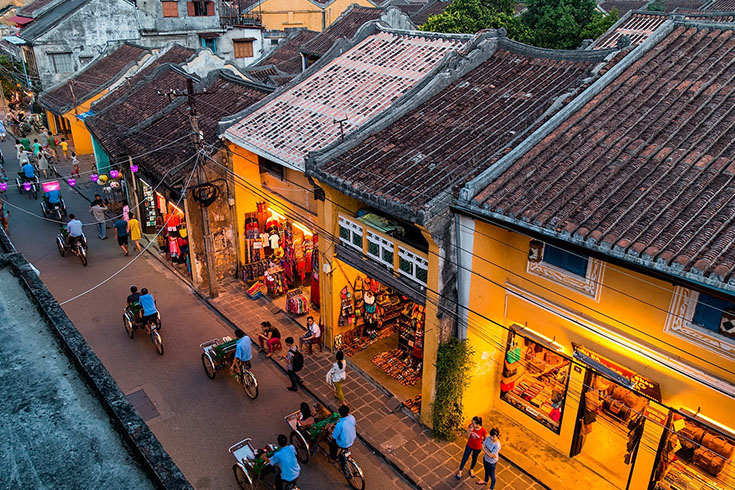 Hoi An is a town dominated by a rainy season (monsoon) and a dry season. During the dry season from February to May, there is a lot of moderately warm and humid weather, so this is a high tourism period in Hoi An, so it may be worth booking your trip in advance. The temperatures are steadily cooler in July and are rising to 38°C and in September it will start to change the season.
The annual moonsoon brings a great deal of rain in the region and constant rains are guaranteed from September to January almost every day. During this period of heavy rainfall in October, flooding is common, typhoons even during the mountain season. are not rare. When the rain begins to ease and the temperatures start to cool down in December to about 19 ° C and 24 °C, it gives you a peaceful stay, with fewer visitors around.