Top 5 must-see places in Cao Bang province
Cao Bang province is a far northern frontier province of Vietnam. Cao Bang, which shares a frontier with China, is an off-the-beaten-path destination with breathtaking scenery of magnificent rugged mountains, tropical forests, and waterfalls. This land was the birthplace of the Vietnam Revolution, with prominent historical heritages, and is home to many ethnic minorities with rich cultures, such as the Tay, Nung, Dzao, and H'Mong. Cao Bang should be on your list of places to visit in Vietnam whether you are a nature lover, a photographer, or a cultural and historical enthusiast. Let's take a look at this informative article about the top 7 must-see attractions in Cao Bang that you should not skip if you visit this land.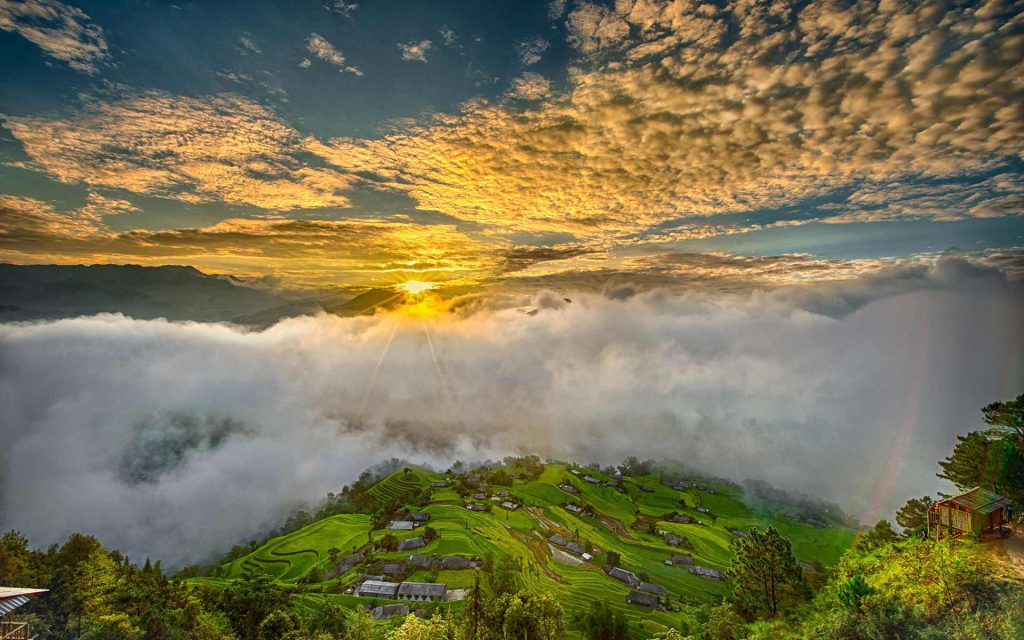 1. Ban Gioc waterfall – the most impressive one in Vietnam.
The Ban Gioc waterfall is without a doubt one of the most popular tourist attractions in Cao Bang province, as well as a must-see attraction in Vietnam. Ban Gioc is an amazing waterfall of silver water coming down at around 30m high and 300m tall, making it the widest (but not the highest) waterfall in Vietnam. The cascading water set against the back of the massive mountains is an enthralling sight. The best time to see the true glory of the fall is in late September and early October, when the rice fields turn yellow in the fall and the weather is pleasant with blue skies – a great time for wonderful photography.
2. Non Nuoc Cao Bang – a UNESCO Globlal Geopark
Non Nuoc Cao Bang Geopark spans more than 3,000 square kilometers in Cao Bang province's districts of Ha Quang, Tra Linh, Quang Uyen, Trung Khanh, Ha Lang, and Phuc Hoa, as well as parts of Hoa An, Nguyen Binh, and Thach An. Non Nuoc Cao Bang Geopark has geological significance and provides majestic landscapes formed by limestones, cliffs, hills, caves, fossils, streams, rivers, and related underwater caves… where the earth's origin goes back more than 500 million years. Because of its principles, UNESCO designated the site as a global geopark in April 2018, making it the second in Vietnam to be honored after the Dong Van limestone plateau in Ha Giang Province.
3. Nguom Ngao cave ( Tiger Cave)
Nguom Ngao cave is just a short distance from Ban Gioc waterfall and is ideal for combining with your visit to Ban Gioc waterfall. The cave is over 2 kilometers long, but only the first kilometer is accessible to tourists. The cave gets its name from the Tay ethnic minority's language, which means "tiger's cave." Many fierce tigers are said to have hidden in the cave and would reach the local village to search for livestock and even humans a long time ago. Fortunately, rather than an assault of furious tigers, those who approach the cave are greeted by breathtaking rock formations.
4. Phat Tich Truc Lam Pagoda.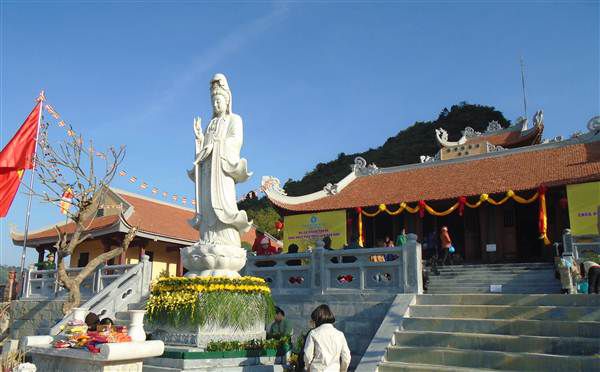 Phat Tich Truc Lam is a well-known pagoda built on hillsides that can be seen from afar. The pagoda was designed in typical Vietnamese designs, honoring Buddha and Vietnam's national heroes like Vo Nguyen Giap, Ho Chi Minh, and Hung Vuong. It's a bit of a climb-up, but it's well worth it. The soaring mountains and Ban Gioc Waterfall in the valley are stunningly caught in your eyes as you ascend higher to the main temple town. What a captivating Non Nuoc Cao Bang you have!
5. Visit the ethnic handicraft villages in Cao Bang.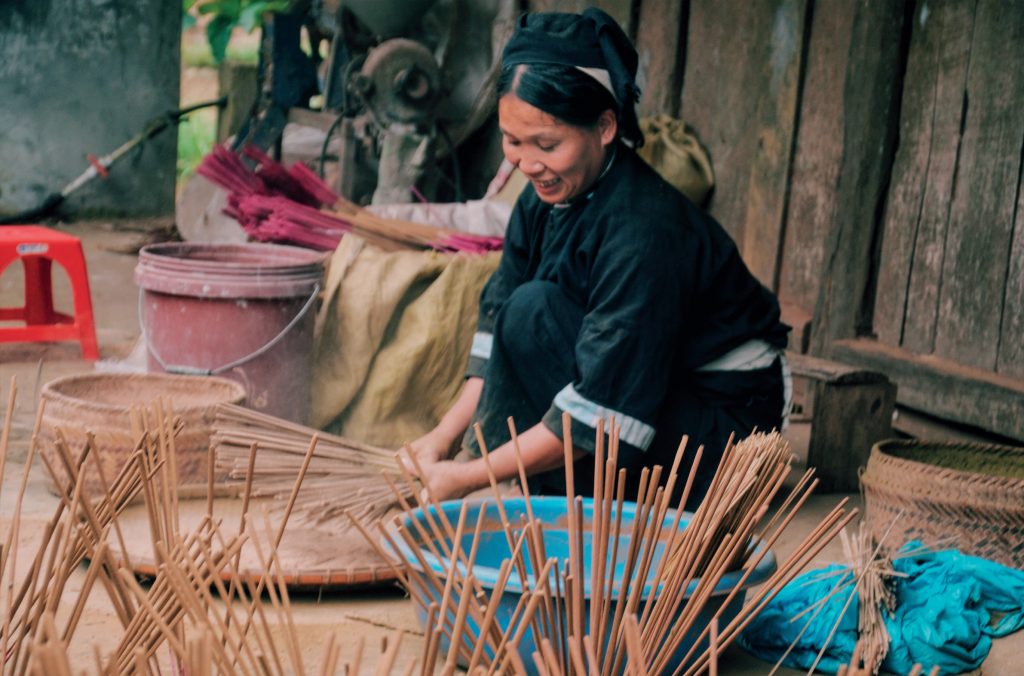 On the way to Ban Gioc waterfall from Cao Bang area, there are two handicraft villages in Quang Uyen district that you can visit to get a better understanding of local ethnics' everyday lives: Phia Thap village in Nung people's Quoc Dan commune and Pac Rang village in Phuc Sen commune.
Phia Thap village, home to 50 Nung ethnic minority households, is surrounded by lush rice fields and mountains.
For centuries, the locals have engaged in the production of incense.
Every year, as the Lunar New Year approaches, the village bustles with activity in order to produce the greatest amount of incense. The incense used here is made from natural materials and has a distinct scent.