5 must- see tourist destinations in Cao Bang
Cao Bang not only attracts tourists by its famous Ban Gioc waterfall, majestic mountains and forests, charming roads, but also some historical places such as Pac Po cave or Lenin stream.
1. Ban Gioc Waterfall
Ban Gioc is the most majestic and beautiful waterfall in Vietnam, located in Dam Thuy commune, Trung Khanh district, Cao Bang. From a distance, visitors can hear the sound of the waterfall humming. From a height of over 30 m, large blocks of water pour down through many limestone steps. In the middle of the waterfall, there is a large rock-covered tissue covered with trees that split the water stream into three streams like three white silk strips.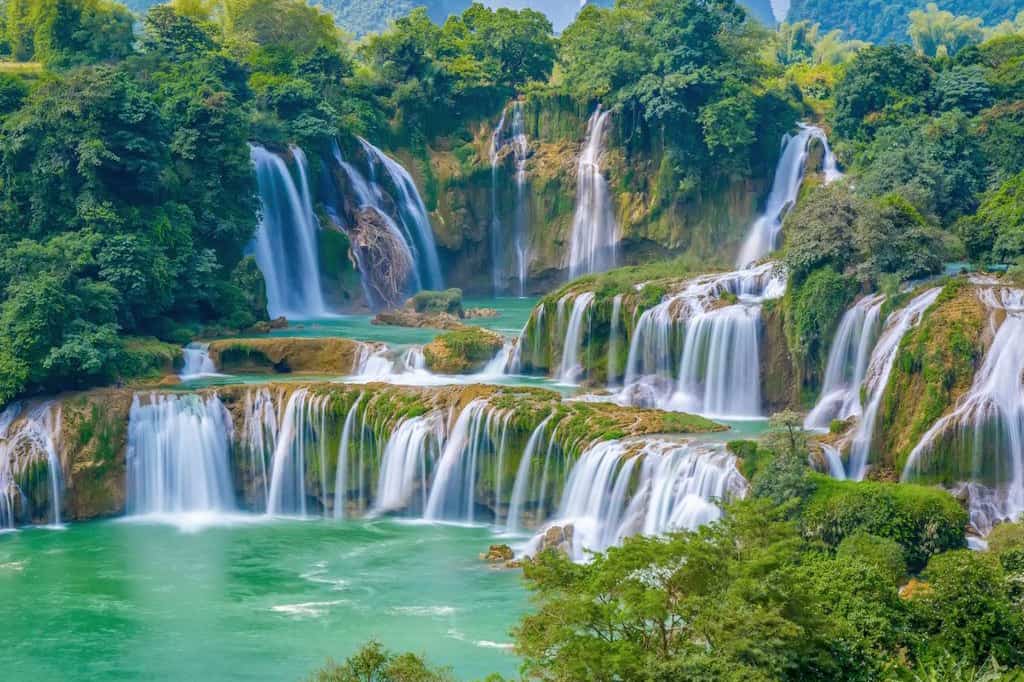 Every day and night, the waterfall cascades down on flat rocks, blowing up countless white dust particles, blurring a large area. On sunny days, the steam also forms a fanciful sparkling rainbow. At the foot of the Ban Gioc waterfall, there is the wide and flat surface of the river like a mirror. The two sides of the bank are green grass and forest patches.
2. Tich Truc Lam Buddhist Temple
Truc Lam Ban Gioc Buddhist Temple was built spaciously on Phia Nham mountain, Dam Thuy commune (Trung Khanh), about 500m from Ban Gioc waterfall. The pagoda was built according to pure Vietnamese architecture, including the following items: Three-door gate, bell floor, empty floor, stone stele and tam Bao, To church, Mau church, temple of national heroes, South Vietnam. Trieu To Hung Vuong all generations, guesthouse and auxiliary landscape items. Truc Lam Ban Gioc Buddhist Temple has an important role in the development of Ban Gioc Waterfall Tourist Area into a national key tourist area.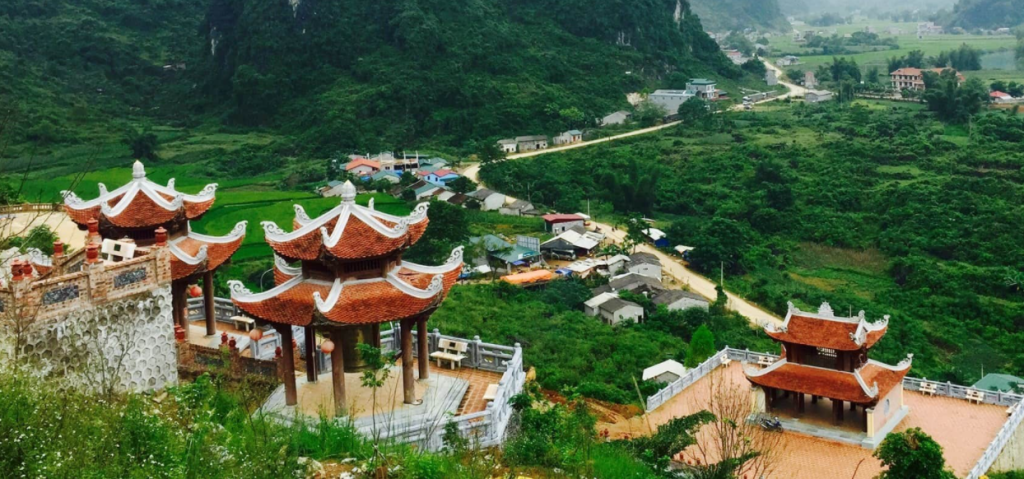 3. Nguom Ngao Cave
Nguom Ngao Cave is a large cave formed from the old weathering of limestone. Ngom Ngao (Tay ethnic language means Tiger cave or "cave in the rock valley") was discovered by locals in 1921. Nguom Ngao cave has a length of 2,144m, including 3 main doors: Ngom Lom door all year round, cool and hidden under rocks at the foot of the mountain; Nguom Ngao gate is a few hundred steps from the foot of the mountain and Ban Thuon gate behind the mountain, adjacent to the Thuon village of the Tay people.
The dome closes and then opens again, giving the viewer an unexpected delight. Stalactites grow from below, drop from above, vertical stalactites, large stalactites, small stalactites … all intertwine to form a magical maze.
4. Thang Hen Lake
Located in Quoc Toan commune, Tra Linh district, Cao Bang province at an altitude of thousands of meters above sea level, Thang Hen Lake is a beautiful lake among 36 lakes located in the mountains of our country. Thang Hen Lake has a diamond-shaped design, about 300m wide, more than 1,000m long,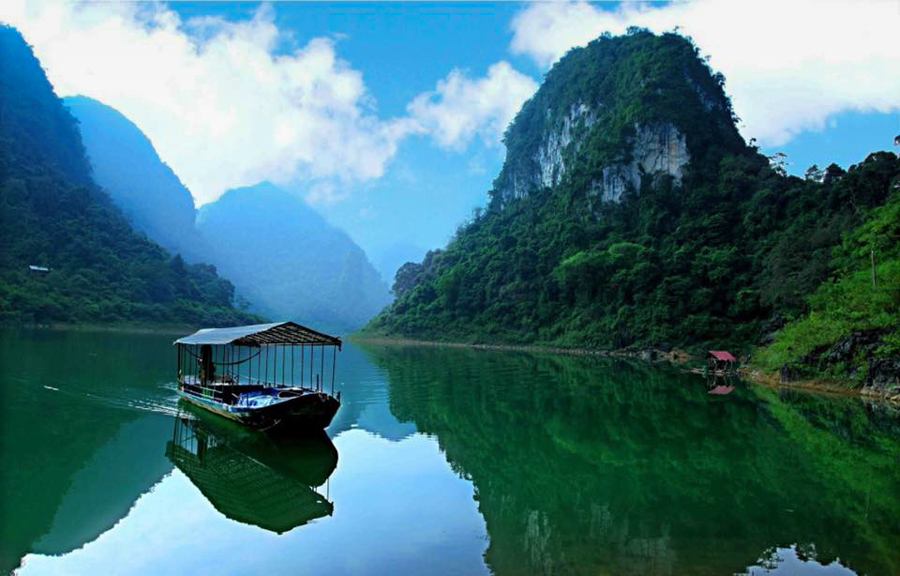 Especially, the water of Thang Hen Lake has two waves of "tide" up and down every day. During the flood season, while other lakes are red, the water of Thang Hen Lake is always clear. In the dry season, the water is about 10m deep. Near Thang Hen Lake, there is Thang Luong Lake.
5. The Pac Po relic
Pac Bo relic is a national and special revolutionary historical relic of Vietnam, located in Pac Bo village, Truong Ha commune, Ha Quang district, Cao Bang province, 55 km north of Cao Bang city. The relic area includes: Uncle Ho memorial house, Coc Po cave (the local name means "watershed"), Lung Lan cave, Nguom Vai cave, Le nin stream, stone table where Uncle Ho worked, house floor Mr. Ly Quoc Gun, the floor of Mr. La Thanh, etc.