Top 10 Best Nightlife in Hanoi
Hanoi is a city with so many unique things to do at night, and is unlike any other capital in Southeast Asia or the even the world. While it won't win over many plaudits for its nightclubs, there are a multitude of fun and interesting things to see and places to go.  Part of what makes Hanoi so interesting is the differences between each district, and in our list of the Top 10 Best Nightlife in Hanoi you'll find all the interesting options spread out across town, with the best bars, clubs, live music joints and even family fun!
1 Bia Hoi Junction
At the junction of Ta Hien and Luong Ngoc Quyen, Old Quarter (North of Hoan Kiem Lake) This junction in the centre of the Old Quarter is the absolute classic night time activity in Hanoi. You really haven't seen the city until you have spent a few hours soaking up the atmosphere and maybe sinking a few beers at the most famous Beer Hoi (Fresh Beer) spot in Vietnam. Several shophouses have plastic stools spilling out onto the streets, with beers being served for as little as VND10,000 (less than US$1) and street vendors serving steamed peanuts, beef jerky and other exotic snacks. The beer is quite weak compared to European standards, but for an all round experience it is quite something. Open throughout the day and late into the night.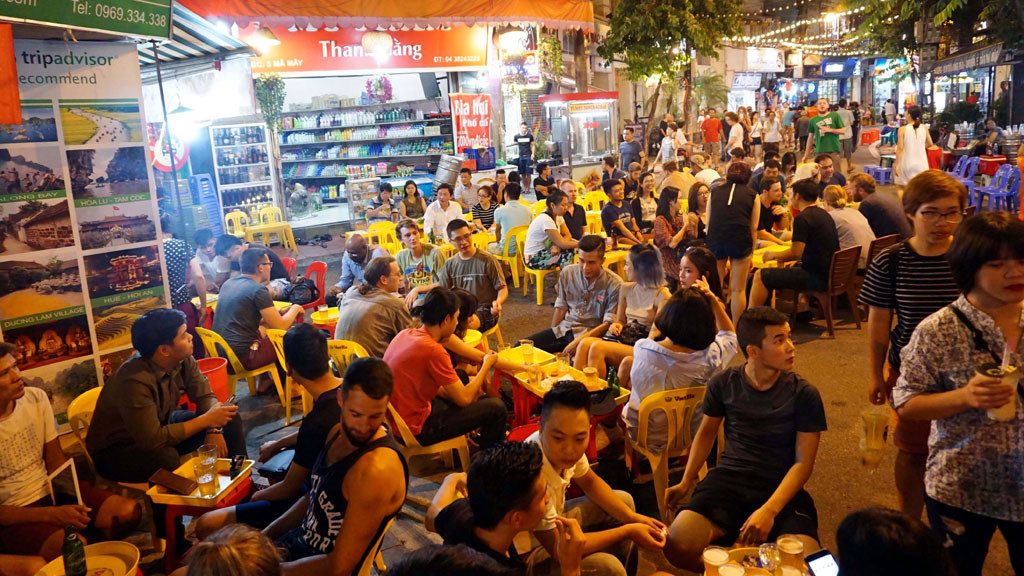 Opening Hours: 11:00-Late 
Address: Ta Hien & Pho Luong Ngoc Quyen, Old Quarter, Hanoi
2 Water Puppet Theatre
Street The Water Puppet Theatre is a must-visit if you're travelling in Hanoi for the first time,  featuring live music and sketches of the local lifestyle. This ancient art form of water puppetry has a long association but the original – and widely regarded as the best – theatre in town is the Thang Long Puppet Theatre in the Hoan Kiem District. Puppets dance and slide gracefully over the water, depicting stories of ancient myths and folklore which are easy to grasp for foreign guests. Held nightly from 15:00 onwards, booking your tickets in advance is highly recommended, especially on weekends.
 Opening Hours: Daily 15:00, 16:10, 17:20, 18:30 & 20:00
Address: 57B, Dinh Tien Hoang Street, Hoan Kiem District, Hanoi
3 Binh Minh's Jazz Club
French Quarter, Hoan Kiem District Minh's Jazz Club is unparalleled as a place to witness the finest musicians in Hanoi. Live music fans will love the dark interior, which leaves all of the attention squarely on the talented performers on stage. Minh himself – widely regarded as the best Vietnamese jazz performer in history – is sometimes here in person, jamming with his immensely talented band, as well as international performers. Drinks are not cheap, but when you factor in the quality of the live entertainment, prices are more than fair.
4 The Bank Hanoi
6th Floor, Capital Bulding, 41 Hai Ba Trung, Hanoi The Bank Hanoi is currently the biggest nightclub in Hanoi, boasting three venues that play different upbeat tunes until late. The nightclub is set on the sixth floor of Hanoi's Capital Building, where you can enjoy a great view of Hoan Kiem Lake and downtown Hanoi. Attracting a well-dressed crowd of locals, expats and tourists, its music policy comprises hip-hop, top 40 hits, lounge, deep house, and house tunes while drinks here are relatively inexpensive compared to most nightclubs in Hanoi. Cocktails are priced between VND 150,000 and VND 200,000 while Budweiser and Corona cost approximately VND 120,000.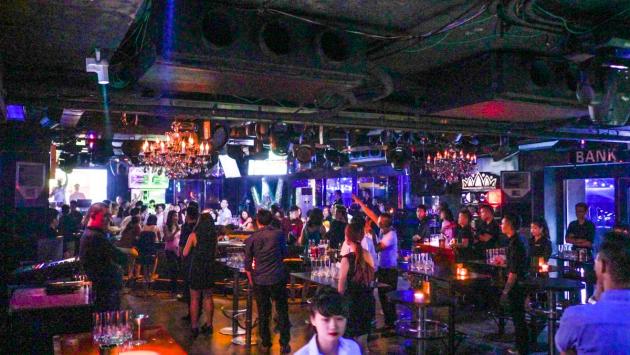 5 Hanoi Press Club
Hanoi Press Club is an upscale bar offering excellent service and a sophisticated ambiance, both inside in their gentleman's club style bar and out on the large, third floor terrace. A well stocked bar offers excellent wines and cocktails as well as some tasty bar snacks. There is live music from Thursday to Sunday and a special buy-one-get-one-free on select drinks every Thursday.
6 Vietnam Central Circus
67 Tran Nhan Tong, Lenin Park (just south of Thien Quang Lake) Tthe Vietnam Central Circus is ideal for a day of family-friendly fun, where travellers can enjoy, live performances and simple fairground games within a large park in the south of the city. Featuring clowns, acrobats and animal performances, the Central Circus in Hanoi follows a fairly predictable schedule, but it can be a lot of fun. Located next to Thien Quang Lake, it is a 10-minute taxi ride from Hanoi Old Quarter.
7 Hanoi Opera House
The stunning Hanoi Opera House is one of the most spectacular examples of colonial architecture in Vietnam, and spending a night of culture at a live opera or musical performance lives long in the memory. Shows aren't on constantly but be sure to check with the concierge at your hotel to see if any performances are scheduled during your stay. Advanced booking is imperative. Located in the centre of the French Quarter of Hanoi, it is worth going to appreciate the Hanoi Opera House at night, even if there is no performance scheduled. 
8 Legend Beer
Legend Beer is a third storey bar with a sweeping terrace overlooking downtown Hanoi and Hoan Kiem Lake. There is no where better in Hanoi to enjoy an ice cold beer and watch the night time escapades of Hanoi's inhabitants. Due to the low level of the terrace, the fervent action of the streets below is almost at touching distance so you can feel part of the city, yet relaxed at the same time. Legend Beer brews its own drinks, with wheat beer, lager and a dark stout all available in several sizes. They also have a decent menu of German-style dishes such as pork knuckle and sausages.
Opening Hours: 11:00-23:00 Tel:+84 4 3776 1666
9 Dragonfly Bar Lounge
Dragonfly Bar and Lounge Hanoi is a longstanding night spot in the Old Quarter of Hanoi that attracts a fairly even mix of young Vietnamese and youthful expats. The music varies between hip-hop and party pop music and there is space to dance if you get in the groove, although most people prefer to mix and mingle. Perhaps due to the amount of backpackers that frequent Dragonfly, large cocktails are popular here and are noticeably good value. Head upstairs to enjoy a shisha pipe with a range of flavours available.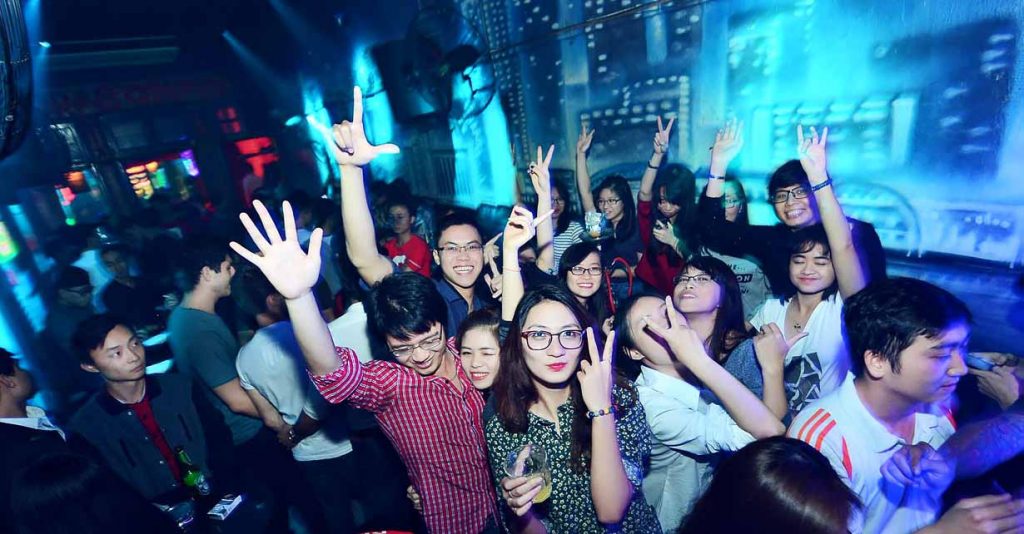 10 Sunset Bar at InterContinental
Hanoi West Lakes offers affluent travellers a superb designer spot to enjoy a cool evening cocktail far away from Hanoi's crowds. Set between three pavilions overlooking West Lake, the bar is easily accesible via a torch-lit bridge from the five-star hotel. Guests can relax on the comfortable daybeds and couches on a chilled-out wooden deck, whilst enjoying Sunset Bar's signature cocktails and premium wines.