How To Survive Through Sales Season In Korea
Speaking of Korea, you can not ignore the sales season making people crazy. And to have a successful "hunting session" during the sales season in Korea, do not forget the followings!
Sales Season in Korea
Of course, there are many sales seasons in Korea every day of the year. However, the biggest and most crazy sales season in Korea of the year is around the end of November to December, especially the Black Friday. At this time, the level and scale of the sales are really dizzy. All items are for sale from clothing to cosmetics, accessories, tech items…, and the sale rate is even up to 80%. That is why at this time of the year, even there are no red leaves or romantic scene, Korean tourism is still extremely attractive. And during these sales seasons in Korea, you really have to have "a hot heart and a cold head" to avoid being penniless.
Shopping venues that can not be ignored during the sales season in Korea
Talking about shopping in Korea, you cannot ignore the two areas which are fashion and cosmetics. Needless to say, fashion and cosmetics are heading the trend in Asia. And when you come here, it is like you have no way out, especially in the sales season in Korea.
Fashion
The first is the fashion. Most of the tourists traveling to Korea during sales season prefer common markets since the clothes here are diverse. Besides, the prices are also really good, especially during the sales season in Korea. The most common one is the Dongdaemun market – the capital of thousands of fashion shops. The clothes here are 100% Korean style. Therefore, anyone wanting to buy their own clothes like the beautiful actors or actress on K-dramas should remember this place. Be sure after you choose and decide to purchase the item, you should buy it right away. Do not hesitate or have the thought "take a look around first and then turn back to buy this later". You need to remember that if you walk away, there is no way to find your way back. The reasons are that there are thousands of shops in the market. And during the sales season in Korea, there are also thousands of people here.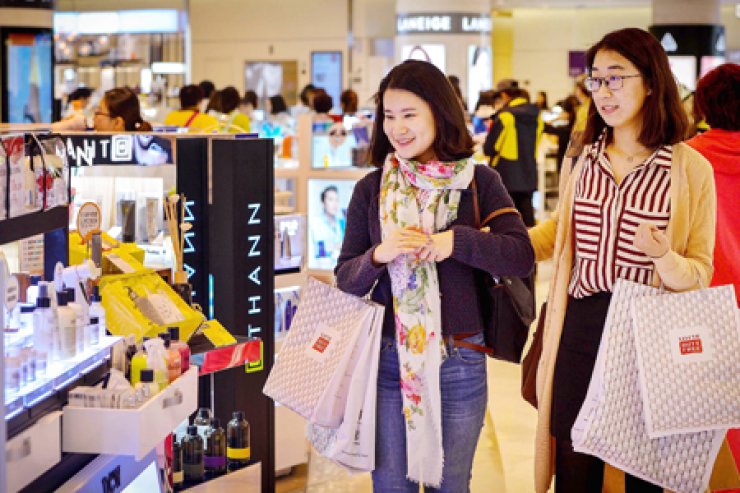 Besides that, there are also many other markets attending the sales season in Korea such as Mandaemun, underground shopping markets: Jonggak, Seoul Express Bus, Jamsil, Kangnam… The Kangnam itself is expensive but the underground is unexpectedly affordable. But if you just have little time, you should only choose one place to go. Please note that you may lose all day already if you visit all around that place. In addition to the common markets, there are some more high-end shopping malls that you can go to if you want to buy something brand. Two centers that people often come to are Lotte Mall and Dongwha Duty-Free. There are many tax-free items here, you should boldly ask for the price because you may buy a high-end product at a bargain price. Since it's the sales season in Korea, no one can say anything.
Cosmetic
The second is cosmetic. Yes, Korea is Asia's cosmetic paradise. Anyone coming here cannot leave without collecting at least one suitcase of cosmetics during the sales season in Korea. These are not only for themselves but also for friends, relatives and even for business,… The most famous center is Myeongdong – the shrine of the Hallyu Wave, which shows all the typical trends of Korean culture from cosmetics, fashion, cuisine,… There are a lot of cosmetic goods here. It is best to have a list beforehand of what to buy or where you want to go. This will help you avoid losing time and getting lost in the world of cosmetics.
There is another place where you should go to, which is supermarkets in Korea. It is really overwhelming. Sales are everywhere from consumer items, food, fruits, farm produce, household items,… You can buy a bunch for the whole year.
Find out more tips for traveling to Korea here.