3 Flower Seasons In Jeju You Don't Want To Miss
Jeju Island is the paradise of the sea and mountains in Korea, the largest island in Korea and also the smallest province of this country. For many years, the island has also topped the most ideal destinations in Korea. In addition to the beautiful and poetic beauty of nature, this place is also famous for its own special flower festivals covering the whole island. Let discover 3 beautiful and glorious flower seasons in Jeju Island with Focus Asia Travel!
Canola Flower Seasons in Jeju – The golden sunshine of Jeju
When Spring comes, Jeju will appear a brilliant beauty with bright yellow canola. Every last week in March, visitors will have the opportunity to watch the island immersed in the glorious yellow of canola flower seasons in Jeju. The carpet of canola with blue trunks and yellow flowers makes Jeju seem to be wrapped in layers. Thus create an impressive spot for Jeju's spring scenery.
On the roads, in the land, the high hills… wherever you come, there is the presence of the flowers, the vastness to light up the land of Jeju. The fragrant flowers blended with the gentle sunshine and the sea breeze will make you feel at ease. This has contributed to a glamorous island during the flower seasons in Jeju.
Every year, during the canola season, Jeju attracts thousands of visitors to the flower festival with themes that change every year.
Apricot Flower Seasons in Jeju – A gentle and light Jeju
Apricot flower with a pure white is gently beautiful but still exquisite and cold as a layer of snow covering Jeju.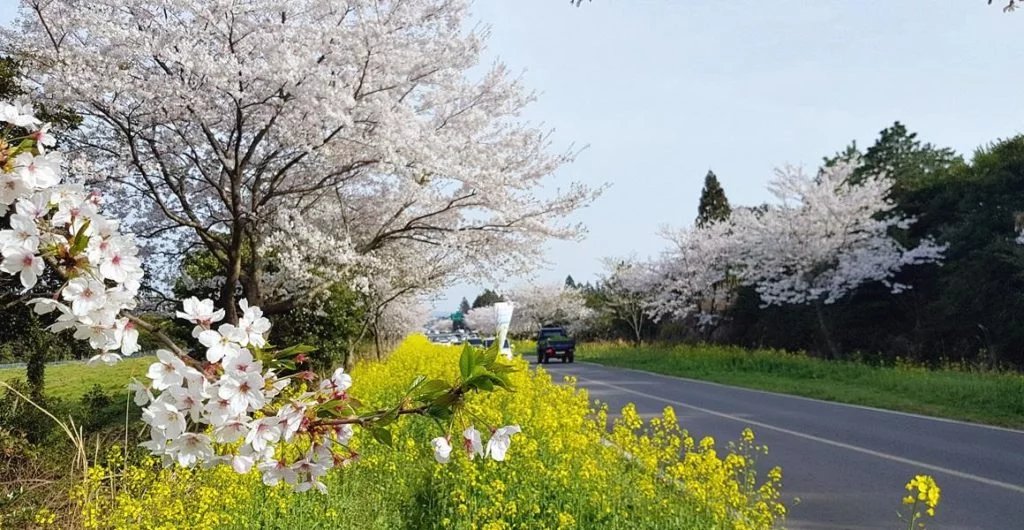 On the thorny branches, the apricot blossoms with really thin and gentle petals. This creates a pure white color, bringing a romantic beauty representing the people here.
The blooming apricot blossom signifies a warm spring coming ahead, dispelling the icy cold. As a result, people usually organize Apricot Hueree festivals at the annual Hueree Natural park from late February to early March.
Cherry Blossom Flower Seasons in Jeju – A splendor and lively Jeju
It is the first region in Korea that the cherry blossoms. And it is also the starting point for many Cherry Blossom Festivals throughout the spring along Korea.
Late March is the time of cherry blossom hatched on Jeju Island. It then continues to the southern regions of Korea such as Busan, Daegu. From April 28 to April 4, it will be in the central region including Seoul…
In early April, the whole of Jeju will be immersed in white, gentle pink, and warm cherry flowers.