Loy Krathong Festival: float flower lanterns and pray for peace
Every November of the calendar year, throughout the Kingdom of Thailand, thousands of lanterns and rivers sparkle with flowers. You will witness with your own eyes beautiful Thai girls in traditional costumes. It is also the most beautiful sight of Thailand 's famous Loy Krathong festival.
Loy Krathong festival meaning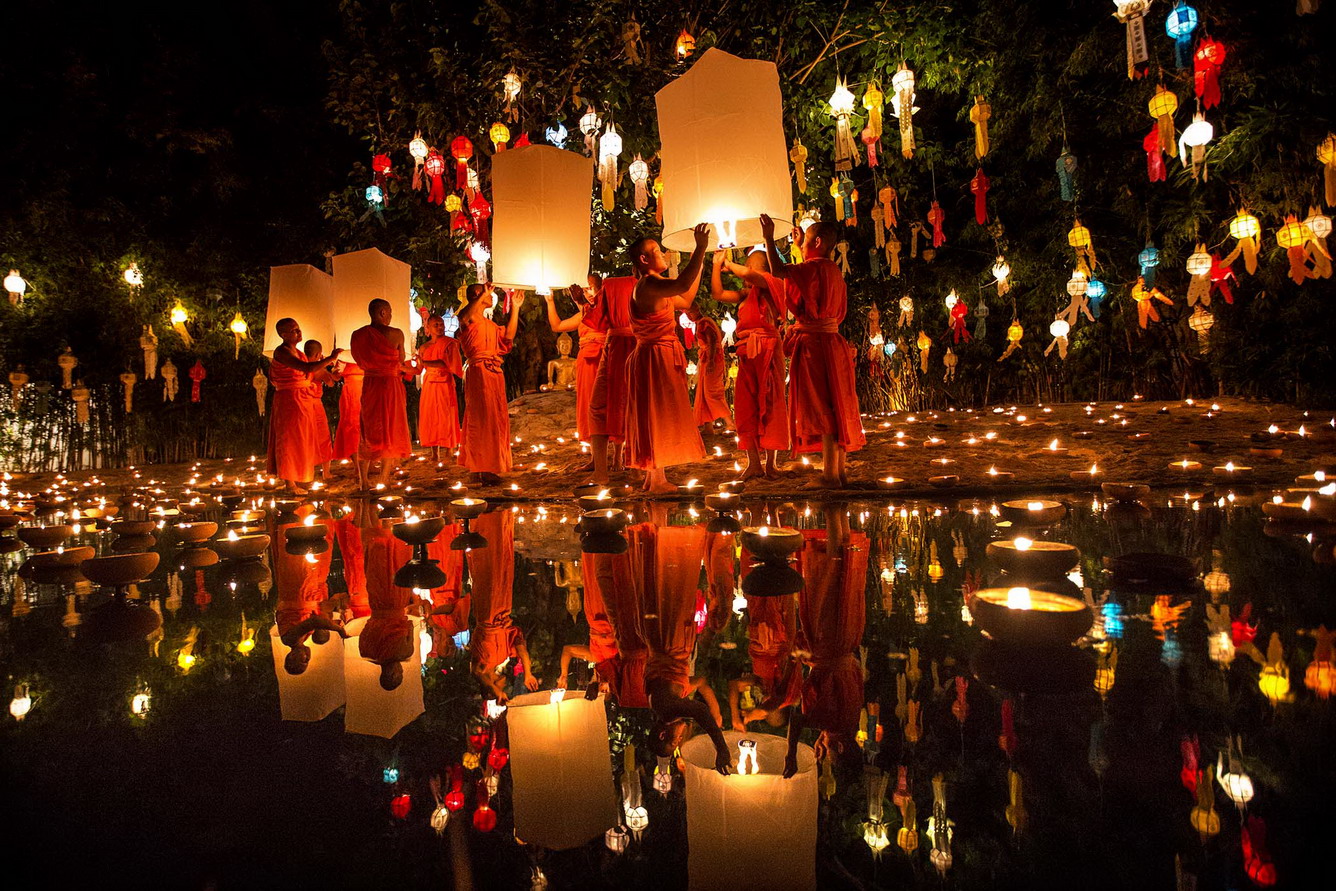 Photo: Sky lantern festival
Loy Kraothong is one of Thailand's biggest and oldest festivals. In Thai, "Loy" means "drop", "Krathong" is "flower latern". Loy Krathong Festival is an opportunity for Thai people to express their respect and gratitude to the water god for providing abundant water resources to the people. They believe that he is always there, protecting and blessing their lives. And unfortunately, difficulties will then follow the drift away. Today, the meaning of the festival is also a dip to wish for a peaceful life. The couple will be happy and lasting. Therefore, Loy Krathong is also a very meaningful opportunity for couples who are in love.
Time and place of the Loy Krathong festival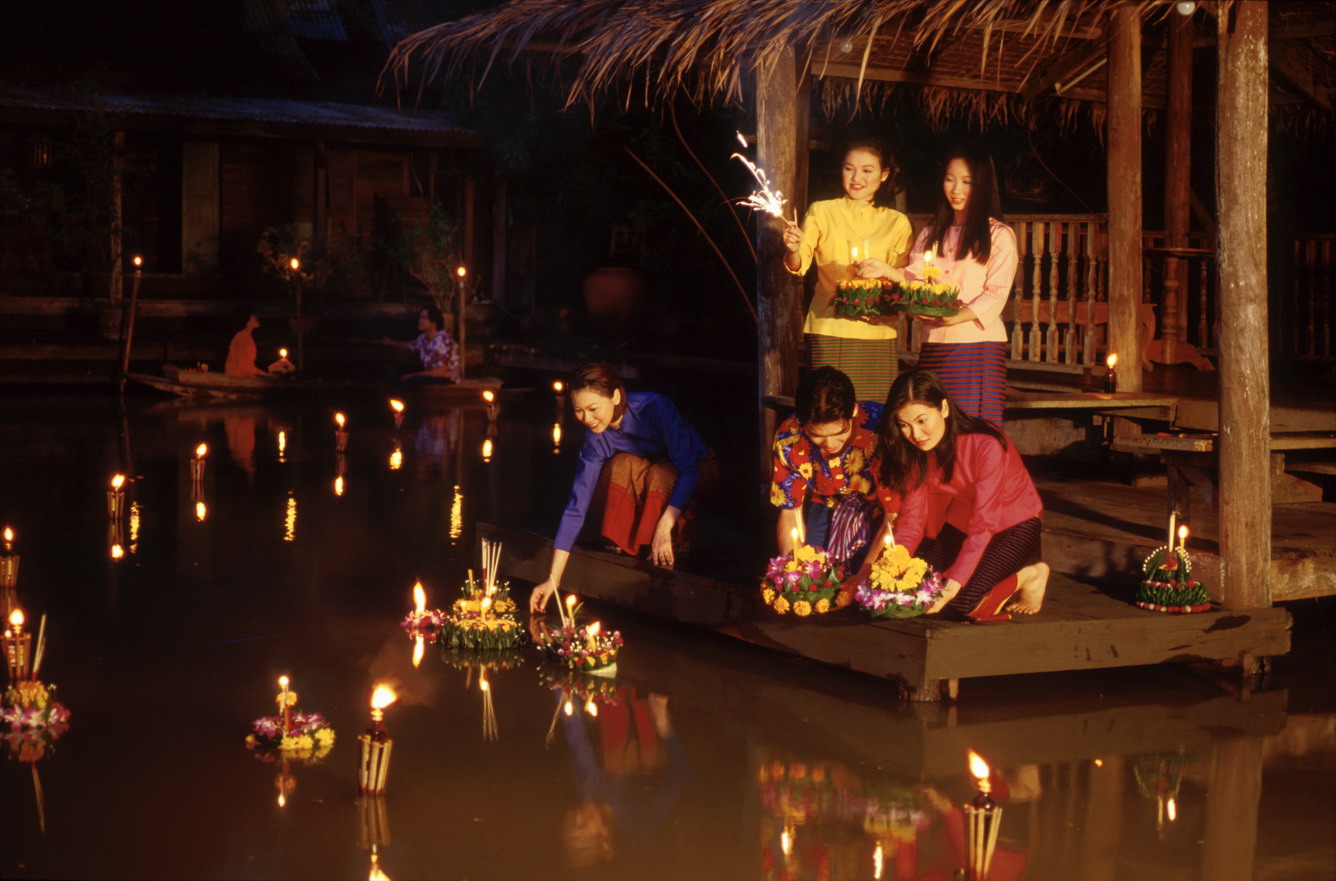 Photo: The custom of releasing water lights in Bangkok
Loy Krathong is held on the full moon of December according to the Thai calendar, usually falling on November 5 to November 11 depending on the calendar year. Loy Krathong Festival is held in Chiang Mai and Bangkok. If you have the chance, you should join the festival in Chiang Mai because it allows brilliant sky lights. In the afternoons the sky lights are released to light the whole sky which looks like thousands of jellyfish glowing in the middle of the vast ocean, helping people to get rid of all sorrows, unlucky things, bringing warmth and happiness to people. In Bangkok, the Loy Krathong Festival is also held very busy, but mainly allows the drop of the lights underwater. Different from the sky lights, the underwater lamps are made and designed like colorful lotus flowers.
Experience while participating in Loy Krathong festival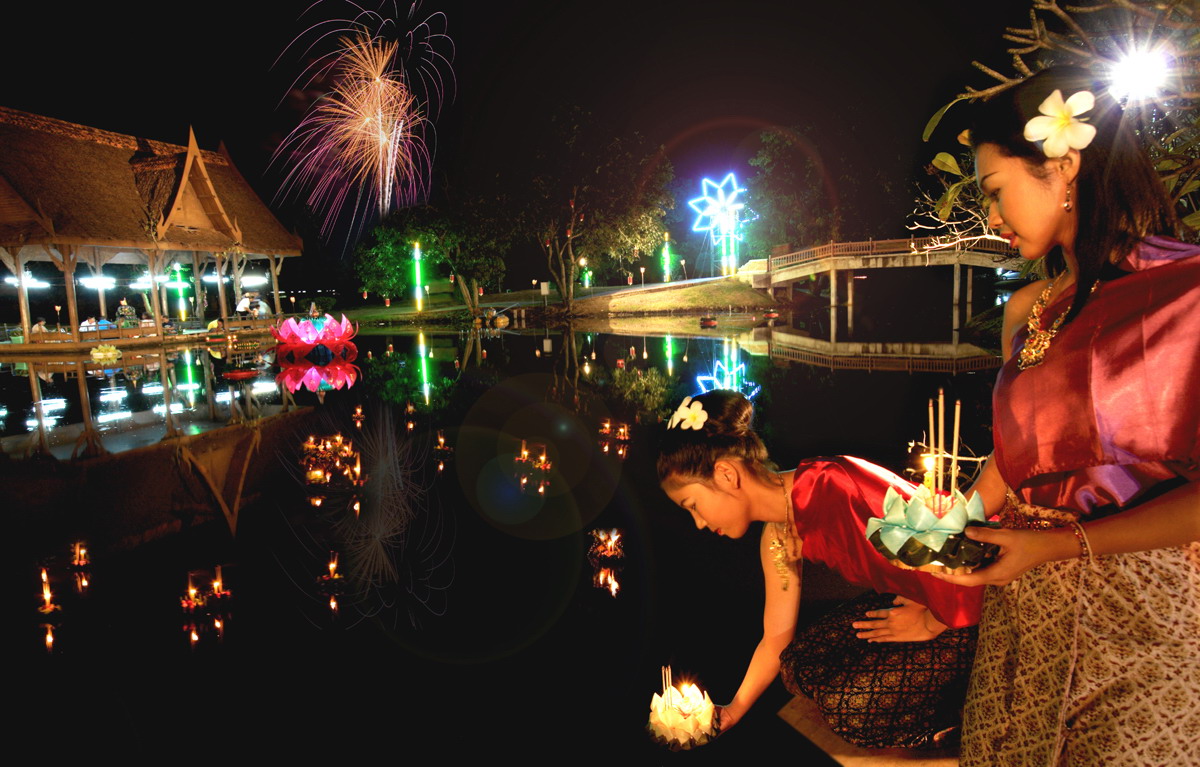 Photo: Handmade water lamp drop
– You can choose a direct flight from Hanoi or Ho Chi Minh to Chiang Mai for about 1,500,000 VND- 2,500,000 VND / round-trip ticket from Thai Airway, Air Asia… or fly to Bangkok then travel by bus to Chiang Mai. It takes about 8 hours by car from Bangkok to Chiang Mai.
– Not only Chiang Mai, very few tourists know that the Mea Sa valley also organizes the ceremony to release the beautiful sky lights.
– Overnight in Chiang Mai, you should avoid renting rooms in the city center because the price will be very high, especially during the festive season. The central guest area will be an ideal place to rent hotels or motels which cost about 500bath- 700bath per night. If you want to save money, the "dorm" is also an option with the price of only 200 bah / bed / person. However, Focus Asia Travel does not encourage you to rent it because there is no high safety for your luggage.
– Instead of hotels, you can rent motels from friendly locals, and sometimes they even teach you how to make free sky or water lights, otherwise, you will have to buy it for about 10bath- 20bath.
Do not miss the opportunity with your loved one to attend the most romantic Loy Krathong festival in the world.