HANOI – DALI – LE GIANG – SHANGRILA 6 days 5 nights (QH CHARTER FLIGHT)
Lijiang is the ancient capital of the Naxi kingdom, 2,410 meters above sea level and located on the Northwest Yunnan Plateau in Southwest China. Located…
Read more
---
- 2%
---
Highlights
03 NIGHTS OF LIJIANG
Free tickets to see the special performance "Impression of Lijiang" by director Zhang Yimou for 1200,000 VND
Fly directly with Bamboo Ariways in just 2 hours
Explore the poetic ancient city of Lijiang
Experience Jade Dragon Snow Mountain covered with snow all year round, at the foot of the snow mountain is the unique blue, winding Lam Nguyet valley.
Find the "Lost Horizon" in Shangrila, where earth and sky become one
Smart schedule, save time
Price list
Departure
Departure day
15/10/2023
19.490.000

₫

22/10/2023
19.490.000

₫

29/10/2023
19.490.000

₫
Departure
Departure day
12/11/2023
19.490.000

₫
Schedule
DAY 1: HANOI – LIJIANG (LUNCH, DINNER)
7:00 am: You arrive at the meeting point (Central Circus Theater). The car and tour guide took the group to Noi Bai airport to complete immigration procedures. Take flight QH802 to Lijiang at 10:15 a.m. – 1:15 p.m
The group has a light lunch of 1 serving of rice or sticky rice.
13:15: The group lands, the car and tour guide pick up the group and take them to visit Dali
The car and tour guide will take the group to Dali – which can be called the "magical land" of Yunnan province, where visitors can enjoy the mountain scenery, breathtaking lakes, and the ancient history of the Kingdom. Nam Chieu country, Bach culture is interesting and unique.
The group has lunch at the restaurant. After the meal, the group visited:
Phuong Duong Ap Village is 7km away from Dali Co Citadel, that village is at the foot of Thuong Son mountain, is a village on the ancient Tra Ma road passing through, the house in that village is preserved as ancient as in the movie "Going to the destination". there is wind", here you can feel the relaxing life like the people in that movie.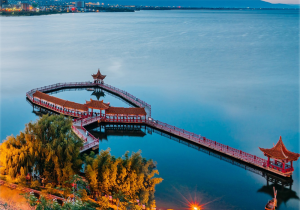 Take a walk on the ecological route next to Er Hai Lake
Group have dinner at restaurant. Overnight at hotel in Dali.
DAY 2: DALI – LIJIANG (180KM – 2H) (BREAKFAST/ LUNCH/ DINNER)
DAY 3: LIJIANG – SNOW MOUNTAIN (30KM – 30') (BREAKFAST/LUNCH/DINNER)
DAY 4: LIJIANG – SHANGRILA (180 KM – 2.5H) (BREAKFAST/ LUNCH/ DINNER)
DAY 5: SHANGRILA – LIJIANG (BREAKFAST/ LUNCH/ DINNER)
DAY 6: LIJIANG – HANOI (BREAKFAST, LUNCH)
Price included
Round-trip air ticket Hanoi – Lijiang, Bamboo Airways (15kg checked baggage + 7kg carry-on)
Single entry visa to China (group visa)
Local 4-star standard hotel, 2 people per room (if there is an odd 3rd person, they will share 3 bedrooms with an extra bed)
Recommended hotel in Lijiang: Fenghuang Hotel or similar
Expected hotel in Shangrila: Grace Hotel or similar
Meals according to the program (meal rate 40 CNY/meal/person)
1 bottle of drinking water/day/person.
Means of transportation for sightseeing according to the program
Sightseeing fees and entrance tickets to places according to the program
Electric car + small cable car Van Tam Binh altitude 3200m
Tour guides from Vietnam and local guides serve throughout the tour.
International travel insurance
Gifts from the company.
Price excluded
Passport fees.
Single room surcharge
Cost of re-entry visa to Vietnam for overseas Vietnamese and foreigners.
Excess baggage on flights.
Personal expenses such as telephone, Internet, laundry, food and drinks in the hotel room
Product services not mentioned in the program.
Bach Thuy Ha tram fee: 50 CNY/Person
Cable car ticket to the top of Ngoc Long Snow Mountain at an altitude of 4500m
Chinese visa sticker fee
TIP for tour guide, driver, local guide 5$/day/person
Tax
Child policy
From under 02 years old: 30% tour price (sharing bed with adults)
From 02 years old to under 11 years old: 90% of tour price (sharing bed with adults)
From 11 years old and up: equal to adult price.
Cancellation/ Booking Policy
Passport must be valid for more than 6 months from the end of the tour. Information in the passport must be clear and accurate (name, date, month, year of birth, passport number…) and guaranteed. Make sure all pages are complete, not torn, patched, erased, have stains, blurred information or other problems….
The tour program can change the order of the schedule to suit traffic and weather conditions, but still ensure enough attractions.
This is a tour program with price support according to Chinese tourism regulations. Please do not miss the shopping spots specified in the program. If you miss the shopping spots, please pay the surcharge according to the travel company's regulations and pay directly to the tour leader of the group.
Shopping destination according to the program: Medicine in Lijiang.
In case guests have facial cosmetic surgery, it is recommended that guests have their passports renewed. In case the guest does not renew their passport, the company will not be responsible for the guest's immigration issues. All cancellation fees and customer service penalties will be the sole responsibility of the customer.
Do not accept guests who are 5 months or more pregnant to participate in foreign tours for customer safety reasons (Customers when registering for a tour are responsible for notifying Company staff when a family member is pregnant. , The company will not be responsible if the customer does not notify).
In case you are not allowed to leave or enter the country due to personal reasons (such as images, document information in the original documents are blurred, unclear, expired passport, not in accordance with regulations, etc.), the Company will not responsible and will not refund the tour fee. The Company's tour guide will support and find the best solution for you, all costs incurred will be paid by the customer.
The company will not be responsible for securing attractions or compensating costs incurred in the following cases: Natural disasters: storms, floods, droughts, earthquakes, terrorism, protests, etc. about aviation: technical problems, security, relocation, cancellation, delay or change of flight time, etc. Damage due to delay of group members.
If you are an overseas Vietnamese or foreigner, if you need to apply for a visa to re-enter Vietnam, please bring 2 4×6 cm photos. If you enter Vietnam with a separate visa, please bring your visa and immigration declaration when going on tour.
Guests who only carry a green card (temporary residence card abroad) and do not have a valid Vietnamese passport will not register to go to a third country.
The price is for children sharing a bed with their parents. If you request a separate bed for the child, please pay 100% of the tour price.
In case there is only 1 guest (adult) traveling with 1 child under 11 years old (without separate bed), please pay the adult price so the child can have their own bed.
Prices apply to customers from 11 years old to 69 years old, from 70 years old and older will pay the difference in premium insurance premiums, from 75 years old and older, a certificate of full health is required to travel. Foreign travel issued by a competent health agency and must be accompanied by a healthy relative under 60 years old.
Over 85 years old, travel insurance is refused.
Due to the nature of a group of individual passengers, the Company will be responsible for accepting enough guests for the group (15 adults or more) so that the group will depart on schedule. If the number of groups is less than 15 guests, the Company will notify guests and negotiate a new departure date. If the new departure date does not suit your schedule, the Company will refund the deposit after deducting the visa fee for the customer.
During the journey, you are not allowed to leave the group arbitrarily. If you have family members in your home country who want to follow the program, please contact the travel company before departure.