Explore Luang Prabang: the ancient capital of Laos
Luang Prabang is the capital Vientiane about 425 km to the north, 16,875 km2 wide. With its cultural, historical and architectural values, in 1995, the ancient capital was recognized by UNESCO as a world heritage site in 1995 and ranked as one of the ten tourist cities by the American Travel and Leisure Magazine. The ancient capital of Luang Prabang, the land of Million Elephants, always makes visitors praise for its peaceful and ancient beauty. Going to Luang Prabang is not difficult as long as you have a passport. Focus Asia Travel would like to tell you the places to visit, fun activities, and culinary.
1. Places to visit and play that should not be missed out
The beautiful old town of Luang Prabang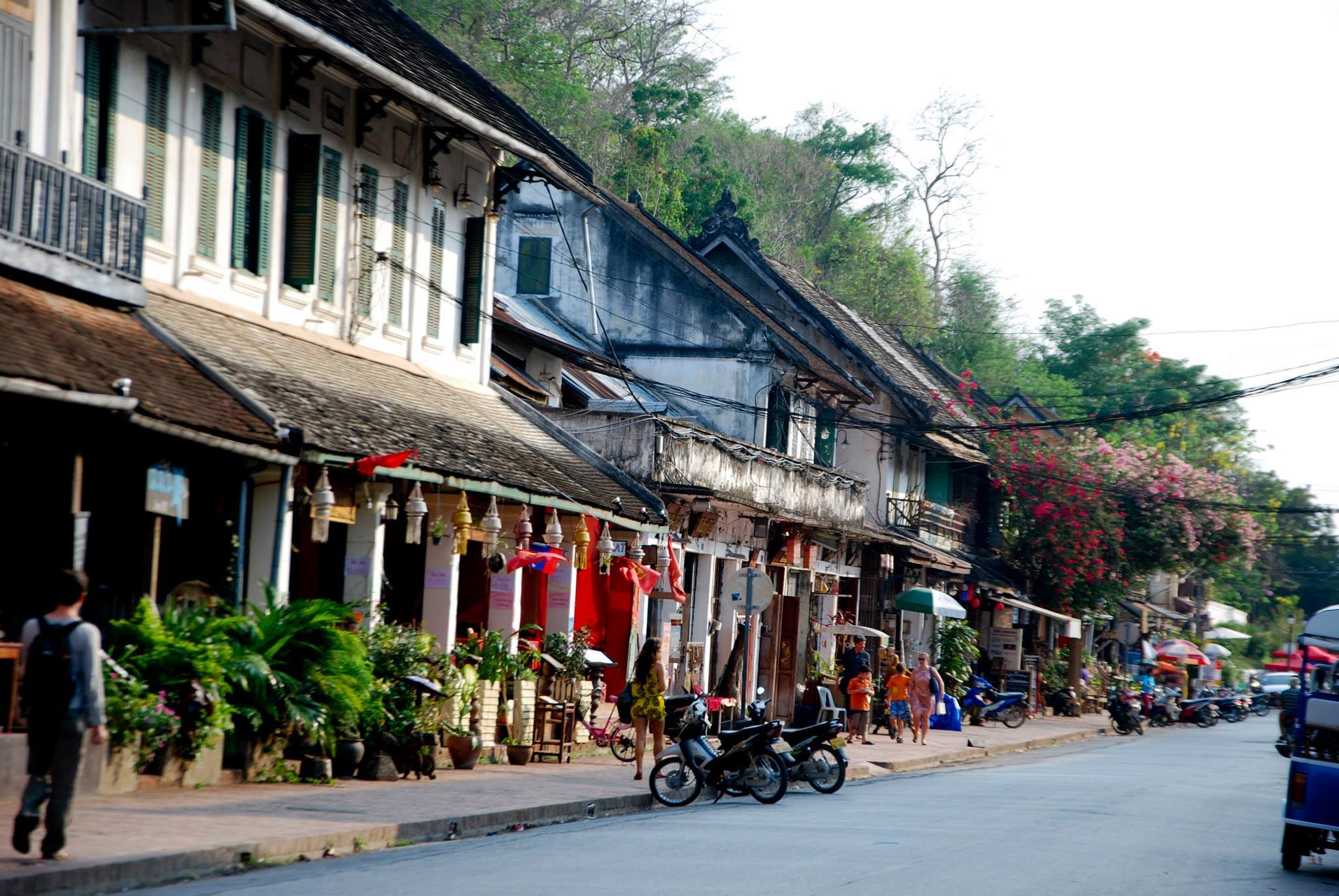 The best way to visit heritage buildings with traditional Lao architecture is on foot or by bike. Most hotels, restaurants and cafes are concentrated around the city, so you do not need any sophisticated means of transportation. There are absolutely no modern buildings or any 2-storey house.
Pak Ou Caves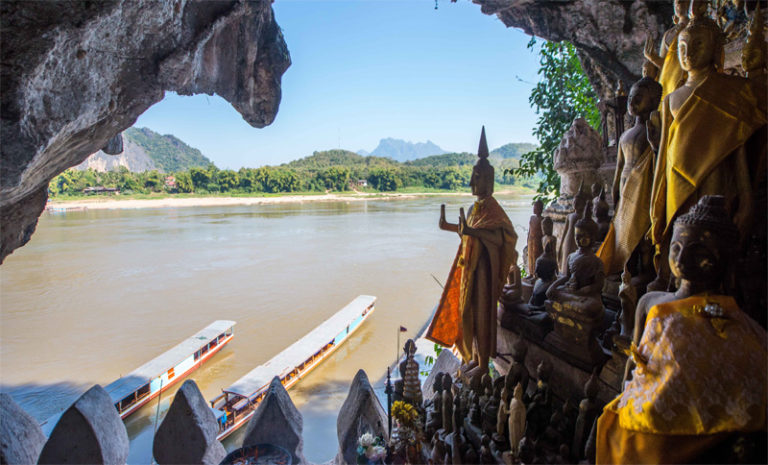 Pak Ou Caves
A scenic spot that should not be missed out when coming to Luang Prabang is the Pak Ou Caves which is also known as Buddha Caves. To reach the cave, you have to take a journey of about 25 km along the Mekong River. The thousands of Buddha statues placed inside the caves are a truly wonderful landscape.
Go to Luang Prabang market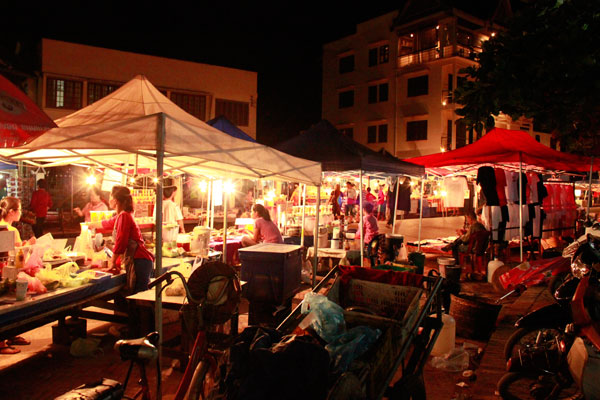 There are 2-3 markets around the ancient capital of Luang Prabang, but the most famous one is the night market located on the central street. Unlike any other market, Luang Prabang night market is full of silver souvenirs, traditional items, etc. This is also the ideal place for you to buy gifts for your relatives and friends. In addition, you can also find other interesting gifts at the Hmong market. The market is open during the day and it sells many paintings by local artists.
Whiskey Village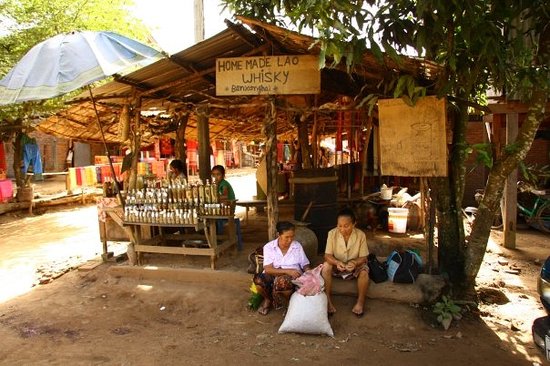 Whiskey Village
The village is located on the way to the Pak Ou cave, where the boats stop for about 30 minutes before continuing the journey. The famous specialty of the village is local whiskey or snake wine. Insects are mixed with whiskey and sold in bottles with unique shapes. Hand- woven Lao silk fabrics and other fabrics are also a commodity sold a lot to tourists here.
Temples
There are more than 30 temples and shrines located around the city of Luang Prabang. The most famous is Mai Pagoda which is located on the main street of the city. In Luang Prabang, there are also many schools for young monks. They learned the furniture, lacquer and English.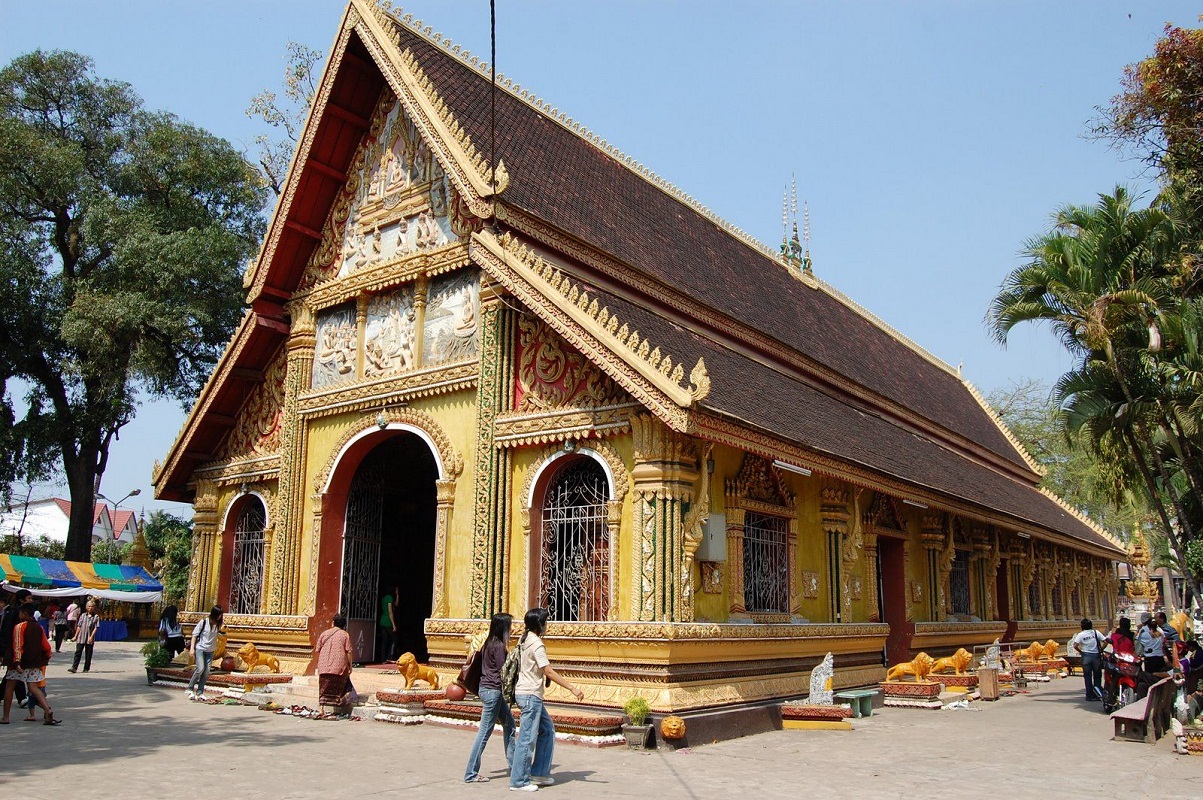 Kuang Si Waterfall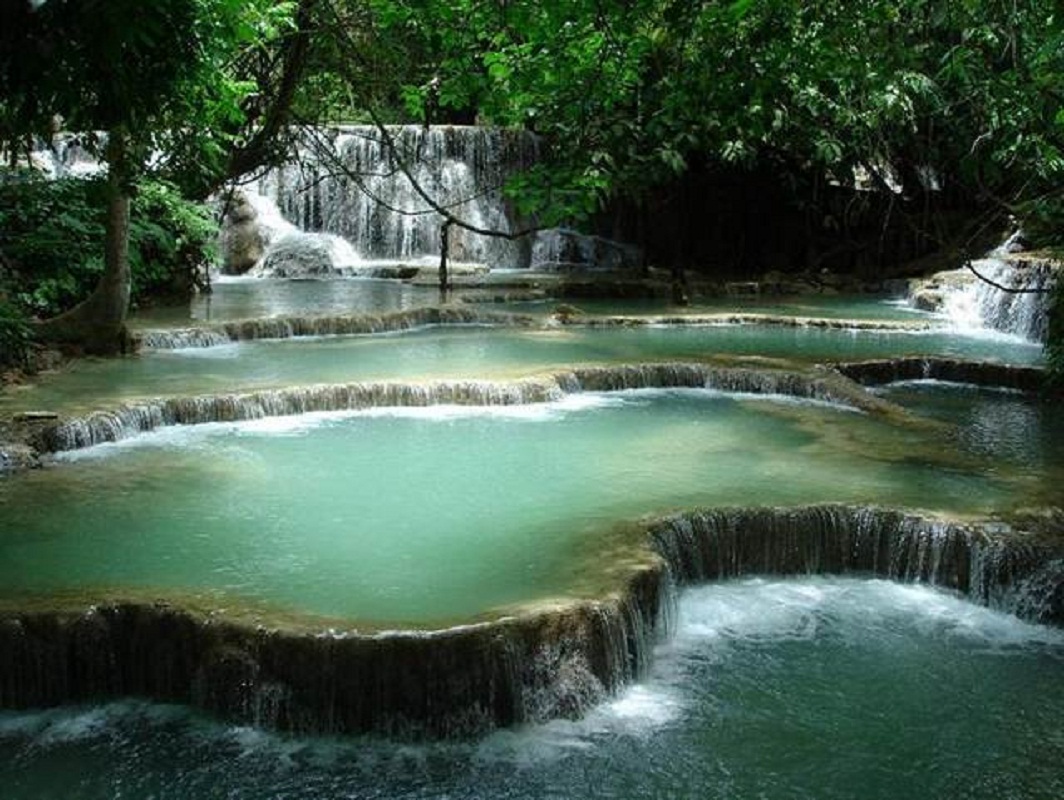 KuangSi Waterfall
Kuang Si Waterfall (also known as Kuang Xi or Tat Kuang Si) is a complex of 3 towers, nearly 30 km from the center of the ancient capital of Luang Prabang. This is a favorite destination for many tourists when coming to Laos. The main waterfall is about 60 meters high, cascading down to form small lakes which is similar to natural swimming pools. You can comfortably swim. Previously, this place was free of charge, but later on, ticket was collected to fund maintenance and conservation. There is also a bear sanctuary with rare, living bears.
Xieng Thong Pagoda
Wat Xieng Thong
As one of the oldest and most important temples in Luang Prabang, Xieng Thong was built in 1560. The entrance fee is 5,000 Kip (equivalent to 0.5 USD). The courtyard of the temple possesses an interesting structure. In addition, the murals of Xieng Thong are also a special attraction for visitors.
Riding elephant
The Elephant Park is located about 15 km from the city, surrounded by mountains. It takes about 3-4 hours of climbing to reach the Elephant Khammu village. Here you can both rent an elephant and learn about the daily life, unique culture of the ethnic minorities here.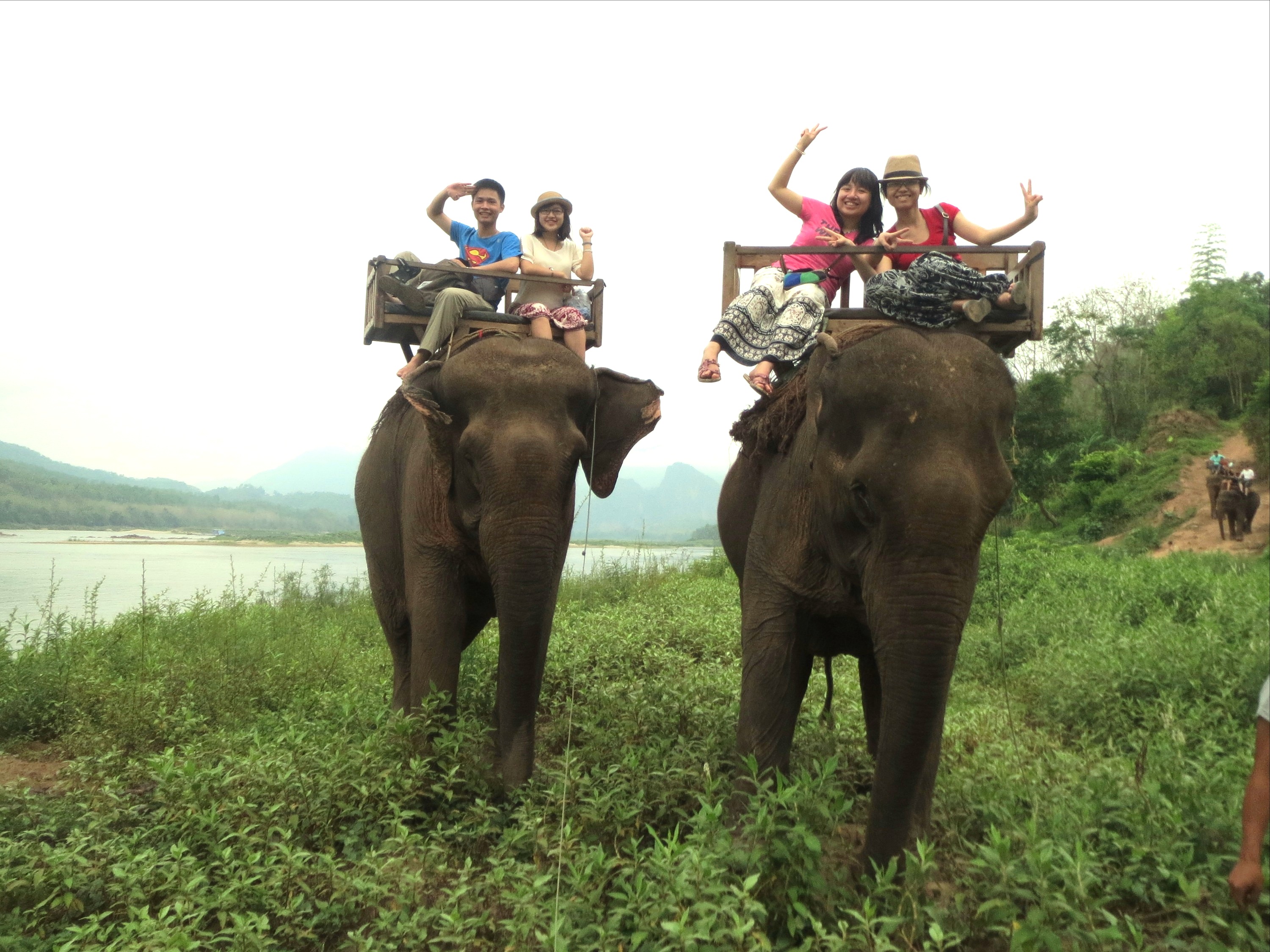 2. Luang Prabang cuisine: What to eat and where to travel in Luang Prabang
What to eat when traveling to Luang Prabang? Lao cuisine has more similarities with Thailand than Vietnam. Laos people often prefer the spicy food with peppers, garlic, fish sauce and herbs. In general, the food in Luang Prabang is delicious, clean and cheap. Luang Prabang is ranked in the list of the best street food in Asia. Besides, Lao coffee is famous for being the best drink in the world.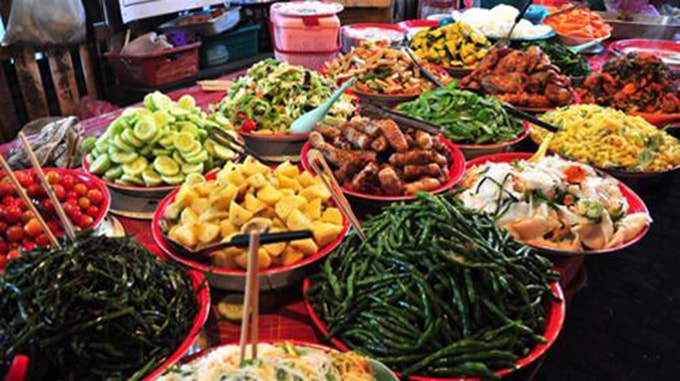 The food here is considered to be both delicious, clean and cheap. The local specialty cakes are sold a lot in the city which are quite delicious with competitive prices. Besides, Lao coffee is famous for being the best drink in the world. Coming here, you should try to go to a nice little restaurant. Along the banks of the Mekong River, there are also many restaurants with a combination of Lao and French cuisine .
3. Notes when traveling to Luang Prabang
Bring USD to convert to Kip (Laos currency) for shopping.
When greeting, you should not shake hands with Lao women.
When in traffic in Laos, you should limit honking loudly and fast, avoid overtaking.