Con Phung Island
Con Phung is one of four famous islands in Mekong River Delta. Con Phung Island is well-known for its beautiful landscape, unique handicrafts and local specialties. Recently, this island appeals more tourists to Con Phung resort with good services.
Con Phung Island is located on a floating islet amid My Tho River (a part of Tien River), in Tan Thach Commune of Chau Thanh District (Ben Tre Province). It is about 12 km (on road) and 25 km (by river) from the center of Ben Tre City. Con Phung Island used to be called Tan Vinh Island. Then, this island was also named Dao Dua, means coconut religion. It is because Mr. Nguyen Thanh Nam came here and built Nam Quoc Phat Pagoda and established Dao Dua in the early 20th century. During the time of constructing the pagoda, workers accidentally picked up an ancient phoenix-shaped bowl, so the land is also known as Phoenix Island and it is the popular name today.
Initially, Con Phung Island is not as large as today. Its area in the 1930s was ​​about 28 ha, but due to abundant silt deposits every year, this island is expanded to over 50 hectares. This is one of four islands located on My Tho River, a part of Tien River. These islands are named according to four mascots reflecting happiness and wealth: dragon, unicorn, turtle, and phoenix. Con Rong Island is dragon, Thoi Son Island is unicorn, Con Quy Island is turtle, and Tan Vinh Island or Con Phung Island is phoenix. Con Phung Island has a part of preserving the status quo in relation to Mr Nguyen Thanh Nam: museum of pictures about him, nine-dragon yard, and Hoa Binh Tower, etc. Much of the remaining area in Con Phung Island has a layout of southern garden-style houses: dining area on lakes and Monkey Bridge, the typical bridge in river areas of Mekong River Delta.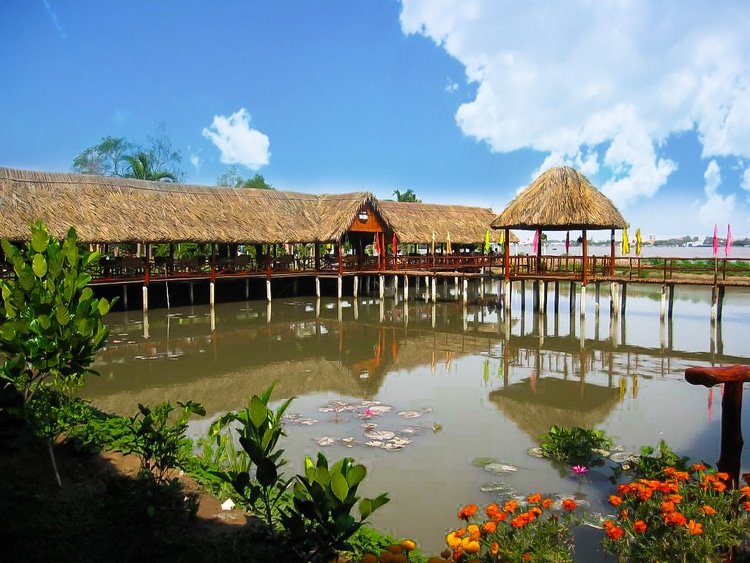 Con Phung Island in Mekong Delta – Source: Image from Flickr
Tourist activities in Con Phung Island are various and interesting from visiting coconut candy, exploring local life through exciting activities, or enjoying delicious southern food and fresh fruit in immense orchards. Coming Con Phung Island, you will have a chance to directly witness the process of making coconut candy of the local people: preparing ingredients, spinning candy (cooking), rolling candy, cutting, packaging, and canning. The most prominent products of the Con Phung Island are crafts made of body and coconut shell. The tradition of making crafts in Ben Tre has been existing for more than a decade.
Making coconut candy at Con Phung – Source: Image from Panoramio
Currently, skill of local people is increasingly sophisticated along with many unique products made. Due to materials and labor are "homemade", the price of product is very cheap. Not just in Con Phung Island, there are many handicrafts villages around Ben Tre City. There are many unique products, attracting tourists. Coming to Phoenix Island, tourists can visit orchards and enjoy delicious food characterized features of this region. Also, this land appeals tourists by bright colors in daily life of local people associated with craft products made ​​from coconut, such as coconut candy, souvenirs from the tree, coconut shell… Besides, Dao Dua historical site of approximately 1,500 m² is also a great tourist attraction in Ben Tre in general and Con Phung Island in particular. It still kept fairly intact architectural items built when he lived, such as: a yard with nine dragons, Hoa Binh Tower…
Souvenirs from coconut shell in Con Phung Island – Source: Image from Panoramio
One of should-not-miss thing to do in Ben Tre is dropping by Con Phung tourist resort. Con Phung tourist resort has been voted as a typical tourist attraction in Mekong River Delta, with an area of over 30.000m2, designed in open architectural style, immersed in the nature with peculiarities "green – clean – nice". Coming here, you will be lured into the nature and idyllic garden life of local people, also participate in funny folk games such as: going fishing, catching crocodile, sailing, swimming in the rivers, riding bikes or coaching along roads in villages, as well as popping in orchards and admiring all of their charming beauty. Do not forget to enjoy hick specialties: Fried Tai Tuong fish, Vietnamese pancakes, fried sticky rice, grilled chicken… are cooked and performed meticulously by restaurant's chefs  according to experiences and traditional methods, along with fresh material available, ensuring freshness, delicious, and highly nutritious criteria.
Monkey Bridge in Con Phung tourist area – Source: Image from Wikimedia commons
Along with the attentive, professional, enthusiastic and hospitable staff, you will definitely have a wonderful moment of relaxation and comfort. In addition, you have a chance to take part in many exciting tours as attractive Eco tours, cruises, picnics… which are suitable to travel groups, organizations, and private tours, etc. Along with a young, dynamic, enthusiastic, funny and hospitable team of guide, high-quality transport, and good service with the motto "attentive service – high quality and reputable product – reasonable price" will bring satisfaction to you.