Cambodian recipes and Cambodian food
Salty, sweet, spicy and sour, Cambodian cuisine has all bases covered. The nation is home to a bounty of seafood and fresh, fragrant produce, which features prominently in soups, curries, stir-fries and salads. The complex spice blend kroeung features in many Cambodian foods.
The culinary influence of Southeast Asia, along with China, India and France, can be seen in the country's diverse array of foods. Popular dishes include chicken satay, stuffed kampot squid, prahok pork belly and the national dish seafood amok.
Wok-Tossed Squid With Kampot Pepper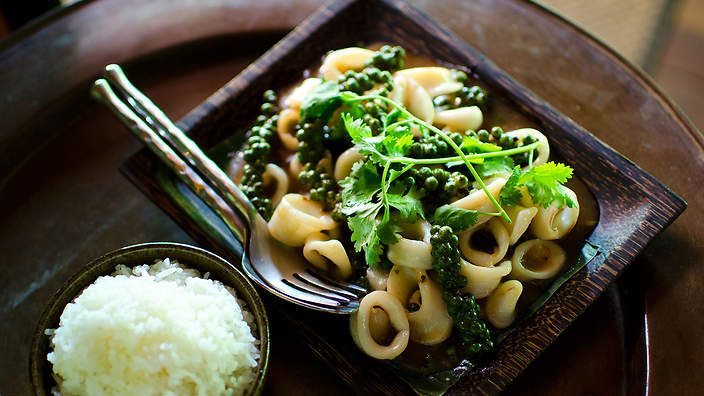 Luke Nguyen prepares a traditional home-style Cambodian dish of tender squid paired with subtle and slightly sweet young green peppercorns. A dash of coconut milk puts the finishing touch on this simple yet delicious stir-fry.
Pork And Rice (Bai Sach Chrouk)
This well-loved Cambodian breakfast dish is found at roadside vendors in the early hours of the morning. Pork is marinated with garlic, and sometimes coconut milk, and then slowly grilled on a wire rack set over burning charcoal.
Chicken Coconut Soup
This simple Cambodian soup recipe is all about the fresh ingredients. I was lucky enough to cook this with freshly made coconut cream and milk and the chicken was fresh from the farm. Look for good quality coconut milk and cream when shopping and use the best quality chicken you can afford.
Prahok With Pork Belly
During Luke Nguyen's travels along the Greater Mekong he meets a passionate Cambodian cook who prepares for him this very old, traditional recipe using prahok, a fermented salted fish paste. When paired with thinly sliced pork belly, egglant, coconut milk and a lemongrass paste known as kroeung, this is a curry to remember. Serve with cabbage, cucumber and snake beans for dipping.
Stuffed Kampot Squid
In this Cambodian recipe for stuffed squid Luke Nguyen admits there are a lot of ingredients but, if you get organised it's pretty straightforward. It is important that the squid is about the right size so that they will be tender when cooked.
Tamarind Crab
Perched on a rock near the shore, Luke cooks blue swimmer crab with a simple sauce of tamarind, fish sauce and palm sugar.
Royal Seafood Amok
Luke Nguyen shares his recipe for traditional Cambodian seafood curry. It is deliciously spicy, with the sweetness of coconut cream, and the end result is soufflé-like. It is usually steamed in banana leaves, but here Luke makes great use of coconut shells.