9 Tips To Visit Seoul On A Budget (Part 2)
In the first part, we've covered 3 tips for you to do Seoul on a budget. In this part, let's get to the next 3 budget-friendly tips to help you discover and enjoy the city!
4. Visit all the free (& nearly free) museums
There are over 100 museums in Seoul. Below are some main ones that are either free or very cheap to visit, though access to special exhibitions does come at an additional cost. Seoul on a budget has never been so easy!
National Folk Museum of Korea (국립민속박물관) – FREE
This museum is located within the grounds of Gyeongbokbung Palace (East Entrance) and it focuses on the daily life and culture of Korea from prehistoric times to the end of the Joseon Dynasty.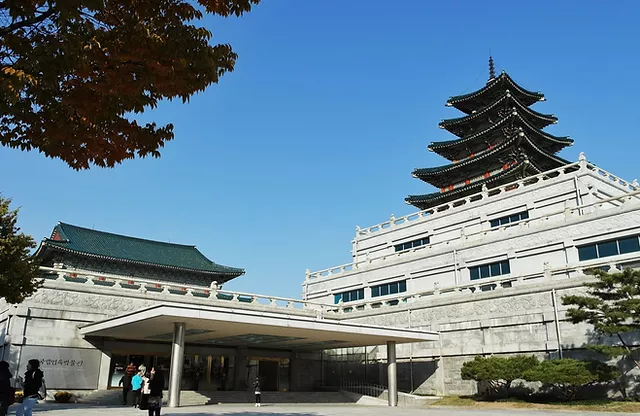 National Palace Museum of Korea (국립고궁박물관) – FREE
This next one is also located within the grounds of Gyeongbokgung and it showcases artifacts from the Joseon Dynasty which were found in the nearby palaces and shrines.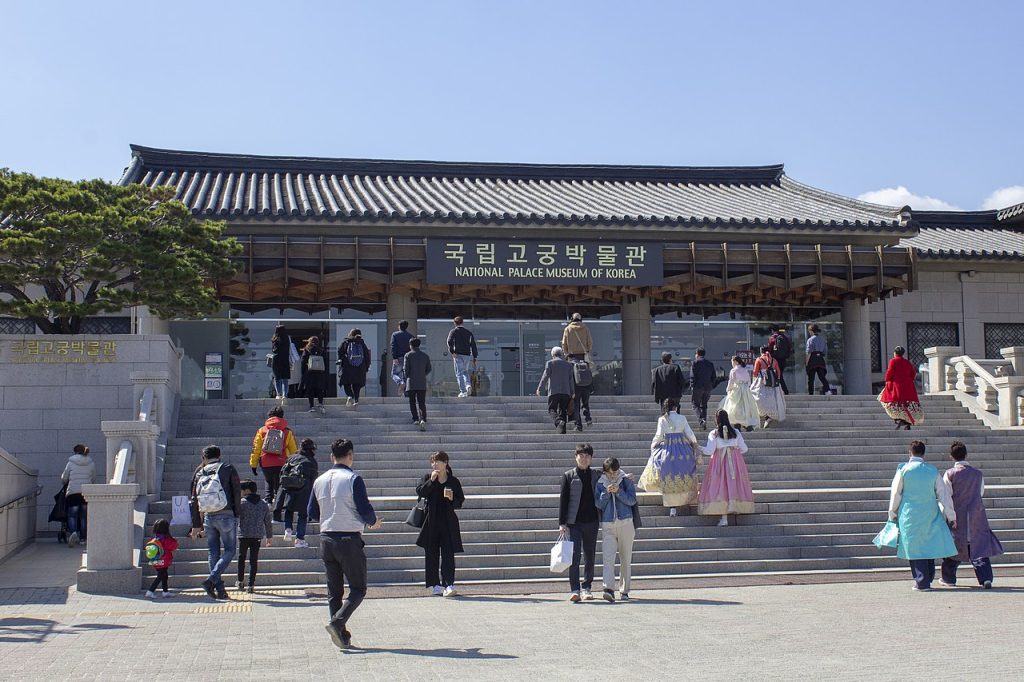 National Museum of Korea (국립중앙박물관) – FREE
The National Museum of Korea has a massive collection focused on Korean history and art. The collection starts with prehistoric artifacts and then moves into medieval and early modern history.
National Hangul Museum (국립한글박물관) – FREE
This museum deals with the history of the Koran Alphabet, which is a lot easier to learn than hanja! It's also really close to the National Museum of Korea, so you can easily hit both on the same day.
War Memorial of Korea (전쟁기념관) – FREE
The War Memorial of Korea has both an indoor and outdoor component, the latter which features military equipment and machinery used during the war. While the focus is on the Korean War, this museum also covers other wars and conflicts Korea has faced.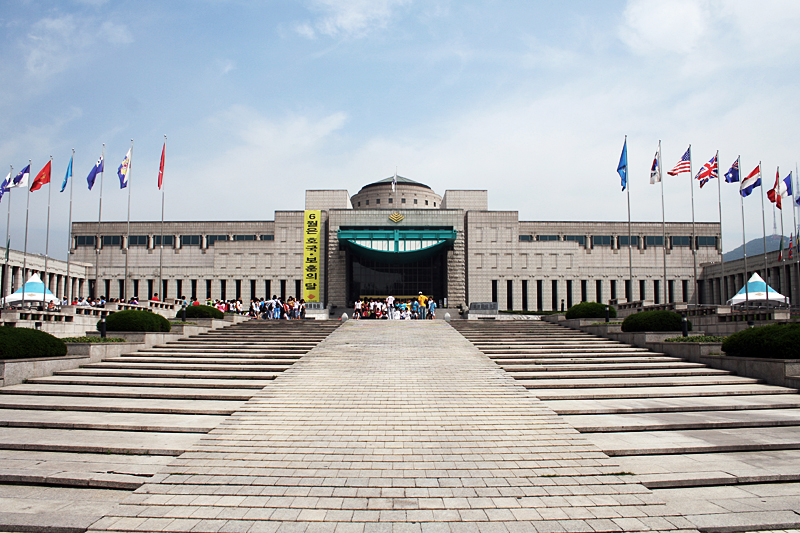 Seoul Museum of Art / SeMA (서울시립미술관) – Depends on exhibition
This museum holds rotating exhibitions throughout the year, so you never know what you're going to find. You should check what would go on before you show up. Also, the price of the admission ticket varies depending on the exhibition.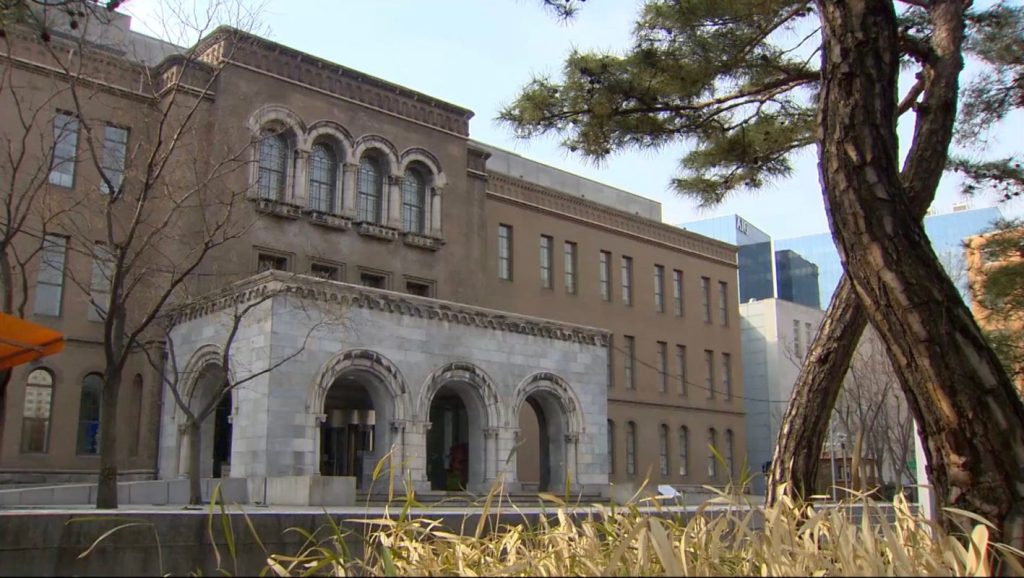 National Museum of Modern and Contemporary Art / MMCA Seoul (국립현대미술관) – 4,000 won (about $3.6)
For all you modern and contemporary art lovers, this is another museum to add to your list. Admission is cheap and they have rotating exhibitions throughout the year.
Leeum, Samsung Museum of Art (리움 삼성미술관) – 10,000 won (about $9)
So this museum is not free, but if you enjoy traditional Korean art and contemporary art, it might be worth the admission fee; 10,000 won will give you access to the permanent collection, and 8,000 won (about $7.2) for special exhibitions.
5. Visit the main attractions
Now let's have a look at some other fun sights and attractions across Seoul. In many cities, the top attractions generally come with hefty price tags, but that is not the case in Seoul. Here are a few activities that you can check out during your Seoul on a budget trip:
Grand Palaces – 10,000 won for 5 sites (about $9)
There are 5 Grand Palaces in Seoul: Changdeokgung, Changgyeonggung, Deoksugung, Gyeongbokgung, and Gyeonghuigung. You can either pay for individual admission tickets, or you can pay 10,000 won for a pass, which will give you access to the first four palaces (the fifth one is already free) as well as the Jongmyo Shrine. That's cheaper than paying to visit each palace individually, and you don't have to see everything on the same day.
Another alternative is to rent a hanbok (traditional Korean dress), which will then grant you free access to the palaces and the shrine. The rental of a hanbok is usually between 12,000-15,000 won ($10.8 – $13.4), which is just a little more than getting the pass, but it means you can have fun taking photos around the grounds.
Jogyesa Temple – FREE
This is a Buddhist temple located in Jongno, which puts it in walking distance of many of the Grand Palaces.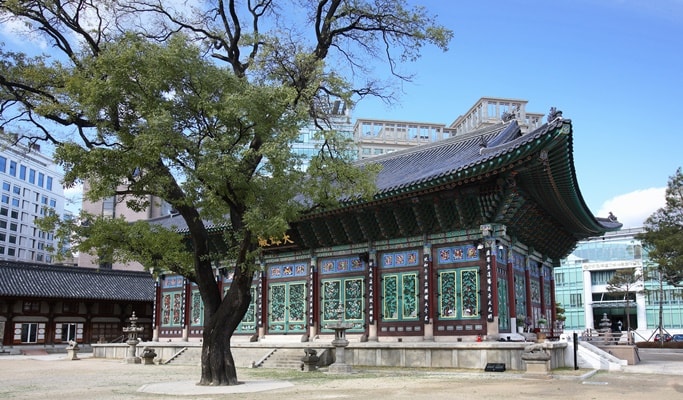 Cheonggyecheon – FREE
The Cheonggyecheon is an urban public space with a stream that flows more than 10 kilometers across the city. It's a really nice spot for a stroll or a picnic lunch, and it has lots of bridges and foot stones so that you can criss-cross back and forth. It's nice to visit any time of year, but especially during the Lantern Festival when you can see one of a kind lanterns on display.
Namsangol Hanok Village – FREE
This is a village where hanok (traditional Korean houses) have been preserved to showcase what the area would have looked like in centuries past. This was once the site of a  Joseon-era summer resort, so it feels quite peaceful even though you can see modern structures off in the distance.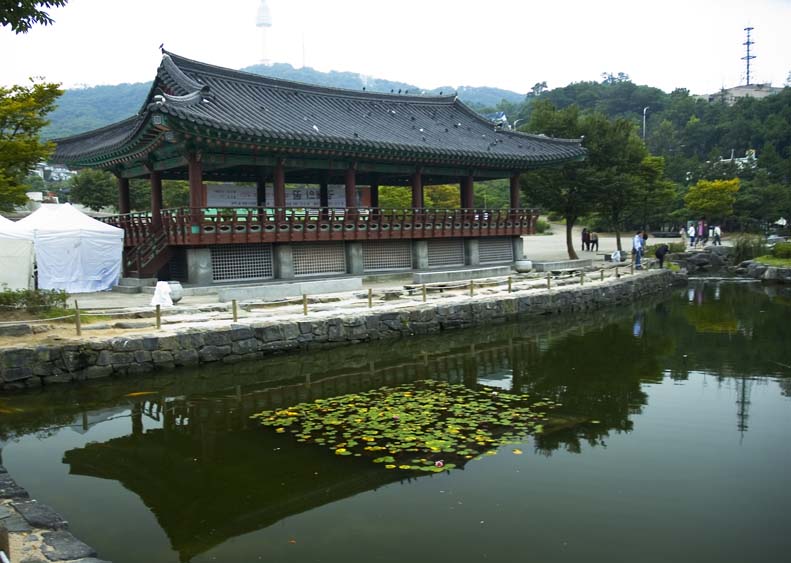 Bukchon Hanok Village – FREE
This neighborhood is full of traditional Korean houses, but unlike other villages that have been turned into open-air museums, people still live in these homes. Some of the hanok have been repurposed into workshops, cultural spaces, and private galleries, but for the most part, they are private residences. This is a beautiful area to wander on foot and it doesn't cost anything.
N Seoul Tower – 10,000 won (about $9)
For expansive views of Seoul, you'll want to ride the elevator up N Seoul Tower. You can either pay to take the cable car or walk up the hill if you're looking to save a few won. Once you're done visiting the observatory, you can also watch free cultural performances on the square or lock your love like thousands of others before you.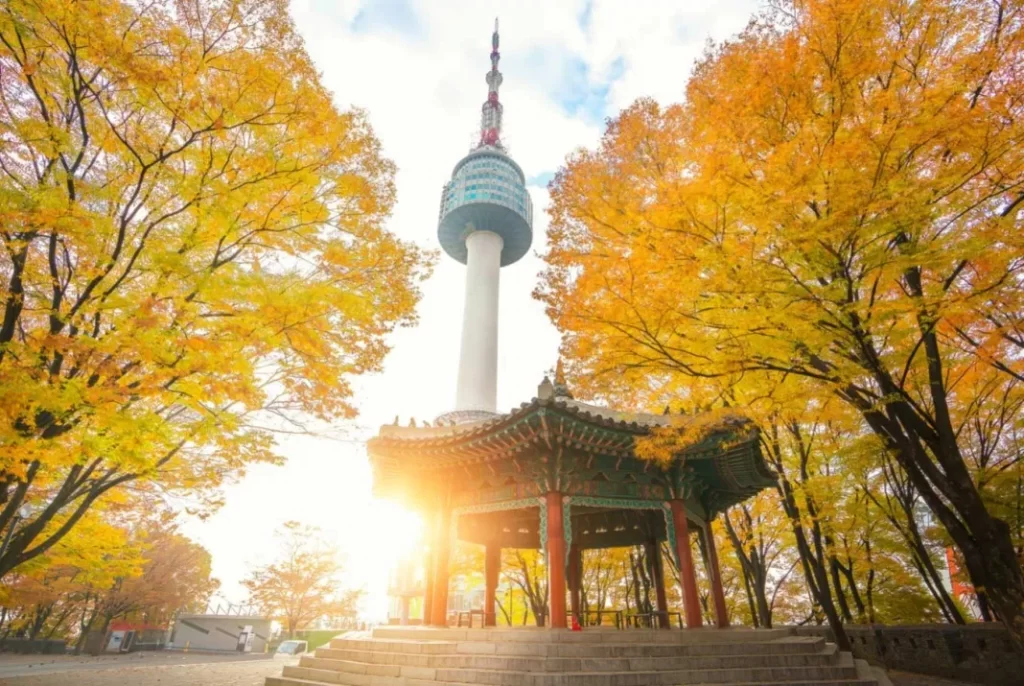 6. Shop in subway stations and university areas
Speaking of Korea, you cannot forget about the fashion and the cosmetics. However, these items are often quite expensive when coming to the shopping centers in Seoul. But when you want to experience Seoul on a budget and go shopping for clothes, shoes, and accessories, the vicinity around major universities is a great place to do so. The prices in these areas are geared at young students on a budget so aside from finding really trendy items, you can also get great deals. Some places to consider shopping in Seoul include:
Hongdae
This is the area around Hongik University, which is one of Korea's top universities for the fine arts. This means there's a lot of experimentation with fashion, which makes it a great place to discover new trends before they become mainstream. Hongdae is home to a lot of independent clothing stores and outdoor stands.
Ewha
This area is usually referred to as Edae and it is home to Ewha Woman's University. Being next a women's university means that this area is filled with shops geared towards girls. The shops feature a lot of feminine and girly pieces and you can also pick up all sorts of accessories: headbands, hats, earrings, scarves, sunglasses, handbags and so much more.
Sinchon
This is the area around Yonsei University, the oldest university in Korea and one of the most prestigious. Sinchon is just one stop away from Ewha on Line 2, so you can easily cover both in one outing. Like with Hongdae and Ewha, you can also expect to find a lot of indie shops with experimental yet affordable fashion.
All of the areas mentioned above also boast plenty of Korean beauty shops. One thing to keep in mind if you're traveling Seoul on a budget and especially shopping for Korean makeup products is that they often give out free samples. These can be face masks, facial cleansers, or moisturizers. Sometimes they'll hand out samples outside the stores as a way to lure you in, and other times you'll get them as a little freebie with your purchase. It may not be huge, but it's free!
If you're visiting Seoul on a budget, you can also consider shopping in the underground metro stations. It may sound a bit odd, but most major stations have underground shopping areas where you'll find independent clothing stores as well as major beauty brands.