9 Tips To Visit Seoul On A Budget (Part 1)
With whoever wants to travel to Seoul, the cost is the first topic that comes up. It's true, this isn't the cheapest city in Asia, however, the Korean capital isn't a destination that is going to break the bank either. There are many ways to visit Seoul on a budget if you know where to look, so today we're here to share a few budget-friendly tips to help you enjoy the city without restricting yourself in terms of the things you get to experience – because if you've come all the way to Seoul, you may as well enjoy your time here!
1. Find cheap accommodations in Seoul
The first way to do Seoul on a budget is by choosing your accommodations wisely, and thankfully, there are plenty of cheap accommodations in the city. Below is the list of a few different types of accommodations starting with the most basic to some higher in price:
Jjimjilbang (찜질방)
A jjimjilbang is technically a spa and bathhouse, but this shouldn't stop you from spending the night there. In fact, jjimjilbangs have sleeping areas, where you can either sleep in a communal room (picture lots of mats and people scattered in a massive room) or you can crawl into one of the individual cubby holes and sleep in your own little cave. It is not recommended spending your entire trip at a jjimjilbang, but it's a good option if you're coming into Seoul for a night or if you're catching an early flight and you don't want to pay for a hotel room. Just keep in mind that you'll have to get naked to use the baths and steam rooms (no bathing suits here!), but if you're okay with that, it's a good option to do Seoul on a budget. Staying at a jjimjilbang can cost anywhere between $10-15 / night depending on the place.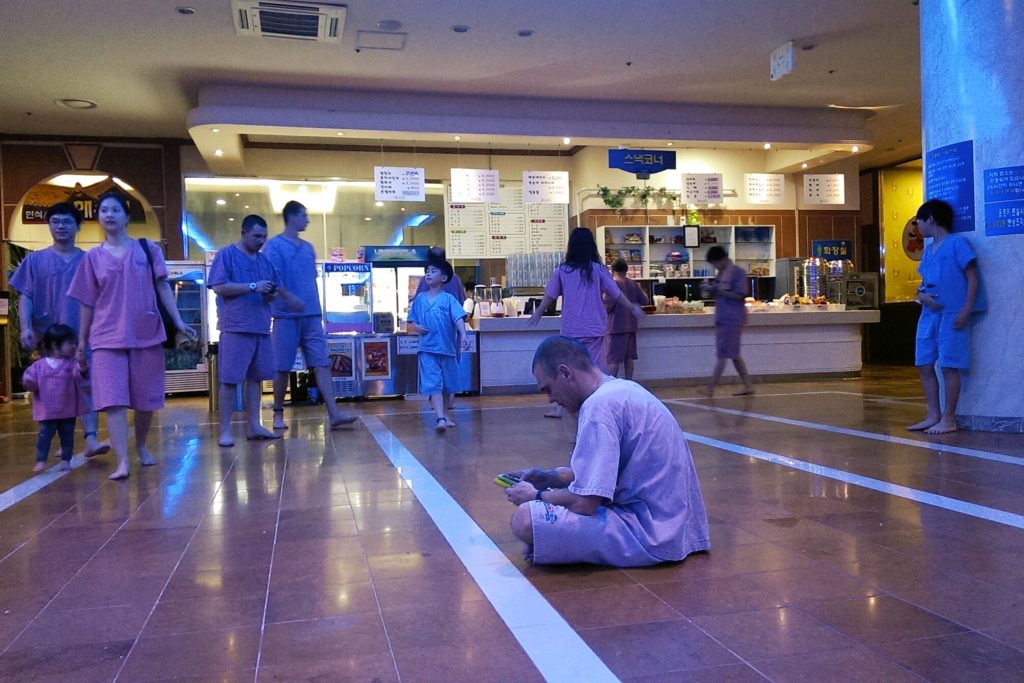 Goshiwon (고시원)
A goshiwon is the smallest type of room you can find in Korea. It's basically a closet-sized room large enough to fit a single bed and a little desk, but not much else. You'll also likely be sharing a kitchen and a bathroom with other people, but there's a reason why these places are so cheap and easy to do Seoul on a budget. This type of accommodation is geared at university students or out of towners who work in the city during the week, but if you plan on being in Seoul long enough, you could also snatch up a room. Stays at a goshiwon can start as low as $200 for the month.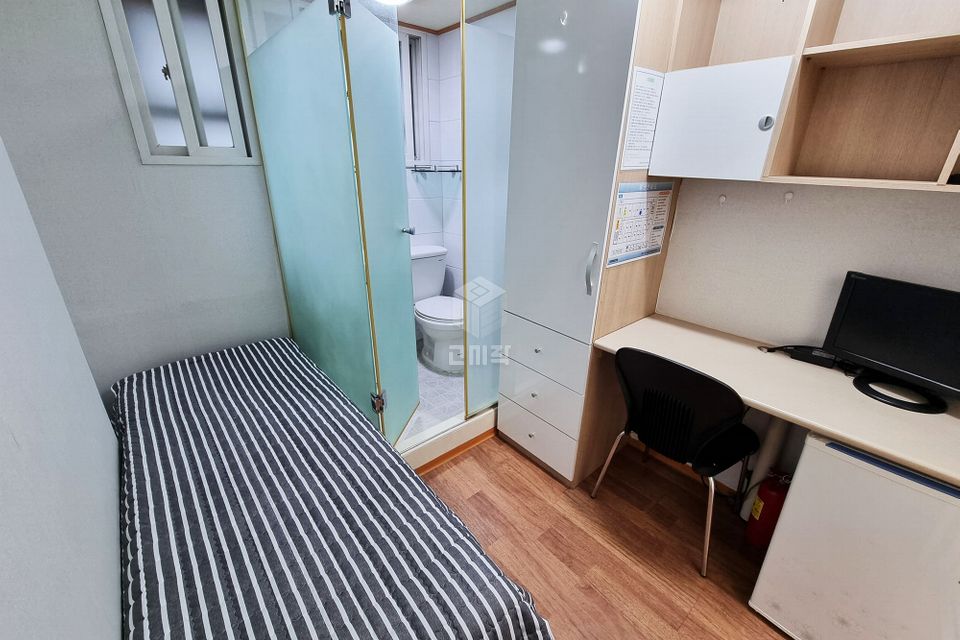 Hostels / Guesthouses
Another option is to stay in a hostel or a guesthouse. These can average between $25-45 a night depending on whether you're looking at a dorm or a private room.
AirBnB
AirBnB is quite popular in Seoul and you can easily find a good bargain, especially if you book well in advance. The listings include a mixture of officetels, lofts, and 2 bedroom apartments. The rent will be $35-50 per day.
Hotels
There are also lots of hotels to choose from across the city. On average, you'll be looking at $75-100 a night for something in the mid-range, but prices do go up from there based on the location.
Hanok (한옥)
A hanok is a house built in the traditional Korean style and it features tiled roofs, wooden architectural elements, and heated floors. You can sometimes luck out with stays between $40-100 per night, though again, it can be a lot higher.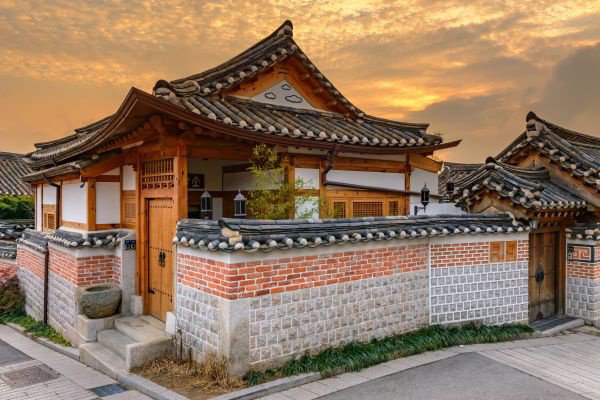 2. Use public transportation like a pro
Public transportation is really common for those wanting to visit Seoul on a budget. First things first, you need to get yourself a T-money card. This is a transportation card that will give you access to Seoul's buses and metro system. You can pick these up at any metro station or at a convenience store like GS25, CU, 7-Eleven, Mini Stop, With Me, and Buy The Way.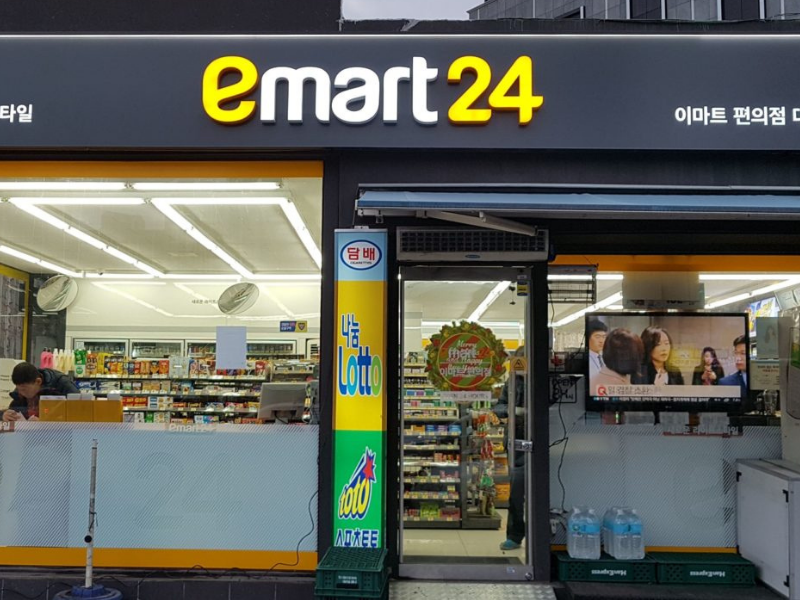 The cool thing about the Seoul Metropolitan Subway system is that the network doesn't just cover Seoul; it's so spread out that it reaches Incheon, the Gyeonggi province, the Chungnam province, and the Gangwon province. And you also have express lines to get you further faster. Don't forget to return your T-money card at the end of your visit for a refund on the balance and the cost of the card.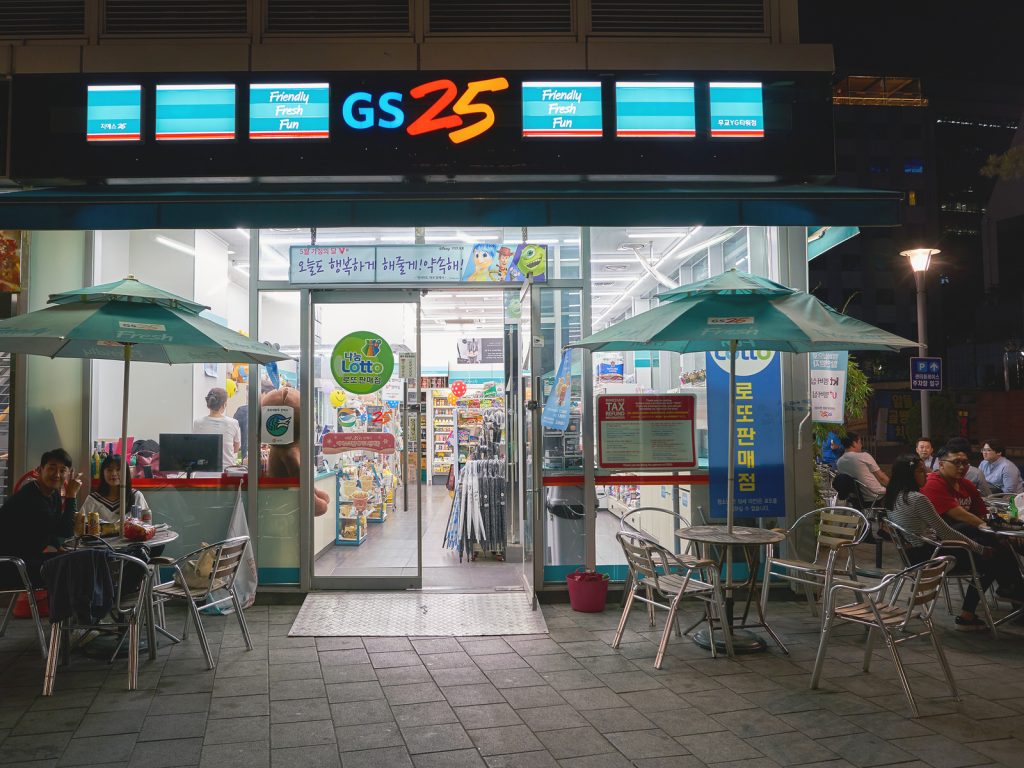 Taxis are also surprisingly affordable, and they are perfect if you've been out late and have missed the last subway home.
Lastly, let's talk about transportation to and from the airport. The most efficient way is the AREX (Airport Railroad), which has an Express Train and an All Stop Train. The All Stop Train is cheaper and it only takes a few more minutes to get into Seoul.
Another option for Seoul on a budget is to take the bus. You have the deluxe bus, which makes fewer stops and provides more comfort, or you can take the standard bus which makes more stops along the way but is cheaper.
3. Try street food & dine at local eateries
Little Local Eateries
Eating out in Seoul is very affordable if you know where to go; the key to eating well and on the cheap is to veer towards little restaurants geared at locals.
These little hole-in-the-wall eateries can be easy to miss if you're not looking for them. They are typically located in residential neighborhoods and hold between 5-10 tables. Keep in mind that most Korean apartments are very small, so it makes sense that people would go out for food and that it would also be affordable. An average meal at a local eatery will cost $3-6. Also, all of these meals come with free re-fillable side dishes, free water, and there is no tipping. You can easily experience Seoul on a budget with delicious meals!
Some foods to consider trying in eateries include:
Dolsot bibimbap (돌솥 비빔밥) – Rice served in a hot stone pot with mixed vegetables and a fried egg. You then mix the ingredients and let them cook and sizzle in the pot.
Sundubu jjigae (순두부찌개) – A soft tofu and spicy red pepper paste stew. It usually has clams and a raw egg is dropped in the stone pot to continue cooking once it's at the table. This is served with a bowl of rice.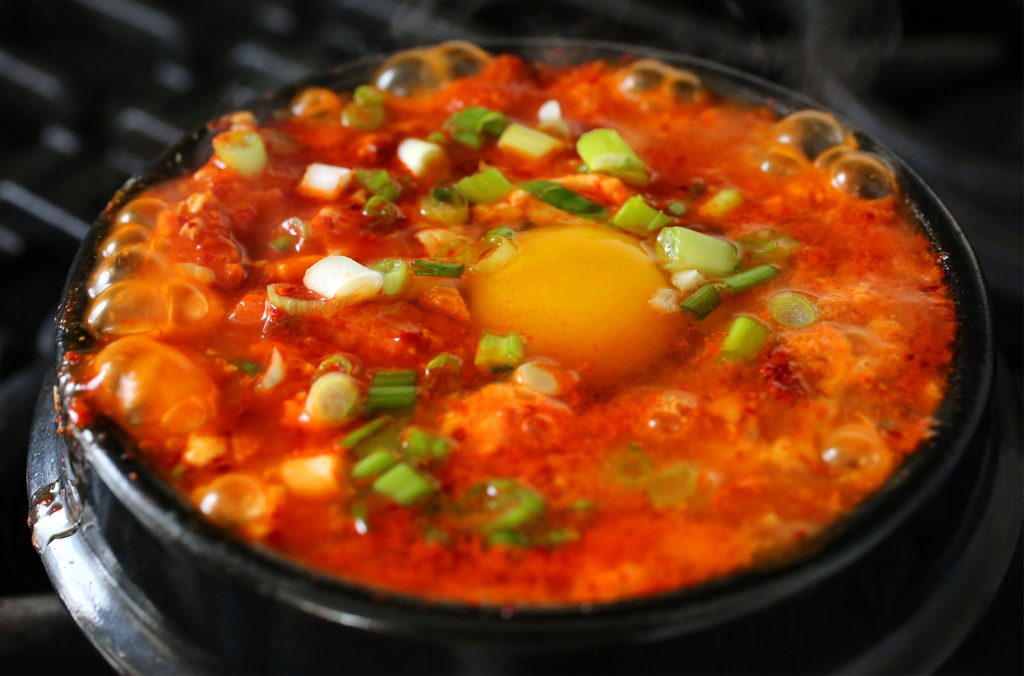 Kimchi mandu (김치만두) – Dumplings filled with spicy fermented cabbage. You typically get a set of 10 when you order.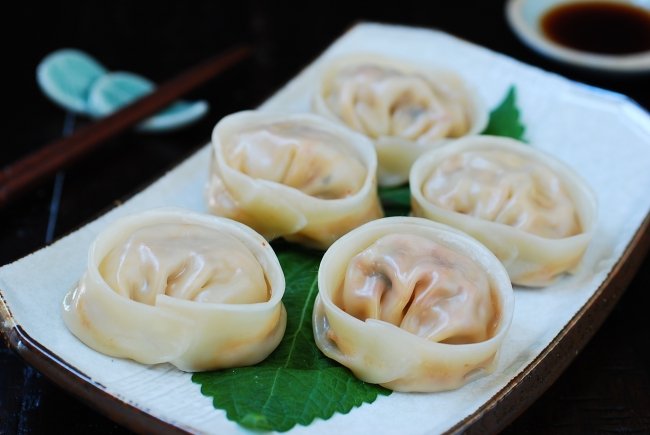 Chamchi kimchi bokkeumbap (참치 김치 볶음밥) – Fried rice with red pepper paste, tuna, fried kimchi, and seaweed flakes, served with a fried egg on top.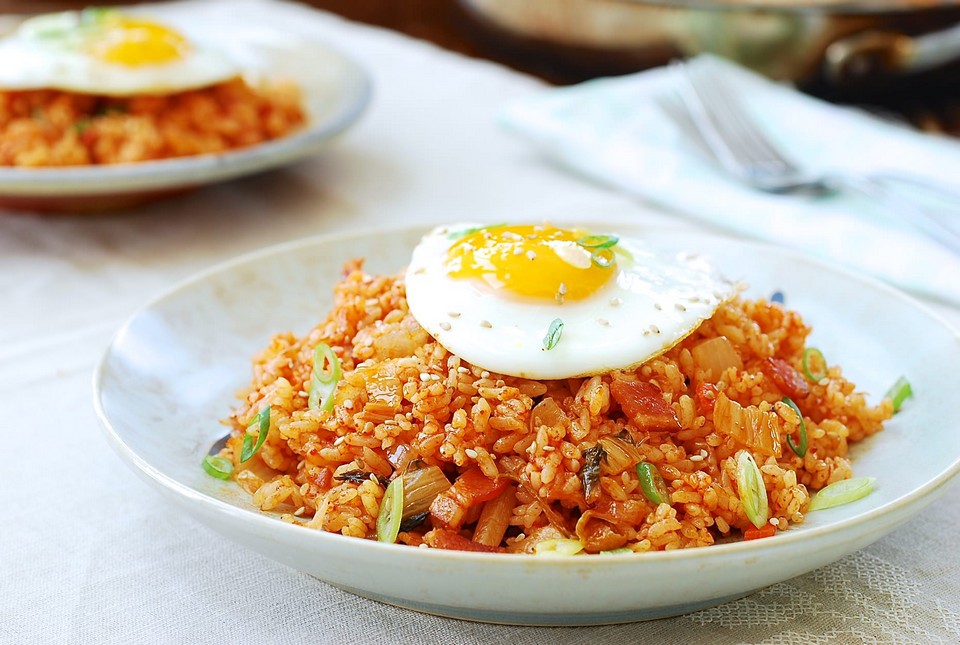 Donkasu (돈가스) – Pork cutlet that is breaded and then fried. It can be served with different sauces and gravies, and it comes with a bowl of rice.
Mandu guk (만두국) – Light broth with chives, whisked egg, seaweed, and dumplings.
Omurice (오므라이스) – The name is short for omelette and rice. It's made by frying rice in a bit of ketchup and then wrapping the rice in a light omelette. This can then be topped with more ketchup or gravy.
Ramyeon (라면) – Ramen noodles in a spicy broth. You can add extras to it like slices of cheese.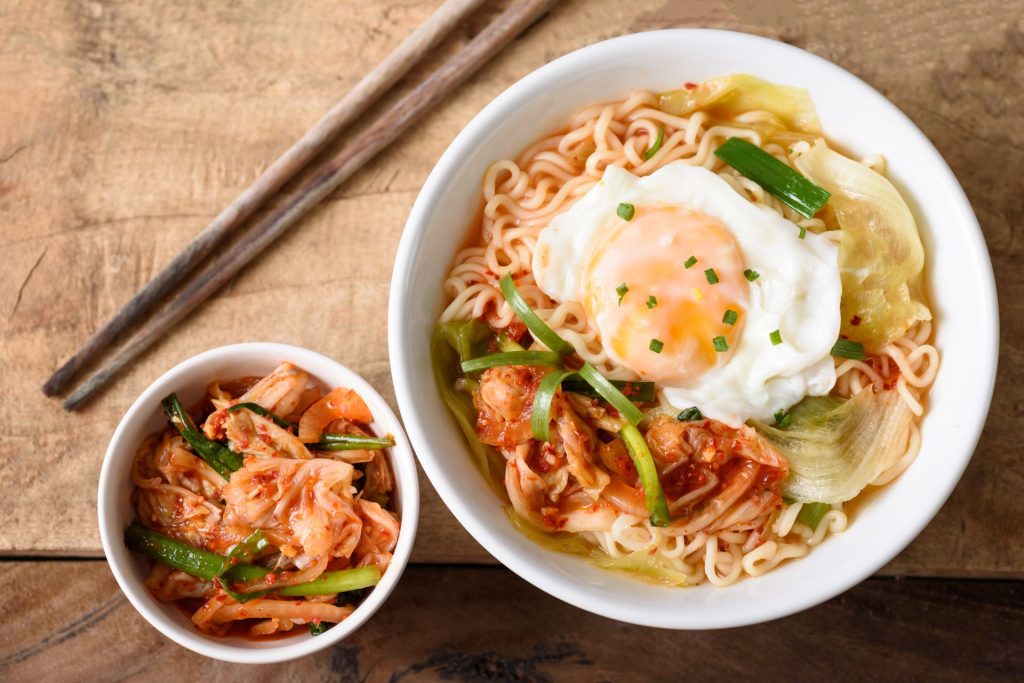 The only potential hurdle at some of these local eateries is that they tend to only have Korean menus. You may have to point at a picture or point at someone else's dish if you like what you see, but it would be a good idea to show up with a list of foods you'd like to eat, especially if you don't read Hangul or speak Korean.
The Street Food Markets
Another option for eating cheaply in Seoul are the street food markets. Here you'll find a lot of dishes that you can eat on the go for just a few dollars, plus the language barrier isn't so scary since all you have to do is to point at what you want.
Some classic street food eats are:
Tteokbokki (떡볶이) – Soft rice cakes served in a sweet red chili sauce.
Odeng (오뎅) – Boiled fishcake served on a skewer.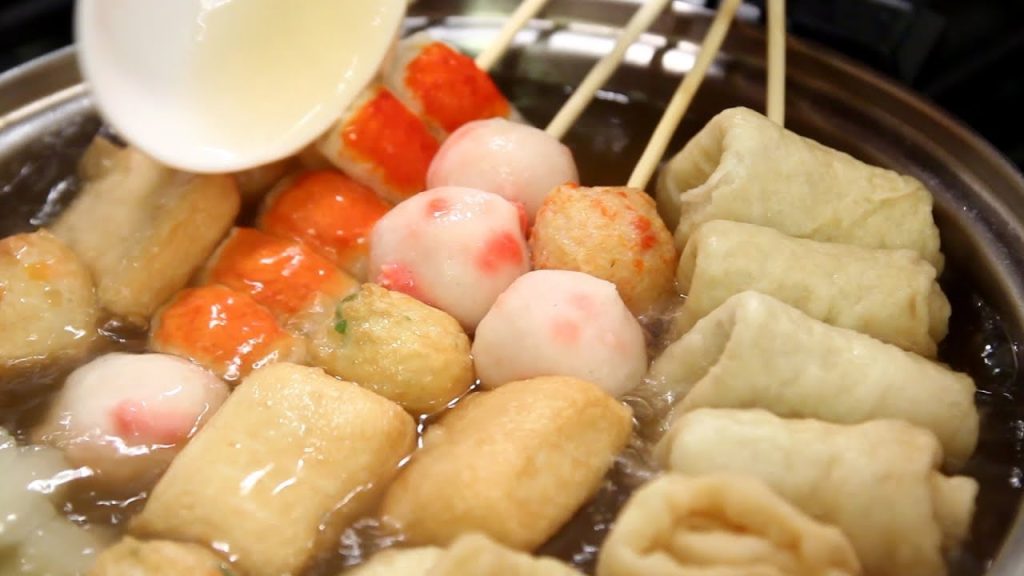 Twigim (튀김) – An assortment of battered and deep-fried snacks that can include slices of sweet potato, egg, dumplings, squid and more. Very similar to tempura.
Kimbap (김밥)  – A rice roll typically stuffed with cucumbers, spinach, carrots, pickled radish, and you can add extras like canned tuna or sweet beef. It looks like a sushi roll, but it's not.
Hotteok (호떡) – A cross between a donut and a pancake filled with cinnamon and sugar.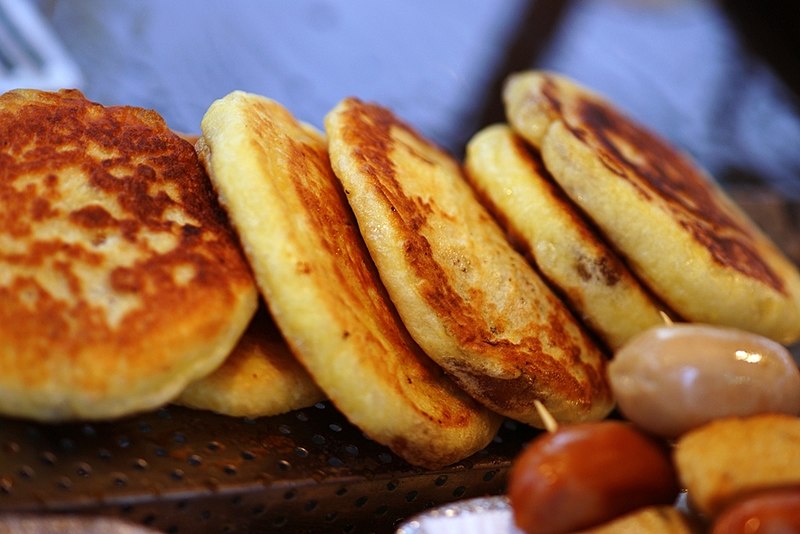 Most street food snacks are $0.50-$3, so you could either have one as a little snack or make a meal by picking up different items from food vendors.