9 Mountains for Hiking and Trekking in Vietnam
Aside from visiting popular tourist sites in major cities such as Hanoi, Da Nang, and Saigon, you can take a trip to hike or trek one of Vietnam's majestic mountains to immerse yourself in nature's beauty and to better understand yourself, crack your boundaries, and communicate with your inner self through adventure sports. Any of the most beautiful scenery in Vietnam is best seen on foot. Check out these mountain trails in southern Vietnam, with their elevations listed in ascending order.
Ta Cu Mountain – Binh Thuan Province – 649m
Ta Cu Mountain is a stunning spot for hiking in Vietnam, with a height of 649 meters, bordering Highway No. 1A, and situated 28 kilometers to the south of Mui Ne in Binh Thuan province. Hikers must first walk over the 2,290-meter slippery mountain slopes for 2 hours before reaching the summit of Ta Cu Mountain in the protected forest. Bang Lang is the highest point, with a 45-degree incline. The view from the top of Ta Cu Mountain is stunning, with rice paddies and dragon fruit farms below.
Many that do not want to hike up the mountains will take a 500-meter-high cable car ride to the top of Ta Cu Mountain in 10 minutes. The cable line spans 1,600 meters. The vast green forest below can be seen from the cable car. Ta Cu Mountain is home to a 49-meter-long reclining Gautama Buddha statue, the tallest reclining Buddha in Southeast Asia! The monument, which was built in 1962, is made of concrete and is painted white.
Forbidden Mountain (Nui Cam Nature Reserve) – An Giang Province – 716m
The highest mountain in An Giang Province's mysterious Seven-Mountain (Bay Nui) district, which borders the plain of the Mekong Delta, is Nui Cam Mountain, which is 716 meters high. When you are here, you can experience the colder mountainous air and the picturesque scenery. The legends and myths of Nui Cam Nature Reserve entice travelers to ascend and conquer the peak. From a point, the road leading to the top of Nui Cam Mountain seems to be a twisting route that zigzags from the mountain's base to its summit.
Anything unique can be found at each particular height. If you begin your ascent in the early morning, you can see white clouds floating low above the horizon, engulfing the vast rice fields.
Ba Ra Mountain – Binh Phuoc Province – 733m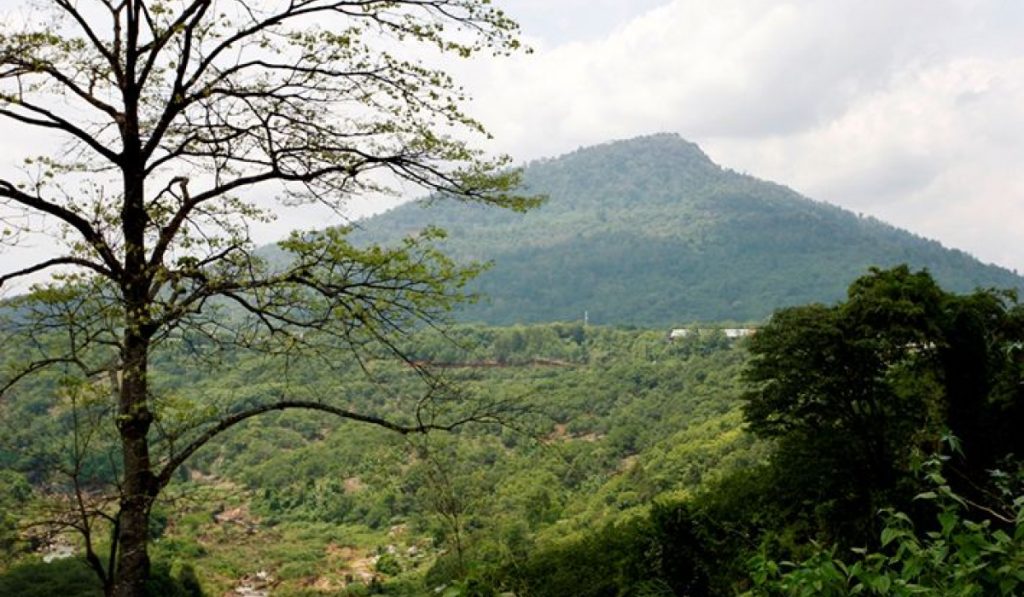 The 733-meter-high Ba Ra Mountain is situated in Phuoc Long Town, Binh Phuoc Province. Ba Ra is a mountain of tranquillity, romance, and stunning natural beauty. Before you can hike to the top of Ba Ra Mountain, you must first take the cable car there. To get to the 500-meter-long cable car, take Provincial Road No. 741 from Dong Xoai Town and pass through the middle of Phuoc Long Town. You can also ride your bike up to a height of 150 meters to reach Bang Lang Hill. The key path to the top of Ba Ra Mountain is formed by stone steps on the right side of Bang Lang. Intertwined bamboos line both sides of the road, providing shade for the climbers.
At the top of Ba Ria Mountain, you can enjoy taking a panoramic view of Mo Waterfall (Thac Mo), the hydropower lake, and the magnificent sight.
Chua Chan Mountain – Dong Nai Province – 800m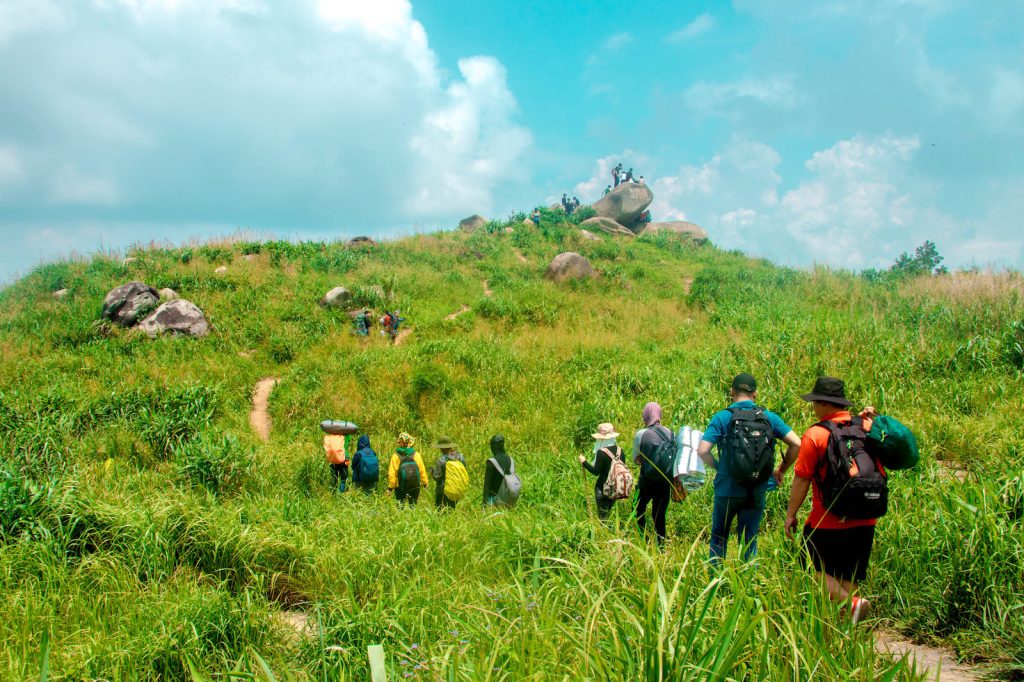 Chua Chan Mountain is 800 meters high and is located in Xuan Loc District, Dong Nai Province, 110 kilometers from Ho Chi Minh City (Saigon). Buu Quang Temple is the largest temple on the mountain and is located at the highest point in comparison to other temples in the city. The temple is accessible through a cable car system that runs up and down the mountain. The round-trip fare is VND 90,000 per person.
If you want to mix hiking Chua Chan Mountain with visiting Buu Quang Temple, you can enter the Chua Chan Mountain tourist area through the main entrance gate, ascend nearly 400 steps to Buu Quang Temple, and then walk through the jungles to the top of Chua Chan Mountain. This is a fantastic clean trail for hiking in Vietnam. If you take the stairs and steps path halfway up the mountain, you will come across this holy tree bound by three roots.
Black Virgin (Ba Den) Mountain – Tay Ninh Province – 986m
Black Virgin Peak, the tallest mountain in Southeast Vietnam (986 meters high) and situated 11 kilometers to northeast of Tay Ninh Province, draws a significant number of hikers every weekend to ascend the mountain. From a point, the Black Virgin Mountain seems to be a conical hat perched on the planet. It both threatens and draws daring hikers who want to overcome it.
The colder the weather is the further you go. At the top of Black Virgin Mountain, you will enjoy a breathtaking view of a primitive but beautiful landscape.
Nui Chua National Park – Ninh Thuan Province – 1,000m
Nui Chua National Park (Nui Chua Mountain) is located in the south of Nha Trang and is wonderfully situated in the city of Ninh Hai District, Ninh Thuan Province. The most popular route to Nui Chua's (1,000-meter-high) peak is to start from Da Hang Hamlet, cross through the terraces of ethnic Raglai, pause, and camp at O Liem Stream, and then return the next day to ascend to the top.
Along the way, you'll see the splashing stream tumbling over rocks and mountain goats searching for food or lying down to rest under the tree canopy. When you return to the foot of Nui Chua, you will hike through the jungles to the sea and admire the wilderness of Vinh Hy Bay. This is a lovely trail for trekking in Vietnam.
Ta Nang to Phan Dung Mountains – Lam Dong, Ninh Thuan, to Binh Thuan Provinces – 1,100m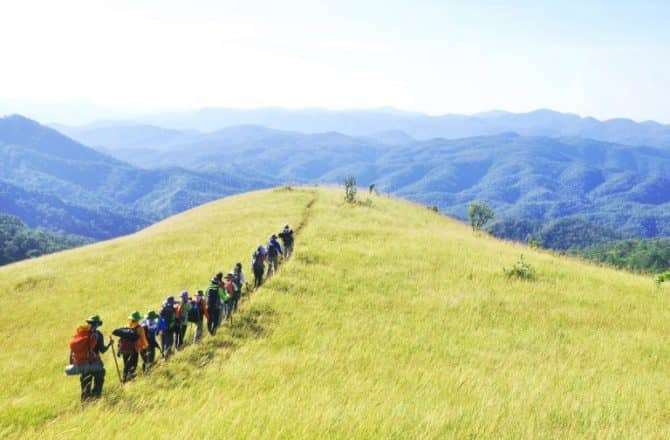 The Ta Nang – Phan Dung trekking route connects the Central Highlands (Lam Dong Province) with the Central Coastal areas of Ninh Thuan and Binh Thuan Provinces. Adventurers love to explore this course, which descends from a height of 1,100 meters to 500 meters above sea level. It is an excellent spot for camping on the highest hilltop so you can see the light fog layers and feel the cool breezes for the greatest view.
If you plan to take on this Ta Nang – Phan Dung trekking trail, you will have to walk across 55 kilometers of forest paths and over streams. In exchange for your efforts, you will be rewarded with a breathtaking view of Vietnam's natural wonders.