What to do in Nha Trang travel guide
Nha Trang Overview
Nha Trang beach city is well known for its pristine beaches and excellent scuba diving and is fast becoming a popular destination for international tourists, attracting large numbers of backpackers as well as more affluent travelers on the Southeast Asia circuit. It is already very popular with Vietnamese tourists. Nha Trang Bay is widely considered amongst the world's most beautiful bays. Tourists are welcome to participate in the Sea Festival, held biennially. Nha Trang was the site of the Miss Universe 2008 Pageant on July 14, 2008, and it will also host Miss World 2010.
Khanh Hoa is a South Central Coastal province of Vietnam. It is well known by the attractive beauty of its own capital – Nha Trang. Among its 3 bays, Nha Trang ranks first thanks to 100% pristine beaches, excellent view, gorgeous islands, mountains, and rivers.
Nha Trang not only gets great natural advantages of its geography position, landscape, and climate, but inherits its rich background in culture and humanities as well. Although it is 1,280 km far away from Hanoi and 448 km from Ho Chi Minh city, it is easily accessible for tourists by all means of transport: by road, rail, air and waterway.
Nha Trang is one of the most important tourist hubs of Vietnam, thanks to its beautiful beaches with fine and clean sand and the clear ocean water with mild temperatures all year round. There are several resorts—such as Nha Trang Vinpearl Land Resort, Diamond Bay and Ana Mandara—and amusement and water parks, both in the city and on islands off the coast. The possibly most beautiful street of Nha Trang is Tran Phu Street along the seaside, sometimes referred to as the Pacific Coast Highway of Vietnam.
When to go to Nha Trang
Whether in Nha Trang and the best time to travel:
The best time to travel to Nha Trang from February to April, Nha Trang's long dry season from January to August is also ideal for travelling.
Rainy season is from September to December, travelers should check weather forest in advance because of heavy rain and possible tropical storm
How to get to Nha Trang
By plane
Nha Trang is serviced by Cam Ranh International Airport (CXR), 30 kilometres south of the city. It takes 50 minutes to reach the city from the airport along a good scenic coastal road. There are daily flights to major cities in Vietnam, as well as international and charter flights. CXR is a small airport, and it's now overwhelmed by the number of passengers coming through. As of August 2015, there was only one Vietinbank ATM. There are a few cafes serving pho, coffee and sandwiches, money exchange and service desks for Vietjet, Vietnam Airlines and Jetstar Pacific. 
By train
Nha Trang's train station is located on Thai Nguyen, Phuoc Tan district, east of Long Son Pagoda. Book ahead, especially for sleepers on weekend trains. The easiest way to buy tickets is to visit the station in person a few days in advance or buy them through a hostel/hotel/travel agency, who add a small commission. You can also buy tickets through Vietnam Railways' official website or a string of agency websites (some who claim to be the official website). The website is only in Vietnamese and your international credit card may or may not work. If it does go through, you pick your ticket up at the station.
HCMC (Vietnam Railways Reunification Express) departs at 08:35, 11:44, 17:55, 20:34, 21:22, 22:12, 22:46 takes 7-9 hrs. Soft sleeper 611,000 VND top / 651,00 VND bottom; hard sleeper costs 450,000 VND upper / 541,000 VND middle / 577,000 VND bottom; soft seat air-con 333,000 VND
HCMC (SNT1 – trains have privately run Golden Trains tourist cars with nicer sleepers) departs at 19:00, arrives 03:28. Soft sleeper 639,000 VND top / 679,000 VND bottom; hard sleeper costs 484,000 VND upper / 579,000 VND middle / 629,000 VND bottom.
Da Nang departs at 03:21, 05:00, 13:26, 16:29, 19:54, 21:29. Soft sleeper 543,000 VND upper / 578,000 VND bottom; hard sleeper costs 399,000 VND upper / 480,000 VND middle / 514,000 VND bottom; soft seat air-con 359,000 VND
Hue departs at 03:21, 05:00, 13:26, 16:29, 19:54, 21:29. Soft sleeper 650,000 VND upper / 692,000 VND bottom; hard sleeper costs 489,000 VND upper / 575,000 VND middle / 614,000 VND bottom; soft seat air-con 359,000 VND
Hanoi departs at 03:21, 05:00, 13:26, 16:29, 21:29. Soft sleeper 1,391,000 upper / 1,481,000 VND bottom; hard sleeper costs 1,031,000 VND upper / 1,227,000 VND middle / 1,310,000 VND bottom
By bus
As a popular destination, Nha Trang is well-served by the "Open Bus Tour" companies and other higher-quality buses. Open Buses cost more than local buses but drop-off/pick-up is conveniently from the company office right downtown rather than an outlying bus station.
Formerly known as Sinh Cafe (it changed in 1999 due to an epidemic of copycats), TheSinhTourist is one of the most popular with tourists.
Option 1: TheSinhTourist: 90C Hung Vuong St, Nha Trang; T: (058) 352 4329; www.thesinhtourist.vn ; nhatrang@thesinhtourist.vn; open daily 06:00 – 22:00.
HCMC: Departs at 07:45. Sleeping bus costs 279,000 VND and takes 11.75 hours.
HCMC: Departs at 19:30. Sleeping bus costs 279,000 VND and takes 10 hours.
Mui Ne: Departs at 07:45. Sleeping bus costs 149,000 VND, 279,000 VND and takes 5 hours.
Mui Ne: Departs at 19:30. Sleeping bus costs 279,000 VND and takes 5 hours.
Da Lat: Departs at 08:00, 13:00. Sitting bus costs 149,000 VND and takes 4 hours.
Hoi An: Departs at 19:00. Sleeping bus costs 299,000 VND and takes 11 hours.
Note: The Sinh Tourist does not offer a direct bus from Nha Trang to Da Nang, Hue or Hanoi. For Da Nang/Hue, change bus in Hoi An. For Hanoi, change bus in Hoi An then Hue. 
Option 2: FUTA Bus Lines (aka Phuong Trang): So 7 Hoang Hoa Tham, Nha Trang; T: (058) 381 2812
HCMC, Mien Tay bus station: Departs at 08:00, 09:00, 10:00, 12:00, 19:00, 20:00, 21:00, 22:00, 23:00. Costs 220,000 VND and takes 11 hours
HCMC, Mien Dong bus station: Departs at 08:00, 08:30, 09:00, 10:00, 12:00, 19:00, 20:00, 20:30, 21:00, 22:00, 23:00. Costs 220,000 VND and takes 11 hours.
Da Lat: departs at 08:00, 12:00, 15:00, 16:00. Costs 140,000 VND and takes 4 hours.
Da Nang: departs at 18:30. Costs 240,000 VND and takes 
Negative reviews and horror stories of Hanh Cafe overflow on the Internet and if the downright nasty customer service at their Nha Trang office is any indication, their reputation is accurate. Use at your own risk.
Option 3: Hanh Cafe Open Tour: 10 Hung Vuong, Nha Trang; T: (058) 352 7466; hanhcafe.vn; support@hanhcafeopentour.com 
HCMC: Departs at 08:00, 19:30, 20:00, 21:00. Costs 190,000 VND and takes 11 hours.
Hoi An: Departs 19:30. Costs 200,000 VND and takes 11.5 hours.
Hue: Departs 19:30. Costs 300,000 VND and takes 16.5 hours. 
Hanoi via Hue: departs 19:30. Costs 610,000 VND and takes 35.5 hours (including 5 hour layover in Hue).
Option 4: Nha Trang's southern bus station Ben xe phia Nam moved to a new location 5.5 kilometres west of the train station on 23 Thang 10, beside Metro superstore. Given the distance, buying tickets through a travel agent would be more convenient. There are several different bus companies servicing intercity routes, so exact times and prices will vary, but take the following as a guide:
HCMC: Departs hourly 06:00-23:30, costs 185,000-225,000 VND
Hue: Departs 18:00, 20:00, costs 265,000-280,000 VND 
Hoi An: Departs 19:00, costs 220,000 VND
Da Nang: Departs 06:30, 18:30, 19:00, costs 230,000-240,000 VND
Da Lat: Departs hourly from 05:30-16:00, costs 140,000 VND 
Gia Lai: Departs 18:30, costs 190,000 VND
Ca Mau: Departs 16:30, 18:30, costs 330,000 VND
Ha Tien: Departs 14:30, 15:00, costs 350,000-380,000 VND
Chau Doc: Departs 16:00, costs 310,000 VND
Tra Vinh: Departs 17:00, costs 330,000 VND
Kien Giang departs 17:30, costs 310,000 VND
Can Tho: Departs 19:00, costs 260,000 VND
Vung Tau: departs 08:00, costs 200,000 VND
Long Hai: Departs 19:30, costs 200,000 VND
Tuy Hoa: Departs 05:30, 13:15. Costs 70,000 VND 
Qui Nhon: Departs 13:15, costs 100,000 VND
Nha Trang Attractions
1. Oceanographic Institute Nha Trang
Located at 1 Cau Da Street, next to Cau Da Whalf, about 6km from Nha Trang City center, This place also known as National Oceanographic Museum of Vietnam is a leading marine research institute in South East Asia. It has currently stored and preserved thousands of specimens of thousands of marine species. Visiting the Institute, tourists seem to take part in a voyage of discovering the ocean. It is also an indispensable rendezvous in any Nha Trang travel.
Opening hours: 6 AM- 6PM Adress: No 1, Cau Da, Nha Trang Entrance: 30,000VND ($1.5)
2. Alexandre Yersin Museum
This museum is set within the late French bacteriologist's home in Tran Phu Street in 1990. It hosted extensive exhibits of his personal belongings and laboratory equipment, as well as original letters and photographs from his travels around Vietnam. It is located adjacent to the Pasteur Institute of Nha Trang, which is a 15-minute walk from Nha Trang City Centre. Affectionately called Ong Nam by locals, some of his vital contributions to Vietnam include the founding of Dalat, discovery of a vital plague-causing bacterium, and research on agricultural methods and meteorological forecasting.
Opening Hours: Monday – Saturday 08:00 – 11:00 & 14:00 – 16:30 Address: Pasteur Institute, 10 Tran Phu Street, Nha Trang Tel: +8458 822 355
3. Long Son Pagoda
This Pagoda is situated on the foothill of Trai Thuy Mountain in the city of Nha Trang. The temple is famous for its large white Buddha image, which sits atop the mountain crest and can be seen from anywhere in town. Built in 1886 in the style of Taoist architecture, Long Son Pagoda has been home to many high-ranking Buddhist monks and the Vietnam Buddhist Studies Foundation was founded here in 1936.
Opening Hours: 8AM – 5PM Address: Thai Nguyen Street, Nha Trang Entrance Fee: Free
4. Ponagar Cham Tower
Po Nagar Cham temple complex was built between 8th and 11th centuries by the Cham people who once ruled the central plain of Vietnam. The Cham people, who were Hindu in origin, had their own Sanskrit-based script. They are renowned for their skills in sculpture and architecture and left behind a legacy of artifacts and temple settlements not only in Vietnam, but also Cambodia and Thailand.
Po Nagar Cham Towers were built to honour the goddess Po Nagar- literally translated as 'The mother of the Country' -who is said to have taught agricultural and weaving skills to the Cham people. Later, historians have come to identify Po Nagar with the Hindu goddesses Bhagavati, the wife of Shiva, and Durga, the buffalo-demon slayer.
Opening Hours: 07:30 – 17:00 daily Location: 2 Thang 4, end of Som Bong Bridge
5. Christ the King Cathedral
Nha Trang Cathedral is the largest church in the city. Set atop a hill that overlooks Nha Trang Train Station, it was constructed in provincial French Gothic style by Priest Louis Vallet during the early 19th century. Na Thrang Cathedral serves the local Catholic community, with Mass being held between 05:00 and 18:30 on a daily basis. It's locally known as the stone church or Nui Church in Nha Trang.
Opening Hours: Monday – Saturday 05:00 – 17:00, Sunday 04:30 – 20:00 Address: Nguyen Trai, Phuoc Tan, Nha Trang
6. Monkey at Hon Lao Island
In 1985, 200 long-haired monkeys were brought in from Malaysia. Today, there are over 1,500 wild monkeys that expect to be fed. To cater to their hunger, you can buy corn on the island. Keep an eye on your belongings as there have been numerous reports of the monkeys snatching objects and running off.
Hours: 7AM- 5 PM Circus show: 10:15 AM , 2:15 PM, 3:15 PM Address: Hon Lao Island Entrance fee: 150,000 VND for adults (7$), 75,000 VND for children under 1.3m ($4)
7. Con Se Tre Village
About 3km from Nha Trang coast, Con Se Tre Tourist Village stretches in the south of Hon Tre Island in Nha Trang Bay. Also located on Hon Tre Island, Con Se Tre retains the completely different style compared to Vinpearl Land. While Vinpearl Land is designed in modern style with concrete roads, high buildings, swimming pools, high voltage lamps… along with the premium services of five-star resorts, Con Se Tre is designed in an antique style which is rustic and close to nature. Here, tourists can find the sceneries of old villages in a peaceful atmosphere full of poetry. It deserves to be one of the bright spots and the most appealing tourist attractions in Nha Trang.
Hour: 7AM -10 PM Address: Con Se Tre Island, Nha Trang Entrance fee: 40,000VND ($2) ( include entrance fee + hiring tent + water for showering) , 20,000VND or 1$ for visiting only
8. Yang Bay Waterfall
About 45km from Nha Trang City, Yang Bay is located in a wide valley with an area of 570ha at an altitude of 100m above sea level in Khanh Vinh district (Khanh Hoa). Yang Bay attracts visitors by the pristine landscape of vast woodlands, grasses and waterfalls. According to the Raglai call, Yang Bay means "waterfall".
Address: Ngai Hai Village – Khanh Phu – Khanh Vinh – Khanh Hoa Opening hours: 7:30 – 17:00
Ticket prices range from 70,000 to 100,000 VND
9. Dien Khanh Citadel
The citadel's wall was in an inequilateral hexagon of 3.5m height. The outer face was vertically constructed while the inner was a little bit sloping by two terraces forming a favorable pavement. Inside the corners, there were large fields which were convenient for military resident. On the top of corners there stood fortresses of 2m high with canons above. 
Address: 48km from Nha Trang, Khanh Phu commune, Khanh Vinh District Opening Hours: 09:00 to 17:00 daily
10. The Islands of Nha Trang
10.1. Mun Island (Hòn Mun)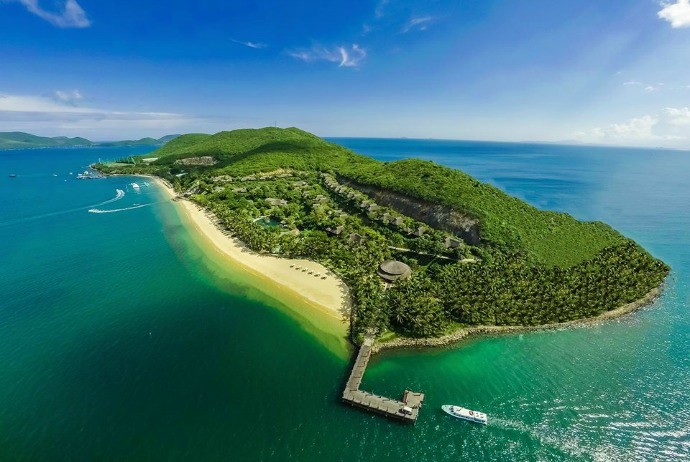 This is considered as the most romantic, poetic island in the system of islands in Nha Trang Bay. This island is located in the southeast of the city, about 12 km from the seashore, and takes approximately 50 minutes to travel by boat. Mun Island is blessed by the Mother Nature for a diverse marine ecosystem along with magnificent coral reefs. That is due to its location adjacent to the hot sea-currents from equator, which is suitable for the developing conditions of corals as well as different kinds of tropical sea creatures. It was estimated that Mun Island has up to 1500 types of corals and marine animals, 340 species of hard coral… The Wildlife Fund has assessed that this is home to the most diverse biological resources in Vietnam.
10.2. Mot Island (Hòn Một)
This is the smallest island in the bay of Nha trang yet it has a simple but strangely fascinated beauty. Not having flashy beauty like other islands, Mot Island has casual and approachable feature. Here, there are just few inhabitants living and the main earning methods are fishing and aquaculture, in addition to some coconut gardens, mango gardens.
10.3. Tam Island (Hòn Tằm)
Considered as one of the most beautiful islands in the island system of Nha Trang Bay, Tam Island is located about 7km to the east of Nha Trang City; it takes about 7 minutes to travel by speedboat or 25 minutes by ship. The reason behind the name "Hòn Tằm" is that, at the ancient times, this island is shaped like a green worm located in the middle of the sea, head back the East. Tam Island has not only the beauty of an island but also the lush tropical forest which is the shelter for thousands of sea birds. Visitors can freely stroll around the seaside, relax or discover green forests with biodiversity. Around the rock ranges, thousands type of fish along with colorful corals make travelers peaceful and exciting.
10.4. Mieu Island (Hòn Miễu)
This is the most inshore among islands in Nha Trang Bay. If you want to have a quick trip to visit islands, then Mieu Island may be the most suitable option. Visit this island, apart from contemplating the pristine beauty, freely immerse yourself in the sea space, you can also visit Tri Nguyen (Trí Nguyên) aquarium and Bai Soi (Bãi sỏi) beach. There are hundreds of rare and beautiful sea creatures in the aquarium, creating a living museum of the sea. 
10.5. Bamboo Island (Hòn Tre)
This is the island having the largest area in Nha Trang Bay, about 5km to the east from Nha Trang City and 3.5 km from Cầu Đá Port. It is the epicenter of tourists because it is a popular entertainment complex with Vinpearl land- the famous entertainment complex containing a lot of convenient, modern buildings meeting the recreational needs of travelers. Along with a temperature climate, this is an ideal place for convalescence. Bamboo Island contains 2 main zones:
Vung Me (Vũng Me) – Bai Tru (Bãi Trũ) – Dam Gia (Đầm Già) – Bai Ran(Bãi Rạn) zone
Dam Bay (Đầm Bấy) zone
10.6. Monkey Island (Đảo Khỉ)
This is a famously known island nearby Nha Trang Bay. It is about 10 km from the heart of the city of Nha Trang, and could be visited in different ways. If you have limited time, then opting for an all-day boat trip to Island is not a bad idea, yet if you want to have more time for relaxing there, you could easily do it by yourself. Dao khi is a private one about 2 kilometers off the coast. It is a rather large island with about 1,500 monkeys living there.
10.7. Salanganes Island (Đảo Yến)
Visiting the Salangane Island, tourists will be able to witness the birds nesting in the cliffs. The island, also known as Hon Noi – Hon Ngoai (Hòn Nội – Hòn Ngoại), is the place where salanganes concentrate a lot. Hon Noi and Hon Ngoai is two of many islands that have the highest concentration of salanganes nest in the system of islands in Nha Trang.
Where to eat in Nha Trang
Nem Nuong (grilled sausage)
Nem nuong is a specialty of Khanh Hoa Province (where Nha Trang City is located). It is the name of the main element of the dish – grilled pork sausage. Beside Nha Trang, nem nuongof Ninh Hoa (a district in Khanh Hoa province) is also popular and you will recognize that some nem nuong restaurants located in Nha Trang are from Ninh Hoa.
Where to find the best nem nuong in Nha Trang 
Nem nuong Ninh Hoa Dang Van Quyen
Address: 02 – 04 Phan Boi Chau Street (this is just opposite the previous restaurant)
Price: around 50,00 VND per portion
Nem nuong 25 Le Hong Phong
Address: 25 Le Hong Phong Street
Price: around 30,000 VND per portion
Nem Nuong Nha Trang (the name is Nhã Trang which looks similar to the city's name Nha Trang)
Address: 39 Nguyen Thi Minh Khai Street
Price: around 40,000 VND per portion
Goi Ca Mai (deep herring salad)
Nha Trang citizens often treat their guests to goi ca mai to show their hospitality because it requires lots of time and effort to prepare. Deep herring (ca mai in Vietnamese) is the size of a thumb, flat, has no scales, and it's less smelly than much other fish out there. This kind of fish is only used to make the salad.
Deep herrings should be really fresh, just plucked from the sea. The most time-consuming part of the process is ripping the bone out. After that, the chef will mix the fish with lime water, tamarind, sour star fruit, or vinegar. Then continue to mix in ground roasted soybeans, chopped onions, chopped garlic, cilantro, and perilla. Once again, the dipping sauce, which is usually made from the fishbone broth, will determine the deliciousness of the dish. Don't worry, I have picked restaurants for both tasty salad and dipping sauce.
Where to find the best goi ca mai in Nha Trang 
Goi Ca Ha Ra
Address: No 166, 2 Thang 4 Street
Price: 30,000 – 70,000 VND
Hai San Nina
Address: 6 Ngo Si Lien Street
Price: 100,000 VND
Bun Cha Ca (grilled fish rice noodles)
Mother Nature gifted Nha Trang with both beautiful scenery and a sea plentiful with seafood; thus, Nha Trang citizens have invented many wonderful dishes made with products from fishing. One of those is cha ca – grilled fish. To make it simple, cha ca is minced fish marinated with flavors, then shaped into balls or flat circles and grilled.
Bun cha ca is simply noodles with cha ca soup. Locals make the soup of cha ca, adding pineapple and tomato to create the sweet and sour taste. Finally, the noodles are put into the soup and we have a bowl of tasty bun cha ca.
Where to find the best bun cha ca in Nha Trang 
Bun cha ca in Xom Moi market
Address: at Vo Tru Street corner, next to Xom Moi market, it's a street food stall, open daily from 1 PM to 7 PM. This food stall has been operating for 20 years!
Price: around 20,000 VND per bowl (See! It's so cheap in Nha Trang!)
Bun Ca Nam Beo
Address: B2 Phan Boi Chau Apartment, Phan Boi Chau Street
Price: 30,000 – 40,000 VND
Bun Ca Min
Address: 170 Bach Dang Street
Price: 30,000 – 35,000 VND
Banh Canh Cha Ca (Vietnamese udon with grilled fish)
When I was a kid, my grandma sold banh canh cha ca for breakfast at her house, so this is my most favorite food. Banh canh cha ca in Nha Trang tastes so different compared to other places in Vietnam because it reminds me of my childhood here with my grandma. This dish is a bit different from bun cha ca (mentioned above), though they both have cha ca. The sweetness of the soup of banh canh cha ca is completely made from fish broth. Banh canh is also different from bun (noodles); it's very similar to udon noodles of Japan which are thicker and easier to eat than noodles.
Where to find the best banh canh cha ca in Nha Trang 
Banh Canh Ba Thua
Address: 55 Yersin Street
Price: 20,000 – 30,000 VND
Banh Canh Co Ha
Address: 14 Phan Chu Trinh Street
Price: 25,000 – 40,000 VND
Banh Canh Co Loc
Address: 30 Phan Chu Trinh Street
Price: 20,000 – 30,000 VND
Banh canh at Dam market at night (for those late-night eaters)
Address: at Hai Ba Trung Street, opposite Dam market gate, open daily from 5 PM to 3 AM
Price: 20,000 – 25,000 VND
Bun Sua (jellyfish noodles)
This dish should be called bun cha ca sua instead of bun sua for short. It is made of bun – noodles, cha – cha ca or grilled fish, ca – fish, and sua – jellyfish. The soup is created in the same way it's prepared in bun cha ca. Now just add jellyfish! The jellyfish used to cook this dish should be as small as a thumb or two fingers, colored milky, and with thick edges. To find this kind of jellyfish, the fishermen have to go really far offshore.
Where to find the best bun suain Nha Trang 
Bun Ca Nam Beo
Address: B2 Phan Boi Chau Apartment, Phan Boi Chau Street
Price: 30,000 – 40,000 VND
Bun Ca Nguyen Loan
Address: 123 Ngo Gia Tu Street
Price: 35,000 VND
Bun Ca La Cay Bang
Address: 6 Han Thuyen Street
Price: 30,000 – 35,000 VND
Bun Ca Sua Yersin
Address: 87 Yersin Street
Price: 25,000 – 35,000 VND
Banh xeo muc Nha Trang (sizzling cake with squids of Nha Trang)
This type of cake was named after the sound it makes during preparation: xeo (pronounced like say-o), the sound when we put rice flour into an oiled pan. Banh xeo is a popular food throughout Vietnam, but banh xeo muc is a specialty of only Nha Trang. Usually, banh xeo is made with pork and shrimp. You wrap it up in rice paper and dip into the dipping sauce. Nha Trang people use muc –  squid instead, and we don't eat it with rice paper wrappers. We dip banh xeo directly into the sauce using chopsticks.
Where to find the best banh xeo mucin Nha Trang 
Banh xeo in Hoang Dieu Street
Address: 97 Hoang Dieu Street
Price: 25,000 – 40,000 VND
Banh xeo chao in To Hien Thanh Street
Address: right at the intersection of To Hien Thanh Steet and Nguyen Thi Minh Khai Street
Price: 25,000 – 40,000 VND
Banh Xeo Co Tam
Address: 6 Thap Ba Street
Price: 20,000 – 40,000 VND
Banh can Nha Trang
This is a food that I ate almost every day when I lived in Nha Trang because my grandma sold it along with banh canh cha ca. Banh can is a special food of provinces in south-central Vietnam (Khanh Hoa, Ninh Thuan, Binh Thuan). This food has a small circular shape like banh khot of provinces in southern Vietnam, but banh can is healthier because it doesn't use oil. It's a kind of grilled rice flour cooked in a special heater made of earthenware. While banh khot is mixed with pork and shrimp, banh can is a mix with eggs, and this will give banh can a really luring smell.
Where to find the best banh canin Nha Trang 
Banh can for breakfast: Banh Can Hoang Van Thu
Address: 151 Hoang Van Thu Street, open daily from 6 AM to 9 AM
Price: 20,000 – 30,000 VND
Banh can for lunch: Banh CanCo Tu
Address: 7A Thap Ba Street, open daily from 10 AM to 9 PM
Price: 20,000 – 40,000 VND
Banh can for dinner: Banh Can To Hien Thanh
Address: 51 To Hien Thanh Street, open daily from 4 PM to 9 PM
Price: 20,000 – 70,000 VND
Banh can for late night: Banh Can 2 Thang 4
Address: No 109, 2 Thang 4 Street, open 6 PM – 11 PM
Price: 20,000 – 40,000 VND
Focus Asia Travel : Nha Trang Tours
Option 1: Nha Trang Bay Sunset Cocktail & Dinner Cruise
17:00 -17:30: Pick-up from your hotel and transfer to Nha Trang Port to board the Emperor Junk.
At about 17:30-18:00, you will arrive at the port and enjoy welcome drinks accompanied by the Experience Manager. Introduction of Nha Trang Bay, the locals, the food, the culture, the emperor, safety precautions, and the Emperor s Junk. Start cruising while watching the spectacular landscape of Nha Trang Bay at sunset.
Explore Nha Trang Bay at night while having cocktails & wines on the sundeck as you are entertained by musicians playing against the stunning backdrop of stars, the moon, and the city lights. Experience the gastronomical pleasure of enjoying a 5 course seafood dinner onboard while being serenaded and served by the Emperor cruise team.
20:00-20:30: End your romantic dinner by having drinks or cocktails at the lounge or on the sundeck before heading back to Nha Trang Port and returning to the mainland where your transfers will be waiting to drive you back to your hotels.
Meals: DinnerAccommodation: NA
Option 2: Nha Trang Culture Tour Full Day
First, our car drives to Cau Da for a visit the Vietnam Oceanographic Institute to see the whole collection of sea creatures in Nha Trang Bay.
Located about 5km from Nha Trang City Center, The National Oceanographic Museum of Vietnam was one of the first centre for scientific oceanographic research in Viet Nam. Currently storing and preserving specimens of tens of thousands of marine species, it is an interesting place where visitors can gain the exact image of Nha Trang
After that, you will go to Long Son Pagoda, Stone Church, Chong Promontory Rocks and the Po Nagar Temples.
The tour ends after the visit to local Dam Market. Coming alive in the early morning at about 4 am each day, Dam Market is an interesting place to wander and explore the daily life of Nha Trang inhabitants. The lively market offers many photography opportunities with various merchandises while visitors can witness its hectic pace and atmosphere buzzed with activities.
Meals: LunchAccommodation: NA
Option 3: Islands & Snorkeling Tour Full Day
Visit Mun Island for snorkeling where you can see lots of live colorful corals and fishes.
Relax, swim & do water sports or other activities at Mot Island, Tranh Beach Island or on a small island calling "Mini beach".
Option 4: Nha Trang Discovery and Beach Break 6 days
Highlights:
Snorkeling in the white sandy beaches stretch into a dramatic backdrop of mountains
Exploring the country trails, village's life, town and farms, pagodas, the best way to experience the "true" Vietnamese countryside
Taking in the idyllic scenery of Vietnam's beach paradise of Nha Trang
Itinerary: Nha Trang – Tri Nguyen Aquarium – Con Se Tre Village – Ho Chi Minh City
Option 5: Nha Trang – Da Lat Full Day
Morning
6.30 Start travelling from Nha Trang to Da Lat City and drive over beautiful Khanh Le Pass. Don't forget to take a short stop for photos.
Upon arrival, you will first visit Datanla Waterfall, then Tuyen Lam Lake, Truc Lam pagoda.
Have lunch at a local restaurant in Da Lat.
Afternoon
Go on having half day tour around Da Lat City. Visit the Summer Palace of Bao Dai – the last King of Vietnam, Da Lat Flower Garden and Crazy House (or Hang Nga Villa). Time is on your own to explore the city or Da Lat Central Market before transferring back to Nha Trang at around 17:00. End of tour.
Summary on Nha Trang travel guide
When you come to Vietnam, we highly recommend you to visit coastal city Nha Trang. We hope that Nha Trang travel guide completed what to do, how to get there, where to eat guide you make the best of time in Vietnam.