Top Must – Try Food In Nha Trang
Sampling great Nha Trang dishes is a must-do for any first-time visitor to one of Vietnam's most beautiful coastal towns. Not only can you enjoy a great abundance of fresh seafood, Nha Trang also offers its own unique takes on quintessential Vietnamese recipes such as spring rolls and curries. Nha Trang dishes have a distinctive sweet and savoury flavour, where fish sauce is always served as a dipping sauce. Great for adventurous eaters, unique delicacies such as jellyfish are also readily available everywhere, whether from stalls in lively street markets to local eateries in the city. From classic Vietnamese pho noodles to Nha Trang's interpretation of steak and eggs, here are our top 9 must-try foods in Nha Trang.
Hai san ( Seafood)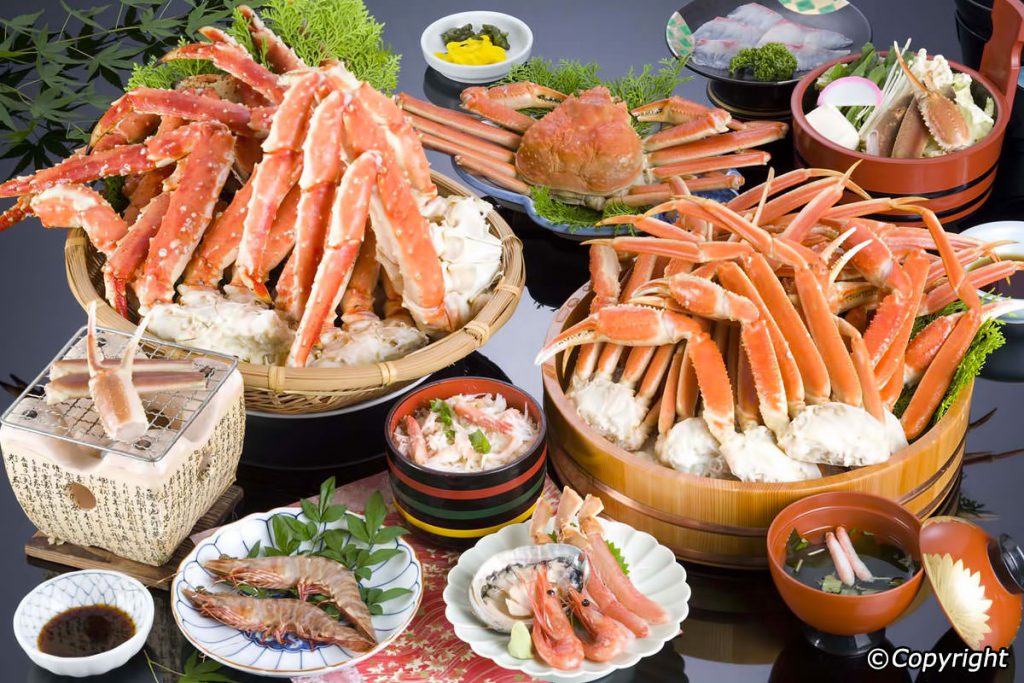 Hai san is basically seafood in Vietnamese, and Nha Trang is chock full of seafood eateries that are set along sandy white beaches. Supplied by local fishing villages, you'll find an assortment of giant prawns, squid, urchins, crabs, jellyfish, and shellfish of all shapes and sizes. Seafood is priced by weight, where you'll pick your choice of live or frozen sea creatures. Once the price confirmed, you can have it steamed, barbecued, fried, or prepared in a hotpot. Highly recommended dishes include pan-fried squid with pork stuffing in tomato sauce, grilled red snapper, and shrimp in tamarind sauce.
Nem nuong ( grilled fermented pork roll )
Nem nuong is grilled fermented pork roll that's usually served with sweet and spicy fish sauce, pickled green papaya, and raw herbs. Served in local restaurants in Nha Trang, patrons are often served with platters of fermented pork that's grilled on a coal brazier, lettuce leaves, rice paper, fresh herbs, chillies, rice vermicelli and garlic. You can easily customise your nem nuong according to your own preference and we highly recommend forgoing cutlery and enjoy your wraps with fingers for a more authentic dining experience.
Bun Cha Sua
Given Nha Trang's six-kilometre coastline, it's no surprise that bun cha sua is one of its must-try delicacies. The dish comprises of rice vermicelli, jellyfish, and steamed sailfish fillet in a sweet and savoury fish broth, though some eateries add in crab, shrimp and pork to the ensemble. A popular breakfast amongst locals, you can find many vendors selling bun cha sua at Bach Dang Street and Nha Trang's street markets. Another variation is banh canh cha ca, which comes with thick noodles and generous slices of fish cakes.
Pho Noodle Soup
Besides seafood, you can also find the classic pho noodle soup in Nha Trang. Pho is actually rice noodle in Vietnamese, and is served in a flavourful soup with beef or chicken meat, bean sprouts, lime wedges, and greens such as basil, mint, cilantro, and onions. A side of chilli sauce or fish sauce is also provided if you're looking to spice up your pho. You can enjoy this popular breakfast staple between VND 20,000 and VND 30,000 at any local restaurant in Nha Trang. Another variation of the classic pho is bun bo hue (beef rice vermicelli) which has a much bolder broth with lots of lemongrass and pork.
Bo Ne (Nha Trang Beef Steak)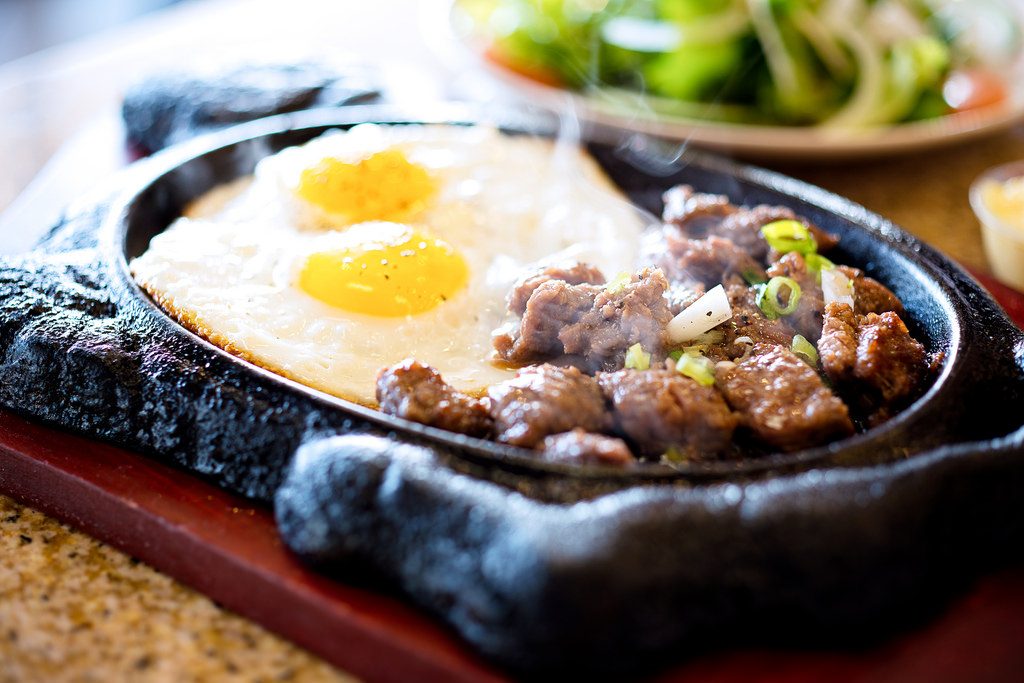 Another local favourite for breakfast is bo ne, which is the Vietnamese interpretation of steak and eggs. Served in a hotplate, sizzling cuts such as skirt steak are marinated in various spices and comes with a dollop of pate, eggs, and chili sauce. It is often accompanied with condiments, toasted baguette and a small serving of fresh greens, tomatoes, cucumbers, onions, and vinegar. Enjoy it the local way by dipping the beef in a mix of lime, salt, and pepper sauce and using the baguette to polish off the remaining egg yolk and pate from the hotplate.
Banh cuon
Banh cuon is a Vietnamese spring roll that contains ground pork, minced wood ear mushroom, and onions, and eaten with Vietnamese ham (cha lua), steamed beansprouts, and cucumbers. The ingredients are loosely wrapped in a steamed rice flour crepe. Found in many street markets, this traditional Vietnamese dish is sometimes topped with shrimp floss, coriander, and herbs, with a sweet-sour dipping sauce made with fish extract, lime, and chilli. Banh cuon is sold at Nha Trang's street markets and local restaurants, and you'll get several pieces in a dish – perfect for a light breakfast.
Banh Can ( Rice Cake With Quail Egg)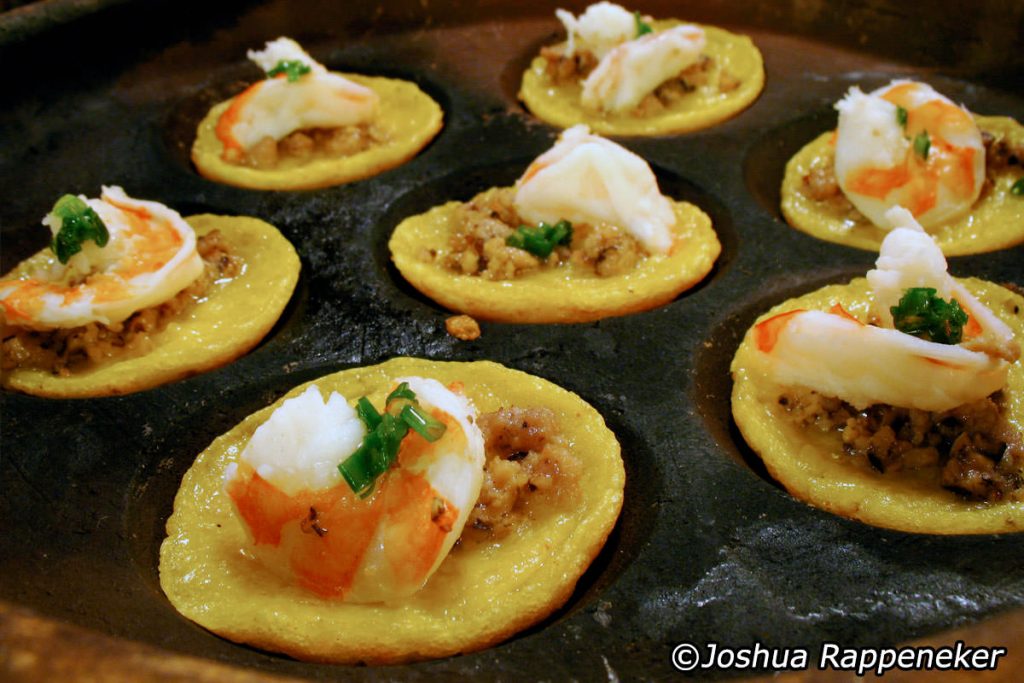 Banh can comprises crispy rice cake topped with your choice of quail egg, fresh or dried meat and seafood. Found all over Nha Trang, these rice cakes are freshly prepared in circular pans over a coal brazier, and are sold in pairs due to their rather small size. The best way to enjoy banh can is by dipping it with sauce that's made with fish sauce, lime, chili, and garlic. Some vendors offer banh can with raw vegetables, pork meatballs, and shredded green mango.
Ca Ri Ga (Vietnamese Curry)
Ca ri ga is a type of Vietnamese curry that's served with rice, noodles, or warmed baguette. While India, Cambodia, and Thailand play an important role in the creation of Vietnamese curries, the flavours of Vietnamese is considerably milder and lighter – great for lunch or a light dinner in Nha Trang. Ca ri ga is made with a combination of chicken, carrots, sweet potatoes, ginger, and peas cooked in a rich coconut curry sauce.
Banh xeo ( Crispy Pancake)
Banh xeo is a savoury crepe-like pancake that's made of rice flour, coconut milk, and turmeric. Pan-fried together with a variety of ingredients such as pork slices, shrimps, sliced onions, bean sprouts, and button mushrooms, this Nha Trang delicacy is best eaten with lettuce, herbs and sweet fermented peanut butter sauce. Great as a snack or appetiser, rice papers are sometimes used by local restaurants to wrap banh xeo with the accompanying condiments.