Travelling Tips in Quy Nhon Top things to do, see and eat
Quy Nhon Overview
Have you ever heard about the one and only "martial-art land" in Vietnam? The word "martial-art land" was born in Binh Dinh because many popular martial arts of the country originated here. Quy Nhon city, the heart of Binh Dinh province, is fully packed with awesome activities that won't let you down. These ten things to do in and near Quy Nhon will make it on your bucket list, so let's check them out!
Quy Nhon has become a more and more alluring destination thanks to its breath-taking beauty, economical transportation, convenient accommodations and savoury cuisines. With the prospering tourism, Quy Nhon has successfully attracted hundreds of tourists every year. As summer is getting closer, let's put Quy Nhon in your bucket list this year and explore Vietnam's earthly paradise with our travel tips in Quy Nhon.
Escape to The Beach
During the summer, the weather gets so hot that it makes me want to jump in the water right away! If this sounds like you too, Hoang Hau beach is the place for you! Located in Ghenh Rang tourist resort, and only three kilometers from the center of Quy Nhon, this beautiful beach will kill the heat immediately and bring you an amazing experience. Imagine stepping foot on the unique round stones, or taking photos of the nearby egg-shaped rocks. Of course, visitors will also have a space to immerse in the blue sea while listening to the harmony of wind and sea waves.
More information:
Location: 3 Han Mac Tu Street, Quy Nhon city, Binh Dinh province
Opening time: 6 AM – 10 PM
Price range: free entrance
Best Time to Visit Quy Nhon – The Climate
To make the most of your visit to Quy Nhon, plan to visit between January and March. During this time temperatures reach the high twenties and there is little chance of rain. The later you come during the year, the hotter it will get. If you don't mind the heat, even the summer months are a great time to travel as there will be fewer other visitors.
If you come between September and December, you will risk having your plans ruined by heavy downpours several times a day as this is the area's rainy season. You can still enjoy the beautiful beaches but be ready for the occasional storm and know that you might not be able to go on boat tours due to weather conditions during these months.
Transportations – How to get to Quy Nhon
Air
Qui Nhon is serviced by Phu Cat Airport, 30 kilometres northwest of the city. Vietnam Airlines runs a shuttle bus from the city to the airport. The shuttle departs 01 Nguyen Tat Thanh Street 2.5 hrs before the flight, costs 50,000 dong per person.

Jetstar, Vietnam Airlines and VietJet have flights to Ho Chi Minh City while Hanoi is served by Vietnam Airlines and VietJet.

There's an official Vietnam Airlines booking office at 272-274 Tran Hung Dao St; T: (056) 382 5313; open daily 08:00-11:00 & 13:30-16:30.
Train
Qui Nhon has a train station, but it's at the end of a spur that connects to the main line 15 km north at Dieu Tri, which is the main station for the area. Dieu Tri station is on the Reunification Express with routes northbound to Hanoi, southbound to Saigon. 

There is only one train a day directly from Qui Nhon to Saigon via Dieu Tri at 14:56. Otherwise, get yourself to Dieu Tri for more Saigon departures throughout the day. 

If you want to catch a northbound train, the train is scheduled to arrive in Dieu Tri at 15:21 and you change trains. There is a Hanoi train usually at 17:29 and 21:17. See the Vietnam railway website for up to date schedule. http://dsvn.vn/

You should book tickets at least a day in advance at the Qui Nhon Station for departures from Dieu Tri.

To get from Dieu Tri train station to Qui Nhon, aside from taxi, there is a public bus. Walk out to the main road to get bus T22, which can deposit you at the Coopmart on Le Duan St, in the centre of the city.
Bus
Qui Nhon's bus station is located at the roundabout with Tay Son St and QL1D in the southwest edge of town in front of a shopping centre with Big C, big box store Metro and a cinema. The station is surrounded by a fortress of motels. Meter taxis and xe om wait along the perimeter.

The station has many local minibuses that depart in the morning when there are enough people, especially for destinations in the Central Highlands such as Kon Tum and Pleiku. A handful of companies operating long distance routes with large air-con buses.

One of the better bus companies is orange Phuong Trang (Futa), which has comfortable buses with air-con, water and WiFi. With the exception of HCMC, the fare usually includes a shuttle from the bus station to your desired drop-off in the city. https://futabus.vn/

Da Lat: bus departs at 20:00, 21:30. Costs 210,000 dong.
Da Nang: bus departs at 22:00. Costs 165,000 dong. 
HCMC: sleeper bus departs at 17:00, 17:30, 18:00, 18:30. Costs 245,000 dong and takes 14 hrs.
Nha Trang: sleeper bus departs at 17:00, 17:30, 18:00, 18:30. Costs 195,000 dong.
Quang Ngai: bus departs at 22:00. Costs 165,000 dong. 
Phan Thiet: sleeper bus departs at 17:00, 17:30, 18:00, 18:30. Costs 225,000 dong.

With other companies, sample destinations include:
Da Lat: departs at 06:30, sleeper bus at 19:30. Costs 175,000 dong; sleeper 200,000 dong.
Dak Lak (Buon Ma Thuot): departs at 18:30, 19:00. Costs 180,000 dong.
Hanoi: departs at 11:45. Costs 500,000 dong.
Hue: departs at 05:00, 06:00, 09:45; 17:00, 19:30, 20:30. Costs 200,000 dong.
Nha Trang: departs at 06:30, sleeper bus at 19:30. Costs 90,000 dong; sleeper 100,000 dong.
Tuy Hoa: departs at 10:00, 16:00. Costs 60,000 dong. 
Vinh: departs at 14:00. Costs 400,000 dong.

There is bus service to Pakse and Vientiane, Laos. They leave at 06:00 and take forever.

There is a city bus network and the most handy for travellers will likely be the T11 bus south to Bai Xep. From the front of the Metro store, T11 departs hourly from 05:30 to 17:00, costs 9,000 dong. You can also catch this bus at a stop at Coopmart in the city centre. If headed to Bai Xep and you're coming on a bus from the south, the driver can drop you off en route but you'll have to monitor where you are on a map app and tell them where to stop as the driver may not know
Getting around
The wide and flat boulevard along the water is excellent for cycling — perhaps one of the most pedestrian and cycling friendly waterfronts we have seen in all of Vietnam. At sunset, you'll see locals pedalling around and taking a lazy cruise on motorbike for enjoyment.

Guesthouses rent motorbikes. The city is relatively small and a Mai Linh meter taxi can get you anywhere rather cheaply. Xe om are not a common feature in the city, except around major hubs like the bus station. For those heading to Bai Xep beach, a taxi from the city is about 130,000-170,000 dong.
Accommodation – Where to stay in Quy Nhon
There are plenty of great places to stay while in Quy Nhon, so do a little research to find the hotel or hostel that best fits you. Whatever budget you are on, you're sure to find something here.
For example, if you'd like to treat yourself to some luxury and get pampered a bit, why not go for a night at the AVANI Quy Nhon Resort & Spa? It offers spacious rooms, direct access to a secluded beach and a sweeping view of the ocean and nearby islands. The resort is about a 20-minute drive from the city, so it's perfect if you want to rest, relax, and take in the beauty of your surroundings.
If you prefer to stay in a more budget-friendly place closer to the city, you could try a homestay. This is a great solution when traveling in Vietnam as homestays offer both inexpensive accommodation and contact with the locals renting out the rooms.
Q Inn Homestay is one of the options and has received consistently good reviews from guests. When choosing this type of place, be aware that you are staying in or very close to someone's home. Be respectful of their privacy and culture and don't be surprised if the facilities they offer are a bit simpler than what you are used to from home.
Attractions – Travelling tips to Quy Nhon
Collecting Seafood & Camping with Your Gang on Ky Co Beach
Are you traveling with a group of friends? If so, Ky Co beach, which is 25 kilometers away from the city, has tons of fun waiting for you! After submerging in the deep blue sea, you can take a dip near the cliffs to catch sea cucumbers, shells, snails… or whatever you want. At night, apart from cooking seafood, singing and dancing under the blue sky are some of my favorite things to do.
More information
Location: Nhon Ly ward, Quy Nhon city, Binh Dinh province
Hiking near Eo Gio Beach
To me, the most stunning hiking trail in Quy Nhon is hands down Eo Gio. The view from the top of the trail, reveals Eo Gio, a marvelous and colorful landscape picture. You can clearly observe the strong wind flowing, the sandy beach waving, the green meadows winking, and the grazing goats jogging.
More information
Location: Nhon Ly ward, Quy Nhon city, Binh Dinh province
Walking The Underwater Road in Hon Kho Island
Hon Kho is a new but attractive destination for visitors to explore. To get here from Quy Nhon, you need to find Nhon Hai fishing village first. Then you must rent a boat to get to the island. Once you arrive, it's time to dive into the clear blue water and explore the beautiful coral reefs. When the tide is down, don't hesitate to wander on the sandy road barefoot. However, the underwater road in Hon Kho is not always accessible because of high tide. So if you intend to conquer this road, you should ask the fishermen in advance.
Price: 10 – 15 USD (a group of 5 to 10) for a boat
Sitting in A Bar by The Beach
This bar is an ideal example of "love at first sight." It has an ideal location where you can easily see, feel, and play with the sea anytime you want. I have more great news for you: This bar has various drinks with reasonable prices, so even if you're not an alcohol fan, you can still enjoy it here! Wahoo!
My suggestion: Surf Bar
Location: Xuan Dieu street, Quy Nhon city, Binh Dinh province. No official address because it's on the beach.
Opening time: 6 AM – 11 PM
Price range: 0.50 – 1.50 USD
Discover unique historical monuments & religious architecture
1. Thi Nai stronghold and an undersea wall
Thi Nai stronghold, which is located on the banks of Thi Nai lagoon, was a busy trading outpost of the Champa kingdom. According to archaeologists, it might have been built sometime between the 10th and the 15th century. At present, what remains is a 200-meter-long strip of bricks, on which is a piece of wall that is still quite intact.
You may not know this, but about 30 minutes driving from Thi Nai stronghold, in Nhon Hai beach, there is still a firm wall lying under the sea! To observe this one-of-a-kind attraction, you need to get here when the tide is down. The locals say it is hard to explain how the ancient people built the wall in a water environment. This wonder has not been found anywhere along the central strip (the land of the ancient Champa people) in Vietnam.
More information
Location: Quy Nhon city, Binh Dinh province
Thi Nai stronghold: 

2. Banh It Tower
Banh It is an ancient tower in Quy Nhon that was also built during the Champa period. The main tower is the largest and is located in the center of a hill. It is surrounded by three smaller towers. Once you step inside, you will feel transported in time back to the mysterious Champa kingdom. The reliefs of the main tower are carved in dancing postures and are extremely lively and uniquely beautiful. It'd be a great idea to spend your time wandering around this tower.
More information
Location: Dai Loc village, Phuoc Hiep Ward, Tuy Phuoc district, Binh Dinh province
3. Long Khanh Pagoda
Long Khanh is the over 300-year-old pagoda associated with many generations of Quy Nhon people. Positioned in the back of the pagoda is a 17-meter high statue of Sakya Muni Buddha standing on a lotus made of green stone.
More information
Location: 141 Tran Cao Van street, Quy Nhon city, Binh Dinh province
Meet & greet local lifestyle
1. Nhon Hai Fishing Village
Nhon Hai still maintains the beauty of a Quy Nhon traditional fishing village. With a small wooden boat, the local people can easily catch fresh fish and small crabs on the shore. Normally, they will drop the net from early morning to late afternoon, so you don't have to worry about the quality of the seafood. Without any noise from traffic or the bustle of other marine tourism, it's obviously a hidden gem.
More information
Location: Quy Nhon city, Binh Dinh province
2. Dam Market
This is one of the main markets in Quy Nhon that provides fresh and delightful seafood. Don't hesitate to bargain down the price.
More information
Location: 112 Hoang Hoa Tham street, Quy Nhon city, Binh Dinh province
3.Quy Nhon Night Market
After an active day with the wind and sunshine, let's call it a day in Quy Nhon night market. Blended into the urban landscape, you can get anything from clothes to food at very affordable prices in this market.
More information
Location: Le Duan street (from Quy Nhon house of culture to Sir Nguyen Sinh Sac statue), Quy Nhon city, Binh Dinh province
Opening time: 5 PM – 11 PM
4. Nguyen Nga Center
Nguyen Nga is NOT a normal craft center. All items, from silk scarves, bookmarks to hand-painted cards and clothing are beautifully made by people with disabilities and special needs. This center also has a small coffee shop at the front with classic decoration, where you can listen in silence to the hustle and bustle of life.
More information:
Location: 884 Tran Hung Dao street, Quy Nhon city, Binh Dinh province
Opening time: 8 AM – 5 PM
5. Visit Bau Da Liquor Village
Bau Da is one of the best liquors in Vietnam. The special thing about Bau Da alcohol is the water. It comes from one village and you cannot find it anywhere else. Since this alcohol is cooked for six hours with a high concentration, it could be up to 50 percent once it's done. As I told you before, Binh Dinh is a martial-art land, so it's not strange that its alcohol also recalls the "martial-art spirit." Although this alcohol is really strong, it doesn't make your head throb in the morning. Having some pig's ear (tre) while sipping a cup of Bau Da alcohol will certainly make your day memorable.
My suggestion: Nam Phuong Bau Da alcohol store
Location: Bau Da village, Nhon Loc ward, An Nhon district, Binh Dinh province. When you get to this village, ask the locals for Mrs. Nam Phuong's house. She was the first woman who successfully made green pea Bau Da alcohol. For your information, the mung bean sprout is the most difficult and complicated kind of Bau Da liquor.
Price range: 2 – 5 USD per liter
6. Hon Nuoc Lighthouse
At Hon Nuoc lighthouse, you will be able to admire the peaceful sky and the amazing sea. But remember to leave the lighthouse before evening or else you'll get into trouble with security.
Nearby Hon Nuoc lighthouse is a small beach called Bai Con. The water here is so clean that you just need to bring your diving goggles, then jump into the water and you'll see everything under the sea. If you do not know how to swim, you can climb on the rocks to observe the seabed easily. The most interesting thing about this small beach is that it has an ideal long sandy coast suitable for those who want to camp overnight and watch the sunrise on the sea! However, there are no travel services, so you need to prepare food, water, tents, and other necessities. Or if you believe in your fish-catching ability, it's time for you to show it off! If you're really good, you may have an exquisite BBQ seafood for dinner. Go hard or go home!
More information:
Location: Street 639, My Tho Ward, Phu My district, Binh Dinh province
There is a quote in Vietnam that reads "If you're not drunk, you're not going home." I believe Quy Nhon will make you drunk, not because of the Bau Da alcohol (though it may) but because of its rich nature and culture. So don't hesitate to come visit my friend, and don't forget to bring memories when you come back.
Dive into Food Paradise
Good food means a good mood, that's why we spend so much of our time seeking good food when we're traveling. Quy Nhon has a variety of tasty foods, from refreshing soup dishes to crunchy, crispy, and spicy ones. Once you're in Quy Nhon, remember NOT to miss out on these savory specialties:
Quy Nhon Fish Cake Noodle (Bun cha ca Quy Nhon)
Quy Nhon fish cake noodle is considered to be the most famous specialty in this beautiful coastal city. Its broth is made from fish bones and fish heads to create an authentically sweet, pleasant, and unforgettable taste. A local chili sauce that makes the dish even more remarkable should be savored in unison with the fish cakes. Simply stir the chili sauce in but be careful, it can get hot!
Our suggestion: Thuan Hong fish noodle store
Location: 415 Nguyen Hue Street, Quy Nhon city, Binh Dinh province
Opening time: 6:30 AM – 11:30 PM
Price range: 1 – 1.50 USD
Fiddler Crab Noodle (Bun ram)
Did you know that there's a fun fact behind this food? In the past, if you wanted to enjoy this dish, you had to ride over 60 kilometers from Quy Nhon to Phu My, where the fiddler crabs mainly gather. This dish may taste different and unique, but once you get used to the natural sweetness of shrimp, fiddler crabs and herbs, believe me, you will slurp until the last drop of broth!
Our suggestion: Thuy fiddler crab noodle store
Location: 261 Tang Bat Ho street, Ly Thuong Kiet ward, Quy Nhon city, Binh Dinh province
Opening time: 7 AM – 9 PM
Price range: 0.75 – 1.25 USD
Pig's Ear Seasoned with Galangal and Sesame (Tre)
This specialty attracts travelers not only by its heavenly scent but also by its broom-like shape. It is skillfully wrapped in guava leaves and then left to sit in banana leaves and straw for three or four days. Because of its combination of sour, sweet, and salty flavor, it ranks number one as an appetizer in Quy Nhon. This dish also goes well with another specialty in Quy Nhon, but people say "Save the best for the last," so I'll reveal it later!
Our suggestion: Thuy Trinh food store
Location: 3D Tang Bat Ho, Quy Nhon city, Binh Dinh province
Bouncing Shrimp Pancake (Banh xeo tom nhay)
Are you thinking about this dish's interesting name? You'd better try it soon because its taste is even more fascinating! Different from the southern ingredients that include pork and shrimp, Quy Nhon pancake is served with eight to nine red small shrimps only. The shrimp are what make this dish look extremely tempting and because of its freshness, the shrimp are described as "bouncing."
Our suggestion: Ong Hung pancake store
Location: 24 Dien Hong street, Quy Nhon city, Binh Dinh province
Opening time: 8 AM – 10 PM
Price range: 1 – 2.50 USD
Pig Intestine with Soft & Thin Vermicelli (Banh hoi long heo)
We call this dish the best friend of breakfast because it's convenient, popular, and it makes you full. The Quy Nhon locals always savor this dish with a bowl of hot porridge, garlic sauce, and sweet chili.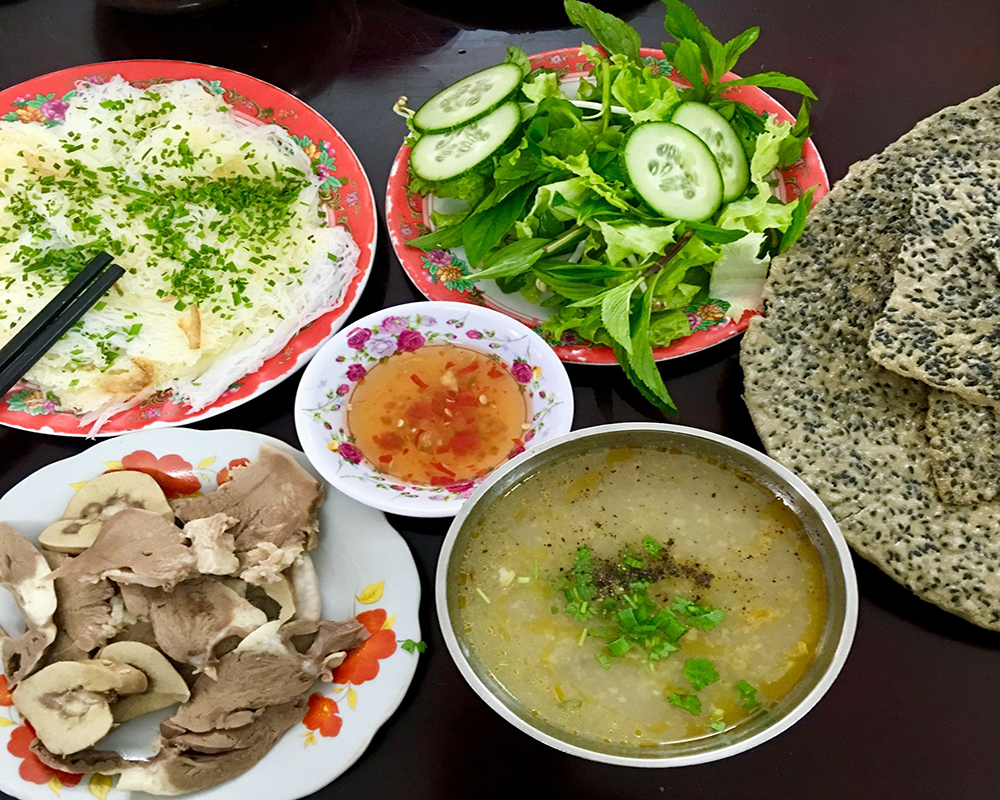 Our suggestion: Hong Thanh food store
Location: 22 Phan Boi Chau street, Le Loi Ward, Quy Nhon city, Binh Dinh province
Opening time: 6 AM – 10 AM
Price: approximately 1.25 USD
Seafood
Because it's a coastal city, Quy Nhon never lacks seafood, such as shrimp, crab, squid, etc. However, before sitting down at a restaurant or street stall, you should ask for the price and negotiate carefully to avoid being ripped off. A good rule of thumb is that shrimp and crab tend to be pricey whereas certain kinds of fish, snails, and even ray can be quite inexpensive. The prices also fluctuate according to the day's catch and season.
Our suggestion: Hoang Thao Restaurant
Location: near Eo Gio beach, Nhon Ly ward, Quy Nhon city, Binh Dinh province
Opening time: 7 AM – 10 PM
Price range: 2 – 8 USD
Focus Asia Travel : Best tours of Quy Nhon
Option 1: Quy Nhon Beach Break Tour
Highlight:
 Enjoying the beauty of the beach in Quy Nhon
 Relaxing in resort and have delicious meals
 Visiting the solemn building of the Cham and Binh Dinh Museum
First day : Saigon – Quy Nhon : Fly to Quy Nhon from Saigon
Second day : Quy Nhon : Explore Quy Nhon with Binh Dinh Museum, Cham Tower and Thap Thap…
Third day : Quy Nhon : Free time leisure on the beach
Forth day: Quy Nhon Departure
Option 2 : Quy Nhon Beach Tour – 3 Days
Itinerary Day 1: Hanoi/ Ho Chi Minh City – Quy Nhon
Day 2: Enjoy Quy Nhon
Day 3: Quy Nhon – Hanoi or Ho Chi Minh City
Highlight:
Option 3 : QUY NHON DAILY TOUR
Quy Nhon Tour will take you to visit the land of the heroism legend "Tây Sơn – Nguyễn Huệ". Quy Nhon Daily Tours will bring you to visit Long Mach holy land, where has the Dan Te Troi, the magnificent god sacred booth. Besides of the historic attractions. Quy Nhon Tour will take you to explore an interesting and romantic scenery of Ky Co – Nhon Ly Island, where is considered as a "Maldives miniature of Vietnam". Let's join with Quy Nhon Tour 3 days – 2 nights to explore many exciting attractions of Quy Nhon, a famous site in the past.
D1: Quy Nhon City Tour (Lunch)
D2: Ky Co – Nhon Ly – Quy Nhon (Lunch)
D3: Quy Nhon Tour – Shopping (Breakfast, Lunch)
Option 4: 4 sunny days in Phu Yen – Quy Nhon
D1: Vung Ro bay – Mon beach – Dai Lanh lighthouse
D 2: Xep beach – Ong cape – O Loan lagoon – Da Dia cape in the north of Tuy Hoa.
D3: Ghenh Rang – Mong Cam slope – Thi Nhan hill
D 4: Nhon Ly – Ky Co
Conclusion on Quy Nhon Travel Tips
Traveling to Quy Nhon and experiencing beautiful scenery there are surely unforgettable memories to anyone. In addition to the aforementioned destinations, you can go to the other famous sights such as Ghenh Rang Tien Sa, Han Mac Tu tomb, Hon Nuoc Lighthouse, Hon Kho… And do not forget to enjoy the unique and diverse cuisine of this beautiful city, the delicious dishes such as Huynh De crabs, baked "nem", "banh canh", fish ball noodles…