Phan Thiet – Mui Ne Best Attractions
Phan Thiet and Mui Ne are one of Vietnam's busiest coastal areas, but the urban growth remains largely intact, and therefore an ideal escape from Saigon and Hanoi's busy cities. The red and white dunes, where visitors can enjoy a relaxing day of driven ATVs or slide on rickety sleds, are the most popular attractions here. That is why we have prepared a list of Phan Thiet and Mui Ne's most famous attractions, more than the remarkable desert plains.
The Prince's Castle
The Prince's Castle is a French estate on top of Ong Hoang Hill that offers spectacular views of the coast and the countryside of Phan Thiet. The 536-square-meter building, built by Duke De Montpensier in 1911, is left behind by an old tower with many military bunkers. The Po Shanu Cham Towers are just a few meters apart, along with the tomb of Han Mac Tu, the Vietnamese poet, who also admired The Castle in his love affairs and its surroundings.
Location: Ong Hoang Hill, Phan Thiet – Mui Ne
Van Thuy Tu Temple
Van Thuy Tu Shrine, which dates from 1762, is Phan Thiet – Mui Ne's biggest and oldest whale temple. Local people believe that whales are kind beings, in honor of Ca Ong (Lord Whale), that protect the fishermen from bad weather and sea dangers. Van Thuy Tu Temple then houses more than 100 whales with skeletal bones, including the 22-meter long whale skeleton, the largest supposedly in Southeast Asia. In the temple's main hall also appear several artifacts from the Nguyen dynasty, such as written decrees of twenty-four former rulers, terracotta sculptures, incense table, lacquers,, and an antique bronze ball.
Opening Hours: Daily 07:00 – 17:00
Address: 54 Ngu Ong Street, Phan Thiet – Mui Ne
White Sand Dunes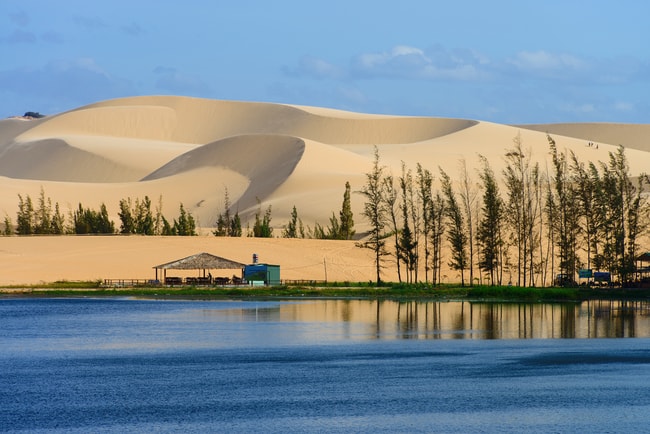 Dramatic dunes of a sandy white sand plunge into a shallow lagoon, lined with lotus flowers. White sand Dunes or Bau Trang (White Lake). Contrary to the Red Sand Dunes, Bau Trang also has a small pine tree, giving tourists a shade of the sun that's blazing. It is a favorite destination for unparalleled photo opportunities, sand-slinging, and ATV trips as one of the few desert areas of Southeast Asia. You can go down the White Sand Dunes on plastic sleds for about VND 20,000; going down is fast and easy, but getting back up might be a challenge!
Location: 26.5km northeast of Mui Ne Town, Phan Thiet – Mui Ne
Ta Cu Mountain
Ta Cu Mountain has an exuberant rainforest area of 250,000 m2, unusual birds, chalk caves and Buddhist decorative buildings. The tops of the mountain can be reached by a 2-hour walk in the jungle or a 10-minute cable car ride after an hour's drive from Mui Ne Town. The views of Thuan Nam, Ham Thuan An Sea, and Ke Ga Lighthouse are greeted by your choice of the latter. Linh Son Truong Tho Pagoda, constructed in 1879, is located on the top of Ta Cu Mountain. His key attractiveness is a 49-meter-long Buddha statue, which has been hailed as Vietnam's largest.
Location: Ham Thuan Nam, Binh Thuan, Phan Thiet – Mui Ne
Price Range: VND 160,000 return fare
Phan Thiet Central Market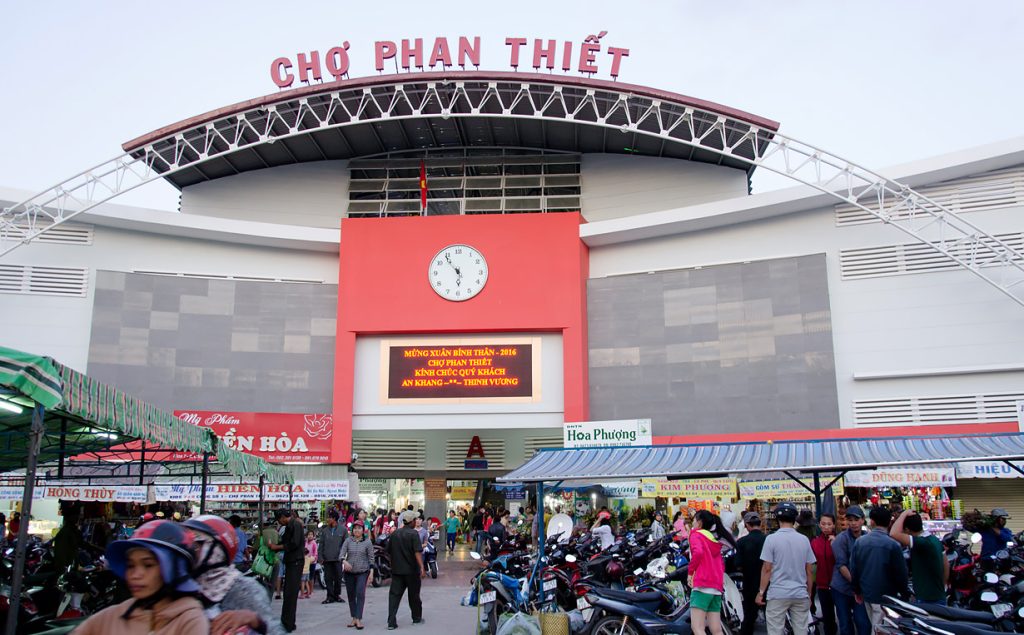 For travelers seeking to witness the everyday lives of the local people, Phan Thiet Central Market is a must-see. At dawn, the market is in full swing with large numbers of suppliers trading in fresh fruit, spices, seeds, beef, dried food, and domestic supplies. Because Phan Thiet and Mui Ne are known for fresh and inexpensive seafood, here, from shrimps, calamari, tuna to snails, palms, and crabs you can find almost anything. A fine spot to get authentic delicacies like banh xeo, mi cuang (turmeric noodle), banh xeo, and guoi cuon, is also the Phan Thiet Central Market (fresh spring rolls).
Opening Hours: Daily 05:00 – 18:00
Location: The intersection between Ly Thuong Kiet and Nguyen Hue Streets, Phan Thiet – Mui Ne