How To Party In Korean Convenience Stores
You want to cool down under air-conditioning indoors? You want to enjoy a cool breeze outdoors when the sun goes down in Seoul? Or you want to warm your cockles from the cold of a Korean winter night? There is never a bad time for a convenience store adventure. Grab a drink from the fridge and have a seat – it's better than the hottest club in town. Here's our guide to enjoying a night out at Korean convenience stores.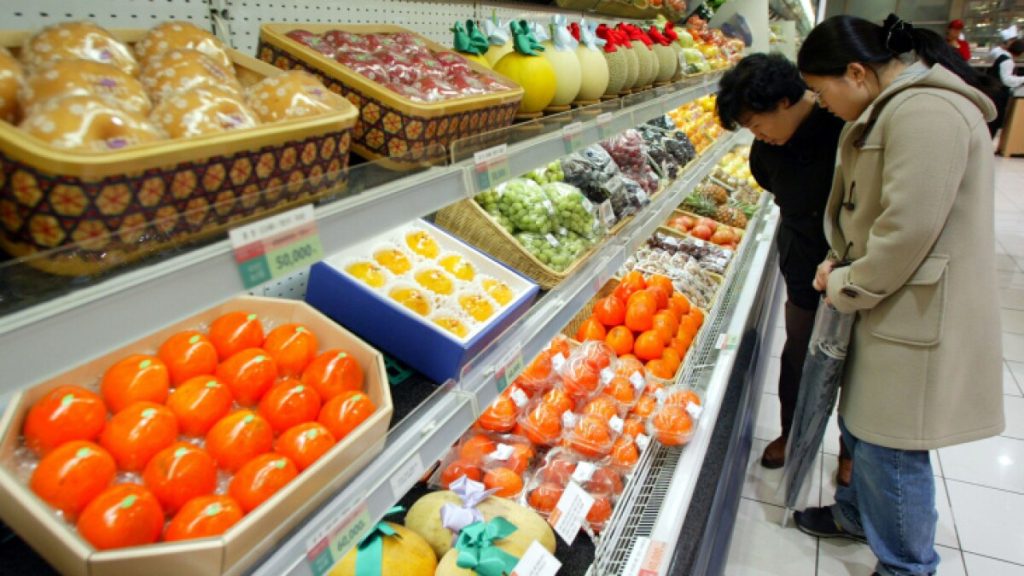 The culture of Korean convenience stores
Inspired by the Japanese conbini, convenience stores all over Asia are treasure troves of delicious snacks, postal services, and emergency essentials. In South Korea, convenience-store drinking was reborn with the 2013 beer boom. The shops often double as alehouses offering amazing imported beer deals and bottles of soju (Korean distilled spirits) that cost less than KRW 2.000 (about 1.8$). Real bargain busters will head straight for the extra large bottles of local lager, which most often comes in a 1.6L plastic jug. Combined with in-store ramen cooking stalls, relaxed vibes, and hangover-combating ice cream, Korean convenience stores are cheap drinker's dream.
And Korean convenience stores are not rare finds: there are about 40,000 of them dotted around the country. GS25, Emart24, Ministop, CU, and 7-11 are popular franchises to look out for, but smaller, independent marts or 'supers' offer many of the same basics. Only one or two people ever work at a franchise and, unless you behave very badly, there's no pressure to leave in a hurry. Many have tables either inside or out for lingering. The expectations may differ at an independent mart, depending on the preferences of the owners (often a grandma or grandpa sitting in front of a television).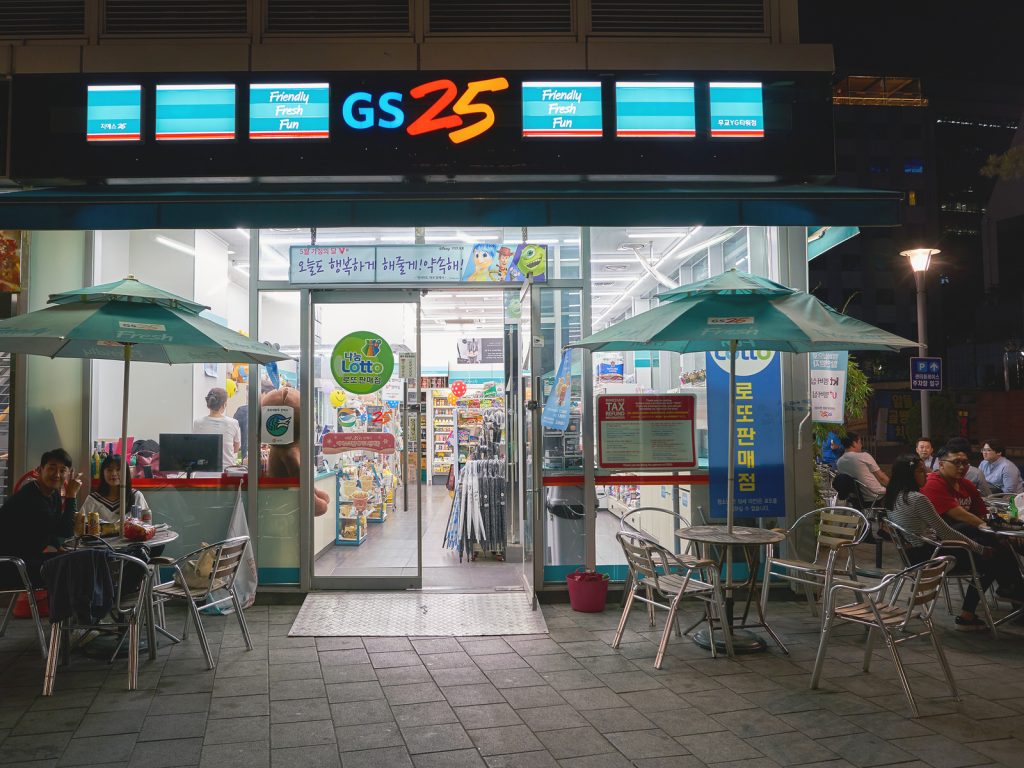 What to eat
Korean convenience stores are a great place to try out fad foods but ramen (Korean instant noodles) and kimbap (rice wrapped in seaweed, similar to a Japanese maki roll) are two mainstays. The Nonshim Shin brand is a classic, but if you're looking to test your spice levels, try the Buldak Bokkeum Myun, rumored to be the world's spiciest instant noodles. Triangle kimbaps are small bites that pack a lot of flavors. Michelin-star chef Yim Jungsik purportedly eats them twice a week and recommends the tuna-bacon-mayonnaise flavor.
What to drink
From small bottles of whiskey to decent French wines, Korean convenience stores are usually stocked with pretty much anything you might want. Many people stick to the basics of soju and beer, as deals are common, particularly on beer (sometimes you can find imported beers for cheaper than you would in their home countries). If you're feeling something local, flavored soju (grapefruit is very refreshing!) has been all the rage in recent years, while bottled craft brews are now becoming more widely available at convenience stores in bigger cities like Seoul and Busan.
Seoul's top five convenience stores
While pretty much anyone of Seoul's convenience stores will do for beer and vibes, there are some standouts boasting phenomenal views and impressive beer selections. You can't go wrong with locations along the Han River or shops that call themselves 'convenience-store pochas' – pocha is Korean for a 'drinking cart'. Here's our round-up of standout convenience stores in the capital.
Emart24 – Chungmuro 2-ga
Location: 298 Samil-daero, Jung-gu
This Emart24 takes the prize for the best under-the-radar views. Located just north of Namsan, you do your shopping on the first and second floors, and the third floor has a rooftop for café-style seating. Air-conditioned and equipped with free wi-fi, shoppers are welcome to use the space and enjoy the view. The standout feature of this location, by far, though, is the fourth-floor rooftop, furnished with a wooden porch swing overlooking the N Seoul Tower. With the world at your feet, you'll forget all it took was a convenience store purchase to get you in.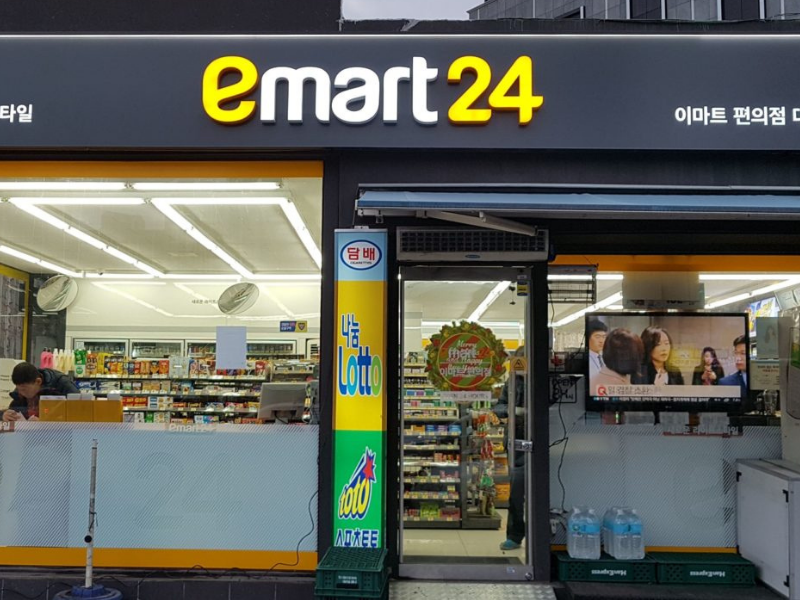 CU – Itaewon Freedom
Location: 13 Itaewon-ro 27-gil, Yongsan-gu
This convenience store has two main purposes: pregaming for all the hot clubs in Itaewon and baggage storage. Located amidst a strip of a dozen of Seoul's hottest clubs, this outlet of CU has plenty of beer and over a hundred lockers. This might not sound like a sexy attraction for a convenience store, but if you've ever had to struggle with a club coat check refusing to take your big bags or extra items – you'll know the value of being able to access a 24-hour locker. A great option to store anything you don't want to lose on a big night out.
Woori Super
Location: 7 Noksapyeong-daero 54-gil, Yongsan-gu
Some people call this a convenience store and others give it its proper term: bottle shop. However you label it, Woori Super is the place to go if you know your hops and are looking for a good time. Located between Seoul craft beer legends Magpie and The Booth, Woori Super is highly acclaimed for its selection of bottles and surprise finds. They also offer a selection of potato crisps, popsicles, and other favorite guilty pleasures and usually have a crowd outside all summer.
GS25 – Han River Some Sevit
Location: 683, Olympic-daero, Seocho-gu
Located within a cultural complex built on a floating island, this GS25 overlooks the Han River where it meets the Banpo Bridge. Revelers can enjoy their convenience store spoils on the deck of the futuristic glass building that's also home to the best seats for the Banpo Bridge Rainbow Fountain – 380 nozzles of water lined up along the bridge that synchronize water, lights, and music at scheduled times. Even if you miss the show, the complex is lit up with LED lights that make for a beautiful reflection on the water.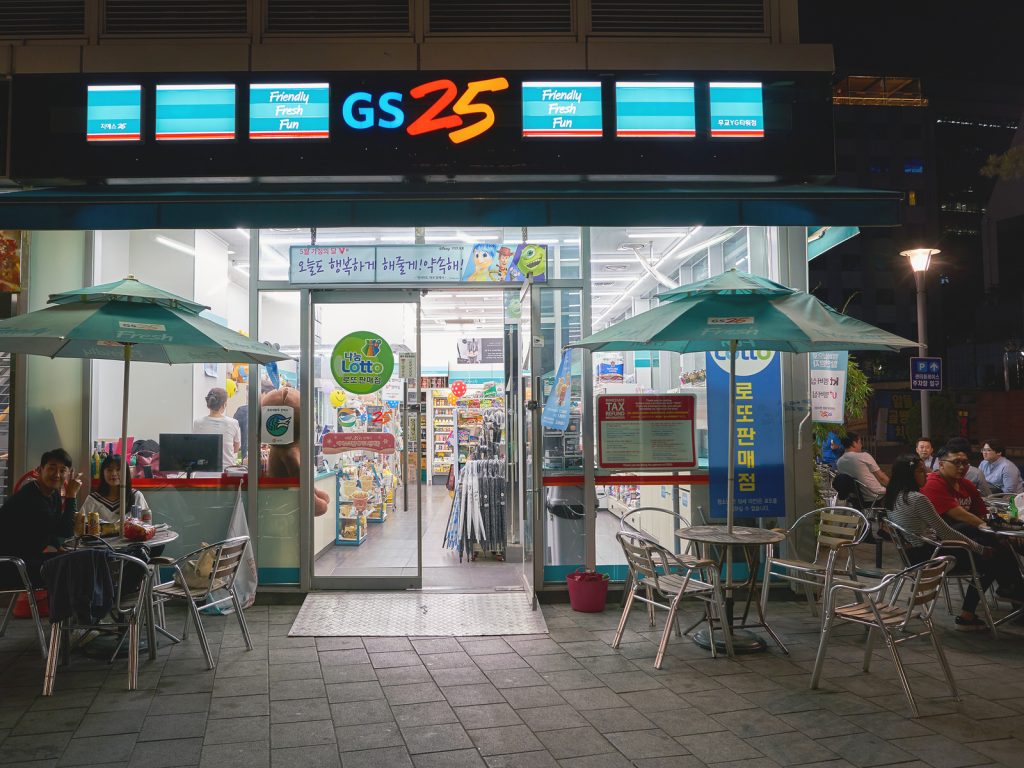 CU – Su Noraebang Hongdae
Location: 37, Wausan-ro 21-gil Mapo-gu
In 2016, famous karaoke venue Su Noraebang noticed that lots of their customers were sneaking in snacks and alcohol. Capitalising on the fact that their clientele was hungry and thirsty after a round of singing, they decided to incorporate a convenience store. Although only non-alcoholic beer is on offer (so far), they do have ice cream, snacks and other cool beverages to accompany rousing renditions of the Backstreet Boys and Madonna.
Find out more about food to try in Seoul here.