Han River in Danang
If anyone has come to Da Nang, perhaps never forget Han River in Da Nang which is located in the heart of the city. Not alluvial red like the Red River, not gentle like the Huong River, Han River is both poetic and bustling.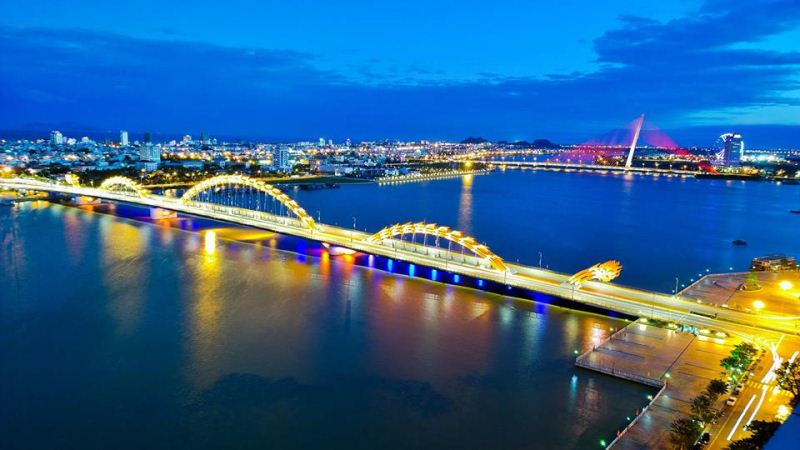 About the Han River
Han River has its literal name "Han Giang". During the French colonial period, it was also known as the Da Nang River. The Han River in Da Nang begins at the confluence of the river, where the confluence between Cam Le and Vinh Dien rivers, in Hoa Cuong Nam ward in Hai Chau district, is also bordered by two districts of Cam Le and Ngu Hanh Son.
The river flows in a south-north direction, passing through Hai Chau, Ngu Hanh Son, Son Tra districts and then flows into Danang Bay with a length of about 7.2km. The width of the river is about 900 – 1,200m, the average depth of 4 – 5m is the waterway traffic junction connecting with the districts of Ngu Hanh Son, Cam Le, Hoa Vang district and the districts of Quang Nam province.
The river was drifting, flowing between the two busy streets of Da Nang. The green beauty of the trees with the gentleness of Han River creates a peaceful picture.
A special feature of the Han River
Visitors to Da Nang have a special impression of unique bridges shining brightly across the Han River. Currently, there are 6 bridges spanning the Han River including Han River (also known as rotating bridge), Thuan Phuoc bridge, Nguyen Van Troi bridge, Tran Thi Ly bridge, Tien Son bridge. But the most prominent is still the Dragon Bridge.
This bridge across the Han River has a unique architecture with the shape of a dragon reaching out to the sea. Dragon head sprays fire and water. Bridge was started construction in July 2009 and completed after nearly 4 years of construction, 666m long and total investment of more than 1,700 billion. Dragon Bridge simulates the shape of a dragon in the Ly dynasty flying to the East Sea with a steel span of 568m in total length, weighing nearly 9,000 tons. This is a bridge with a unique architecture designed by Louis Berger Group (USA) as the only single steel arch in Southeast Asia.