Explore the bustling capital of Bangkok – Focus Asia Travel
"Paradise of shopping", paradise of food "," City of surprises " are the nicknames that tourists often use to describe Bangkok which is the capital of Thailand. Anyone who loves shopping also goes to Bangkok, who loves food, and likes to explore also come here, so Bangkok is always bustling and it is the top destination for foreign travel .
The most popular shopping districts in Bangkok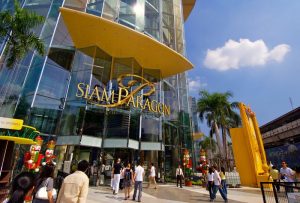 Photo: Siam Paragon commercial area
Whether male or female, old or young when coming to Bangkok, it is impossible to resist shopping. This place is full of souvenirs, Thai food , fashion products and almost all year round, there are promotions. If talking about popular and wholesale goods, Pratunam market will be the first choice. Pratunam is located opposite the bustling center of Platinum. This place attracts not only locals but many Vietnamese tourists to come here to buy cheap fashion items, even import goods to sell. The most popular shopping spot is Big C which is opposite Central World, on Ratchadamri Street. You can buy shampoo, shower gel, cream or Thai sausage as a gift. Big C is opened until 12 o'clock at night, so moms and dads are free to go shopping. If you need to shop for branded goods, visit Siam Paragon center right away. Siam Paragon is a shopping center that brings more than 250 world famous brand shops, and especially this place is very often "shown" in wedding photos because of its modern, beautiful architecture.
Places to play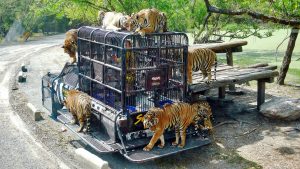 Photo: Safari world
If your time is limited, at least visit 3 tourist attractions: Wat Arun Temple, Safari World Park and Patpong Red Light Street. Located on the western bank of the peaceful Chao Phraya River, Wat Arun, also known as Binh Minh Pagoda, is considered as a typical symbol of Thailand. The temple is covered with colorful porcelain outside and always shines in the night. Next is the Safari World park, which will make you surprised. The most surprising thing is probably that instead of animals being locked up, here, visitors will be "locked" in cars and go into the wild animals area to visit. The third location will be the red light district of Patpong which is the hottest area in Bangkok. It is recommended that you go in a large group when coming here for your security and you can visit a small bar to enjoy the bustling atmosphere here.
Cuisine of Thailand – It should not be missed out while exploring Bangkok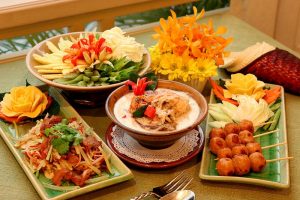 Photo: Thai cuisine
Referring to Thai cuisine, the first dish to be named is probably the hot and sour Thai hotpot. Thai hotpot has the spicy taste of fresh chili, the mild sweetness of sugar and bone broth, the strong aroma of lemon leaves, lemongrass. Food with Thai hot pot is mainly seafood such as shrimp, squid, fish … Next is Pad Thai. Pad Thai is made from noodles or fibers such as noodles, stir-fried with a mixture of shrimp, chicken, fried tofu and bean sprouts. Although the dish does not taste too special, it is very delicious and not greasy. Do not stop there, remember to "save your belly" to eat more of the famous mango sticky rice dessert. Fragrant sticky mango sticky rice cooked with coconut milk, served with a sweet ripe mango will surely satisfy even the most demanding visitors.
Not only stopping there, Bangkok is always changing to bring new interesting things to visitors.