Dong Chuong Lake in Ninh Binh
Dong Chuong Ninh Binh lake is a relatively new tourist destination and has recently been attracted by many tourists. Dong Chuong Ninh Binh lake retains its natural beauty, bringing a peaceful feeling when coming here.
1. About Dong Chuong Ninh Binh lake
Dong Chuong Lake is a natural freshwater lake located between the communes of Phu Loc and Phu Long in Nho Quan district, about 30 kilometers from Ninh Binh city. As a result, many people refer to this location as Dong Chuong Nho Quan Lake.
The lake has a water field of approximately 45ha and a 6km path that winds through the pine hills. Since the Dong Chuong Nho Quan Lake is located farther out from urban centers (the buffer zone of Cuc Phuong National Park), the landscape is still intact and very beautiful.
2. Discovering Travel Beauty of Dong Chuong Lake
Visitors to the Dong Chuong tourist resort have the choice of cycling, riding a motorcycle, or taking the tram. The path to Dong Chuong Lake is shaded on both sides by cool pine trees, making it feel cool and relaxed.
Dong Chuong Ninh Binh lake is compared to Dalat in the north, with its shady hills with pine trees. The lake's water is still blue, matching the green pine hills on both sides. You should ride a cruise around the lake and enjoy the natural scenery. There are a number of small huts on the lake where tourists can rest and take in the poetic scenery of the lake.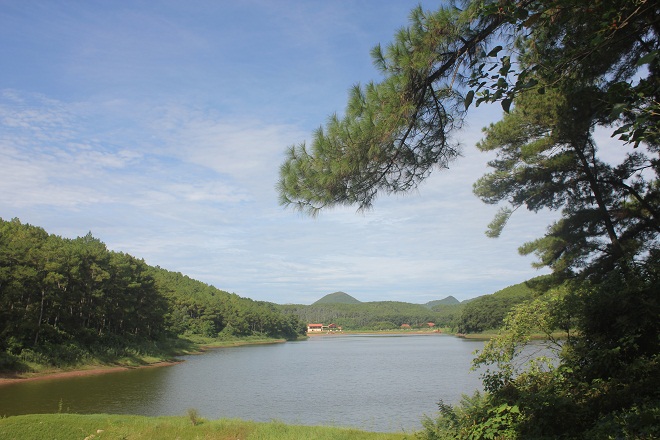 Visitors to the tourist resort of Dong Chuong Ninh Binh can not only enjoy the poetic elegance of the lake, but they can also ascend the hill to see Heavenly Ponds and Ba Tua Waterfall. Follow the road to the top of the pine hill, where you can find Heaven Pond, a high pool. The Heavenly Pond's charm is its position on the top of the hill, with sparkling blue water that is still dry.
In addition, when visiting Dong Chuong Nho Quan Lake, you will visit Ba Tua waterfall near the lake, which has an altitude of nearly 40m and flows endlessly during the rainy season from the mountains and rocks.
Don't forget to hold your camera so you can capture unforgettable moments and preserve the lake's poetic scenery.
Since 2008, the Ninh Binh tourism industry has opened the Dong Chuong eco-tourism area, which includes works such as a yacht area, entertainment area, stilt-house retreat, picnic camping in open forest, and so on, and promises to add exciting experiences to your Dong Chuong journey.
Dong Chuong Lake is such a poetic tourism attraction that anyone who visits it falls in love with it. If you are ever hesitant, plan a trip to Dong Chuong Lake with friends and family to explore the poetic beauty and landscape of Dalat right in Ninh Binh!