Discover "Lumiere Light Garden" – An interesting destination in Dalat
In Da Lat this year, there appears a very unique place and a lot of people racing to take photos. Lumiere Light Garden is one of the most special places when thinking about Dalat tourism recently.

Location of "Lumiere Garden of Light"
Address:  No. 222B Mai Anh Dao Street, P8, Dalat City
Lumiere Light Garden is located near the center of Dalat city. In particular, the road to the light garden is also the route of many famous check-in points of Dalat such as the valley of love, dreamy hills … If you have difficulty finding the way to here, you can immediately refer it on google Map.
This is a very unique combination between natural light and modern lighting technology. They have created extremely professional and attractive 3D paintings that are rarely found anywhere else. Currently, the area of ​​the light garden is up to 2000m2. Therefore, it is a large technology exhibition area and the top check-in point that you should not miss out when coming to Dalat.

Virtual- living paradise full of light and color
Magic, creative, and attractive – those are the strong impressions of tourists when exploring the Garden of Light. Saying this place is the unique "wonder of light" in Da Lat is no exaggeration, because at present there is no second version like the Garden of Light in this foggy city.

Heaven created from light technology
Lumiere Light Garden is designed as a light technology paradise with unique 3D performances. The movement of the bands of natural light and high-tech light that will be linked with cosmic models and the stars will make you feel like seeing a beautiful and steady shift of a starlight brilliant night sky.
More interestingly, you may be fooled by the visual effect in this room.

9 rooms with 9 surprises waiting for you to explore
The 9 rooms inside the Lumiere Light Garden complex use modern, vivid 3D mapping technology, creating colorful virtual spaces that make everyone entering in wonder. This has stimulated the curiosity and passion of many people, from young people to artists and celebrities.
Space Area: This place displays various models of planets and stars. It will bring you to the galaxies that seem to be seen only through movies and astronomy videos.
Light maze area: This place possesses 5 interesting virtual living concepts that will give you the feeling of being back to your childhood.
The ball house area: The ball house is the place with the most colorful moving colors. This is an extremely sparkling virtual living spot that every young person loves.
The Forest of Light: This place is like the forests in the famous 3D Avatar movie. The great simulations in this area will bring you real immersive and engaging experiences.

The price of the tour to visit this place
Currently, when coming to Lumiere Light Garden, you will have to buy an entrance ticket with the price of 150,000 VND / person. This is the default light garden rate that applies to all visitors. Although this price is not cheap, but the great experience you can have here will definitely make you feel it is a bargain.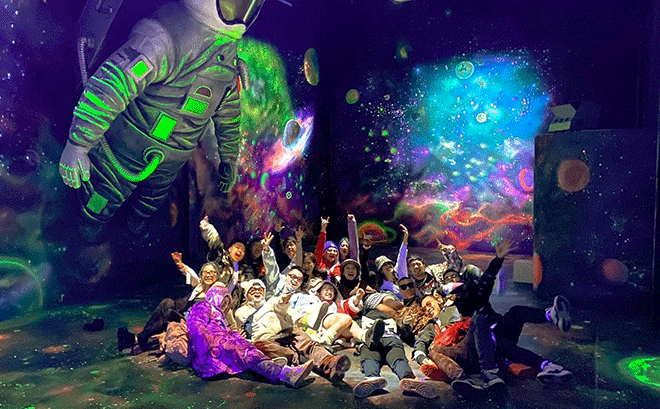 The light garden will open to welcome guests at 7:00 am and close at 9:30 pm.
The big plus point for this place is that it is always open to welcome guests throughout the Tet holiday, so if anyone wants to find a new place to play by the end of this year, visit Da Lat Light Garden. Lunar New Year 2021 has arrived, rewarding yourself with a really different photo at the Garden of Light.