Can Tourists Drive in Vietnam?
Driving alone in Vietnam can be an exciting experience, but make sure you are mindful of the local laws and regulations. Before driving in Vietnam, familiarize yourself with the simple Vietnamese laws by reading this guide.
The parts below are taken from Chapter 3 of Circular No. 12/2017/TT-BGTVT of the Ministry of Transportation on Training, Testing, and Granting Drivers' License on the Vietnam Government's Portal.
What licenses do you need to drive in Vietnam?
You will either need to have an International Driving Permit or a Vietnam Driver's License to drive in Vietnam legally. The below information will let you know how to use or apply for them.
To use an International Driving Permit granted by a country that ratified the Vienna 1968 Convention on Road Traffic, you must carry your national driver's license with you to Vietnam. Take note of the following:
• Your national driver's license and IDP must not be expired.
• You can only drive in the class permitted by your national driver's license.
For example, if you have a national driver's license for a car, you can only use it to drive a car; you cannot use it to drive any other vehicles in Vietnam that need a license to drive.
Vietnam Driver's License
To convert your home country license to a Vietnam driver's license, you will need:
• A valid passport with a 3-month Vietnam Visa
• A form requesting a driver's license issuance
In Ho Chi Minh City, the form can be obtained at the Driver's License Registration Office or Ho Chi Minh City Department of Transportation (addresses below)
• A certified copy of your national driver's license
• A Vietnamese translated version of your national driver's license that is issued by Authorized Organization
• A certified copy of your passport (photo page and visa page)
• Three 3×4 cm ID size photos (the photo will be taken at the place of submission)
• A fee of VND 135,000 per license
For a driver's license registration, all papers must be sent to the authority at the Driver's License Registration Office or the Ho Chi Minh City Department of Transportation. When uploading all of the papers, you must display your passport and driver's license. It will take approximately seven working days to process your completed submission.
Information about Driver's License Registration Office
-252 Ly Chinh Thang Street, District 3, Ho Chi Minh City
-Weekdays: 7 AM to 4 PM
Information about Ho Chi Minh City Department of Transportation
-63 Ly Tu Trong, Ben Nghe, District 1, Ho Chi Minh City
-Weekdays: 7 AM to 4 PM
You should also go to your country's Embassy and Consulate for more support.
Notes: In Vietnam, the licenses for motorcycle/motorbike/scooter (2-wheels) and car (4-wheels) are two different licenses – Class A1 (engine size between 50cc and 175cc) and Class A2 (engine size over 175cc) for the motorbike, and Class B1 for the car.
Fuels and Parking in Vietnam
The price of unleaded fuel is around VND 20,000 per liter. In Vietnam, you do not fill your tank. Your tank will be filled by the attendants. Simply tell them how many liters or gallons you want to fill.
Motorbikes may be parked on certain pavements; follow the staff's directions on where to park (they usually wear a blue or green uniform). In Vietnam, there are a few free parking lots for cars and large vehicles. They can be parked in large buildings with basements. A day's parking costs between VND 5,000 and VND 10,000 for a motorcycle and between VND 10,000 and VND 50,000 for a sedan. The overnight fee will be larger, around VND 10,000 per motorcycle and VND 60,000 per vehicle.
Insurance for Driving in Vietnam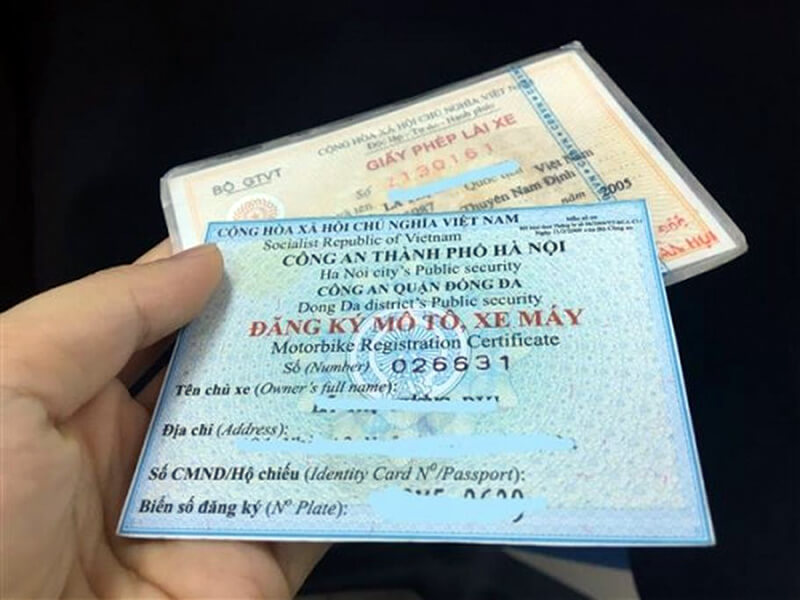 Before venturing out on your own in Vietnam, it is strongly advised that you obtain personal liability insurance. And, once again, be certain that you are lawfully permitted to travel on Vietnamese roads; otherwise, the insurance will be rendered null and void.