9 Must Know Hong Kong Travel Tips
If you're traveling to Hong Kong for only 24 hours or spending 3 days in Hong Kong, these Hong Kong travel tips are essential to making your trip easier. Hong Kong can be overwhelming as a tourist and not knowing all of these Hong Kong travel tips can really add up. We put these tips together to help first-time visitors to Hong Kong make the most of their trip to this amazing city. Learn the best tips on how to get from the airport to the city, things to do in Hong Kong, local insider recommendations, and much more. And here are our 9 Hong Kong travel tips!
1. Take The Airport Express
Getting to and from the Hong Kong International airport couldn't be any easier with these Hong Kong travel tips. The Airport Express connects the airport to Kowloon and Hong Kong Island in under 24 minutes. Get on the train right at the airport after you pass customs & immigration. Tickets are available at the airport, but every time you go there, there is often a long line. You should purchase your tickets online at Klook not only to avoid that line, but there are 30% cheaper when you purchase them online. For about the same price Hong Kong Airport Express tickets can be purchased on Viator as well. If you buy a round trip ticket they'll give you your ticket back to the airport as well.
To/From Hong Kong Island:
First train: 5:50 am
Last train: 0:48 am
Frequency: 12 min
Duration: 24 min
One way $6 USD / Round Trip $16 USD
To/From Kowloon:
First train: 5:53 am
Last train: 0:52 am
Frequency: 12 min
Duration: 22 min
One way $8 USD / Round Trip $15 USD
If you prefer to take a car from the airport, you could book a private shuttle for only about $47, but you need to book online in advance to get this price. When you are traveling solo and are open to a shared airport shuttle in Hong Kong, it's only $27. If your hotel in Hong Kong isn't close to the MRT and you don't want to navigate to your hotel this might be the best option and it isn't that much more.
2. Get An Octopus Card
With our Hong Kong travel tips, your lives in Hong Kong will be so much easier. An octopus card is basically like a prepaid debit card but it works all over Hong Kong. With this card, you just scan your card over the reader and the payment is deducted from your prepaid stored value.
Octopus cards can be used at:
All MTR stations
Star Ferry
Peak Tram
7-Eleven
Mc Donald's
The best octopus card for a tourist is the "On-Loan Octopus" which requires you to pay a $50HK refundable deposit that covers the card cost. Octopus cards can be purchased at all MTR stations, we suggest buying one at the Airport Express station at the Hong Kong airport before you even head to the city.
3. Stay At A Central Hotel
There are 815 hotels on Agoda in Hong Kong. Picking the right one can be a challenge in itself. First, decide if you want to stay on Hong Kong Island or on the Kowloon side. Then based on your finance and preference to choose the optimal one for your stay.
If you prefer to stay in an Airbnb, there are tons of condos for a fraction of the price available. Staying in an Airbnb will also help save money on meal costs as you can easily make breakfast before heading off exploring Hong Kong.
4. Take The MTR In Hong Kong
The MTR in Hong Kong is super easy to understand and get around Hong Kong. If you purchase an octopus card like mentioned above, you just touch your card and you can move around the city freely. Plug in your destination on Google Maps and pick public transportation. The directions will give you a step by step guide on what MTR station to get off on and even what exit out of the MTR station to take.
5. Where To Eat Cheap In Hong Kong
Hong Kong is expensive, we're not going to lie, but there are a few cheap places to eat in Hong Kong. One of the best things to do in a new city is to go on a food tour, you can go with Hong Kong Foodie Tours. They will show you some of the best things to eat in Hong Kong and where to eat cheaply in Hong Kong. Some of the best and cheapest places to eat in Hong Kong are the little local places. In Hong Kong Dim Sum is king, but you can also find some awesome BBQ/roast pork, wonton noodle soup, egg tarts, Hong Kong waffles, etc.
6. Victoria Peak Tram | Skip The Line & Take A Taxi
The line just to purchase a ticket to ride the Victoria Peak tram can be over 2 hours long. But you can save your time by looking up for a cab. Within 15 minutes you will be at Victoria Peak and the taxi bill is only about $65 HKD. The Victoria Peak tram price is $88HK round trip but this includes admission to Sky Terrace 428. If you take a taxi up to Victoria Peak you can almost the same view at The Peak Galleria for free, just follow the signs Victoria Harbour view. The view at Sky Terrace is slightly better and another floor up, the price for a ticket to Sky Terrace 428 is $48 HKD. There is a taxi stand at the ground level of The Peak Galleria so getting back down the peak is no problem.
Victoria Peak Tram Cost: $88HKD (Round Trip and includes access to Sky Terrace)
Victoria Peak average wait time: 1-2 hours (significantly longer on the weekends and during peak tourist seasons)
Taxi cost to Victoria Peak: $60-80HKD (depending on traffic and the pickup point; transport only)
7. Carry An Umbrella At All Times
Always always always carry an umbrella with you, the weather in Hong Kong is unpredictable. Hong Kong gets an average of 101 rainy days a year! If you visit between June-September never leave without an umbrella. If you do however forget an umbrella there will surely be one for sale nearby. You will wish you have known these Hong Kong travel tips before your trip!
8. Hong Kong Taxis Are Cheap
In an expensive city like Hong Kong, you would just assume taxis are expensive like any other big cities in the world. WRONG!! taxis in Hong Kong are super cheap with the first 2 kilometers being a set $22HK and additional $1.60 HK for every 200 meters. But there are some places we wouldn't suggest taking a taxi to or from: the airport, across the bridge to the other side (tolls add up), during rush hour, or in general, places that can be easily reached by the MTR.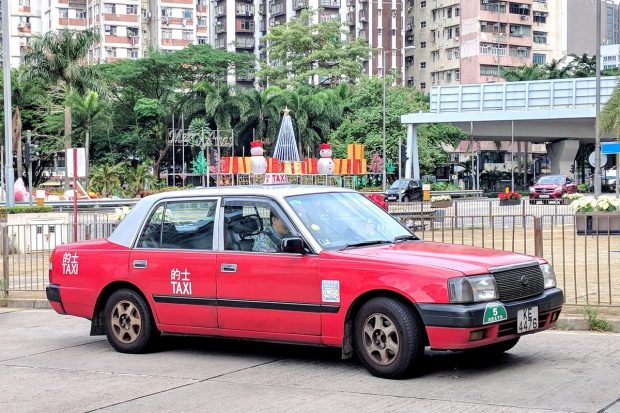 Uber is in Hong Kong too, but we found it significantly more expensive than a taxi in the city. Prices for Uber in Hong Kong got much better for longer distances like to the airport and the outer parts of the city. However, within the main city areas, we found Uber to be nearly twice as expensive as the normal red taxis in Hong Kong.
9. Best Hong Kong Skyline At Victoria Harbour
The best Hong Kong travel tips for taking a picture of the Hong Kong Skyline is to view it from Victoria Harbour on the Kowloon side. Jump on the Star Ferry from Hong Kong Island and it'll drop you off right at Victoria Harbour in less than 10 minutes. Right in front of the Hong Kong Cultural Center is a prime spot, the area closes at 11 p.m. The nearest MRT station is Tsim Sha Tsui only a ten-minute walk away.
We hope these Hong Kong travel tips can help you easily enjoy the amazing city of Hong Kong. Find out more here.