Where To Eat In Taipei
[kkstarratings]
Are you looking for places to eat in Taipei when you traveling to this amazing city? Where to eat in Taipei, the best restaurants in Taipei and must eat restaurants in Taipei? Let's check it out our Where to Eat in Taipei post on where you should visit below. Now let's discover Taipei cuisine with Focus Asia Travel!
1. Ay-Chung Flour-Rice Noodles
Google "where to eat in Taipei" and this mee sua specialty shop will be on nearly every list. Ay-Chung Flour-Rice Noodles offers just one item on their menu, and that's Taiwanese-style vermicelli or mee sua with braised pork intestine. It's absolutely delicious and one of the best things in Taiwan. It's smokey and flavorful and contains the most tender rings of braised pork intestine.
2. Jin Feng Lu Rou Fan
Lu Rou Fan or braised pork rice is one of the most beloved comfort dishes in Taiwan, second perhaps only to beef noodle soup. The dish consists of minced pork belly that's been stir-fried and slow cooked in soy sauce till tender, then served over a bowl of steamed rice, usually with a hard-boiled egg on the side. Many people believe that Jin Feng serves some of the very best braised pork rice in Taipei. It was delicious and comforting.
3. Orange Shabu Shabu House
Hotpot or shabu shabu is another must-eat Taiwanese dish. It consists of a simmering pot of soup stock containing a variety of ingredients like thinly sliced meat, seafood, leafy vegetables, tofu, noodles, and various fish and meatballs. Orange Shabu Shabu House is considered serving the best hot pot in Taipei hands down.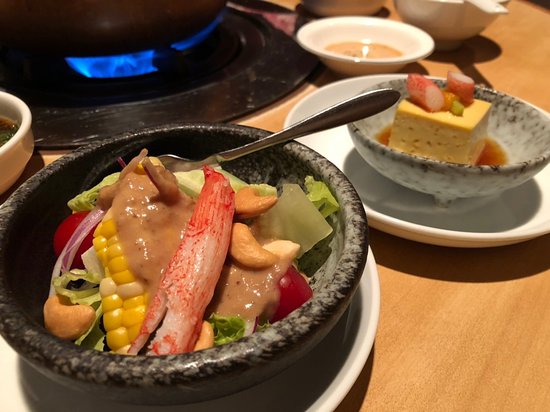 4. Shao Shao Ke
Not only was this one of the most delicious meals in Taipei, but it was also one of the most intriguing. Shao Shao Ke serves Shanxi cuisine which is the cooking style of Shanxi Province in China. Noodles and lamb figure prominently in the cuisine, as does this unique type of vinegar called Shanxi mature vinegar which is produced exclusively in the area. If you like the flavors of lamb and cumin, then you have to eat here. Be sure to get the deep-fried soy cheese puff pastries for dessert as well. They're divine.
5. Addiction Aquatic Development
Addiction Aquatic Development is one of our favorite places in Taipei. It's a unique concept that's basically an upscale live seafood market, gourmet food supermarket, seafood bar, sushi bar, oyster bar, seafood barbecue restaurant, and hot pot restaurant all rolled into an uber stylish space. Like creative parks, it's one of those places that defies description. You have to see it for yourself to fully grasp the concept. But the bottom line is, if you like seafood, then you absolutely cannot miss Addiction Aquatic Development.
6. RAW
If you've been saving up for that one truly special meal in Taipei, then this is where you need to go. Helmed by Chef André Chiang of Restaurant André fame in Singapore, RAW is a one Michelin star restaurant ranked number 15 on the latest list of Asia's 50 Best Restaurants. They offer beautiful degustation experiences featuring the best of Taiwan's local seasonal ingredients. Be warned, however, that it is notoriously difficult to get a reservation at this restaurant. Check out my post on RAW for more pictures and information.
If these six aren't enough to whet your appetite, then check out our post on 13 Must-Eat Restaurants in Taipei. It includes more pictures and information about the places listed above, as well as instructions on how to get to each restaurant using public transportation.