What to See and Do on Con Dao Island
Con Dao Islands, also known as Con Dao National Park, is a group of 16 largely uninhabited islets off Vietnam's southern coast, each with vast beaches shaded by evergreen trees. The main island is ideal for savvy travelers trying to avoid the hustle and bustle of city life, and it also has miles of beach highways, hiking trails, and a variety of outdoor activities.
Con Son, the largest (and only inhabited) island, was once home to French-run prisons for Vietnamese active in the independence movement. The majority of the abandoned prisons are in Con Son Town, where you can visit the jail cells and notorious tiger cages. Many locals visit Con Son to pay their respects to rebels such as Vo Thi Sau, the first woman hanged by the French on the island.
Island hopping and diving are common hobbies on the Con Dao Islands, where you can visit most of the uninhabited islets and see stingrays, barracudas, moray eels, and dugongs. Since it is a national park, you must make arrangements with the Con Dao National Park Headquarters (29 Vo Thi Sau, Con Dao District, Ba Ria – Vung Tau Province). Hon Bay Canh Island is well-known for its turtle breeding grounds, so if you visit between June and September, you might also get to see turtles laying eggs.
Best Time to Go
The dry season (November to February) is the perfect time to visit Con Dao Islands, so if you want to see turtles nesting on Hon Bay Canh Island, go between June and September. The months of February to July are suitable for diving excursions because the waters around Con Dao have visibility ranging from 20 to 30 meters.
How to Get to Con Dao Islands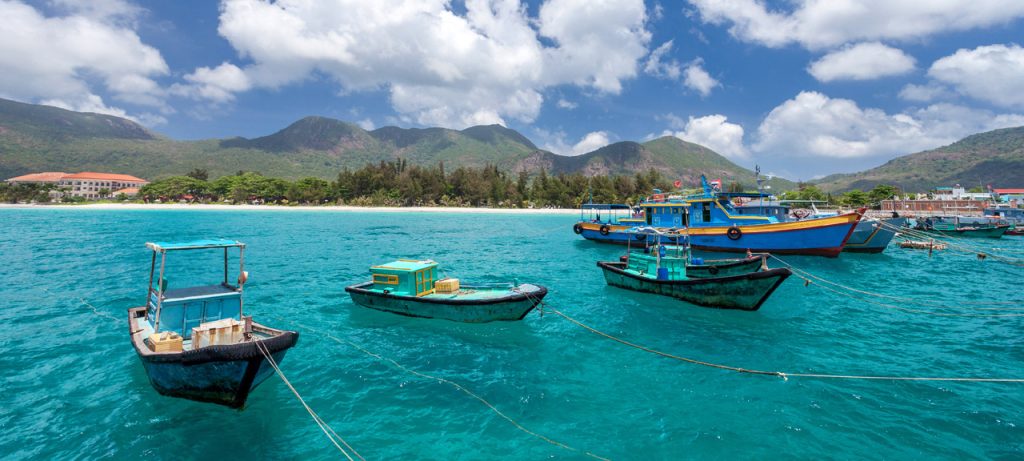 Con Dao Islands, especially Con Son, are only an hour's flight away from Ho Chi Minh City. Vietnam Airlines' VASCO is the only airline that flies to the island on a daily basis, with roundtrip fares costing about USD210 for adults, USD160 for children aged 2 to 11, and USD25 for children under the age of two. Con Dao Aiport is located 15 kilometers south of Con Son Town, and the majority of luxury resorts and hotels provide roundtrip shuttle service to their guests. Non-guests are charged about VND 50,000 by certain drivers, making it a cost-effective way to get to your destination.
Recommended Hotel Nearby – Six Senses Con Dao
The Six Senses Con Dao is ideally in line with Six Senses' concept of opening luxury resorts in isolated areas of exceptional beauty: The Con Dao archipelago has 16 islands and a national park. The main island, Con Son, on which the resort is located, is best known for its political jail, which was constructed during the French colonial period and is now a museum. The archipelago, which has been spared over-development, provides spectacular natural scenery. Set directly on the beach in Bai Bat Doc, about two kilometers north of the main town, the resort features 50 luxury contemporary villas divided into three categories: Ocean View Duplex Pool Villa, Ocean Front Deluxe Pool Villa, and Ocean Front Duplex Pool Villa.