Travel experience in Coral Island in Pattaya – The paradise of entertainment
Pattaya is a favorite destination for international tourists, especially Vietnamese tourists in recent years. Being in Pattaya, you should not miss out the fascinating game paradise at Coral Island Pattaya. Focus Asia Travel would like to share with you the travel experiences in Coral Island in Pattaya.
Coral Island is not too far from the coast of Pattaya city, only about 10km. Due to its proximity to the mainland, tourists often enjoy taking a ferry across the island to swim and have fun during the day. If you want to leave the bustling city of Pattaya, Coral Island with long green beaches, peaceful resorts and exciting adventure games on the sea is the best choice for you.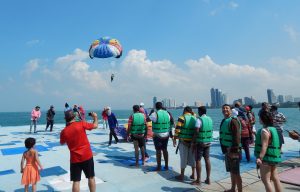 Travel Experience Pattaya Coral Island: Moving from Pattaya city to Coral Island
To get around the island, the most common way is by speedboat or by ferry. Normally, in the itinerary of Thailand tours,  they spend at least 1 day to enjoy at Coral Island. If you are traveling on your own, Focus Asia Travel still recommends booking a day tour at your hotel because there are services on the island if you are traveling with a local In addition, problems that happened unexpectedly made it easy to get help faster if you go on tour.
There are 2 types of day tours to Coral Island :
– The tour does not include games: Ranging around 800Bath, including round-trip ticket from the mainland to the island, a lunch and an English tour guide.
– Tour full of games includes the same services as above, but additional fare for games on the sea such as Parachute, Sea Walk (Sea Walker) and Banana Boat (Banana Boat). Tour prices range from 2000Bath.
If you are self-sufficient from Pattaya city, you can buy ferry ticket from Bali Hai ferry at 30Bath / way to Naban ferry or Tawaen beach on Atoll. It takes about 45 minutes to travel from this city to island. Ferry ferries are usually very crowded. The first one starts at 7:00 am and the last one starts at 18:30 pm.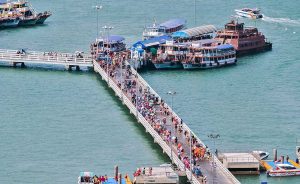 Bali Hai ferry terminal in Pattaya city ​​center
Another way to get around faster than a ferry is a speedboat. With a speed of only 20 minutes per trip, high-speed train fares are also more expensive than ferries. Renting a whole high-speed train costs ranges from 1500 to 3000 Bath. If you go in a group, you can share the price with your friends so that the cost is cheaper.
The game should not be missed on the island
Once you arrive at Coral Island in Pattaya, swimming is the first experience you should try. Coral Island has 6 main beaches, including Samea Beach, Tawaen Beach, Tien Beach, Nual Beach, Tonglang Beach and Tayaiy. In particular, according to local people, Tawaen beach, Nual beach and Tien beach are the 3 most beautiful beaches.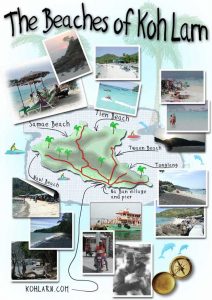 Location of beaches on Coral Island , Pattaya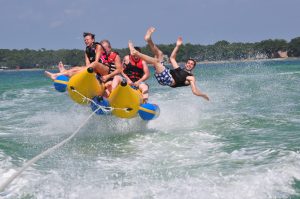 Banana boat game on Coral Island , Pattaya
In addition, on Coral Island, 5 games on the sea you must try including Sea walk (Sea Walker), paragliding, banana boat (Banana Boat), scuba diving and glass bottom boat. As Focus Asia Travel mentioned above, the prices of the above games may already be included in your tour, or you can opt for a separate tour of game fare. However, please note some of the experiences of previous travelers to avoid losing fun while participating in games on Coral Island :
– If you go on tour, please register to join the games with the team leader.
– If you go self-sufficient, you are easily seduced by the mafia. Some of their tricks like: You want to play banana boat and get a quote of 200Bath / person for 10 minutes. But when the game is over, the actual ticket price is 200 dollars. Before joining any of the services here, let's deal with detailed prices and pay before playing. If you are not careful, the price can change from Bath to USD immediately.
– Do not arbitrarily sit on the island even if you see no cashier nearby. As long as you sit on the chair for less than a few seconds, someone will show up and collect money right away.
– Bathing also costs money, another service must be asked carefully.
Along with having fun, do not forget to watch out for some mafia tricks on the island and listen to Focus Asia Travel 's advice to limit self-travel to Coral Island, but register for a tour in advance in Vietnam or directly at your hotel in Pattaya. We hope that the above travel experiences of Pattaya Coral Atolls of Focus Asia Travel can help make your trip more perfect.
To book Thailand flights  or Thailand tours with the cheap price and thoughtful advice, contact Focus Asia Travel.
Address: Office No. 1, Hoang Ngoc Phach, Dong Da, Hanoi
Phone: (+84) 969.526.695
Website:  https://focusasiatravel.vn