Top 6 rural destinations to experience in the Mekong Delta, Vietnam
It's difficult to resist the peaceful environment of Mekong rural life in Vietnam, particularly when you get to experience the delta's people, scenery, and culture firsthand. Let's book a day tour that takes you on a cruise to the Cai Be floating market for some delicious tropical fruits.
This is also your opportunity to visit and converse with other local vendors. But where do you go in the delta's rural areas? The solution is directly below.
Dong Thap – The land of lotus in Vietnam
In the minds of many tourists, it is a distant rural site in the south of Vietnam. Despite its remote position, this is such an enticing lotus land that only a few provinces in the delta can really compare. So, if you want to see the pink beauty, make your way to Dong Thap in the country.
In addition, Tram Chim National Park, a true ecotourism miniature in the Dong Thap Muoi district, can be visited. It has a vast network of rivers and wetlands, as well as an abundance of flora and fauna. This is also the habitat of 200 different species of birds, some of which are already described in the Red Book.
The life of the red-crown crane, one of the world's 15 final crane species, is the park's best feature. Surprisingly, these cranes can only find food on this land as the water level begins to climb during the rainy season.
Vinh Long – A serene rural land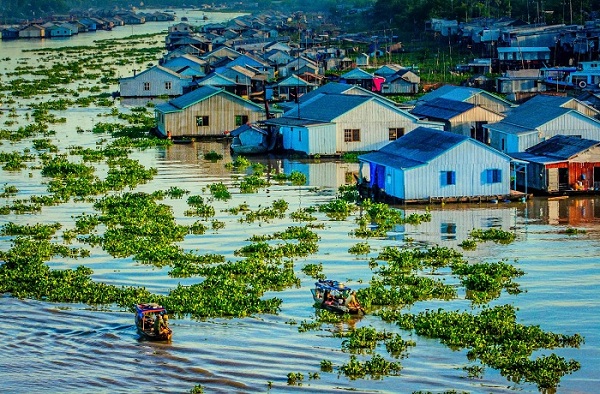 Assume you're a countryside enthusiast eager to explore the whole Mekong Delta region, right? If that's the case, why not make a trip to Vinh Long today? If you believe it or not, this is a fantastic fishing destination where you can have a closer look at rural life and other things that are seldom seen in the modern city.
And whether you've heard the word Vinh Long before or not, this fact will persuade you that this land is truly friendly, charming, and inviting. And, while Vinh Long might not be the best choice for a tour package as opposed to others, visiting this site would make you happy because you will be so close to nature.
More importantly, you will be able to relax in a stress-free environment. So, if you decide to continue your journey to Vinh Long, prepare to travel by water, as this is the most popular mode of transportation in this region.
Ben Tre – A coconut land
Without a question, Ben Tre is well-known as the land of coconut trees, so if you're looking for an eco-tour in the Mekong Delta, don't skip this area. It is located in Southern Vietnam, where you can spend your days and nights immersed in the lush scenery.
Ben Tre shares borders with Tien Giang Province and connects to the rest of the delta through the Rach Mieu bridge. When you come here, you'll discover that, in addition to agriculture and fishing, the coconut trees here provide everyday income to everybody who lives here. As a result, for decades, the coconut has served as an emblem of this country.
Such coconut trees can be found in every nook and cranny of the area, naturally creating green surroundings. The coconut trunk is used to create homes, the leaves are used to roast, and the shells are used to produce handicrafts, not to mention the flesh, which can be used to make oil.
Can Tho – The evergreen city in the Delta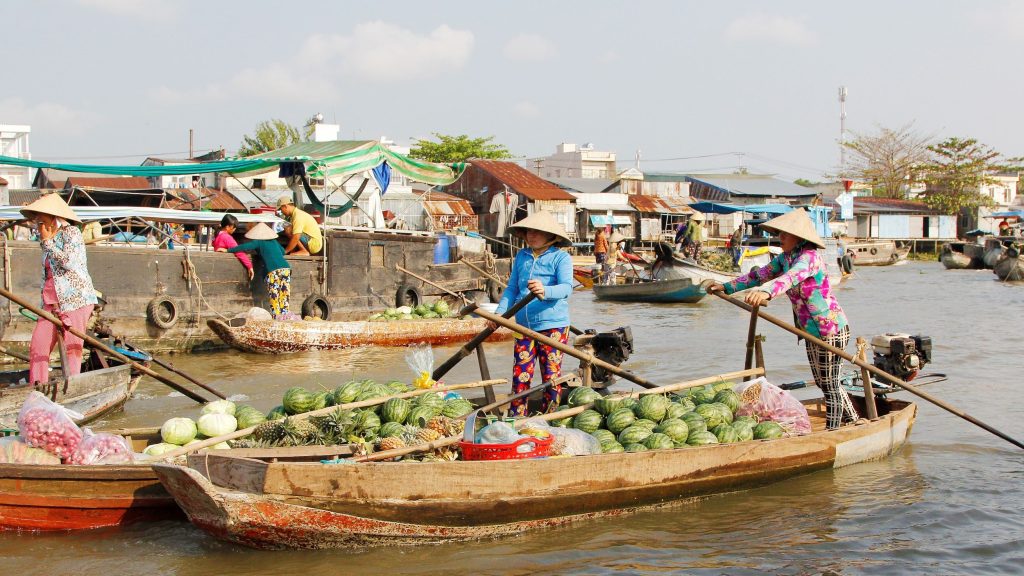 Can Tho is remembered as one of the most famous names in Vietnam's Mekong Delta region owing to its lush green scenery. As an example, consider the Bang Lang Stork Garden. Furthermore, with numerous advantages for the aquatic source, transportation, urban infrastructure, and agriculture, Can Tho City is well-positioned to become an unrivaled tourist destination.
Can Tho be the place to go if you want to see the rising, appealing, and evergreen Mekong Delta site in Vietnam? It is located along the Hau River and is bounded to the north and west by Cho Gao Province. This area is known as "Tay Do," which translates as "the capital of Vietnam's southwest." This name further reflects the city's glamorous and beautiful characteristics at the time.
Can Tho is now one of Vietnam's most important economic zones for investment. And, due to its culture and ecotourism, Can Tho city is brimming with allure and greenery.
Chau Doc – A spiritual land
Chau Doc has no trouble attracting both local and foreign visitors' interest, especially pilgrims who believe in Mieu Ba Chua Xu (Lady Temple). Besides, everybody knows this town for its delicious fish pastes and floating villages. And if you're asked where the most charming town in the Mekong Delta is for spiritual reasons, Chau Doc should be your first choice.
The town shares a border with Cambodia, and it can take up to six hours by bus to get there. Furthermore, this area is home to many ethnic groups, including the Cham, Kinh, Chinese, and Khmer. Of all, Kinh people are the most densely populated, living almost everywhere.
If you intend to visit Chau Doc, don't forget to see and experience the National Cultural Relic of the Lady Temple, Tay An Pagoda, Sam Mountain, and other floating villages.