Sai Gon Street Food Inside Ben Thanh Market
Ben Thanh Market is a market located in District 1, Ho Chi Minh City. The construction started from 1912 to the end of March 1914 and was completed. In many cases, the clock image of the south gate of this market becomes an unofficial symbol of Ho Chi Minh City. Ben Thanh market was a must-visit attraction in Saigon (Ho Chi Minh city). It has been the iconic symbol of the city for a long time thanks to its beautiful architecture and typical characteristics which reflect the unique local culture. Coming to the market, travelers do not only have a chance to admire the architecture, learn more about local life but also enjoy a wide range of delicious Vietnamese foods. You have been on a Saigon food tour in Ben Thanh day market and totally satisfied with the foods there. Let's FocusAsia Travel tell you about experience at the market with local guide.
1. Fish sauce rice noodle in Ben Thanh Market, Saigon
Originated from the West, rice noodles became a specialty of Ben Thanh Market that anyone should visit to try once. This noodle soup is located on Phan Boi Chau Street (East gate of Ben Thanh Market) with a rich flavor, combined with many specialties of the river such as snakehead fish, black tiger shrimp, squid, eggplant … with rotten pork. Make a try only once, you will remember. All materials here are carefully selected. A piece of fish filtered out the bone just leave the meat firm. In particular, pork pieces rotten when the chan was flooded with deliciously delicious, chewing crispy in the mouth.
Address: 22 Phan Boi Chau Street, District 1, Ho Chi Minh City
Price: VND 10,000 – VND 65,000
2. Crab rice noodle in Ben Thanh Market, Saigon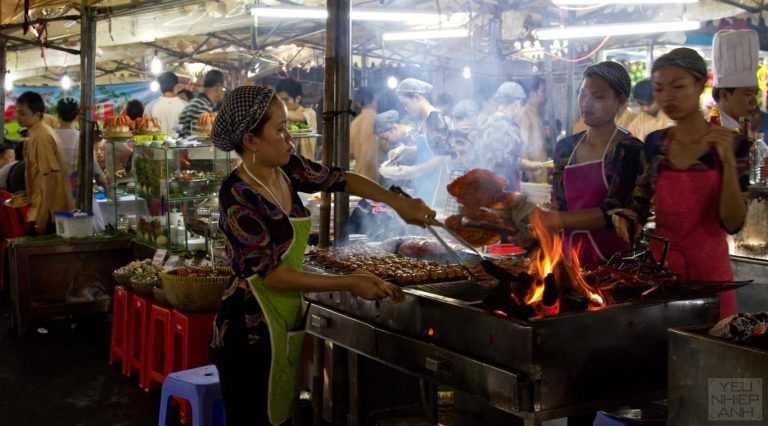 The noodle soup which is in the heart generations of people now is sold on the sidewalk of Phan Chu Trinh Street. Being famous for the long life over 30 years, it attracts not only Vietnamese but also foreign tourists. Unlike normal crab, the crab here is made into a large and strong frying pan, in addition to fresh crab meat and other special ingredients.
Address: 44 – 46 Nguyen An Ninh Street, Ben Thanh Ward, District 1, Ho Chi Minh City
Price: VND 15,000 – VND 35,000
3. Che in Ben Thanh Market, Saigon
Coming to Ben Thanh Market, you will be attracted by the view from the colorful bowls of tea: the color of the green, the yellow banana, corn, beans, white of coconut milk, taro purple, pomegranate blush … Let's try a glass of mung bean cake, strands of rice cake made from rice flour and power, tough and green pineapple smell. Green beans and crackers combined with coconut milk characteristic of the shop create a very interesting feeling when enjoying.
Address: Stall 1088, Ben Thanh Market, Le Loi Street, Ho Chi Minh City
Price: VND 15,000 – VND 25,000
4. Suong rice noodle in Ben Thanh Market, Saigon
Although originating from Vinh Long, this is better than the original. That's due to the way Saigon was made, such as water is less salty but added to the sweetness pretty much as well as larger shrimp. Bubbling in Ben Thanh market only consists of two cows and a shrimp. It looks so simple but when you see the new special see also the dotted with a good kind of delicious, not to mention the rich vegetables are eaten.
Address: Stall 1020, Ben Thanh Market, District 1, Ho Chi Minh City
Price: VND 60,000 – VND 100,000
5. Meatball rice noodle in Ben Thanh Market
Rice noodle here is most famous in the round white pancakes like ping-pong balls, eat crispy crunchy tasty meat but not feel paddy flour as many other places. The water used is also the secret to help the restaurant has much in the interests of customers. It has a clear color but very sweet from the taste of bone tunnel, not the taste of spice.
Address: 14 Truong Dinh Street, Ben Thanh Ward, District 1, Ho Chi Minh City
Price: VND 40,000 – 60,000
Ben Thanh Market at night is crowded with visitors and shopping, but also raises concerns about robberies, especially on Phan Boi Chau Street and Phan Chu Trinh Street. One of the main causes was the traffic jams in the area, especially during peak hours when small businesses start to show off. When coming to Ben Thanh Market, do not bring too much money and pay attention to your luggage. Besides, walking might be the best choice for you due to the convenience. After all of this information, hope you could enjoy every beautiful moment in Ben Thanh Market and always keep remembering the time in Ben Thanh street food market.