Bui Vien Street: Saigon's Nightlife Mecca for Young People
I. What is Bui Vien street?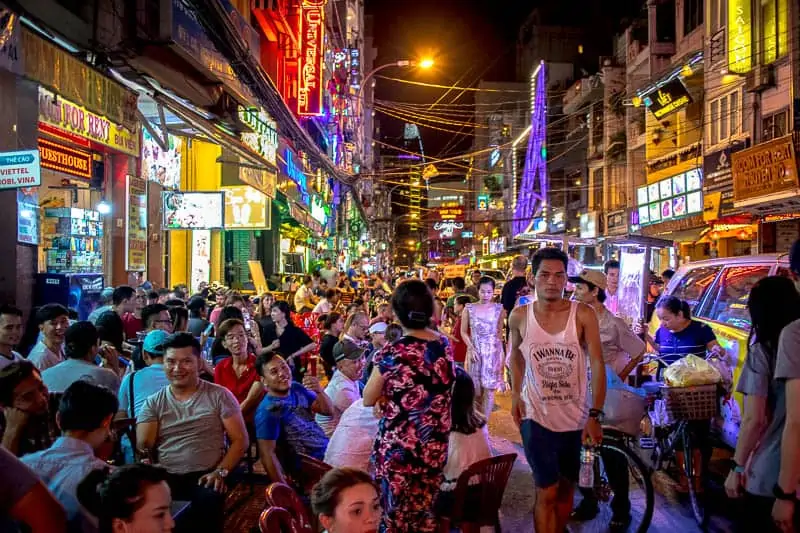 Bui Vien Walking Path, a nightlife tourist attraction in Saigon, is a perfect spot for Western tourists and young Saigonese to eat and hang out every time they stroll down the street.
Bui Vien Street is known as "Western Street" (Pho Tay) because of its Western culture-oriented features. Bui Vien street was packed with backpackers who came here to have fun, try unfamiliar cuisines, and discover a new place on their trip to Saigon until it became a walking city.
Location: Bui Vien Street, Pham Ngu Lao Ward, District 1, Ho Chi Minh City
Walking time: 7:00 pm – 2:00 am (Sat and Sun)
II. What You Need to Know about Bui Vien Street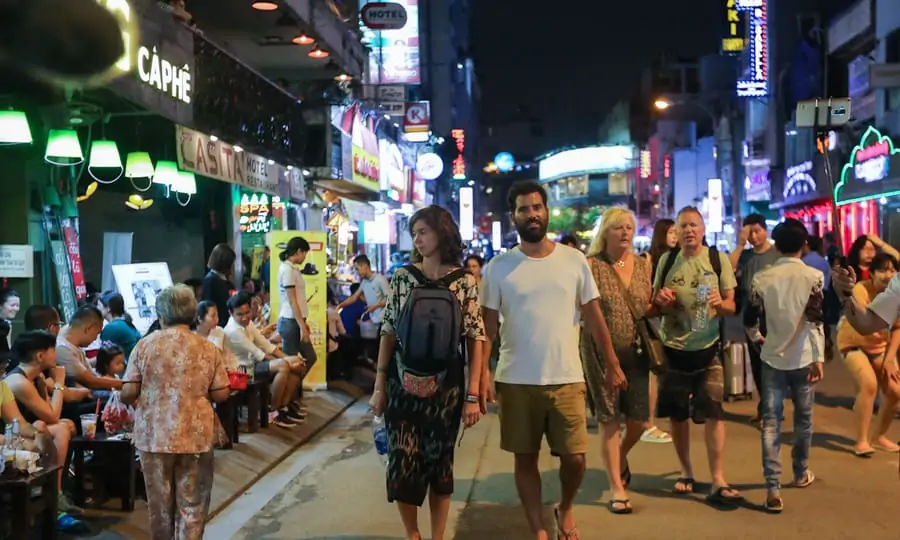 1. Bui Vien Walking Street
Bui Vien Walking Street is a common nighttime attraction for international tourists and the Saigonese young generation, making it a packed multi-ethnic street with visitors from all over the world. This walking street seeks to diversify types of evening entertainment for both visitors and locals.
There will be street art performances, ethnic and contemporary music, and other activities to meet the mental needs of the public while also facilitating interactions with non-Vietnamese friends and world cultural integration. In this way, Bui Vien walking street embraces conventional Vietnamese ideals such as hospitality and friendliness, as well as our open-minded attitudes toward other cultures, making it an emerging cultural destination. In my opinion, the organizers hope to conduct extensive research and produce tourist items as well as a variety of festival activities that are exclusive to the pedestrian street and are in accordance with the existing circumstances of the surrounding community.
2. Bui Vien Street Coffee Shops
As a Saigon Western Street, it is commonly assumed that Bui Vien must be packed with a fast-paced lifestyle, a plethora of buzzing bars, and loud pubs. Regardless, in the middle of the almost infinite traffic, there are a number of cafes nestled in an empty, tumultuous alley just waiting to be discovered. These locations offer enough opportunities for you to find a secluded spot to enjoy privacy, peacefully listen to the gentle sounds of Saigon, or simply read a novel, freewrite, and focus on past events.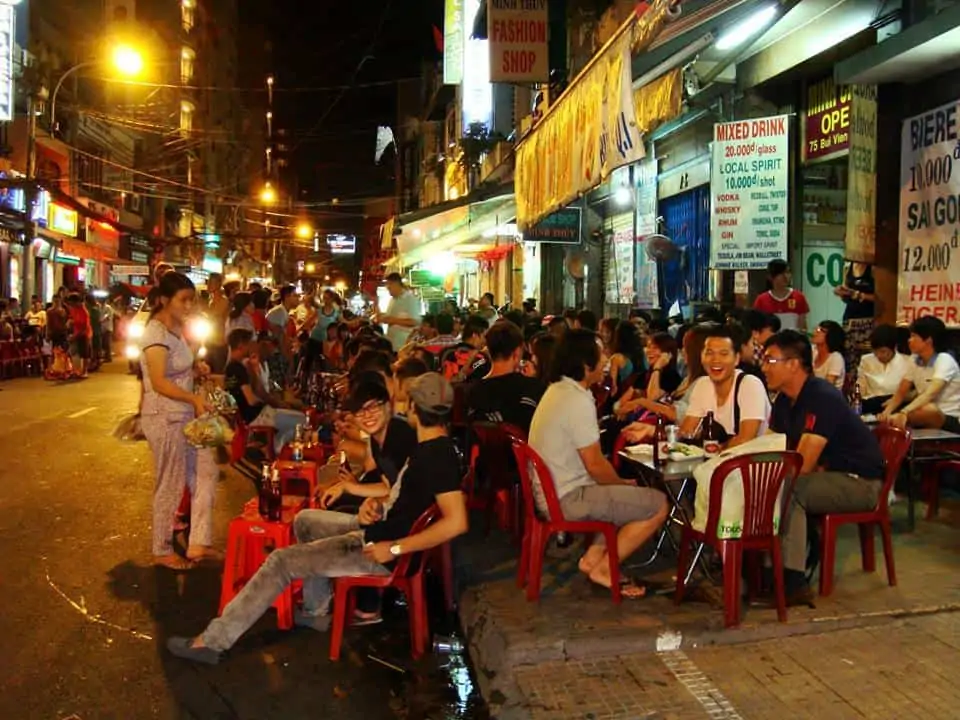 Recommended Places: 
Location: 127-129 Bui Vien Pham Ngu Lao Ward, District 1, Ho Chi Minh City 70000 Vietnam
Opening hours: 07:00 AM – 02:00 AM
Tel: +84 911 811 145
Price Range: 30,000 VND – 100,000 VND
Location: 101 Bui Vien Pham Ngu Lao Ward, District 1, Ho Chi Minh City 70000 Vietnam
Opening hours: 08:00 AM – 9:00 PM
Tel: +84 862 706 716
Price Range: 30,000 VND – 50,000 VND
Location: 203 Bui Vien Pham Ngu Lao Ward, District 1, Ho Chi Minh City
Opening hours: 08:00 AM – 12:00 AM
Tel: +84 2836 361 023
Price Range: 29.000 VND – 100.000 VND
Location: 165/3 Bui Vien Pham Ngu Lao Ward, District 1, Ho Chi Minh City
Opening hours: 08:00 AM – 10:00 PM
Price Range: 29,000 VND – 50,000 VND
3. Bui Vien Street Bars & Pubs
Recommended places:
Location: 113 Bui Vien Pham Ngu Lao Ward, District 1, Ho Chi Minh City 70000 Vietnam
Opening hours: 6:00 PM – 00:00 AM
Tel: +84 902 006 394
Price range: 50.000 VND – 700.000 VND
Location: 195 Bui Vien Street. Pham Ngu Lao Ward. District 1 9th Floor Of Duc Vuong Hotel, Ho Chi Minh City
Opening hours: 09:00 AM – 01:00 AM
Tel: +84 936 363 505
Price range: 35.000 VND – 300.000 VND
Location: 194 Bui Vien Pham Ngu Lao Ward, District 1, Ho Chi Minh City 70000 Vietnam
Opening hours: 7:00 PM – 02:00 AM
Tel: +84 936 157 636
Price range: 50.000 VND – 200.000 VND
Location: 119-121 Bui Vien Pham Ngu Lao Ward, District 1, Ho Chi Minh City 70000 Vietnam
Opening hours: 3:00 PM – 02:00 AM
Tel: +84 933 988 002
Price range: 100.000 VND – 1.000.000 VND
4. Eating in Bui Vien street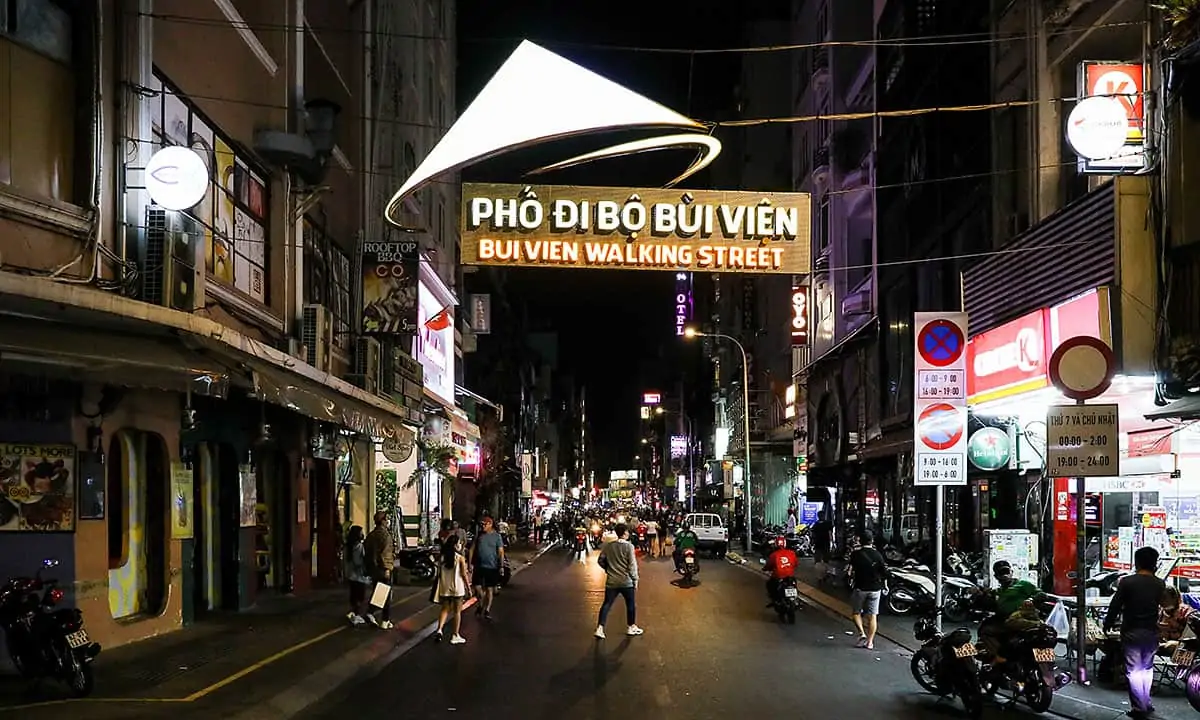 ► Recommended places: 
The Garlik De Tham Restaurant 
Location: 216 De Tham Street Pham Ngu Lao Ward, District 1, Ho Chi Minh City
Main food: Vietnamese traditional food
Opening hours: 08:00 AM – 10:00 PM
Tel: +84 8 3838 5665
Price range: 100,000 VND – 1,000,000 VND
Location: 111 Bui Vien District 1, Ho Chi Minh City Vietnam
Main food: Italian food
Opening hours: 8:00 AM – 11:00 PM
Tel: +84 8 3920 7668
Location: 40A Bui Vien Street Pham Ngu Lao ward, District 1, Ho Chi Minh City 70000 Vietnam
Main food: Pub – Mexican, Spanish, Italian or Thai food
Opening hours: 12:00 AM – 11:59 PM
Tel: +84 28 3920 9749
Price range: 35,000 VND – 275,000 VND
Location: 71 Bui Vien Street Pham Ngu Lao ward, District 1, Ho Chi Minh City 70000 Vietnam
Opening hours: 09:00 AM – 10:00 PM
Price range: 20.000 VND – 110.000 VND
Location: 198/4 Bui Vien Street Pham Ngu Lao ward, District 1, Ho Chi Minh City 70000 Vietnam
Main food: Barbecue
Opening hours: 17:00 PM – 5:00 AM
Tel: +84 908 230 721
Price range: 10,000 VND – 120,000 VND
Location: 84/7 Bui Vien Street Pham Ngu Lao ward, District 1, Ho Chi Minh City 70000 Vietnam
Main beverage: Smoothies
Opening hours: 9:00 AM – 10:00 PM
Tel: +84 128 988 229
Price range: 20,000 VND – 40,000 VND