Must-try dishes in Hue
The best Hue dishes were once only served to former Nguyen Dynasty emperors and royal families, but visitors will now find plenty of small pubs, roadside markets, and high-end resorts selling these specialties all year round. Hue cuisine is primarily sweet and spicy in flavor, owing to the use of fresh herbs such as lemongrass, basil, red chilies, and mint, as well as the traditional nuoc mam or fermented fish sauce.
Bun Bo Hue (Hue Beef Noodle Soup)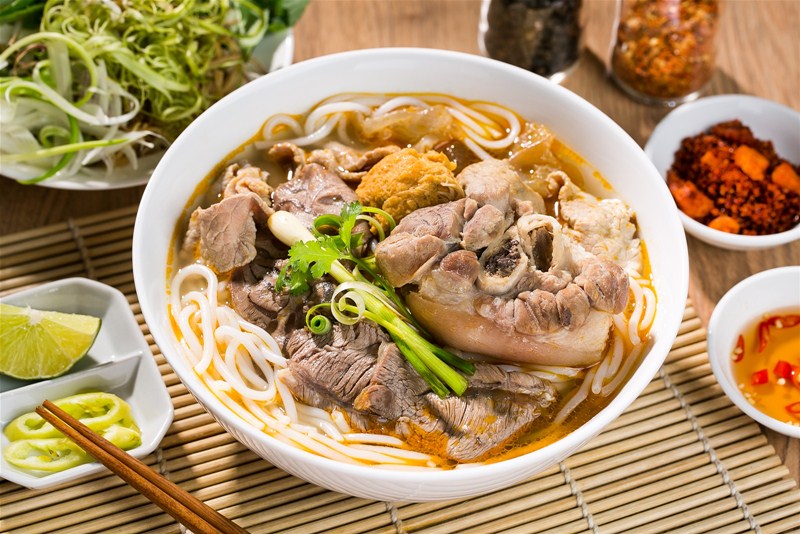 Bun bo hue (Hue beef noodle soup) is a regional specialty that consists of thick rice vermicelli and a variety of toppings in a thick soup. Unlike pho, this dish has a sweet, sour, and spicy flavor profile due to the addition of boiled bones and shank, annatto seeds, lemongrass, ginger, fermented shrimp paste, chili oil, and sugar. Congealed pig blood, beef or pork knuckles, beansprouts, lime wedges, cilantro, chopped green onions, banana blossoms, mint, and basil are among the toppings. You can also increase the spiciness of your bun bo hue by adding fresh chilies and fermented fish sauce.
Nem Lui (Hue Lemongrass Skewers)
Nem lui is a kebab-like dish made of lemongrass stalks covered in marinated meat (usually pork or beef) and cooked over a charcoal stove. A side of rice paper, lettuce and cucumber slices, rice vermicelli, and fresh herbs is also served to diners. It's served as an appetizer in almost all Hue restaurants and hotels. Dip nem lui in a local sauce made of ground peanuts, fermented beans, sesame seeds, shrimp paste, minced garlic, chillies, and shallots for extra flavor.
Com Hen (Clam Rice)
Com hen (clam rice) is rice with baby basket clams, crispy pork skins, roasted peanuts, shrimp paste, and fresh greens on top. The clams are stir-fried with minced garlic, onion, fish sauce, pepper, and mint leaves before being poured over a plate of steamed jasmine rice as a filling meal. Com hen is often served with a bowl of clam broth and a platter of coriander leaves, shredded banana blossoms, and bean sprouts in some restaurants. Dong Ba Market has a plethora of food stalls offering this Hue specialty for around VND 20,000.
Banh Khoai (Vietnamese Crepe)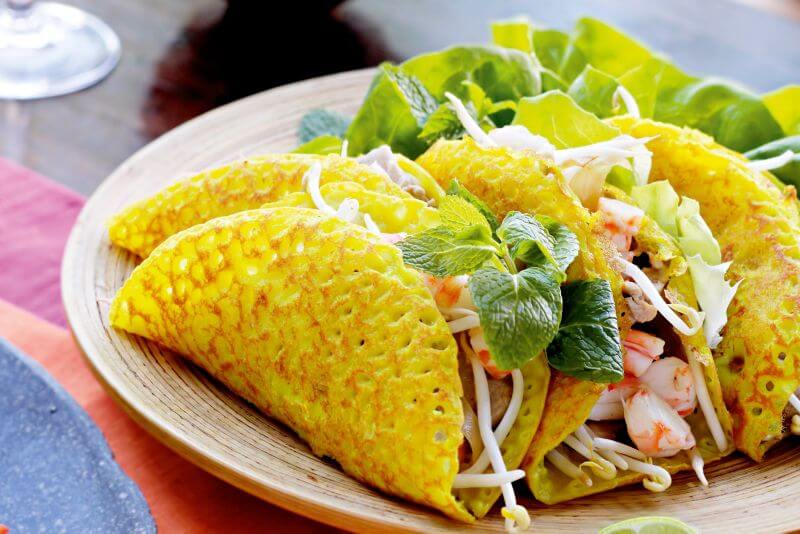 The turmeric yellow color of banh khoai distinguishes it from other savory snacks in Hue. This open-faced crepe is commonly seen at roadside stalls, local joints, and markets, and is usually stuffed with pork, shrimp, scallions, and beansprouts. However, you can also find this local snack with quail eggs and starfruit at a number of establishments. Banh khoi, like most Vietnamese dishes, is best served with a side of fresh greens and herbs, as well as a fermented soybean dipping sauce.
Banh Beo (Steamed Rice Cakes)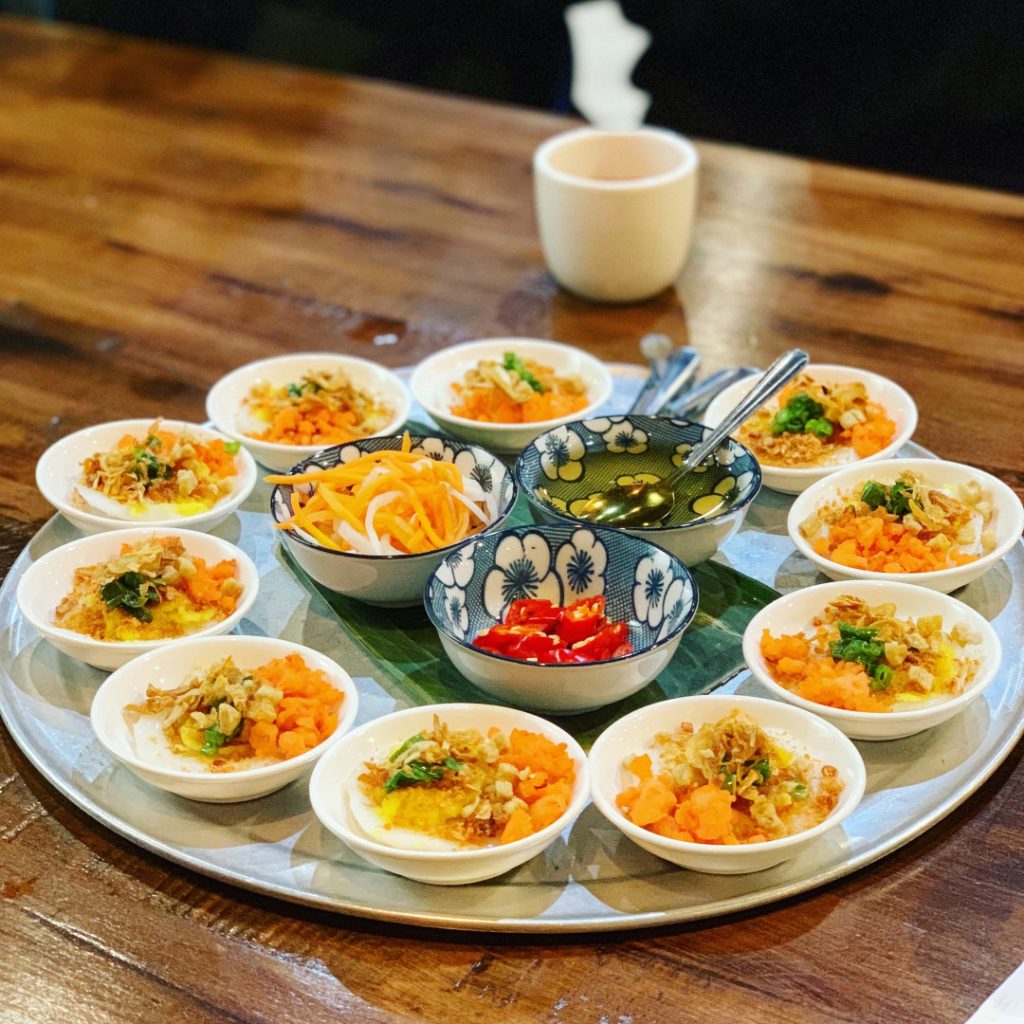 Banh beo, also known as steamed rice cakes in English, resemble cupcakes but are topped with dried shrimp, deep-fried pork rind, shallots, rice vinegar, and fresh herbs. There are two versions of this local delicacy, all served with a side of nuoc mam (fermented fish) dipping sauce and red chilies. Banh beo chen is served in a coin-sized ceramic saucer (five or six for around VND 30,000 at sit-down restaurants), while banh beo dia is served as a main course.