MOST BEAUTIFUL WATERFALLS IN VIETNAM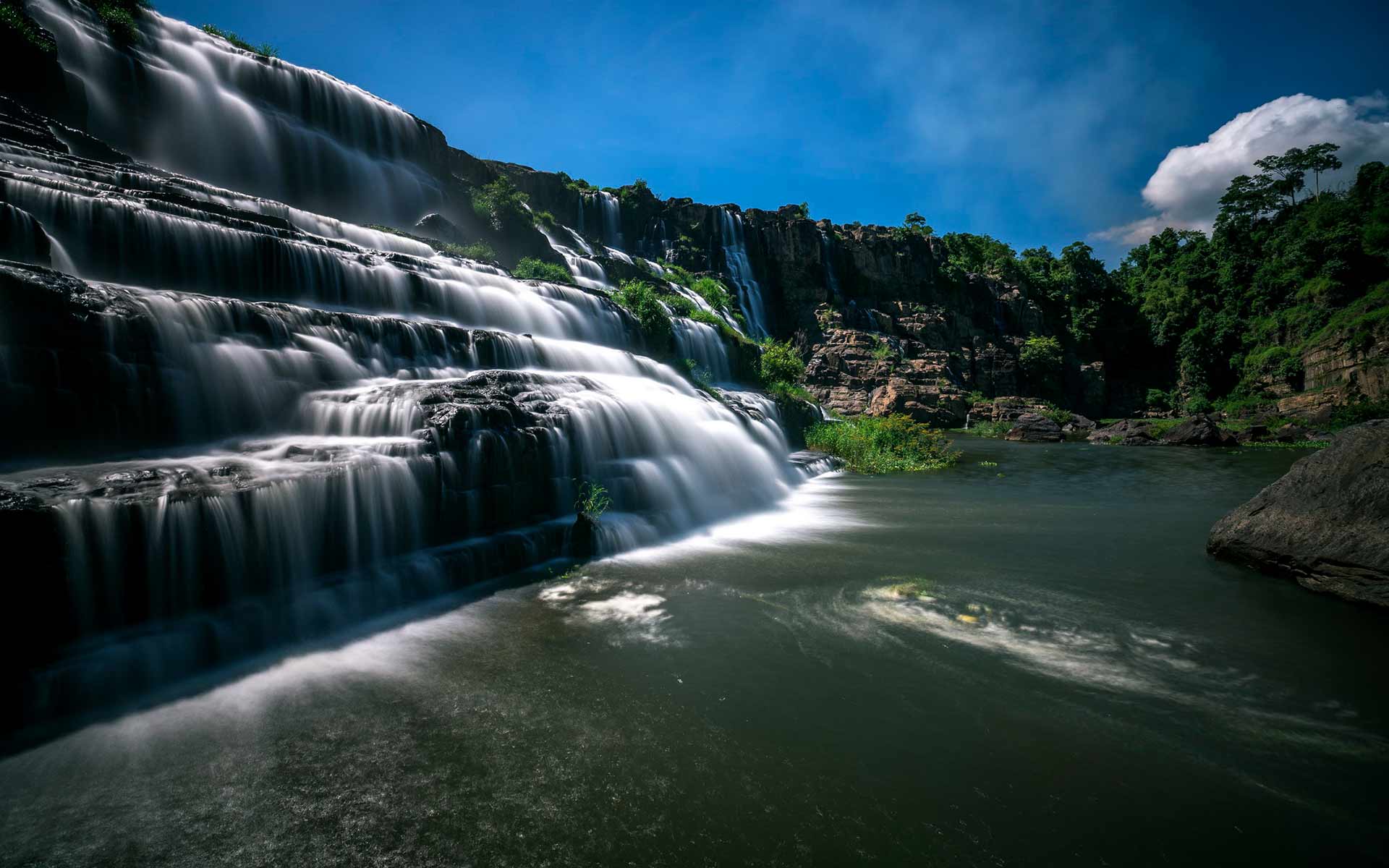 Vietnam is a home of numerous magnificent waterfalls – a paradise for people who are looking for adventure trips. Most of them are surrounding by jungles which are unspoiled. Some are perfect for dipping, while others make for lovely picnic spots; some are even ideal of those who are seeking tranquillity. However, all of them are worth visiting. Microsoft network MSN has included two waterfalls in Vietnam in its list of 15 most charming cascades in the world. Here are some of the most beautiful waterfalls in Vietnam you should not skip when traveling to Vietnam.
Most beautiful waterfalls in Vietnam
 Elephant Falls – Da Lat
The power of Elephant Falls is undeniable. You can hire a guide to take you there with a group, or hop on your trusty motorbike and zip off to southwest Da Lat into the twisting, curving well-maintained road that will take you through countryside. You'll pass more rolling rice patties, friendly farming villages and gorgeous jungle mountains that seem to overtake you. The waterfall itself is a beast with thousands upon thousands of gallons of water charging over the edge of the cliff each minute, pounding the rock below with a thunderous rumble. Once you pay the $10 admission, you'll clamber down through a cloud of mist on slippery steel ladders and slick moss rocks where you can explore a network of trails that weave around the base. Climb down into rock caves and walk behind the falls, or descend a bit further to run along the river for a full view of their power.
 Pongour Waterfall – Da Lat
This breathtaking waterfall plunges down from mountains form 40 meters high, spreading over more than 100 meters of 7 rock levels. When visitors witness the mighty Pongour, they are also amazed by the hundreds of vivid wildflowers covering poetic paths leading to the isolated waterfall.
While the water is rapidly and strongly flowing, it is blocked by rolling rocks and stones, torn into dozens of streams stretching vertical cliffs. Layers and layers of waters pour down creating white foam and magical cool air. Travelers can feel the good smell of natural steam and the cool atmosphere from long distances. Between the two sides of rugged cliffs is a tranquil lake that contrasts with the powerful waterfalls.
Layers upon layers of waters pouring down create white foam and magical cool foggy. No wonder why many said that the waterfall is one of the most romantic settings in the world. You can visit Pongour in the dry season to see the clearest water or in the rainy season for its most magnificent sight. Pongour waterfall is not enough for a day tour? You can explore more about Da Lat with your own choice of destinations, we are here for help.
Information:
– Location: Duc Trong, Lam Dong Province
– Distance: 50 km from Da Lat city
– How to access:Private car, Motorbike
– Travel type: Family, Friend, Solo, Couple
– Recommended tour: Da Lat – Pongour waterfall – Prenn waterfall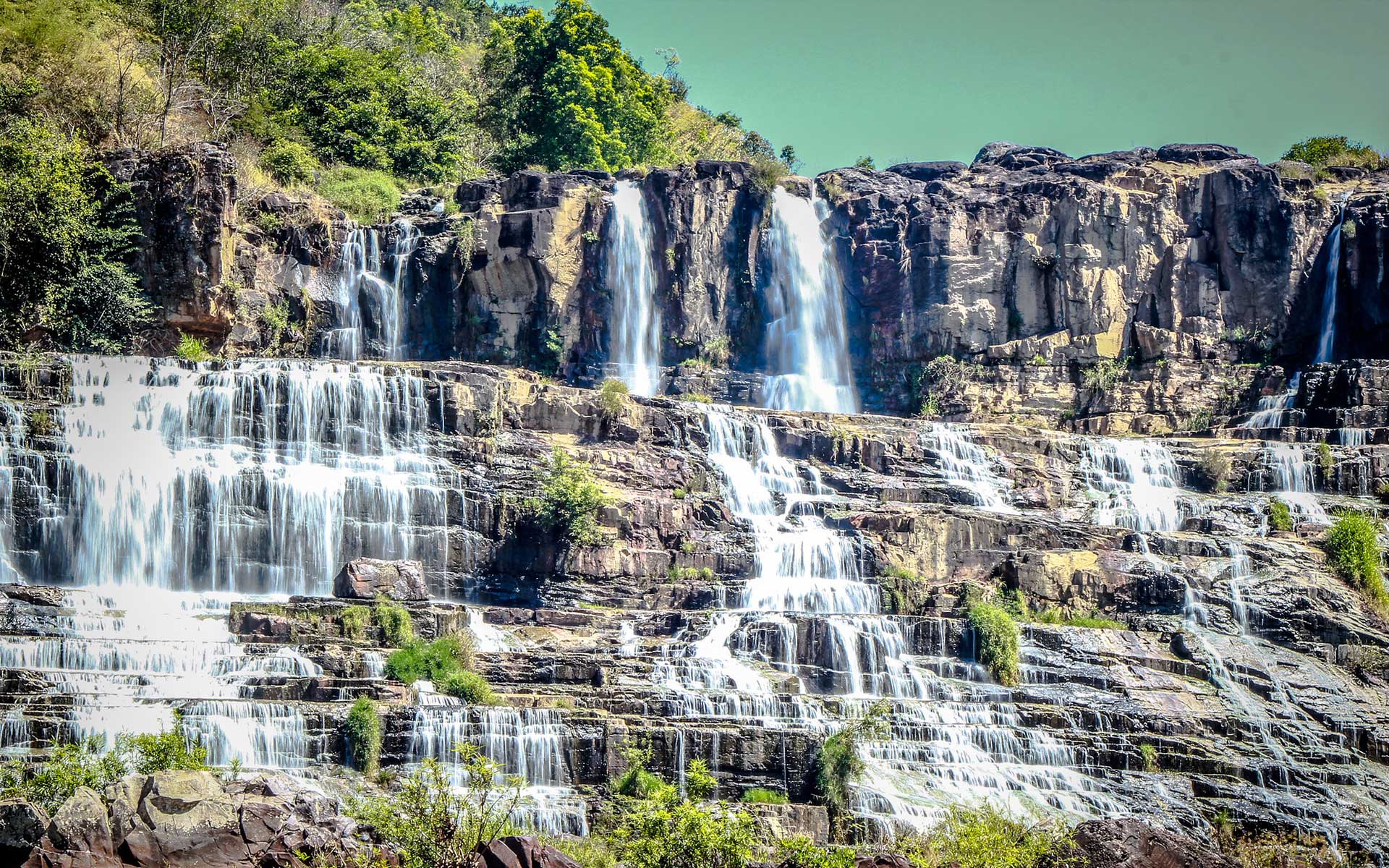 Thac Bac – Sapa, Lao Cai
Thac Bac, or Silver Waterfall, is located about 12km from the center of Sa Pa town and can be reached by motorbike or private car in 30 minutes. The waterfall is formed by sources of water from the Lo Sui Tong mountain peak. On beautiful sunny days, lying at a height of 500 meters, overlooking Sapa valley, Thac Bac can be seen like a white dragon looking down from the sky. Coming to Thac Bac, you will have a chance to sink into the mild weather and extravagant landscape of mountainous surroundings. Trekking through Sapa Valley is something we offer, so if you're a serious walker, adventure seeker, and scenery enthusiast, this trip might just be the one for you. Not to mention the stunning Thac Bac waterfall you'll experience.
Information:
– Location: Lao Cai Province
– Distance: 370 km from Da Lat city
– How to access:Private car, Motobike, Train
– Travel type: Family, Friend, Solo, Couple
– Recommended tour: Hanoi – Sapa – Hanoi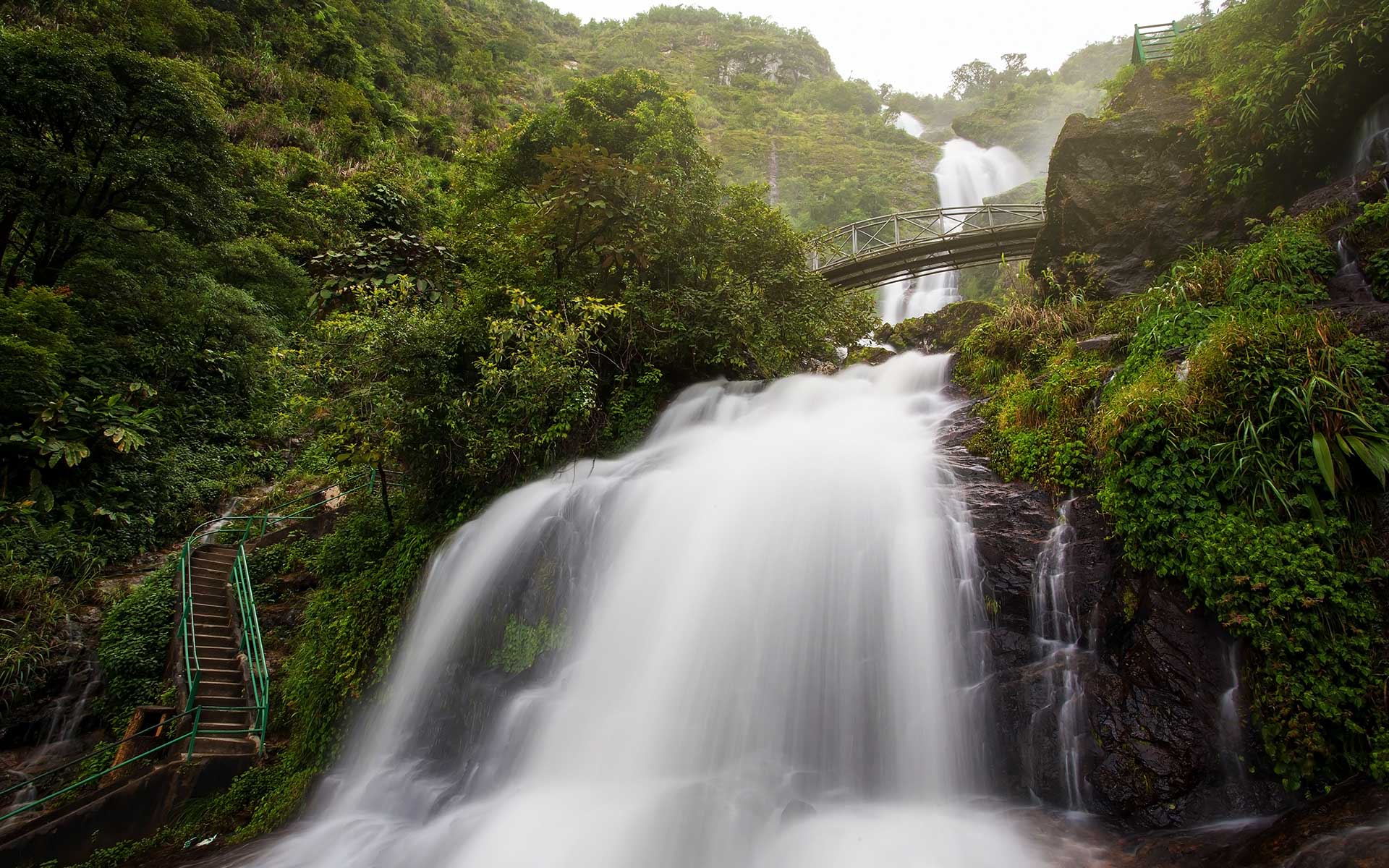 Gia Long waterfall – Dak Nong province
Among the most beautiful waterfalls in Vietnam, Gia Long waterfall is very renowned. This powerful waterfall is considered one of three famous waterfalls in Vietnam's Central Highlands, which are Dray Sap, Gia Long and Trinh Nu (Trinh Nữ) flowing through Dak Nong province. This waterfall is named after the Vietnamese King who relaxed here due to its majestic and tranquil landscape.
 May Waterfall – Thanh Hoa province
In Vietnam, Thanh Hoa province is a province of limestone pinnacles, rice paddies, and rivers. This province is about 150 km south of the capital of Hanoi. Its landscape is similar to the neighboring Ninh Binh province but is not as popular with travelers (just yet). The province is famous for Sam Son beach, Pu Luong (Pù Luông) National Reserve and one of the best kept secrets of the country: Hieu waterfall – known as Thac May (Thác Mây). May Waterfall seems to lesser-known by international tourists, but it is a very romantic and beautiful place. The walk up to the top of this waterfall takes approximately one hour by foot but you will realize it is worth your time when you reach it.
It is also called as "nine steps of Love" due to its majestic nine levels of waters, a perfect destination for couples to coming to enjoy the nature together.
According to a local legend, the waterfall has 9 water levels which are thought to be the tracks of 9 ferries after they came back to the sky. Being a magnificent and mysterious tourist destination for those adventure enthusiasts and couples to explore, May waterfall is worth mentioning in this list of most beautiful waterfalls in Vietnam.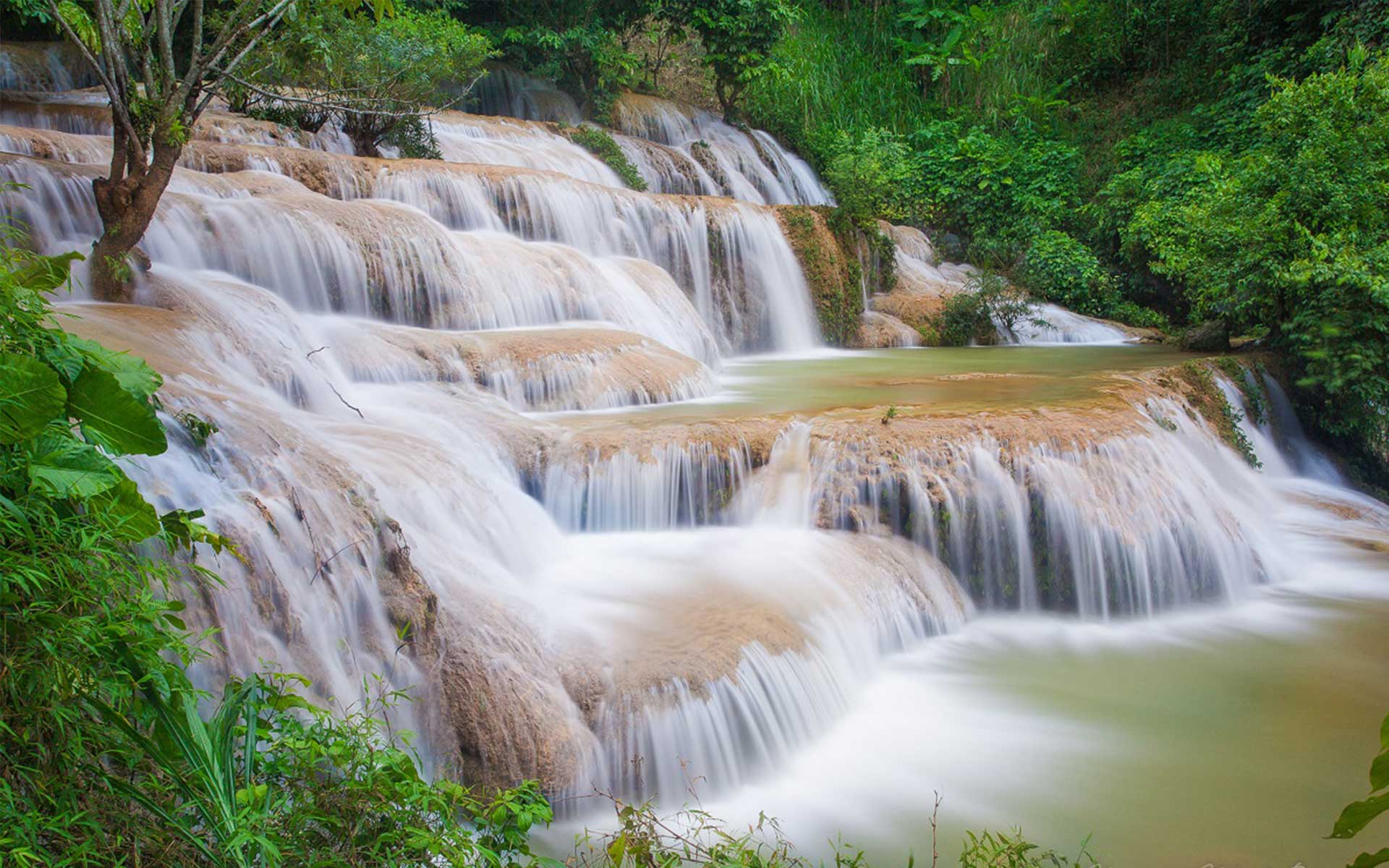 Thuy Tien Waterfall – Dak Lak province
Located in about 7 km to the northeast of Tam Giang Commune, Dak Lak province, Thuy Tien waterfall is one of the most beautiful waterfalls in Vietnam. Thuy Tien waterfall is poetic with many stones of different shapes as well as sizes heaped up through the time. Visiting this place, tourists could immerse themselves in the nature and listen to the nature in a majestic forest. At the top of this waterfall, water flows down onto those rocky terraces, thereby creating white spume – all of which create a fanciful, lively picture of the mountainous landscape of the Central Highlands of Vietnam.
The waterfall contains three layers. The first having low slope with many steps; the second possesses rocky tiers. Many shallow and small lakes in which tourists could take a bath are created here. From afar, water looks like those blossoming white flowers under the golden sunshine of Central Highlands. The third layer with water falling vertically to the ground has a deep lake, in which water flow gently and through tranquil jungles. Along with other beautiful waterfalls like Trinh Nu (Trinh Nữ), Dray Sap, and Krong Kmar, Thuy Tien waterfall is among great places for tourists to visit. Being a fairy hidden in the Tay Nguyen (Tây Nguyên) green jungle, Thuy Tien waterfalls invites travelers both from near and far come to contemplate its poetic and charming beauty.
 Yang Bay Waterfall – Nha Trang
Only 45 kilometers from Nha Trang is Yang Bay, a waterfall tucked in the heart of forest and mountain ranges from the height of 100 meters to sea level. It has another name is "Ranlay" means "Heaven's waterfall" due to its beauty and a legend came from a love story of a fairy with a poor local man. The unusual thing is, Yang Bay is combined from 2 waterfalls: one is cold water and the other is hot so you can see white watering pouring down one side and the other side is dimming by vapor like millions of dust. At the foot of the fall, there are many lakes with clear water where you can swim in the golden sunlight shimmering on the surface of the water, creating a romantic setting likes somewhere else in heaven.
Information:
– Location: Khanh Vinh, Khanh Hoa Province
– Distance: 45 km from Nha Trang city
– How to access: Private car, Motorbike
– Trave type: Family, Friend, Solo, Couple
– Recommended tour: Nha Trang – Binh Ba island – Yang Bay waterfall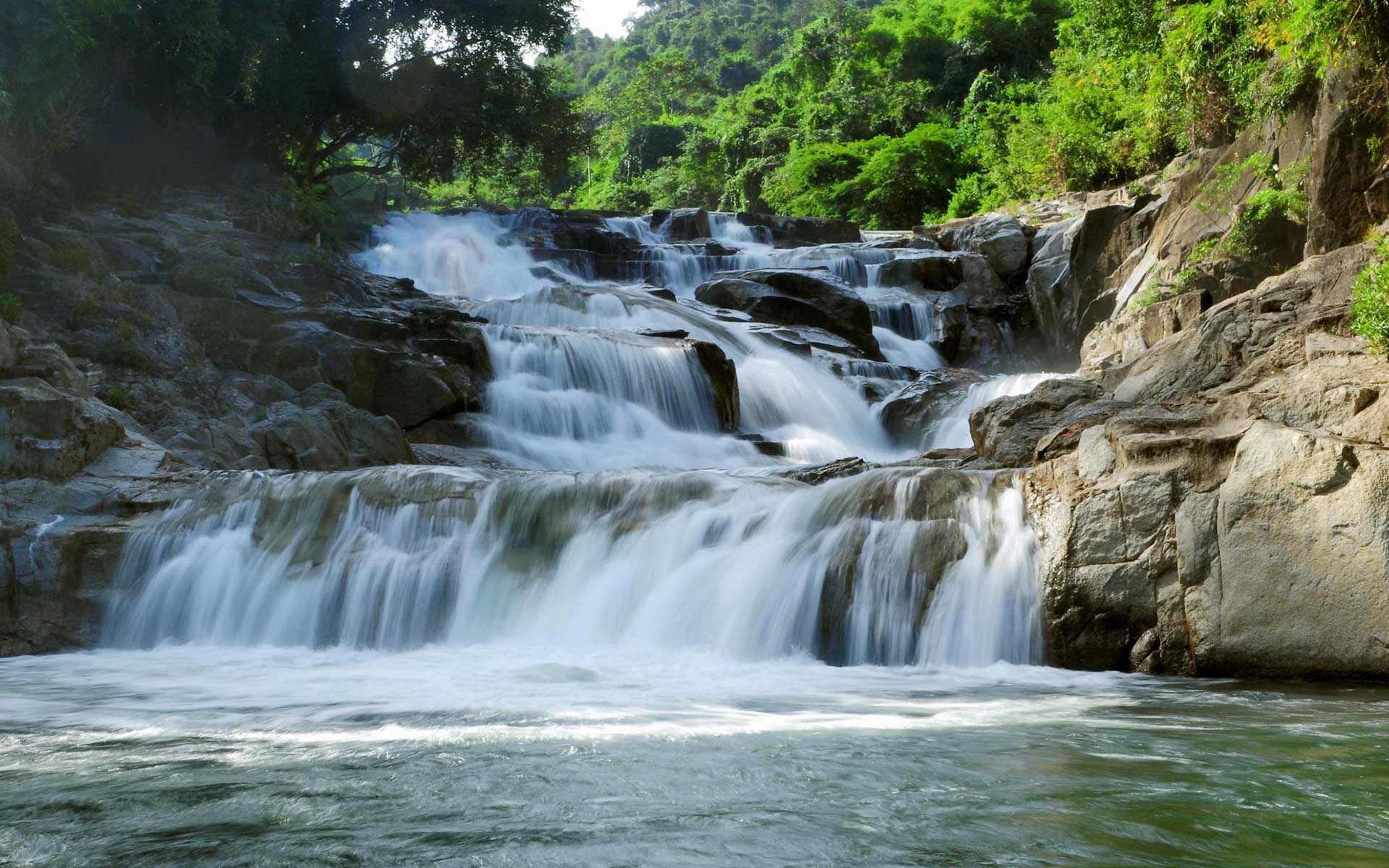 Dambri – Da Lat
One of the largest waterfalls in Vietnam, Dambri offers some of the most impressive views too. The water flows freely year-round, so the falls are worth a visit even at the height of dry season. There are a number of paths visitors can choose to explore, and there's even a vertical elevator to get a lay of the land from a higher vantage point. 80 miles south of Dalat and 11 miles north of Bao Loc along Highway 20, if you ask a tour guide to take you, they will be more than happy to oblige. But if you have a motorbike, take the day to ride out to the falls and experience what the wending Vietnamese mountain roads have to offer! MSN describes the Dambri Waterfall in Bao Loc Town in the Central Highlands province of Lam Dong is mentioned as place worth visiting.
 Ban Gioc Waterfall – Cao Bang
This is the most famous waterfall in Vietnam. The reason behind it is that Ban Gioc is one of the 4 biggest cross-border waterfalls worldwide. Situated in the Northeast of Cao Bang province, this waterfall is 200m in width and 70m in height, offering a stunning spot of 3 layers of cliffs among the rich green, picturesque background. This breathtaking sight bares a fresh, graceful, quiet beauty of the water, warm and pristine of ethnic villages and pure beauty of forests. Ban Gioc waterfall is a worth-visiting destination in the trip to the Northeast Vietnam. If you could custom build a desirable waterfall, it would resemble that of Ban Gioc, one of the largest, most majestic cascades in Vietnam. Microsoft network MSN has included two waterfalls in Vietnam in its list of 15 most charming cascades in the world. It describes Ban Gioc Waterfall in the northern province of Cao Bang, near the border with China, as 'a paradise on earth'.
Around 340 kilometers (225 miles) to the north of Hanoi, Ban Gioc is still a relatively uncrowded natural beauty in Vietnam.
The waterfall can be visited at any time of year, but the best time is said to be September and October when the summer rains that feed the falls are less frequent and the rice harvest is in full swing.