HOW TO PLAN AND PREPARE FOR A HIKE
Hiking is a perfect way to spend time with friends and family while enjoying the great outdoors. Hiking allows you to see parts of nature that roads do not allow you to see. Leave your concerns about time, jobs, and other stressors at the door and rediscover your sense of wonder.
WHAT TO PACK FOR YOUR FIRST HIKING TRIP
Fast hiking would not necessitate a large amount of packing. After all, you'll be bringing everything on your hike, so the lighter you pack, the easier. If you plan on hiking all day, you will need a few important things. Here is a hiking gear list to serve as a guide for your packing:
Carry a map, compass, or GPS device with you on your hiking journey. You'll want to know where you are and where you're headed all of the time, but you'll probably want to know where all of the campsites, emergency exits, water supplies, and rest areas are. And if you have a GPS as a backup, the American Hiking Society advises carrying a map or compass. When you know what to expect, you will better schedule other specifics and enjoy the hike without fear of being lost.
Adequate Water: Maybe the most significant thing on your hiking gear list is water. Your body cannot function properly if it does not have enough fluids. Be sure to hydrate before your hike and drink plenty of water during the day. A sufficient water supply should still be a priority, whether it is cold or hot outside.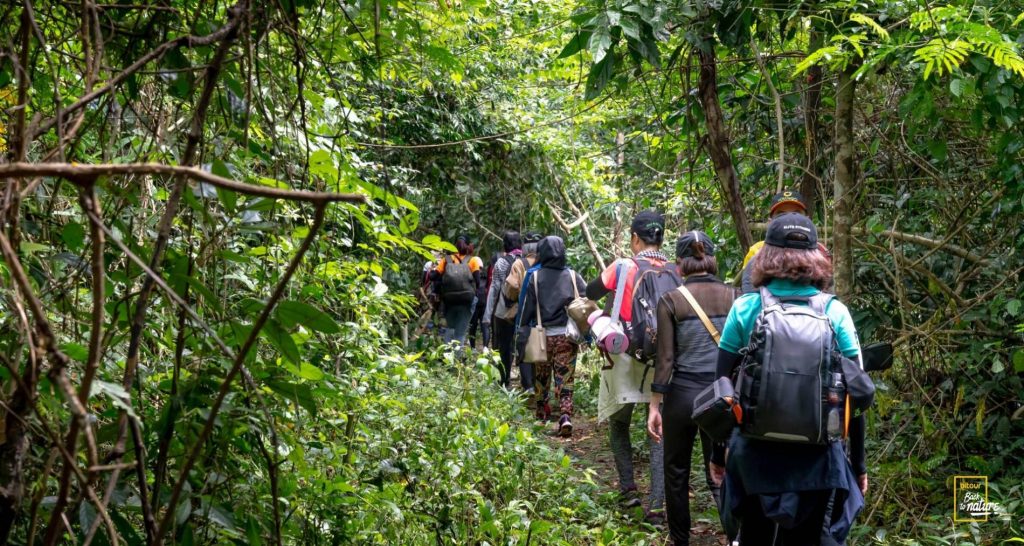 Adequate Food: You want your hiking adventure to be as enjoyable as possible because everyone is happier when their bellies are packed. Have extra food with you so that you and your hiking buddies can spend long periods near a mountain stream.
Clothing and Rain Protection: Sometimes, no matter how much you prepare, the weather turns out to be incorrect. A sudden hurricane or rain shower cannot always be predicted, however, you should brace for them. To fix this problem, bring a lightweight poncho or dress in layers so you can quickly adapt to weather changes.
Items for Safety: If you're hiking a simple, well-maintained trail with a lot of foot traffic, you might not be as concerned about safety. Whatever you expect your hiking to be like, you can pack a firestarter, a lighter, and a whistle in your protection kit to be prepared for something. A fire can signal for help and keep you safe, a whistle can summon help, and a lantern can help you navigate in the dark.
First-Aid Kit: Included in the kit is a first-aid kit. Make your own first-aid kit, which should contain blister cream, bandages, tape, antibiotic ointment, gauze pads, and any drugs you or your companions might need.
Knife or Multi-Purpose Tool: Another hiking essential is a knife or multi-purpose tool. You never know whether you'll need to cut cloth for bandages or open a persistent bag of trail mix. A knife can also be useful if you need to start a fire.
Sun protection: Secure the skin from UV or sunburn and don't forget sun lenses to protect the eyes. Sun protection. Sunshine protection. Use SPF 15 or above and sunglasses with a 99 to 100 percent UVA and UVB (ultraviolet-B) cover. Use broad-spectrum sunscreen. Walk on the shaded trails between 10 a.m. and 4 p.m. if the sun glows strongly and use them for outdoor excursions in the morning. If you're sweating a lot, use sunscreen for two hours or so.
Backpack: Choose a pack that will not impose excess stress on your back and shoulders and that feels relaxed. Carry both belts to ensure that the backpack stays on the back, close to the body. Padded, flexible hip straps for climbing, keep the hip and back strain further.
Bag Litter: Bag trash to keep your walks pretty, smooth, and without waste. Trash Bag: A plastic zipper bag is ideal to hold packaging and waste before you return. Make sure young walkers properly remove their waste.
Bug Spray: ticks, bees, spiders,s and mosquitoes, depending on the time of day and season, are some of the pests that you may find on your walk. You must not let these pests spoil a wonderful walk, though. DEET insect repellent can be used in buggy fields. Be sure to apply again and again. For small children, DEET is not appropriate, but you should choose a substitute for the children such as citronella spray.
Toiletries: Brace for a break in the bathroom with toilet paper, hand sanitizer makers, trash bags, and all other necessities if you choose to walk away from public toilets.