Explore Sriracha Tiger Zoo in Thailand with Focus Asia Travel
Thailand is famous for its zoo which attract a lot of international tourists, especially the children. The famous zoos such as: Safari World Zoo, Khao Kheow Zoo, etc. A zoo that visitor should not miss out when traveling to Thailand is Sriracha Tiger Zoo. Coming to Sriracha Tiger Zoo, visitors can see firsthand the wild animals, see attractive and unique performances.
Sriracha Tiger Zoo is one of the most popular Thai attractions. The 400,000 square meter park is home to more than 200 tigers, crocodiles, elephants and monkeys.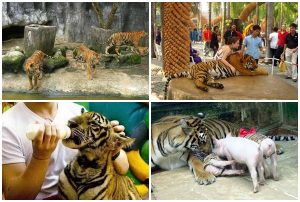 Sriracha Tiger Zoo is divided into four main areas: tiger habitat, talent show area, crocodile zone and other animals. Of the four areas, the tiger habitat is the most popular tourist destination. In this area, visitors will see firsthand the large and gentle tigers. Not only that, visitors will be very excited to see pigs and tigers living together in harmony, the cute tiger suckling piglets. If you pay a little extra, you will be able to play around with tigers, feed them and take pictures.
Next, people visit the crocodile area. This is an area reserved only for crocodiles with about 10,000 fish. Above the crocodile pond are the paths for visitors to visit. Many crocodiles are nurtured here from baby crocodiles to adult crocodiles. Visitors can buy bait on this spot for crocodiles. There is also a point selling jewelry made from crocodile skin.
Not only that, visitors can also enjoy the performances at the Performing Arts Area – Sriracha Tiger Zoo. Coming to this area, visitors will see amazing performances of smart animals such as tigers, elephants, pigs, crocodiles, etc. Surely visitors will be surprised to see their performance.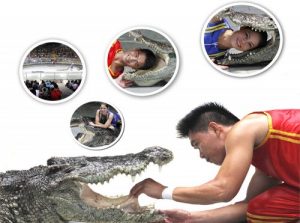 One of the most unique, spectacular performances is the act of provoking the crocodile, hooking the crocodile's throat or putting his head in the crocodile's mouth. In addition, visitors can also record the creepy memories with the crocodiles by taking creepy photos.
Furthermore, another interesting thing in this zoo is the performance of elephants throwing balls or stepping outside tourists. Visitors will also laugh comfortably with the competition of the cherished, adorable pigs or racing.
The performances of animals at Sriracha Tiger Zoo always leave a strong impression on visitors. Parallel to this image is the success of the Thai people in the field of obedience training.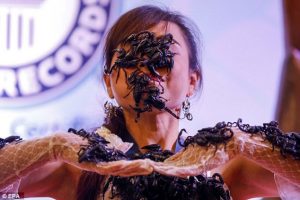 If you want to find something more stimulating, you can also meet the "Queen of Scorpions" – who achieved the 2008 Guinness World Record with the ability "live alone with 5000 adult scorpions in a 12m2 room for 33 days" or go to the area of ​​other rare animals to see a camel, deer, or big leg kangaroos, etc.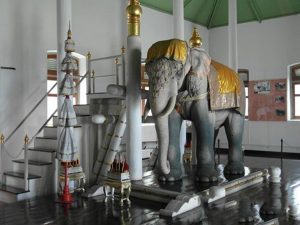 In addition, the zoo also also has an elephant museum, which displays many artifacts and images of all kinds of elephants in the world of all sizes, from extinct species such as mammoths, War elephants of ancient Thailand to the wild elephants of  Asia and Africa.
If you are choosing to travel to Thailand and want to find yourself a family sightseeing zoo, Sriracha Tiger Zoo is definitely the best choice for your trip.